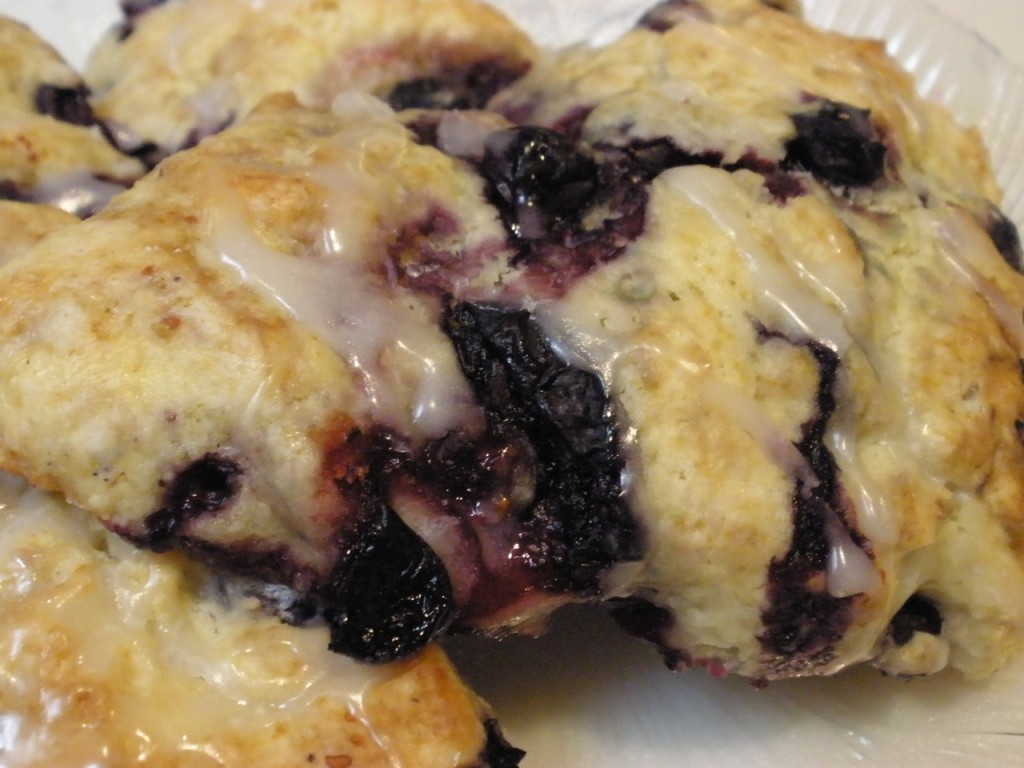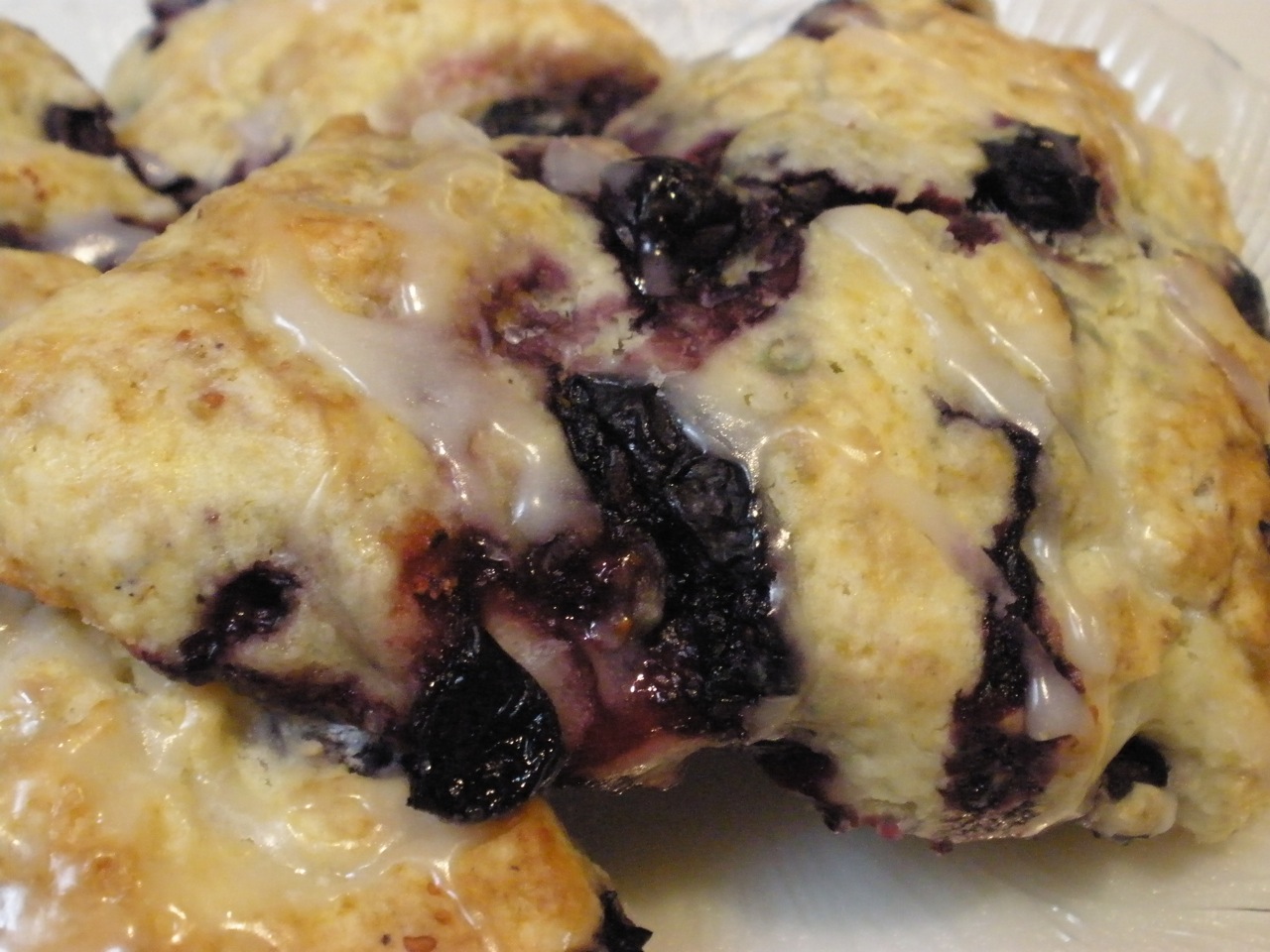 The weekend is a perfect time to try something new along with surprising your family with an awesome treat!  That is the surprise I received this week when our lovely neighbor Gaye, dropped off these stunning blueberry scones just in time for breakfast.  They were still warm and dripping with a light glaze icing.
Her 16-year-old daughter, Abigail, created these scones "tweaking" the recipe this way and that until she made these incredibly light, melt-in-your-mouth scones with blueberries — picked right from the bush this summer!  The exciting thing about this 16-year-old cook is that she is so creative and not a bit afraid to add different ingredients to get the result she wants.  Abigail says, "these are so easy to make, and you can use fresh or frozen blueberries."  However, I was thinking — if you don't have any on hand how about trying some … chocolate chips?  Now THAT has your attention!  Give it a try and let me know how you do!
~Blessings, Catherine
This recipe calls for baking soda to help make it light but there are many other uses for baking soda.  Check out this awesome article from Tips Bulletin!

Saturday Scones
Fill the home with the fragrance of scones as you thrill your family with these delicious treats!
Author:
Shared By Abby Hughes
Ingredients
2 cups all-purpose flour
⅓ cup sugar
1 teaspoon baking powder
1 teaspoon cornstarch
½ teaspoon baking soda
½ teaspoon salt
8 Tablespoons salted butter, softened
1 cup fresh or frozen blueberries
½ cup sour cream
1 large egg
Instructions
Adjust oven rack to lower-middle position and preheat to 400 degrees.
In a medium bowl, mix first 6 ingredients. Cut in butter with fork or pastry cutter. The mixture should resemble coarse meal.
Stir in blueberries.
In a small bowl, whisk sour cream and egg until smooth.
Using a fork, stir sour cream mixture into flour mixture until large dough clumps form. Use your hands (or a wooden spoon) to press the dough against the bowl into a ball. The dough will be sticky in places, and there may not seem to be enough liquid at first, but as you press, the dough will come together.
Place on a lightly floured surface rolling dough into a log about 20" long. Flatten to make a thick rectangle approximately 1" thick, 4" wide, and 20" long. Use a sharp knife to cut five 4" squares of dough. Cut each square in half along the angle line making 10 triangle shaped scones.
Line a baking pan with parchment paper. Place on pan about 1" apart.
Bake until golden, about 15 to 17 minutes. Cool for 5 minutes and glaze.
Glaze: 2 cups powdered sugar – 2 Tablespoons milk Mix. Drizzle over cooled scones.
Serve warm or at room temperature.
 The pronunciation of the word within the United Kingdom varies. According to one academic study, two-thirds of the British population pronounce it /ˈskɒn/, rhyming with "con" and "John", with the preference rising to 99% in the Scottish population. This is also the pronunciation of both Australians and Canadians. Other regions, particularly the United States, pronounce the word as /ˈskoʊn/, rhyming with "cone" and "Joan". British dictionaries usually show the "con" form as the preferred pronunciation, while recognizing that the "cone" form also exists.[1]
The difference in pronunciation is alluded to in the poem which contains the lines:
"I asked the maid in dulcet tone
To order me a buttered scone.
The silly girl has been and gone,
And ordered me a buttered scone."
The Oxford English Dictionary reports that the first mention of the word was in 1513. The word scone derives perhaps from the Middle Dutch schoonbrood (fine white bread), from schoon (pure, clean) and brood (bread).[2]
The word scone may also derive from the Gaelic term "sgonn" meaning a shapeless mass or large mouthful. The Middle Low German term "Schönbrot" meaning fine bread may also have played a role in the origination of this word. Or, perhaps, the word is based on the town of Scone, Scotland.[3]
Terms such as "Rock Cakes", "Fat Rascals", and "Singing Hinnies" are also other terms for what others refer to as a scone.