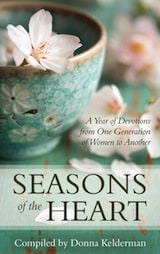 Today I am so excited to be a part of Seasons of the Heart book review blog tour for this newly released devotional by Donna Kelderman.  Donna is a pastor's wife, mother of six children and lives in the United States.  This book is a combination of writings from 12 godly women from Great Britain and America who lived from the sixteenth to the twentieth centuries.   From the Preface Donna writes, "Since I have often been fed with the writings of these dear sisters in the Lord who have gone before us, my prayer in compiling these devotional pieces is that their writings, such a rich treasury, would not be forgotten but that the Lord would use these devotionals to correct, admonish, cheer the downcast, and lead many to the foot of the cross." 
You may recognize writings from Anne Dutton, Elizabeth Hasell, Frances Havergal, Harriet Newell, Isabell Graham, Katherine Parr, Mary Winslow, Ruth Bryan, Sarah Hawkes, Susan Huntington, Susannah Spurgeon, and Anne Steele. Several of the women were published authors in their day, but mostly these women poured out their hearts on paper in private journals and personal letters.
I am regularly inspired and taught by writings of women who have gone before me.  So often the words are penned while the author is in great distress, suffering from chronic illness or in mourning.  I believe that it is these times, then and now, God uses trials to bring us into one with Himself.
In today's world we are so much more casual with our writing and our expressions of thought than those who wrote several centuries ago.  I am finding great comfort in reading the soulful outpourings of these 12 women as they responded to their own scripture readings and daily devotion with God.
In conclusion to a beautifully written devotional called Listening for the King's Voice, Frances Ridley Havergal writes, "… let the King now speak – not our own hearts and our wandering throughts, not the world and not the tempter – we must not let these speak.  They must be silenced with holy determination. And we must let the King speak as King, meeting Hi utterance with implicit submission and faith and obedience; receiving His least hint with total homage, love, and gratitude."  What a wonderful message for us … then and now.
Harriet Newell writes, "May you become a living witness for Him. When our journey through this barren wilderness is ended, may we meet in Heaven." Oh what a glorious picture this paints in my mind as sisters in Christ meeting in heaven!
Truly I could go one sharing one bit of writing after another. But my hope is you will find this book as inspiring as I have and will come to value their writings, just as I have. These timeless writings speak so directly to the heart of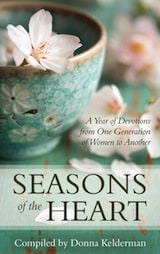 women, the struggles we go through, and the issues we face, then and now.
Seasons of the Heart by Donna Kelderman can be found on Amazon.  It is available as an e-book and a hardback book.  I wonder what these women would think of their writings being published as e-books, hundreds of years after they penned the words!  I received a copy of this book from Cross Focused Reviews in exchange for this book review.  The opinions are my own.
Romans 15:4
For whatever was written in former days was written for our instruction, that through endurance and through the encouragement of the Scriptures we might have hope.
God Bless and Happy Reading!
Catherine
As Thanksgiving approaches:
We Gather Together Hymn
We gather together to ask the Lord's blessing;
He chastens and hastens His will to make known.
The wicked oppressing now cease from distressing.
Sing praises to His Name; He forgets not His own.
Beside us to guide us, our God with us joining,
Ordaining, maintaining His kingdom divine;
So from the beginning the fight we were winning;
Thou, Lord, were at our side, all glory be Thine!
We all do extol Thee, Thou Leader triumphant,
And pray that Thou still our Defender will be.
Let Thy congregation escape tribulation;
Thy Name be ever praised! O Lord, make us free!
-Adrianus Valerius
-Theodore Baker (translator)
Seasons of the Heart: A Year of Devotions from One Generation of Women to Another includes selections from: