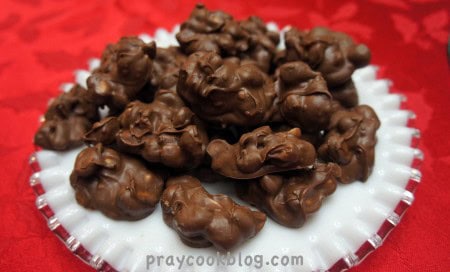 I was tired. I had just finished eating my way through New York City.  Sitting with my computer on my lap I announced to my sous-chef dish-washing mom and Chief Culinary Consultant "I'm not making a bunch of sweet treats this year for Christmas.  We just don't need the sugar or the calories."
Sixty seconds later I read The Brown Eyed Baker's blog post for Slow cooker Peanut Clusters.  By then mom was making sounds that sounded like … "but what about peanut clusters?"  My sous chef dish-washing mom is the peanut cluster maker in this family.  She has always used this recipe before. I can't stand to see a grown woman cry so when I was grocery shopping I surprised her with  — unsalted peanuts, salted cocktail peanuts, semisweet chocolate chips, milk chocolate chips, peanut butter chips and white almond bark!  And the recipe from The Brown Eyed Baker!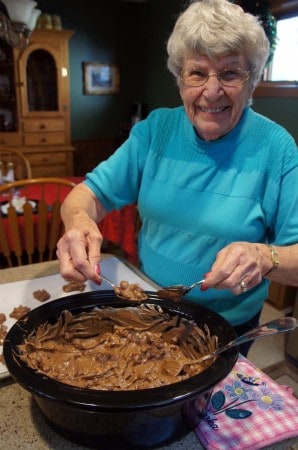 All is well at our house.  Christmas music is playing.  The tree is decorated.  Mom is happy.  The Chief is really happy.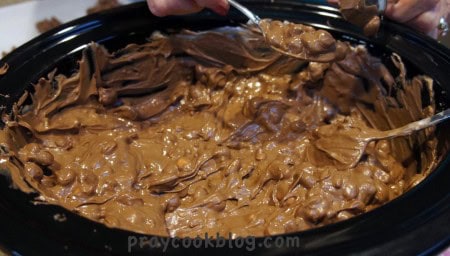 And the entire house is filled with the fragrance of chocolate.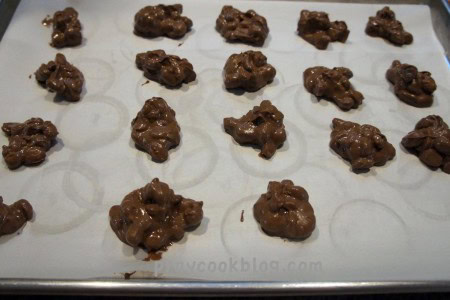 Now, about the slow cooker aka CrockPot peanut clusters.  Ours is a 5 quart CrockPot and the ingredients filled it just below the brim.  The peanuts and chocolate are layered in the order listed.  The cooker is set on low for 2 hours. This is a "set it and forget it" recipe.  At the end of 2 hours, stir all together and spoon on to parchment paper covered baking sheet.  Once they cool, they set and are ready to devour.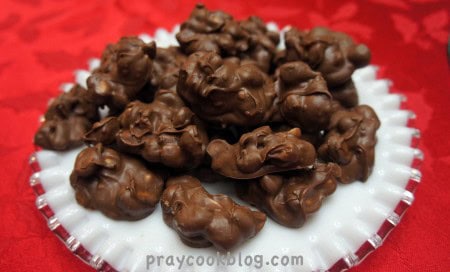 These peanut clusters really couldn't be easier.  But the taste won't give away the ease of the recipe.  The peanut butter chips add a layer of richness that is quite lovely.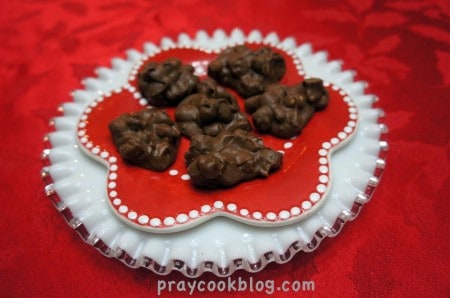 This is homemade, decadent candy at it's finest!  Fast, easy, and wonderful. Let the Christmas baking begin!
Blessings and Happy Baking!
~Catherine

Slow Cooker Peanut Clusters
Homemade candy is one of the best gifts to give or receive. Slow cooker peanut clusters are one of the easiest to do!
Ingredients
16 ounces unsalted dry roasted peanuts
16 ounces salted cocktail peanuts
1 (12-ounce bag) semisweet chocolate chips
1 (12-ounce bag) milk chocolate chips
2 (10-ounce bags) peanut butter chips
32 ounces white almond bark or vanilla candy melts
Instructions
Layer all of the ingredients in order in a 6-quart slow cooker. Cover and cook on low for 2 hours.
Remove the lid and stir to combine. If not all of the chocolate is melted, cover and cook for an additional 30 minutes on low.
Using a spoon or cookie scoop, scoop mounds of the clusters onto parchment-lined baking sheets. Allow to sit at room temperature until completely set, 1 to 2 hours. The clusters can be stored in an airtight container in the refrigerator for up to 1 month.