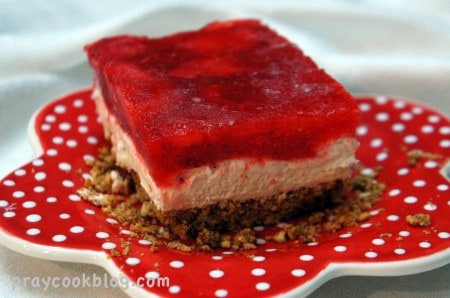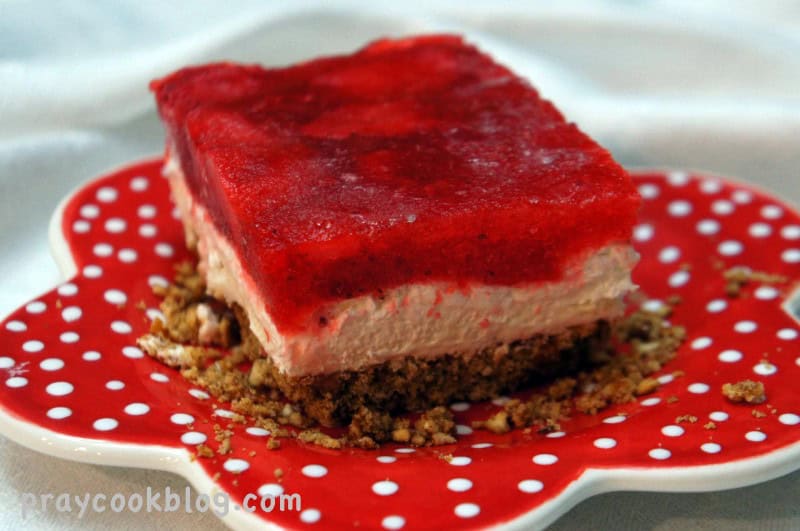 I am doing it again. Posting a recipe to share because I typically lose my copy of the recipe and can't find it at the moment I need it. Now I will have it on my blog — forever. Well, at least for as long as I need it!
I adore this salad and/or dessert. I call it Strawberry Salad and the Chief calls it Definitely Dessert!  If you haven't made it lately, you should.  The sweet and salty combination makes for mouth-watering tastiness! And the fruit, well that makes it healthy! 🙂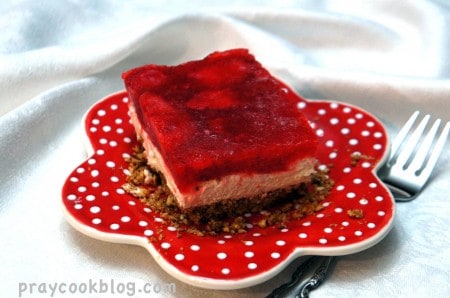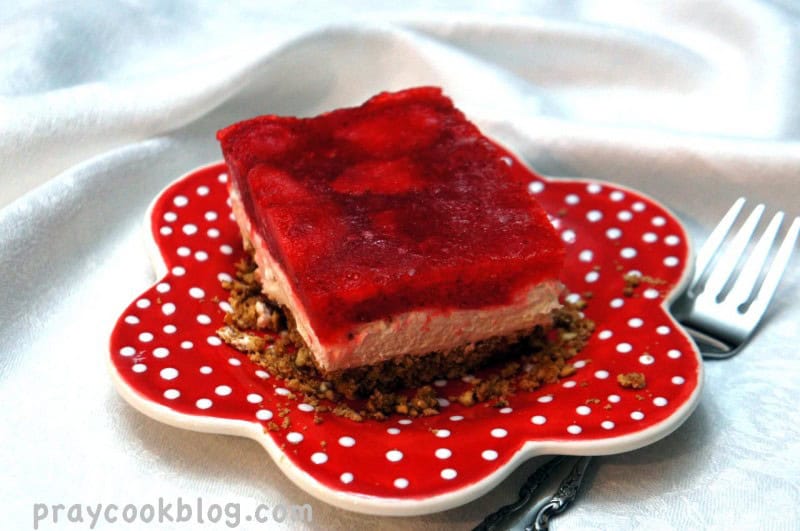 My sweet sous-chef dish-washing mom made this for us one hot day in July and it was so refreshing with dinner.  You will most generally see this pop up around the holidays but I say "don't wait."  Make your own strawberry pretzel holiday soon!
Happy Baking!
Catherine
"Let the one who boasts, boast in the Lord." For it is not the one who commends himself who is approved, but the one whom the Lord commends. 2 Corinthians 10:17-18 ESV
Strawberry Pretzel Salad
Colorful tried and true recipe that doubles as a salad or dessert! Sweet and salty combination is a real winner.
Ingredients
2 cups crushed pretzels
¾ cup melted butter
3 tablespoons sugar, plus ¾ cup sugar
1 (8-ounce) package cream cheese
1 (8-ounce) container whipped topping
2 (3-ounce) packages strawberry gelatin dessert mix
2 cups boiling water
2 (10-ounce) packages frozen strawberries
Whipped topping or whipped cream, to garnish* Optional
Instructions
Preheat oven to 400 degrees F.
For the crust, mix the pretzels, butter, and 3 tablespoons of sugar. Press this mixture into a 9 by 13-inch pan and bake for 7 minutes. Set aside and allow to cool.
In a mixing bowl, beat together the cream cheese and ¾ cup of sugar. Fold in the whipped topping, and spread over the cooled crust. Refrigerate until well chilled.
In a small bowl, dissolve the gelatin in the boiling water, and allow to cool slightly. Add the strawberries and pour over the cream cheese mixture. Refrigerate until serving time.
To serve, cut slices and serve with a dollop of whipped topping.