Walk Through The Bible In One Year
Week 15 reading plan per day
Click on the colored link to read each day's scripture.
Monday 1 Kings 1-3, Tues 1 Kings 4-6,
Wed 1 Kings 7-8, Thursday 1 Kings 9-11,
Friday 1 Kings 12-15,
Saturday 1 Kings 16-19,
Sunday 1 Kings 20-22
Blessings as you read!
Happy Monday friends! Last week while I was looking up the recipe for Miss Daisy King's Corn Pudding, on the preceding page I noticed a recipe for Sweet Potato Pudding.  First and foremost it is very fun to say sweet potato puddin'!  There is a light and easy ring to it 🙂  You may be thinking it doesn't take much to please me, and you could be right.  We eat a lot of sweet potatoes and I am always on the lookout for a new recipe.  This one didn't disappoint!  Sweet potatoes are a nutritional All-Star — one of the best vegetables you can eat. They're loaded with carotenoids, vitamin C, potassium, and fiber.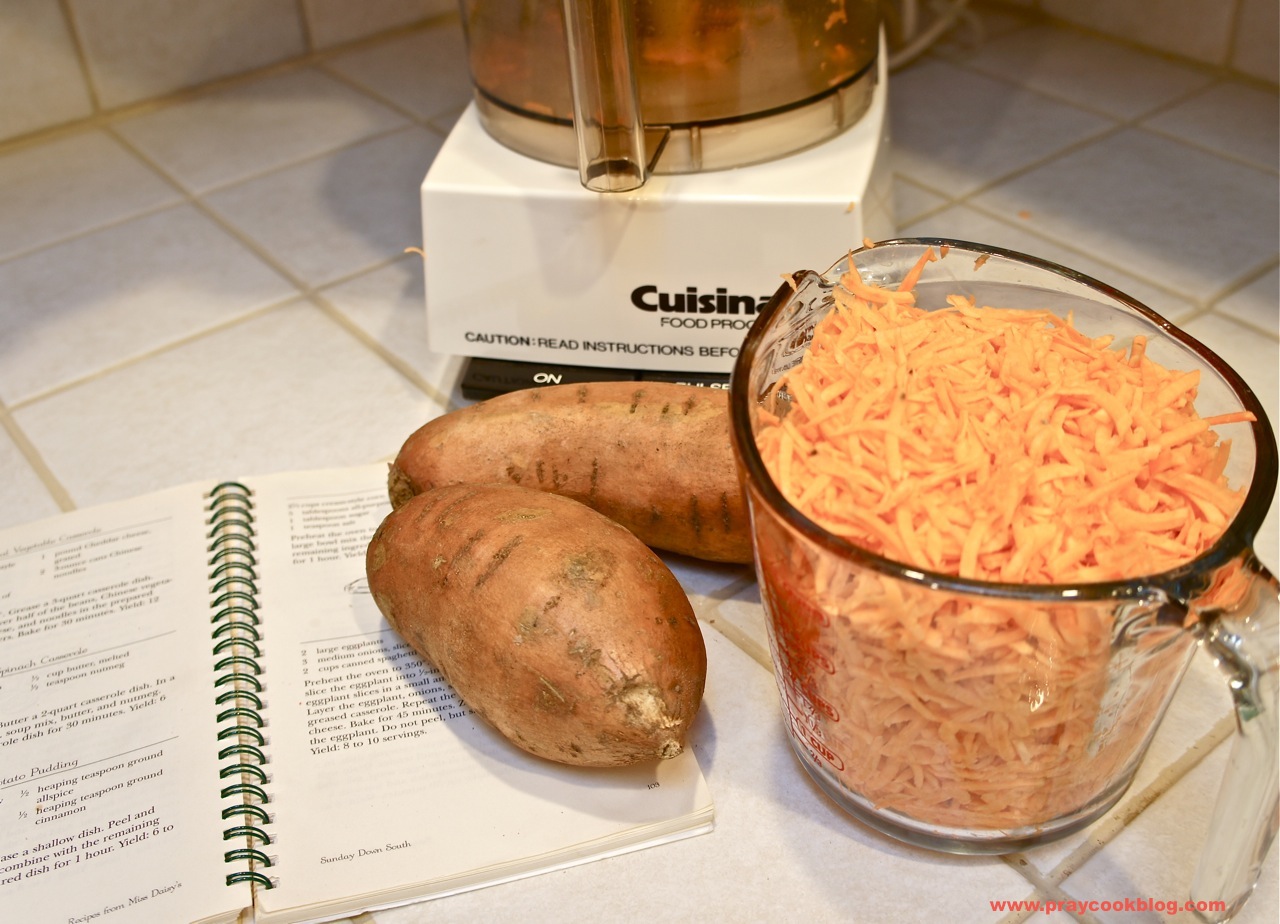 This recipe is adpated from Miss Daisy's recipe.  I say adapted, because I decreased the sugar and added an egg.  To my taste, sweet potatoes don't need a lot of extra sugar and adding 3/4 cup to this was just right.  (Original recipe called for 2 cups!) I started out with these lovely sweet potatoes I recently purchased at Costco.  I bought a whole box and they have kept beautifully.  I used my processor and grated these 2 potatoes and they equaled exactly 4 cups.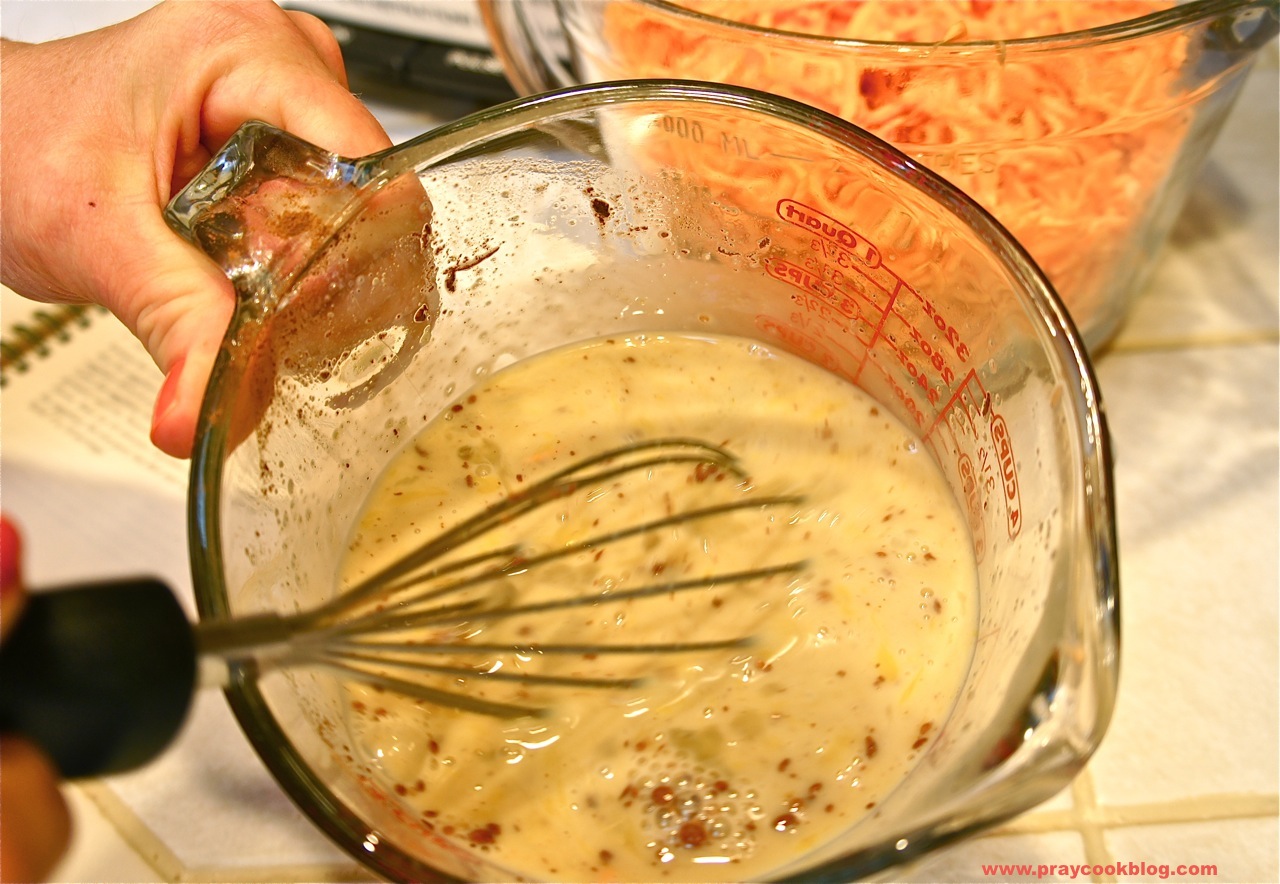 Mixing up eggs, sugar, milk, allspice and cinnamon.  Everything mixes together and pours into a prepared 8″ x 12″ baking dish, or some equivalent of that size.  Bake for an hour.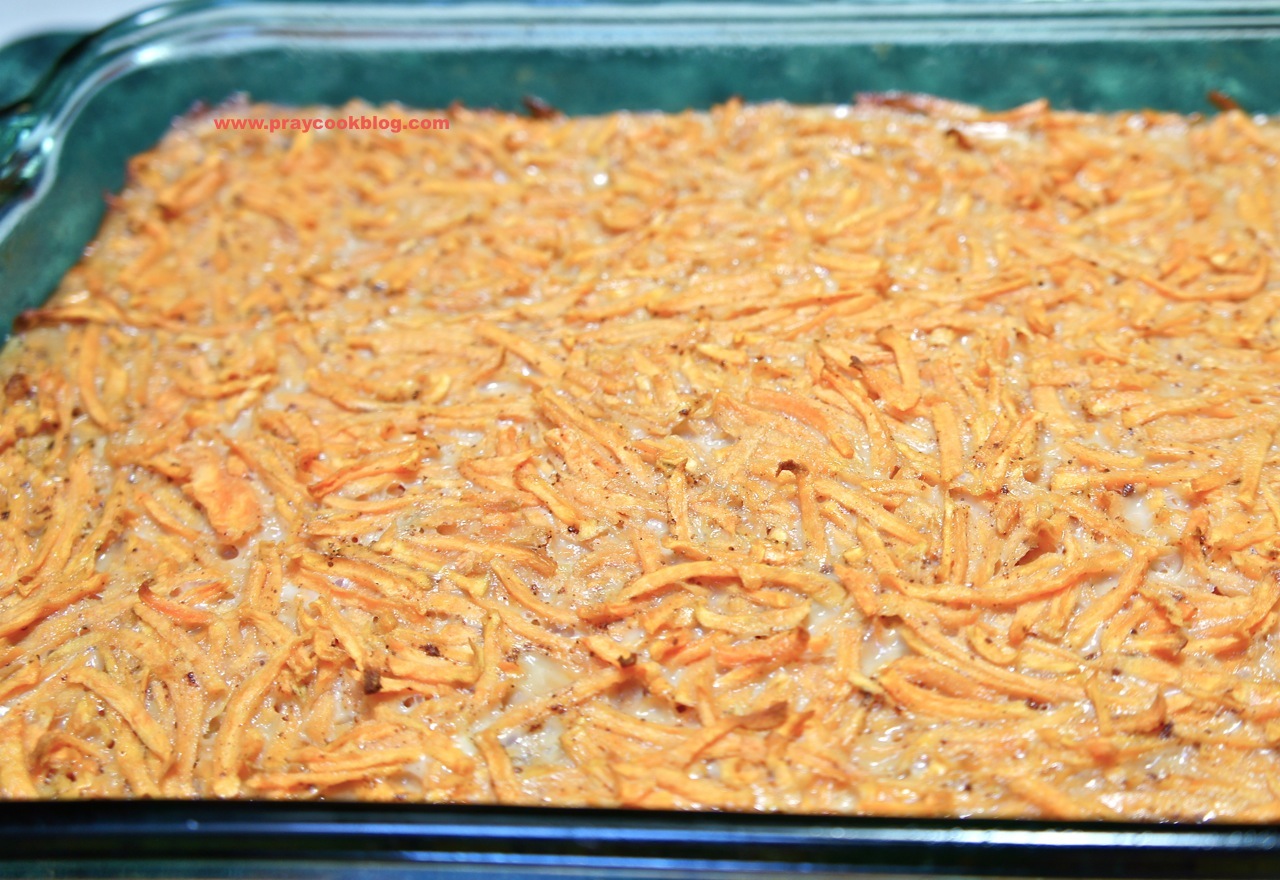 Interestingly, the potatoes kept their shredded shape but yet when mixed with the eggs, the whole mixture becomes pudding-like.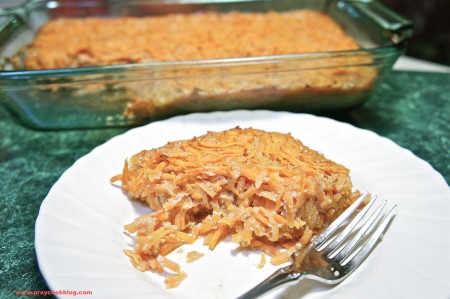 My chief culinary consultant really liked this side dish.  My sous-chef dish-washing mom determined that this was "too sweet" for her.  The funny part is that she prefers Sweet Potato Casserole, which incidentally, is quite sweet 🙂
Many Blessings for a great start to the week and happy cooking!
If you are reading the Bible along with me this year I pray you are feeling the excitement of the walk come alive! If you're just beginning today, no problem! Start right where we are. You can always access the other sections of the story in the "Previous Weeks" section to the right. You can also start from the very beginning with week one and go forward. Either way, jump right in! And may God open our hearts to His Word.
Sweet Potato Pudding
An unusual pudding with grated sweet potatoes! They cook beautifully yet keep their grated shape. A healthy and delicious side dish.
Author:
Adapted From Miss Daisy King
Ingredients
4 cup Grated or shredded raw sweet potatoes
¾ cup Granulated Sugar
¾ cup Milk
5 Eggs, beaten
½ teaspoon Ground Allspice
½ teaspoon Ground Cinnamon
Instructions
Preheat oven to 350 degrees F. Grease an 8"x 12" baking dish. Peel and grate the sweet potatoes.

With a wire whip mix all remaining ingredients. Add grated sweet potatoes and pour into prepared baking dish.

Bake for 1 hour, until top is lightly browned.

Enjoy!