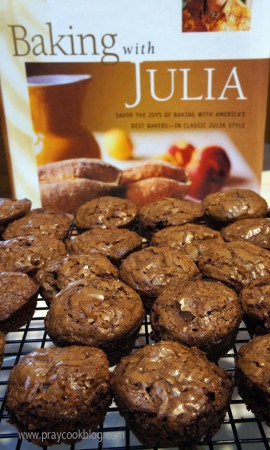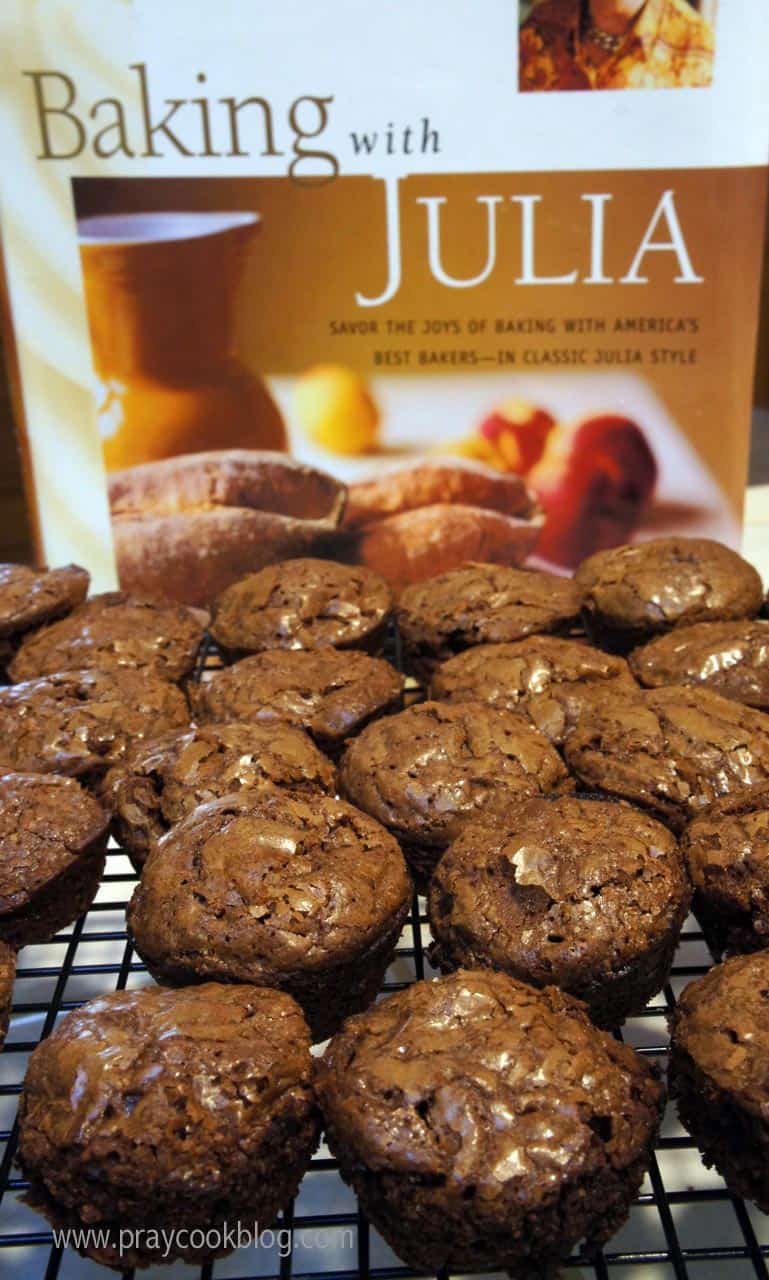 Before you say "What? brownies the week of Thanksgiving and just before Christmas? How boring." Oh, wait a minute, that is what I mumbled to myself as I began today's project. Boy was I wrong!
Twice a month a group of 400+ bakers join together, bake the same recipe from Dorie Greenspan's cookbook, Baking With Julia. Recipes are chosen by nomination and I was surprised when this week's recipe turned up to be brownies, even though the title states "Best-Ever" Brownies.
TWD bakers have a chance to share what they like and don't like about the recipe before we actually post our experience. This time many bakers complained that the brownies did not bake in the specified amount of time, which is 25 to 28 minutes. For some the brownies were still soupy at 60 minutes. I decided early on that I wanted to try this recipe in my little mini-muffin pans. Boy am I glad I did! Read on …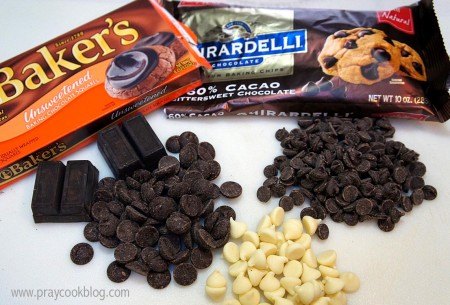 The recipe calls for 4 ounces unsweetened chocolate and 2 ounces bittersweet chocolate. I had 2 ounces of unsweetened chocolate on hand, a package of bittersweet chips, semi-sweet chips and some white chocolate chips. I ended up using: 2 ounces unsweetened chocolate, 2 ounces bittersweet, 3 ounces semi-sweet chips and then I added in about 2 ounces of finely chopped white chips before baking.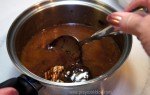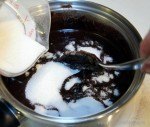 The chocolate (except the white chocolate) is carefully melted along with unsalted butter. I turned the burner on low, stirred as it melted and it did fine. A cup of sugar is then stirred into the melted butter/chocolate mixture. Vanilla is added after the chocolate has melted and is removed from the stove.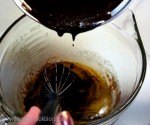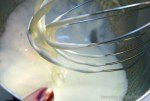 While the chocolate is melting I stirred together the remaining sugar and 4 eggs. Half of this mixture is then whisked into the chocolate/butter mixture. Constant stirring keeps the eggs for actually cooking from the heat of the chocolate. The remaining half of the egg/sugar mixture is whipped on high-speed until it is fluffy and doubled in volume.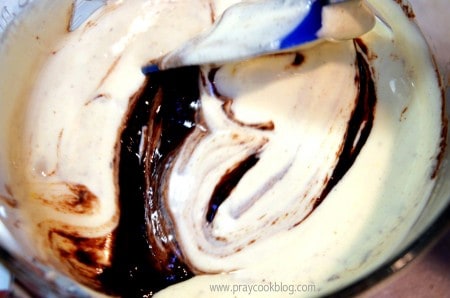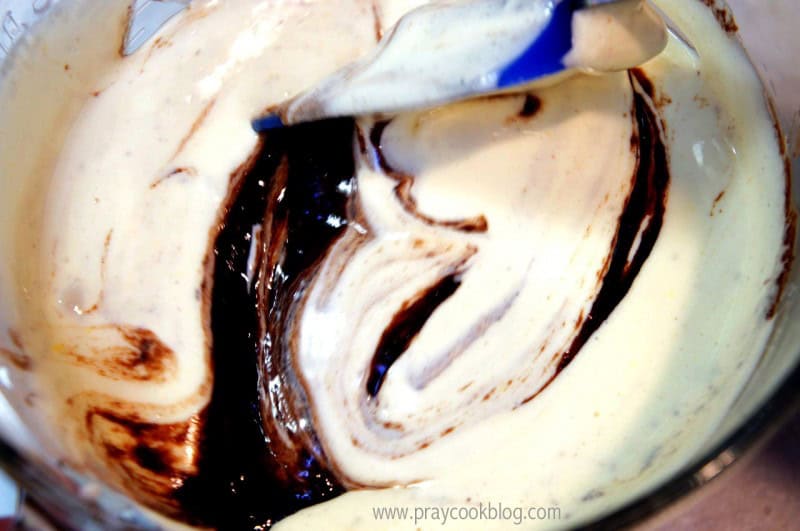 Mixing the chocolate into to the whipped eggs and the brownie batter begins to take form. Flour and salt are folded in to complete the process.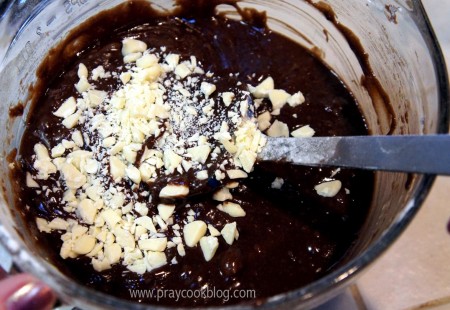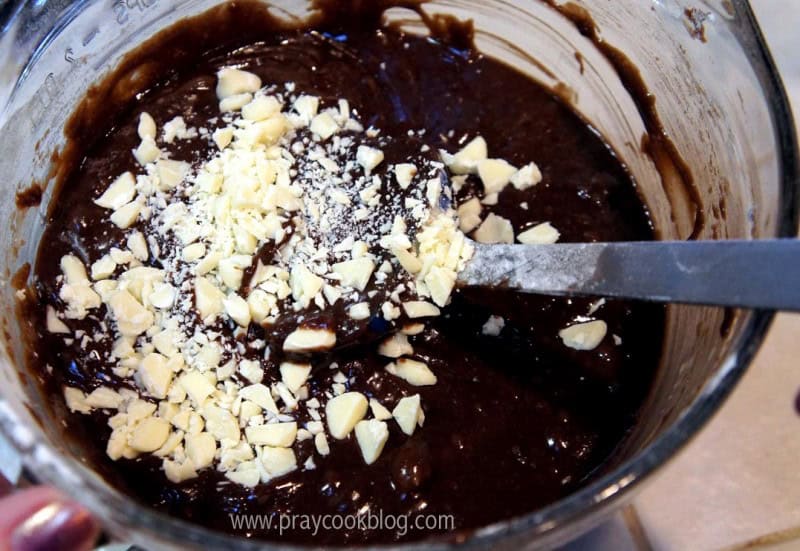 I folded in the chopped white chocolate just to mix slightly. Brownie batter doesn't like to be over-beaten so each step is mixed keeping this in mind. Next time I will leave out the white chocolate and add walnuts! Yum. The original recipe directs the batter be poured into a 9″ square pan and baked for 25 to 28 minutes. Do yourself a favor … get out your little mini-muffin tins, grease lightly and fill 3/4 full. Bake 18 minutes.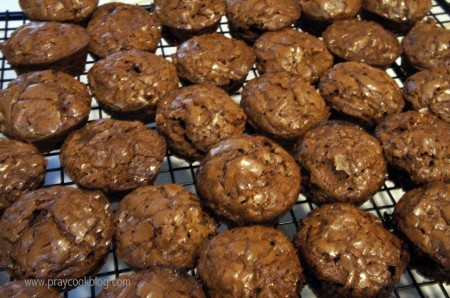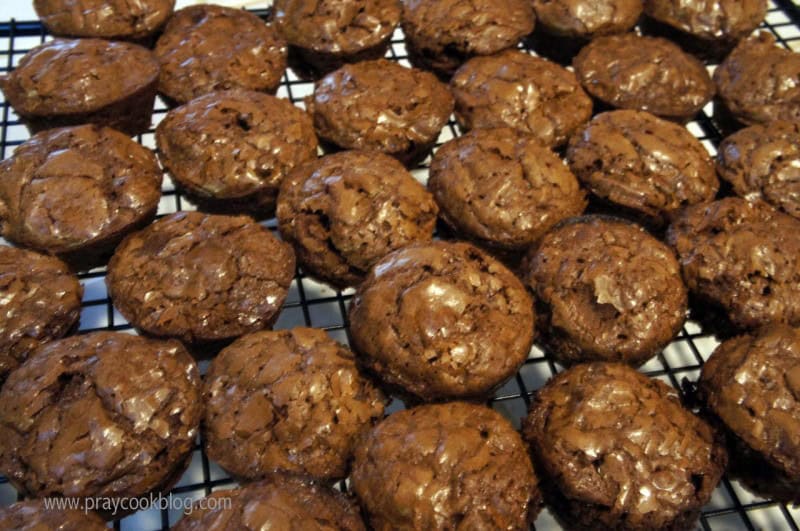 The result will be some of the "best-ever" brownies you will ever make or eat! I got 60 mini brownie-bites out of the recipe.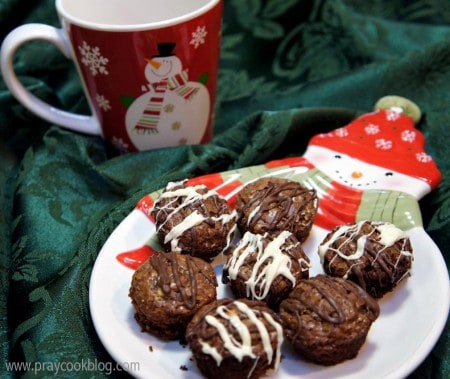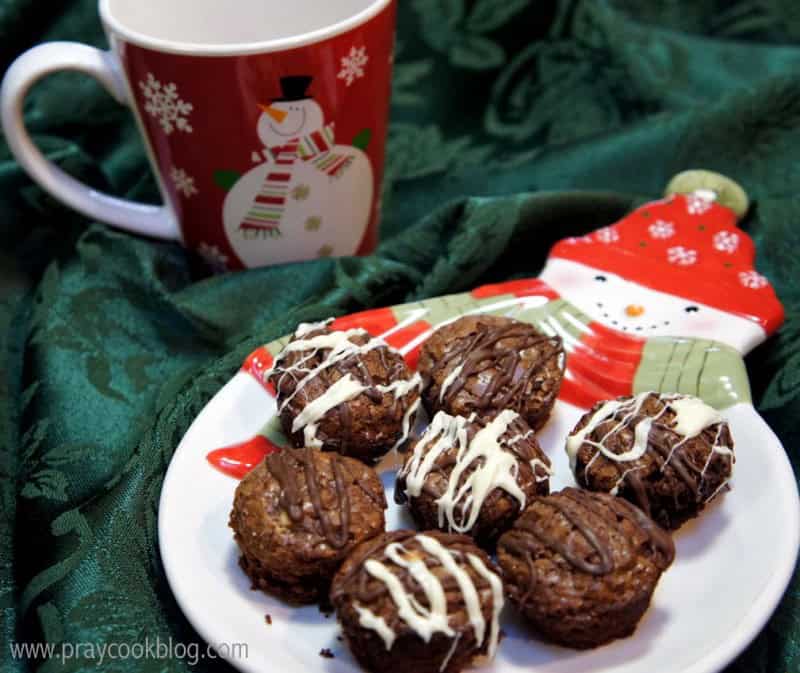 I drizzled some with white chocolate, some with melted semi-sweet chocolate and some I left plain. These little brownie bites are fudgy without being gooey.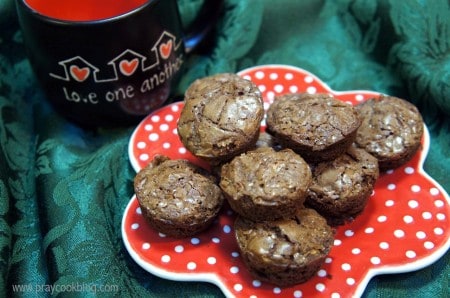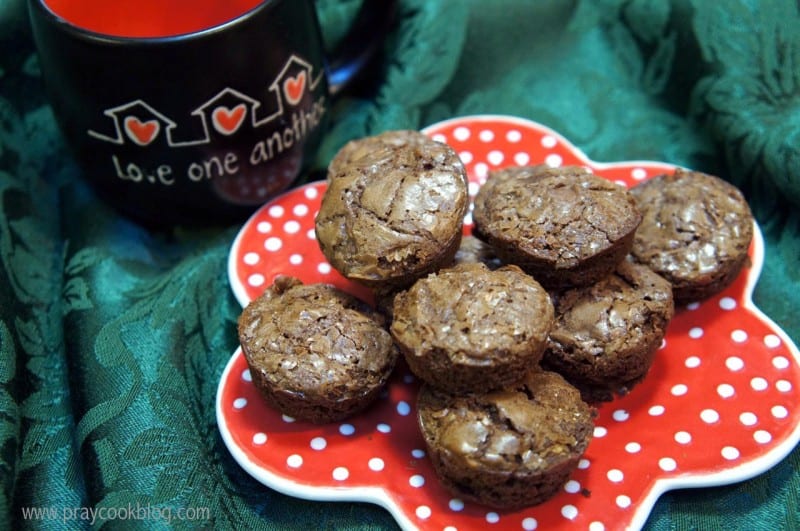 They will keep covered for 2 to 3 days at room temperature and can be frozen for up to a month.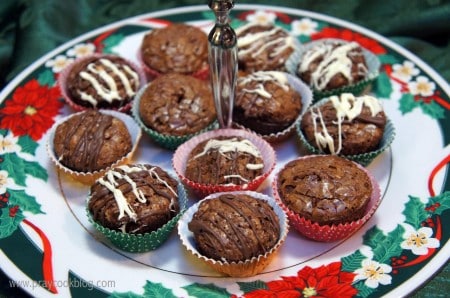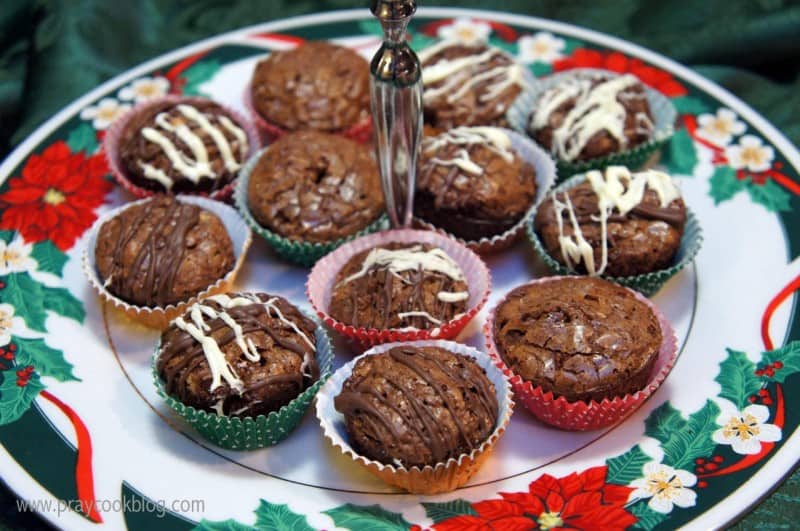 I promise you they will be the hit of any office potluck, Christmas open house or neighborhood gathering. I started out fussing about making brownies when there are so many exciting Christmas treats to be made. I ended up with some of the best-ever brownies and these treats will be showing up all over my holidays!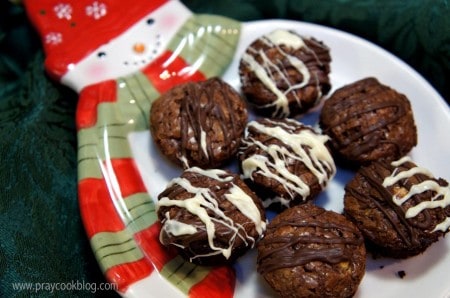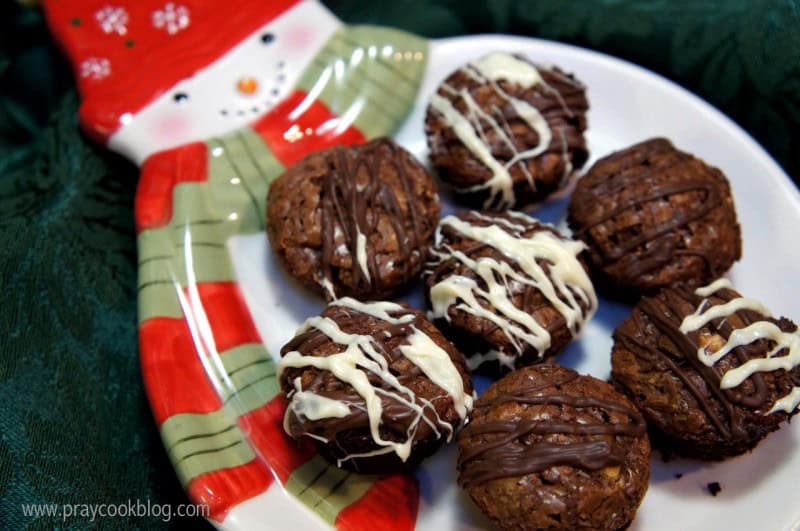 The Chief and my sous-chef dish-washing mom got the honor of the first bites. As they grumbled about gaining weight during the holidays this small plate was devoured in short order amid a variety of oohs and aaahs!
The recipe can be found in full thanks to Monica of A Beautiful Mess, this week's host. You can find the recipe on her site or on page 331-3321 of Baking with Julia: Savor the Joys of Baking with America's Best Bakers
. The results from other bakers can be seen by visiting the TWD blogroll.
~Many Blessings and Happy Cooking! Catherine