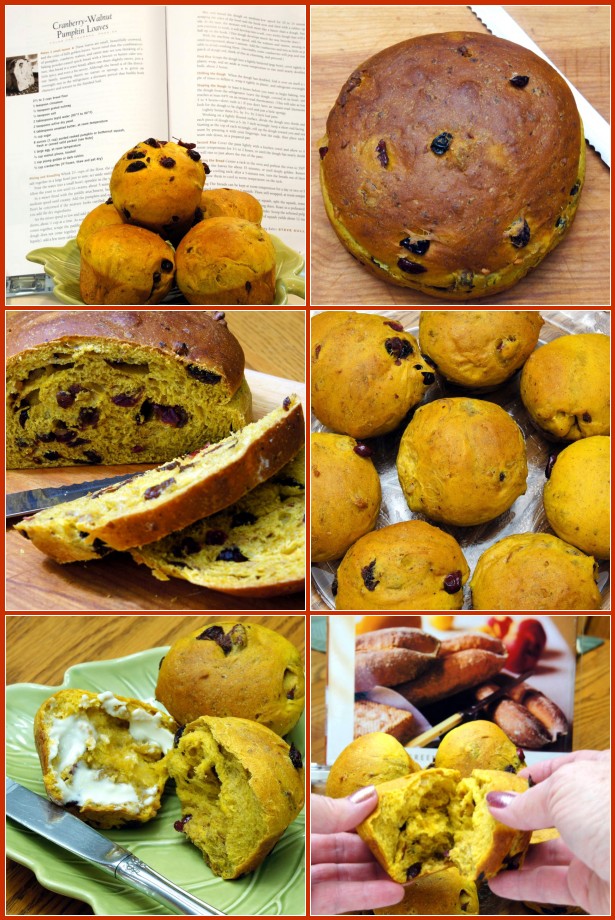 NOTE to self:  Read the entire recipe before making promises to family and friends there will be homemade bread for dinner.
This week's Tuesdays With Dorie recipe is an absolutely perfect bread to make in the fall.  Pumpkin, not only flavors this yeast bread, but adds a beautiful orange-y fall color too! The raisins and cranberries give a surprise sweetness while the walnuts add a crunchy texture.
When I first read the title and few lines of the recipe I was less-than-excited about the recipe. I am not a big fruit-in-the-bread fan. BUT, I adore pumpkin and that was enough to hold my interest.  From the recipe title I thought it was a "quick bread" — you know, mix and go.  On the day set aside for baking this bread I announced to the family "we will have fresh bread for dinner."  About 1 p.m. I set out to make the bread. Reading through the recipe I quickly saw the error of my ways.  Ways – as in plural.

3 small bread pans. Oops, only full-size pans in my arsenal of baking dishes.  Will a muffin tin do?
Fresh cranberries.  Oops, Craisins will have to do.
Refrigerate overnight. Oops, my bad.
What should I do?  Make the bread, put it in the refrigerator and bake it tomorrow?  Explain to family there will be NO fresh bread tonight?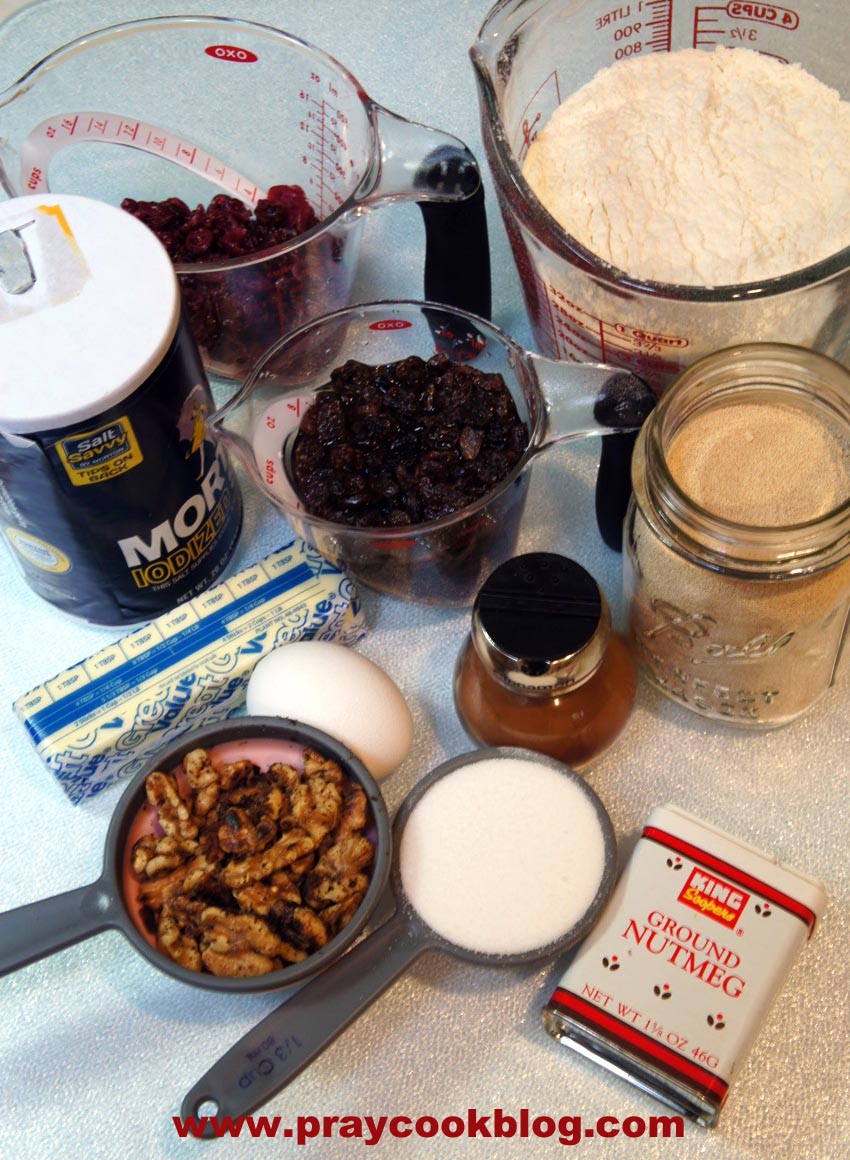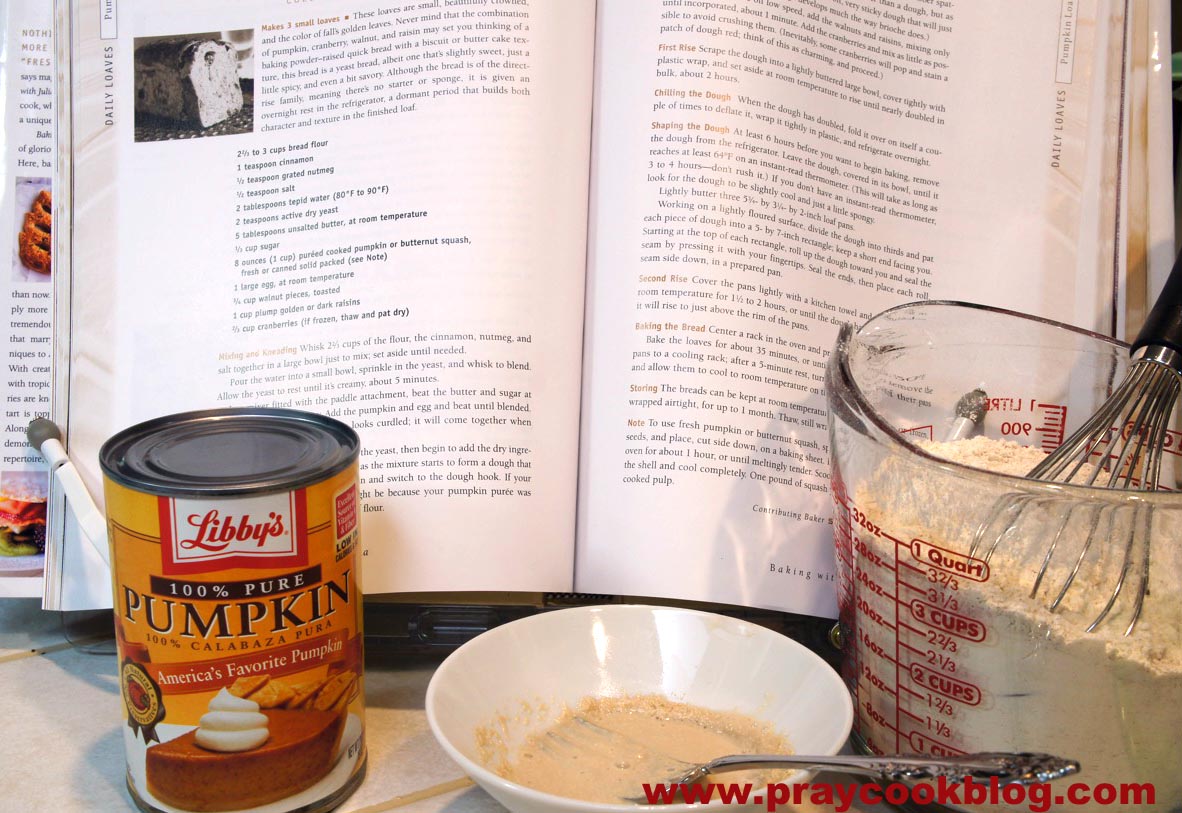 I am usually better organized than this. But, Tuesday is coming, I need to get this bread done, take some pictures, write some words.  There you have it.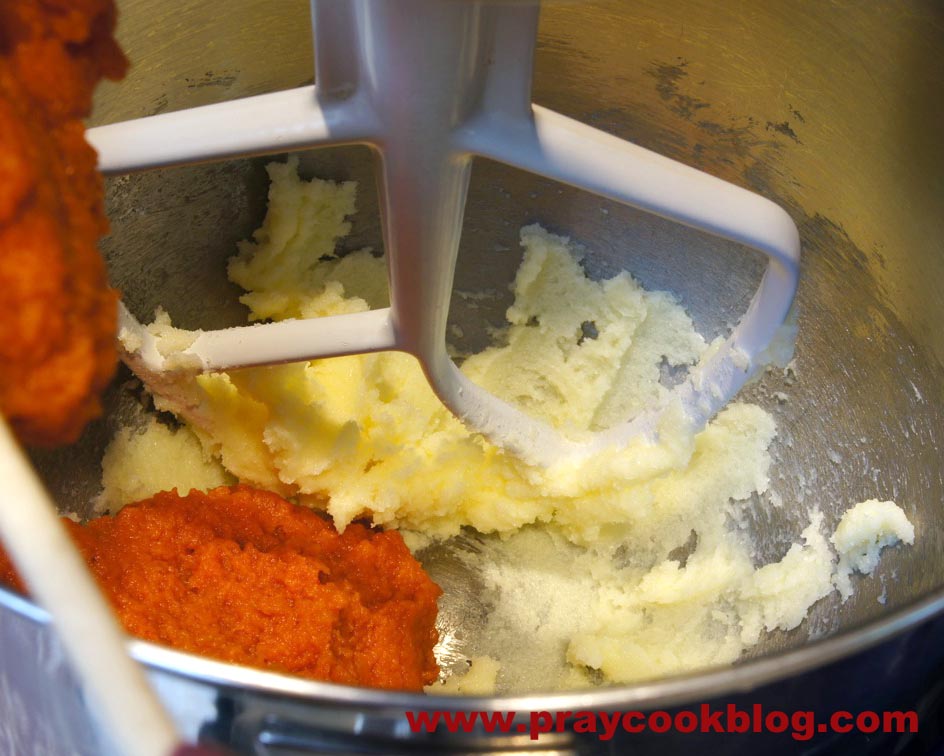 First decision – make the bread, skip the refrigerator part.  I started with creaming the butter and sugar, adding in pumpkin.  Pretty.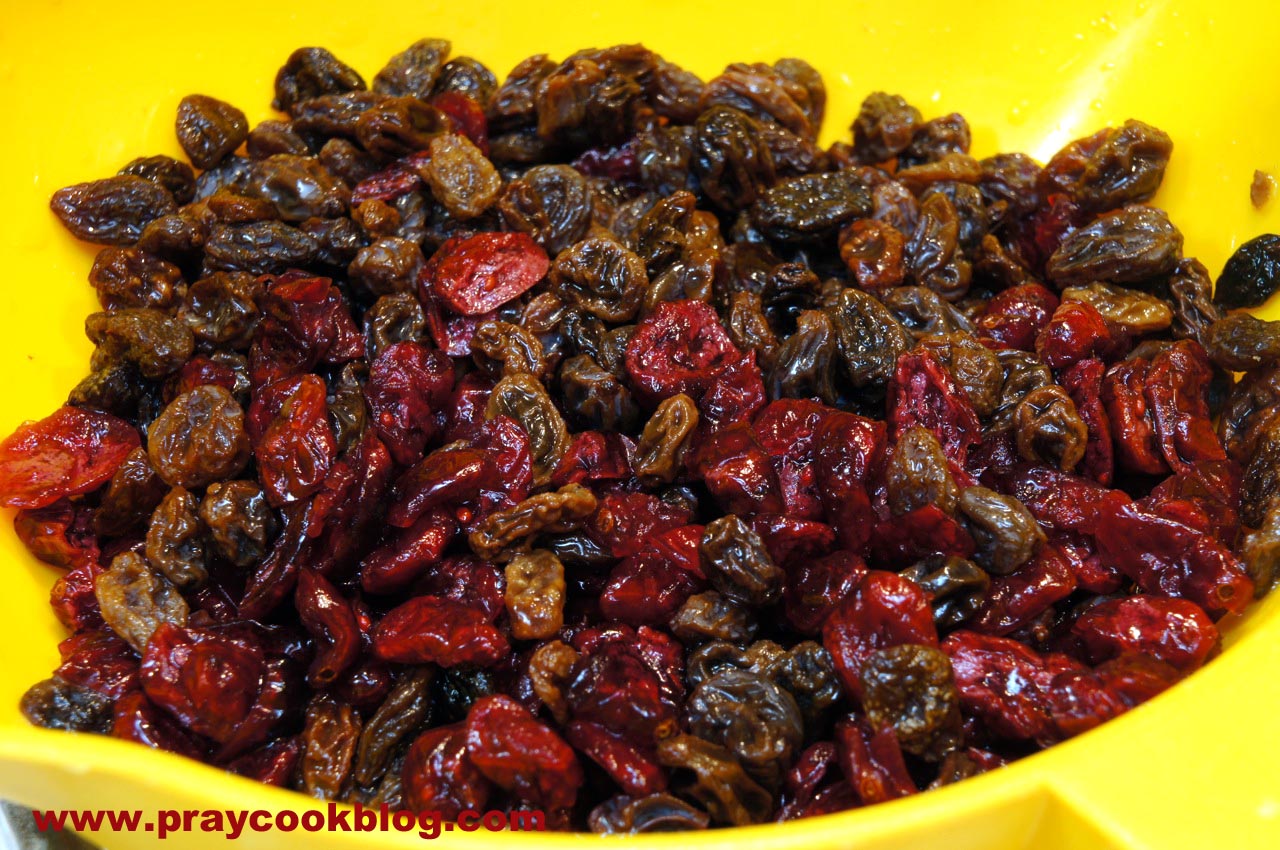 Second decision – Craisins to substitute for fresh cranberries, mixed with plumped up raisins (I set them in a little warm water for a few minutes.) Very pretty.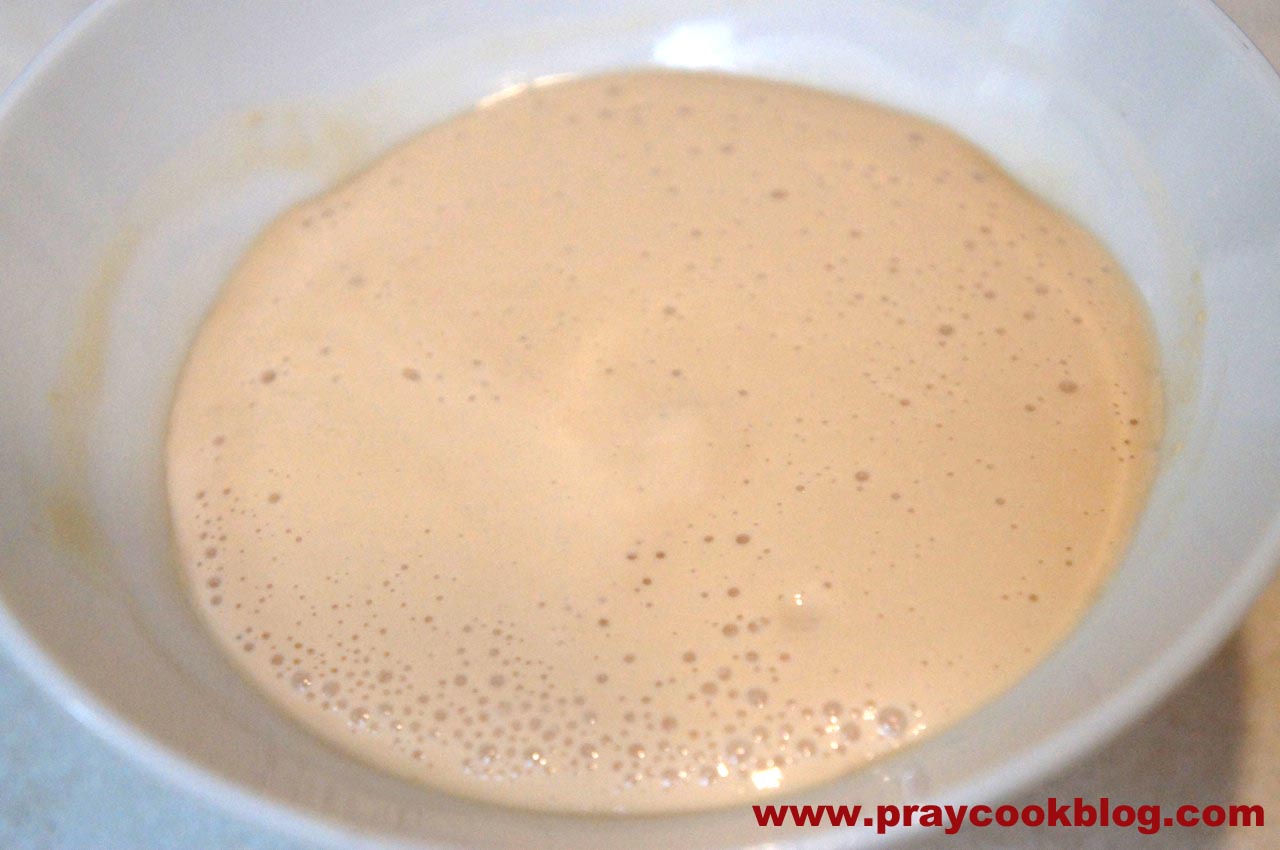 Bloom the yeast – the little bubbles show this yeast is active and healthy and ready to do its job!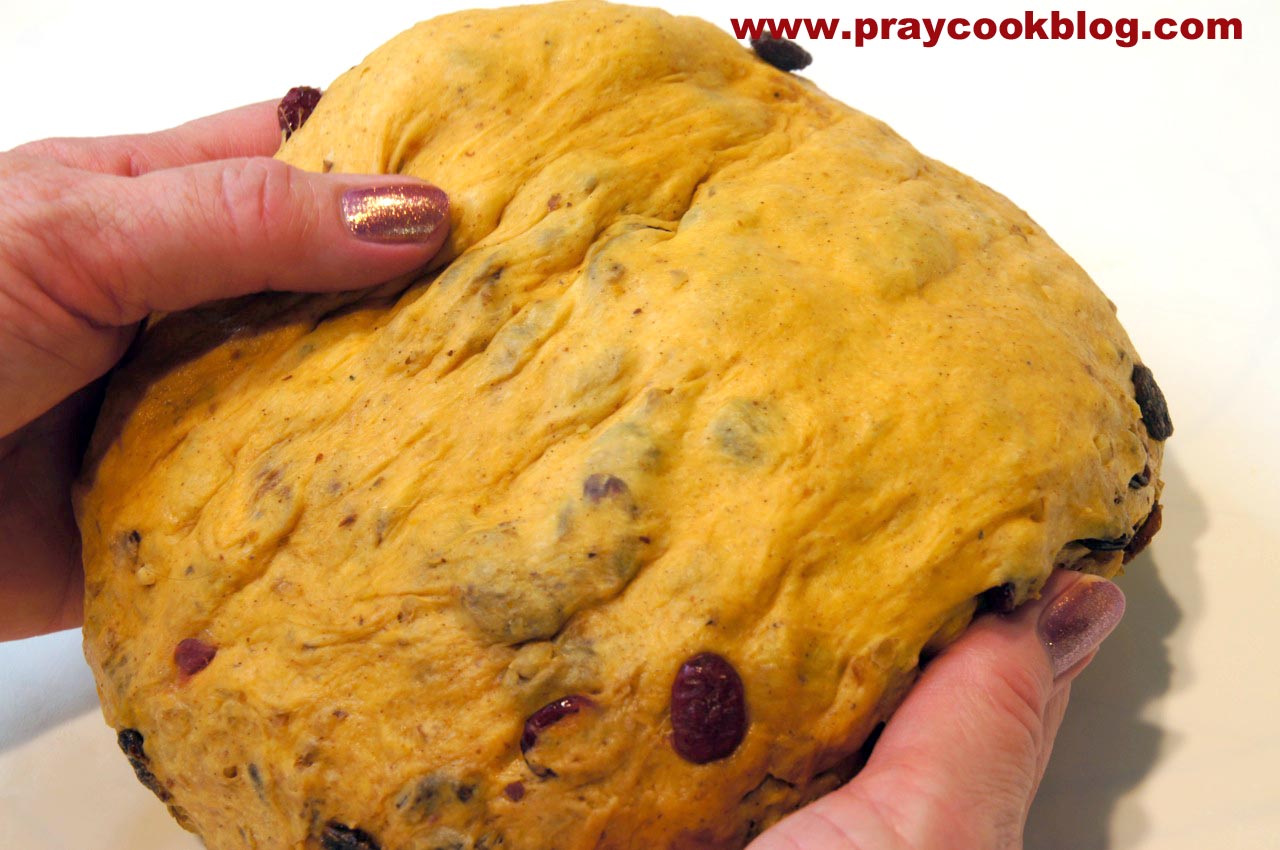 Once I mixed in the dry ingredients I kneaded it in my Kitchen Aid for 10 minutes.  The recipe said 10 to 15 minutes and at 10 the dough was perfect.  I added the fruit and nuts and let the dough rise until double, which was about 2 hours.  At this point it should have gone in the refrigerator for overnight.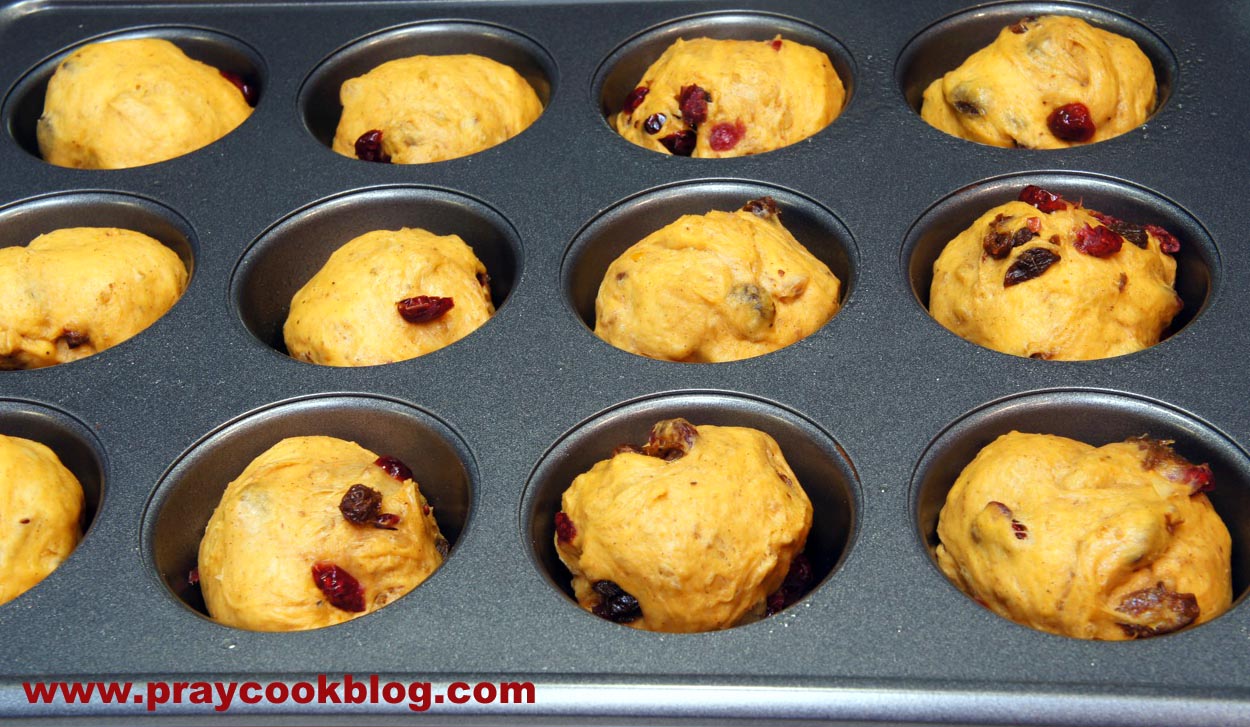 Third decision – use large muffin tin to make each roll.  I still had enough dough left over to form into a mound and bake in a little 6″ round cake pan.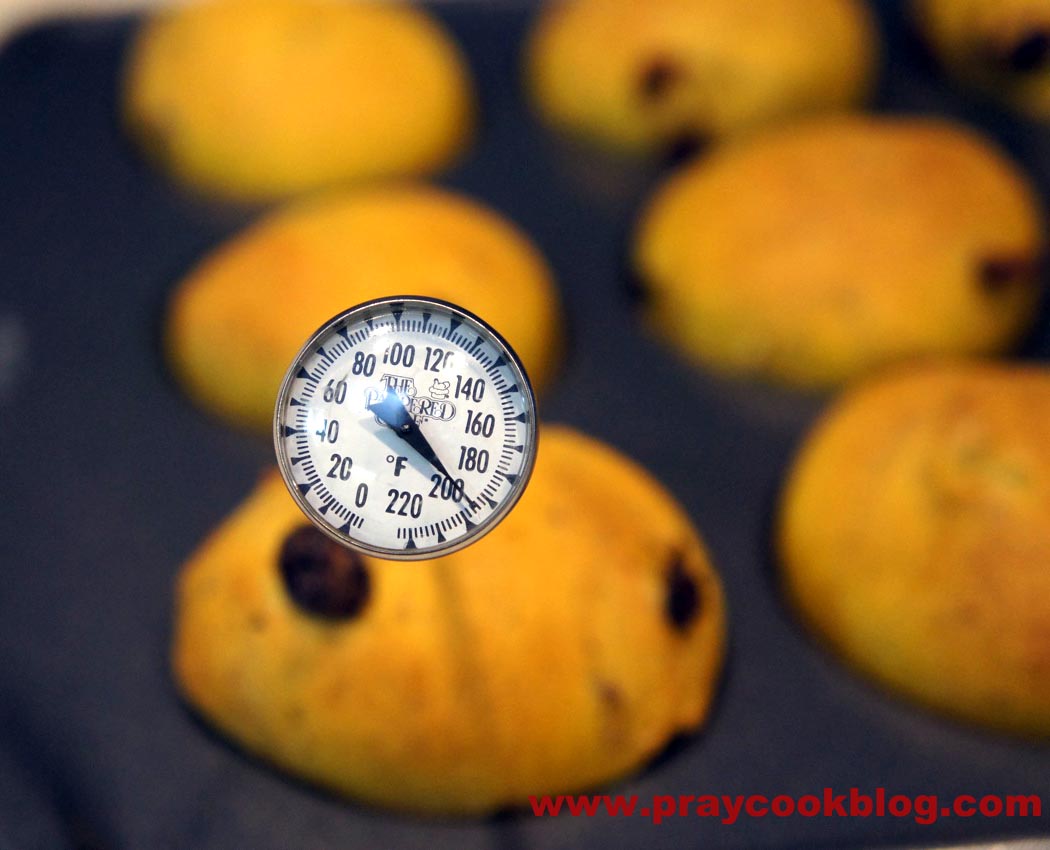 The rolls took 25 minutes at 350 degrees.  I did the "200 degree F." test and they were done perfectly.  The 6″ round bread took 30 minutes.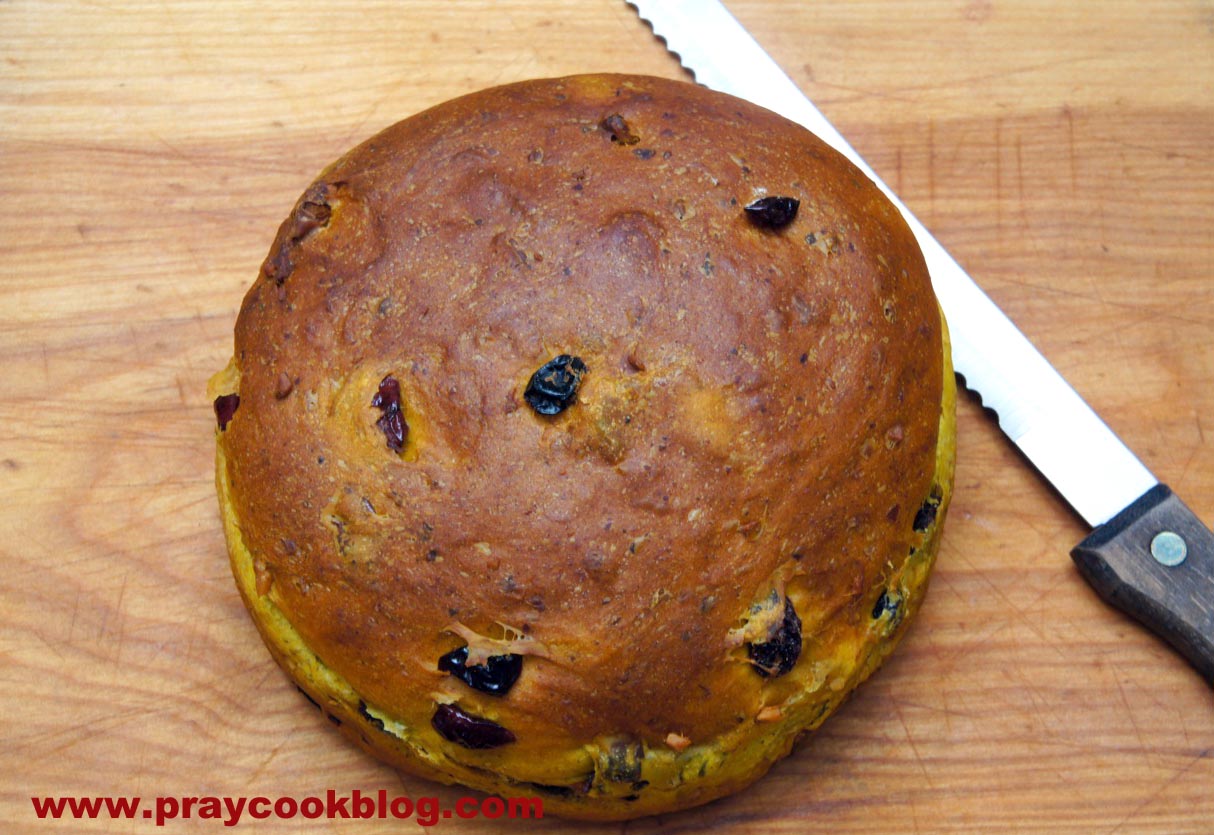 Isn't this just the cutest?  Oh but wait … there's more!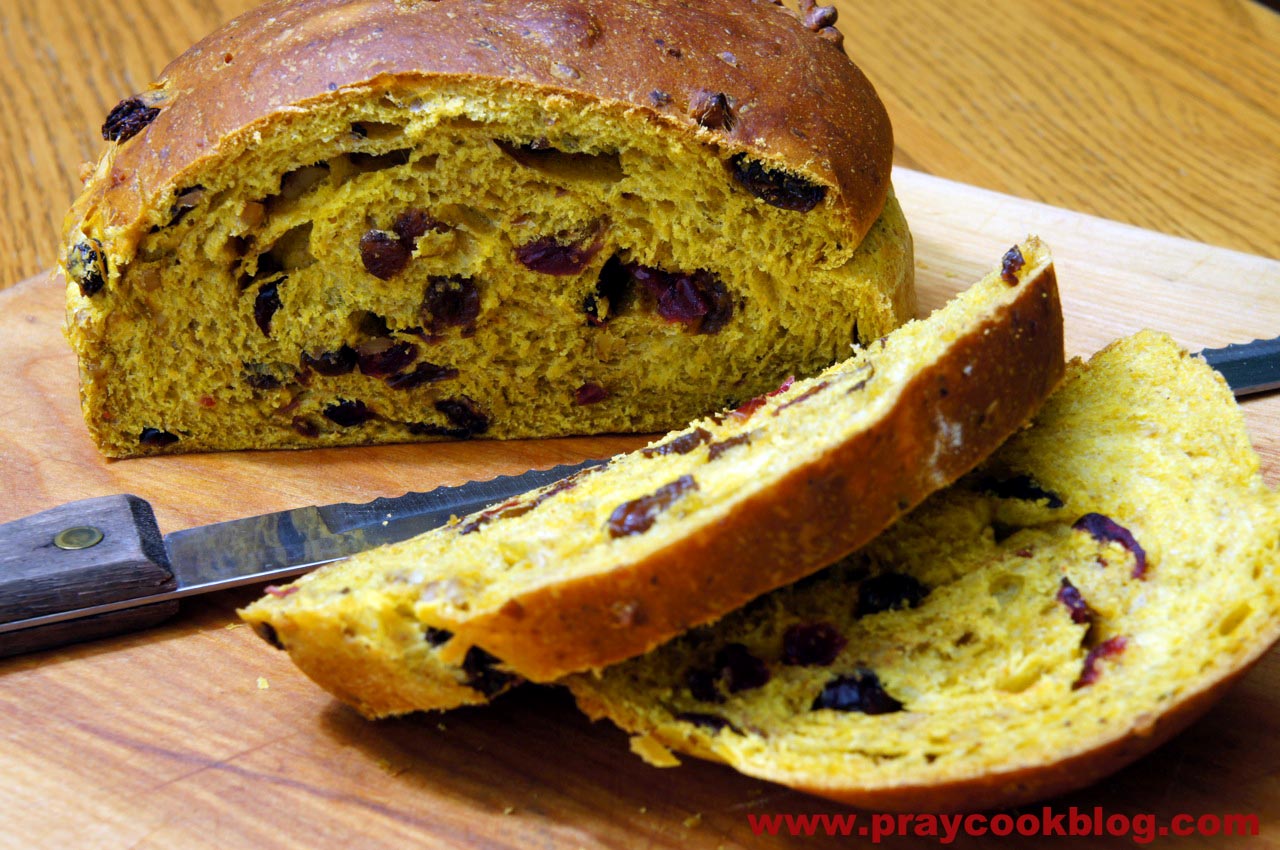 Pumpkin + Yeast + fruits + nuts = A surprisingly sweet, yeasty flavor with outstanding texture and a wonderful crumb that comes from just the right hydration with careful handling of the dough.  Oh, what about the rolls you ask?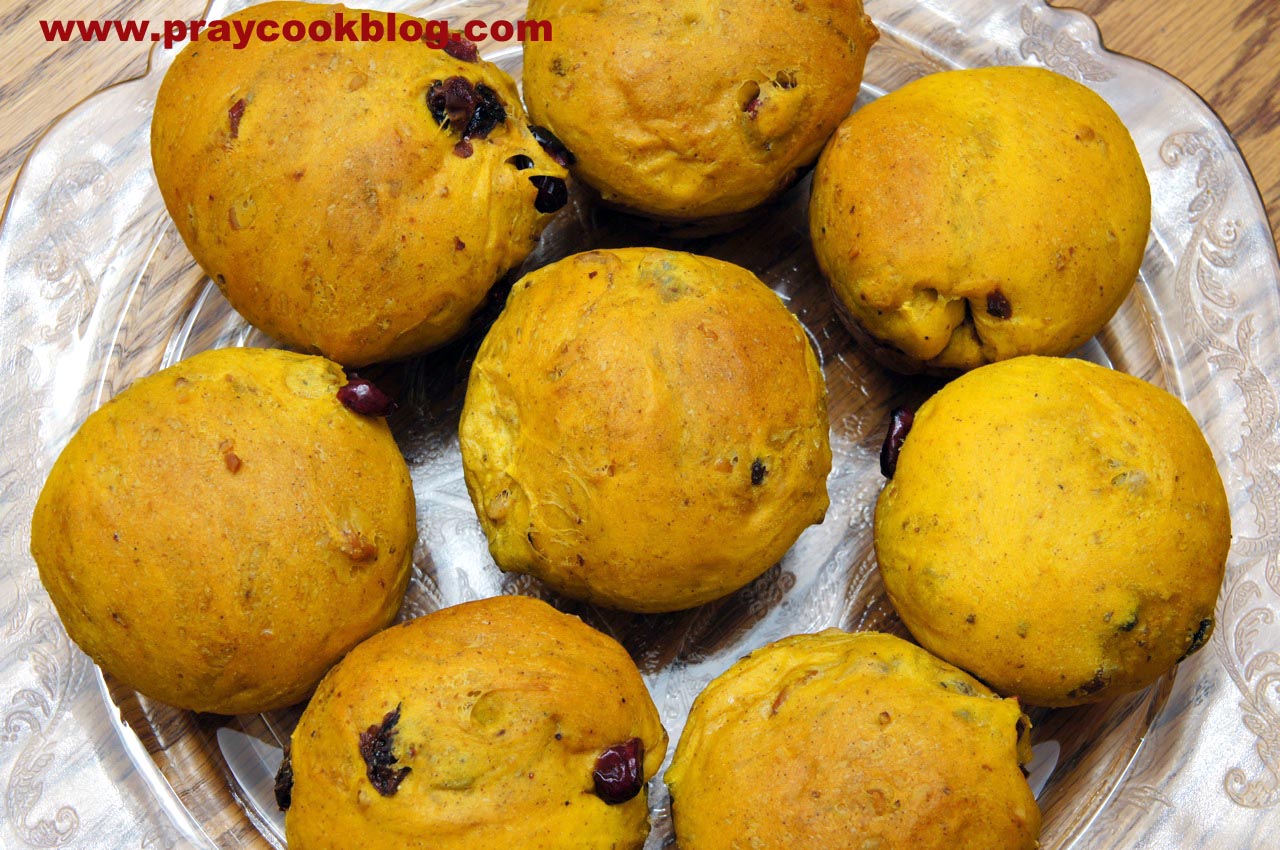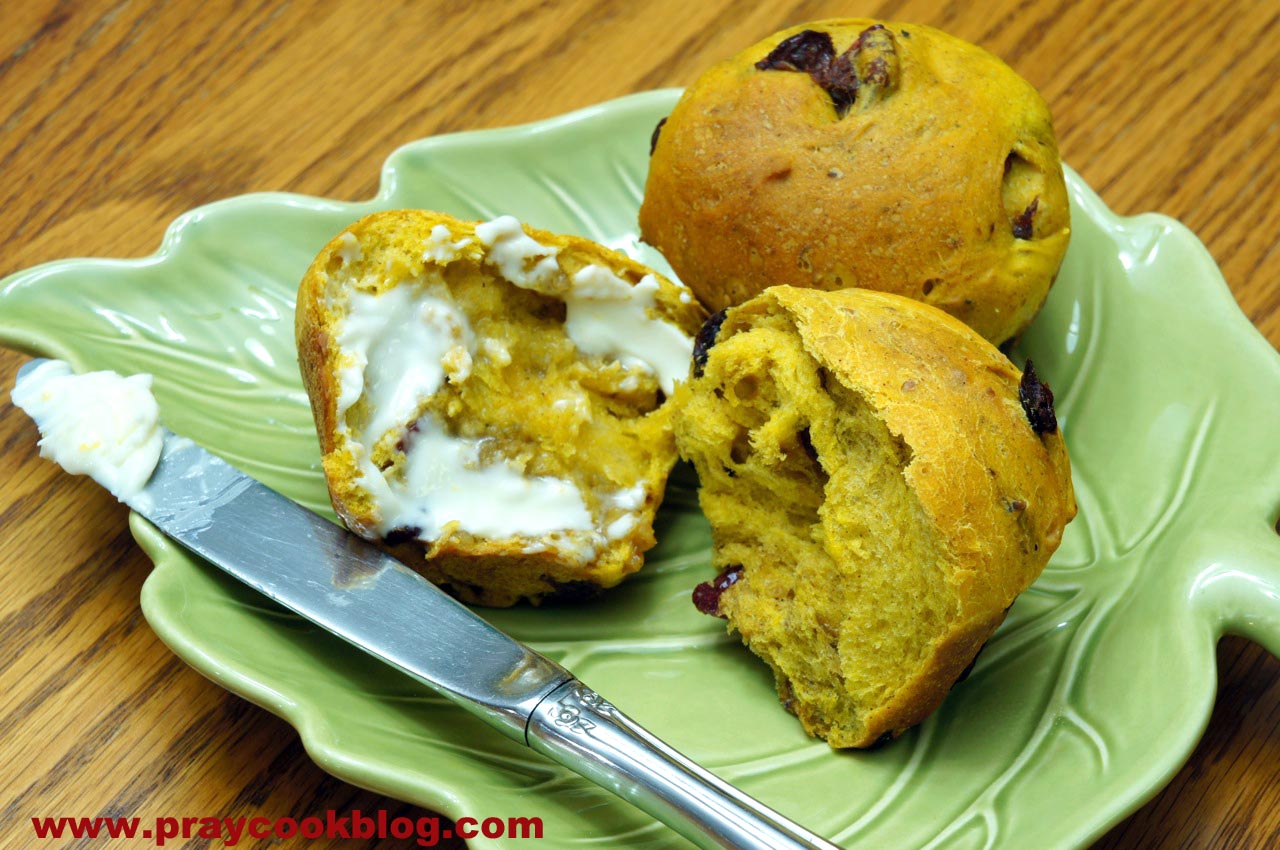 Yeah! I just discovered another keeper bread recipe.  The Chief says it reminds him of a fall version of a hot cross bun.  My sous-chef dish-washing mom (who has finally returned home) loves the color and flavor the pumpkin adds.  Me?  I just love bread that really surprises me … and this is just such a bread.  I highly recommend making it in little round loaves or a muffin tin 🙂  These rolls would be a stunning addition to any holiday table.  I can't imagine these rolls can be any better with the overnight "refrigeration" but next time I make them I will start early, refrigerate, and see if there is any difference.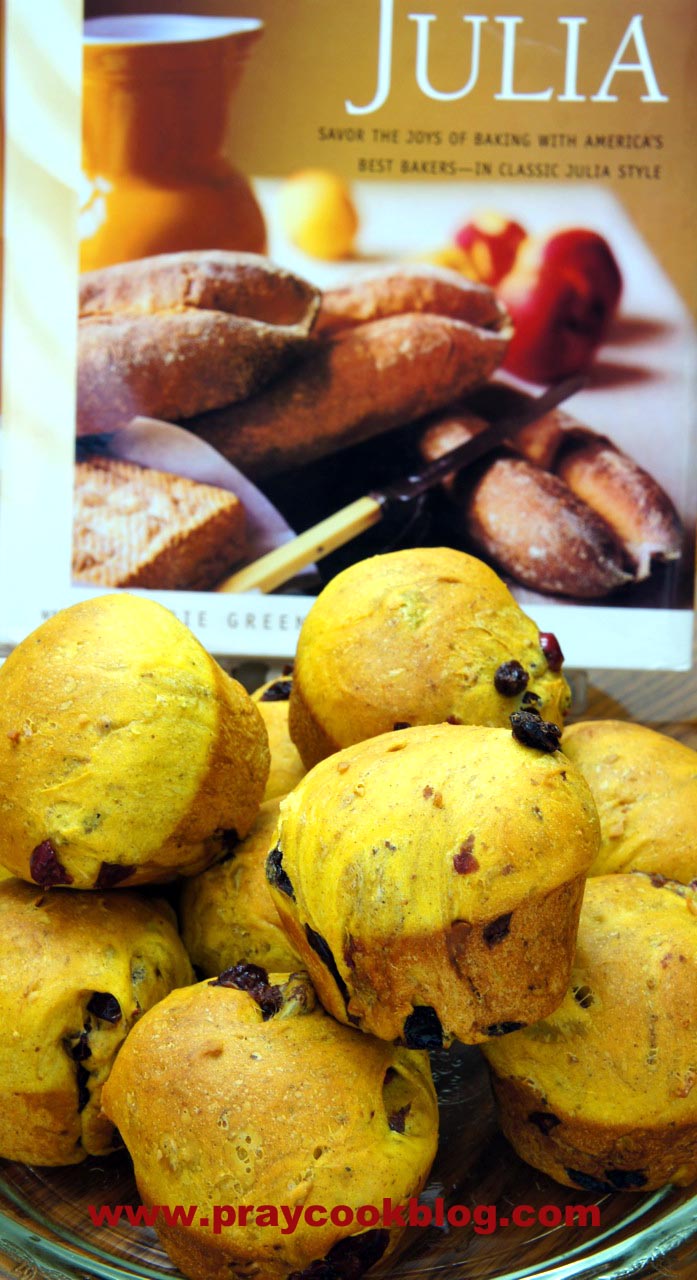 My thanks to Contributing Baker, Steve Sullivan,
who appeared with Julia Child on her PBS show Baking With Julia.  "In her classic program Baking with Julia, Julia Child shared the kitchen with some of the most well-known and respected chefs of our time. She believed in watching and learning from practiced chefs, gathering ideas from what they demonstrate, and adapting them to our own home kitchens."  To learn more about the master chefs and their unique contributions to American cooking , click HERE .
Thanks also goes out to this week's host Rebecca at This Bountiful Backyard.  At her website you will find the recipe for Cranberry-Walnut Pumpkin Loaves.  You will be glad you did!
Thank you to Dorie Greenspan for writing this book and ultimately bringing yet another great recipe into my kitchen.  Blessings, Catherine