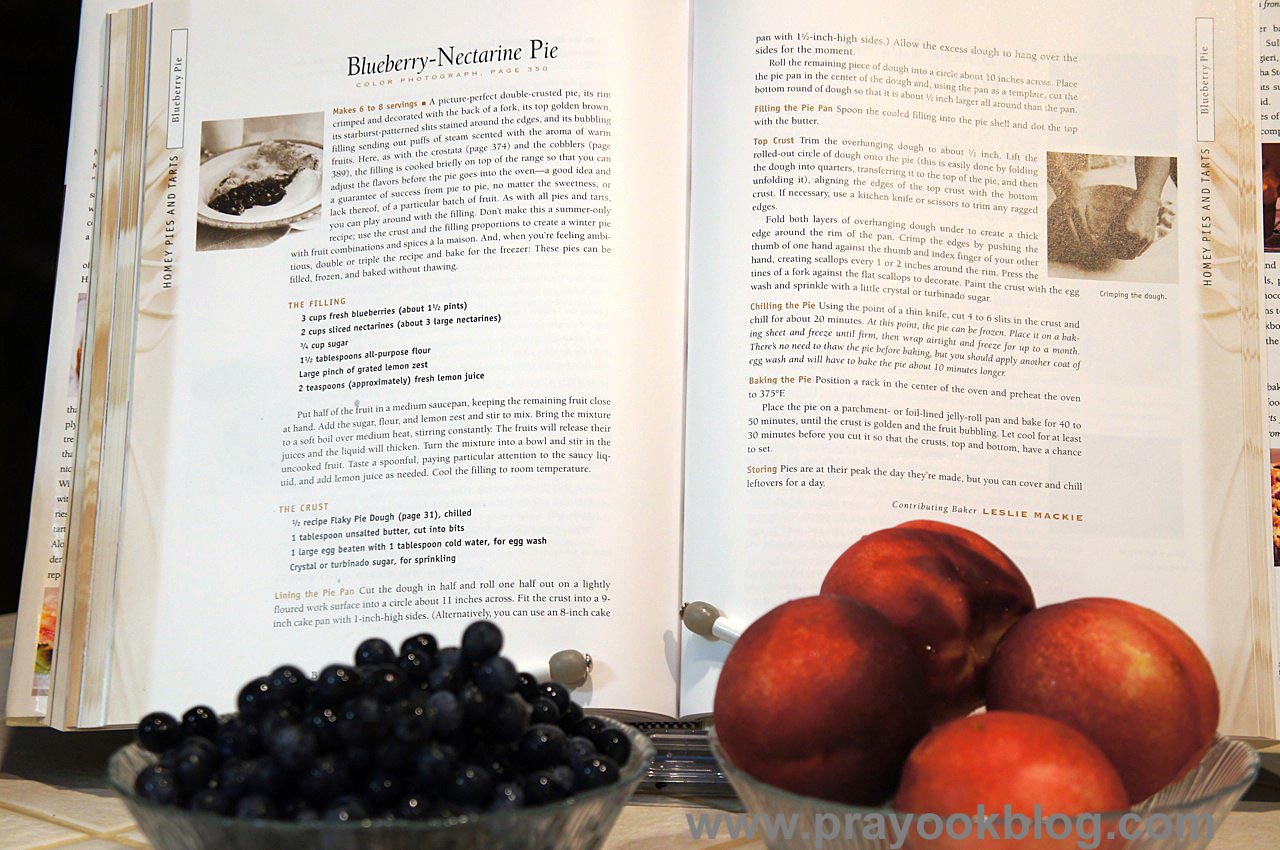 Nectarines and blueberries.  Do you think that is a weird combination?  I didn't, until after I made this pie and my family said, "why mess up a delicious blueberry pie by putting nectarines in it?  Good question!  What do the nectarines bring to the table and add to the pie?  Hmmm … let me think.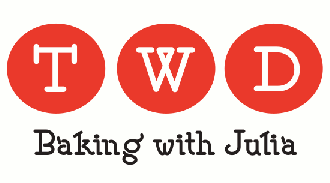 It's Tuesdays with Dorie  — Today I join some 400+ other bakers and bake a Blueberry and Nectarine Pie recipe from Dorie Greenspan's Baking With Julia cookbook.  I am having a blast baking recipes from this book.  I am learning new techniques, some new "keeper" recipes and interestingly enough, a few recipes I wouldn't care to make again.  This week is a 50/50 split.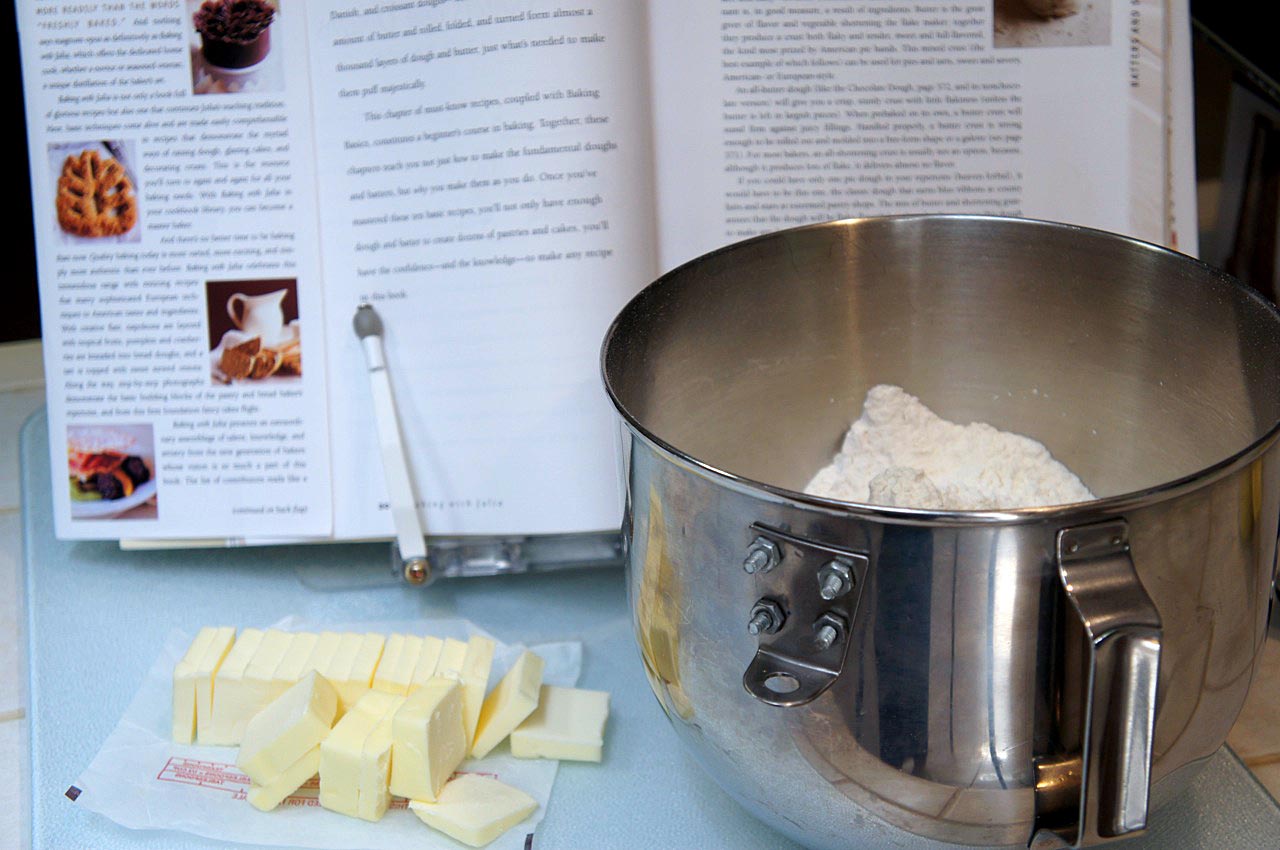 Meaning, I am adding this pie crust to my recipe box.  It is awesome.  It is soft and flaky and down-right wonderful.  But then … with butter and Crisco  — what  could go wrong!  Actually a lot could go wrong.  When I was all of 16 or so I started making pies for my family.  I loved being in the kitchen and my mother was gracious enough to allow me to come into her kitchen, raid the pantry, mess up the counters, fill the sink with dishes and turn out a pie for our family.  WORD of warning:  if  you feel the need to "knead the dough", work through some frustrations and want to roll that dough back and forth in your hands until you feel better – make bread instead.  Pie dough needs to be blended well and then left alone!  Back in the day I use to form it into a ball, then I would fold it this way and that.  Knead it back and forth getting it all mixed just perfectly.  Then I would pound it together, smooth it out and if the edges weren't just right I would roll it all into a ball and start over.  OH MY GOSH that dough would end up as tough as nails.  Oh, it would hold whatever filling I poured into it and it would brown up nicely, but try to cut it with a fork — NOT!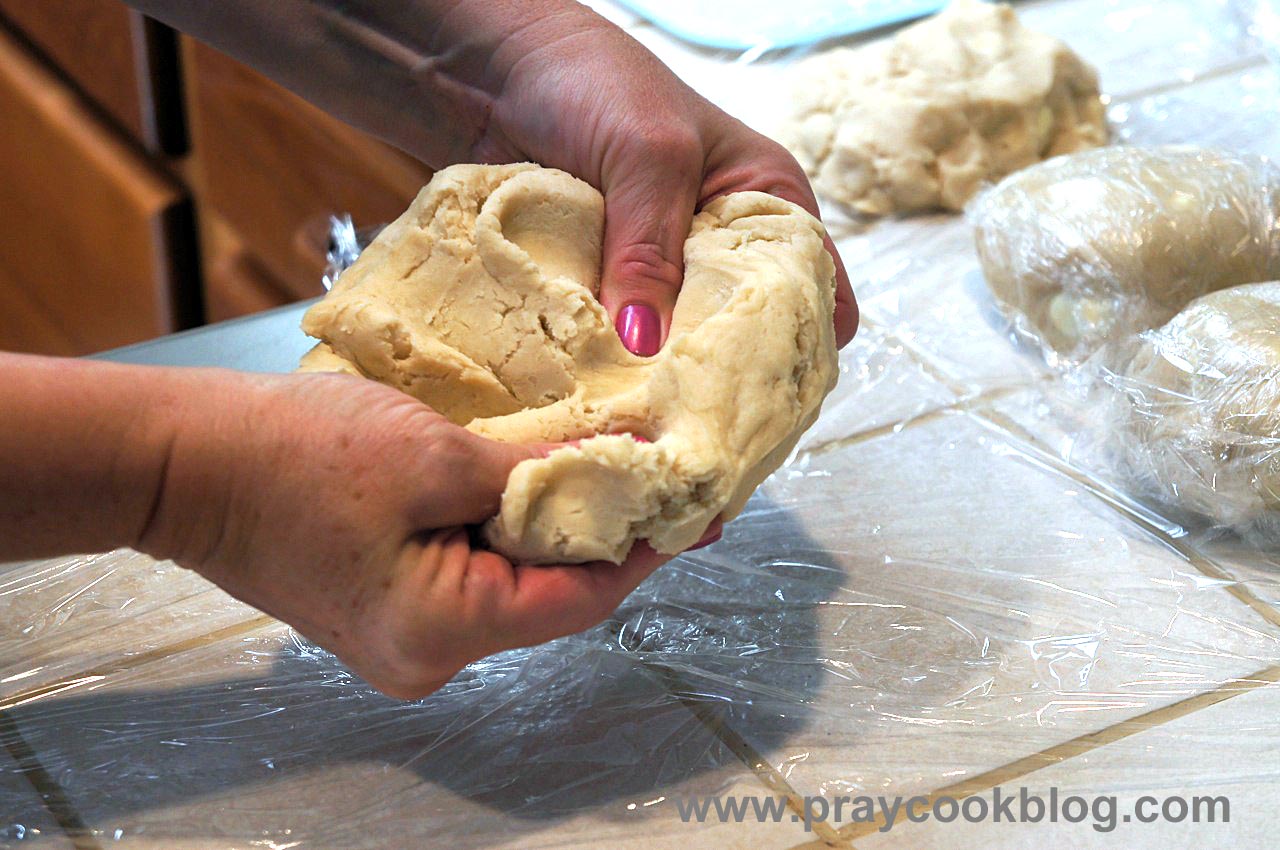 Pie dough likes to be mixed with a light and loving hand.  Even in the mixer it just needs to be lightly mixed together.  This dough came together beautifully in the mixer.  I was very careful to mix but not over-mix.  And guess what happened?   I didn't mix the butter in enough.  Really?  Is this why pie dough has such a bad name and less and less people make pies?  So after I divided the dough into 4 equal amounts (this recipe makes 4 crusts) I gently squished in the butter in a couple of places where it wasn't quite mixed well enough.  Done! The butter was incorporated and the pie dough was no worse for the wear.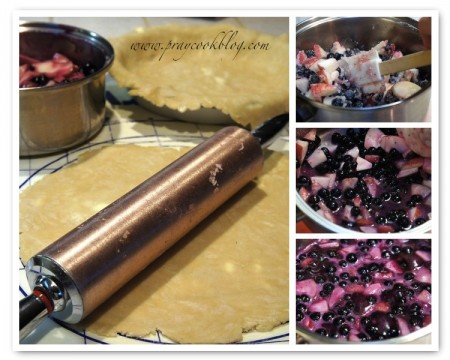 I rested my dough over-night in the refrigerator.  The recipe calls for putting it in the frig for at least 2 hours or over-night.  In the morning I got my fresh picked berries together and sliced up the nectarine.  At this point half of the fruit is tossed with flour and sugar and set on the stove to cook.  In my ever-to-be-humble opinion, ALL of the fruit should have been added to cook with a lot more thickening using either more flour, cornstarch or even tapioca.  I followed the recipe, cooked half the fruit, mixed the rest in, added to the pie crust and prepared it for the oven.  I just love using one of my new favorite ingredients — Turbinado sugar and so of course I liberally sprinkled the top.
My friend Nancy was flying in from Colorado and spending the weekend.  So I baked the pie early in the morning and left it to sit on the counter for the day while I retrieved Nancy from Nashville.  I served the pie for dessert that evening.  When I cut into the pie it looked good but was a little juicier than I would have liked.  But oh that crust — melt-in-your-mouth wonderful.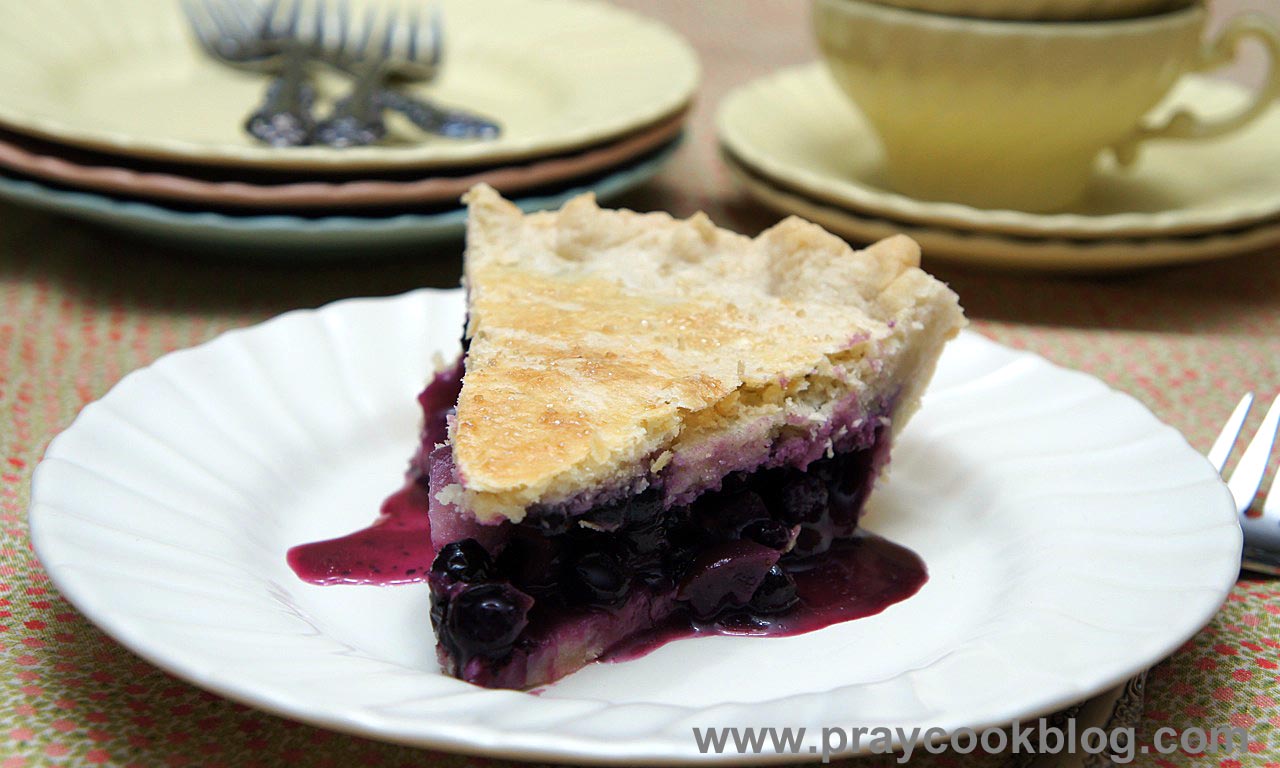 Since this is a Tuesdays With Dorie recipe my Chief Culinary Consultant, Sous-chef-dish washing-mom and good friend, Nancy all joined in with plenty of comments and compliments.  Here is the jist of it …
~ The nectarines really didn't add much to the flavor but contributed to the texture.
~ The pie was a little too juicy.
~ The blueberry flavor was perfectly spot-on!
~ The crust recipe makes 4 singles crusts and is the best we have had in a long time!
~ I will use this pie crust recipe again, but not the blueberry part.  I think the blueberries needed more thickening and even though we enjoyed the pie, I plan to post a keeper blueberry pie recipe in the future! 🙂
This recipe is hosted by TWD bakers Hilary and Liz.  Please check out the recipe on their websites:
Hilary of Manchego's Kitchen
Liz of That Skinny Chick Can Bake
~Blessings, Catherine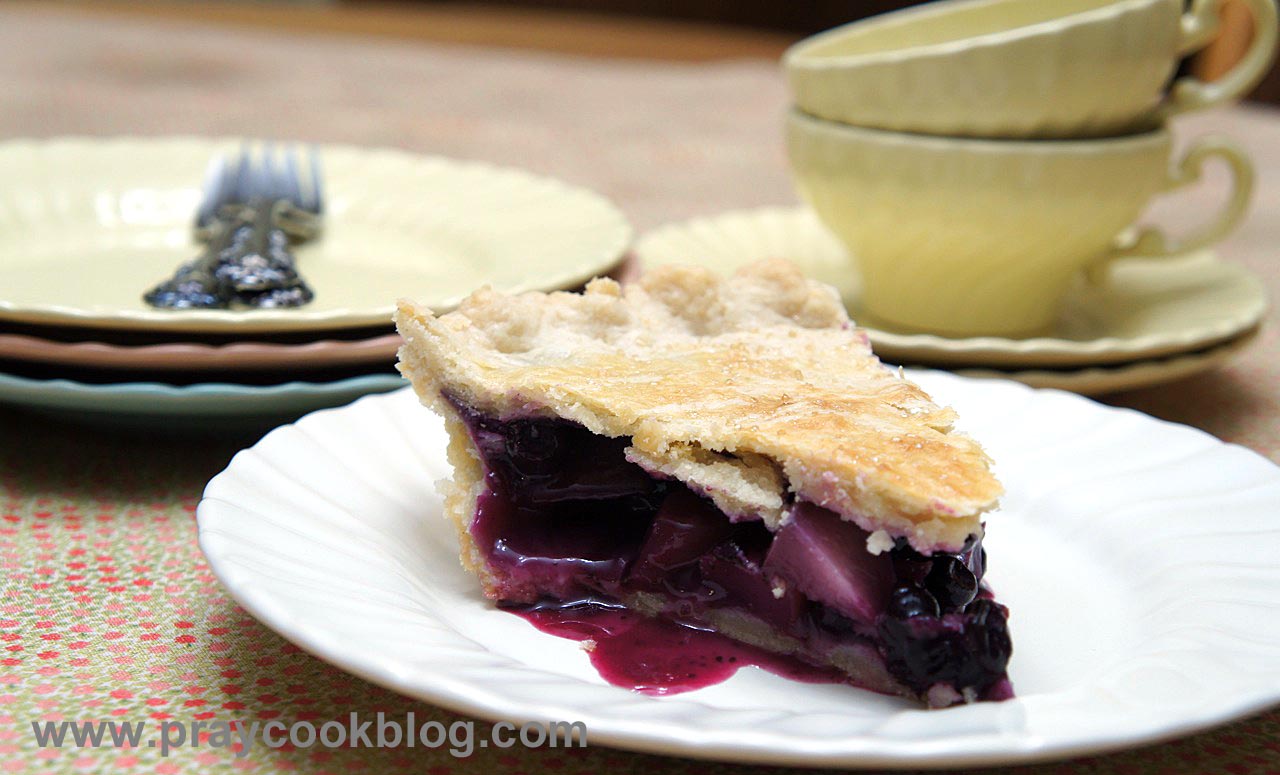 ""You are the light of the world. A town built on a hill cannot be hidden. In the same way, let your light shine before others, that they may see your good deeds and glorify your Father in heaven." Matthew 5:14,16 NIV