Walk Through The Bible In One Year
Week 21 reading plan Job 14 through Job 42
Click on the colored link to read each day's scripture.
Monday Job 14-18, Tuesday Job 19-22,
Wednesday Job 23-28, Thursday Job 29-32,
Friday Job 33-36, Saturday Job 37-39,
Sunday Job 40-42
Congratulations to carmen, winner of the Baking With Julia cookbook giveaway celebrating my first blogaversary! Thank you to everyone who entered by leaving comments, "liking" my Facebook page or following Me Pinterest!
Yeah it's Tuesdays With Dorie! Ya'll  know I just love baking with my Tuesdays With Dorie friends as we bake every recipe in Dorie Greenspan's cookbook, Baking With Julia.  What you don't know is that my excitement for baking these recipes has just leaped (over large buildings) and grown immensely due to these three words : French Strawberry Cake.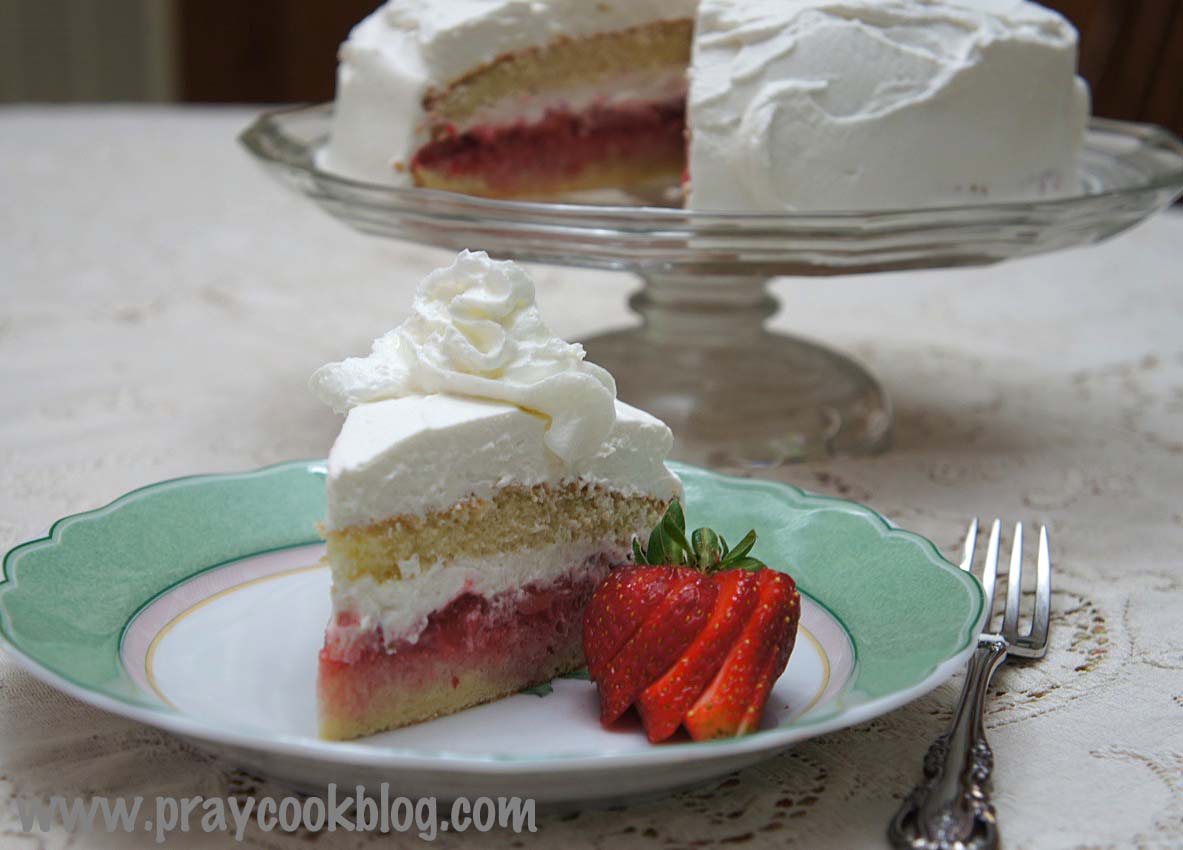 Okay seriously, can you believe I made this cake?  My plan was to serve it to my Chief Culinary Consultant on  Father's Day. I didn't have a back-up plan and lucky for me Dorie has a way of teaching me step-by-step how to make incredible desserts!  This recipe starts with  the Perfect Genoise.  As Dorie puts it "the genoise is to the French baker what the sponge cake is to the American baker: a vital basic cake and a building block for fanciful confections."  After this she goes on say the process can be intimidating with disaster ready to strike at every turn.  I thought, "oh that's just great."  However, I calmed down, read the directions and made the perfect genoise!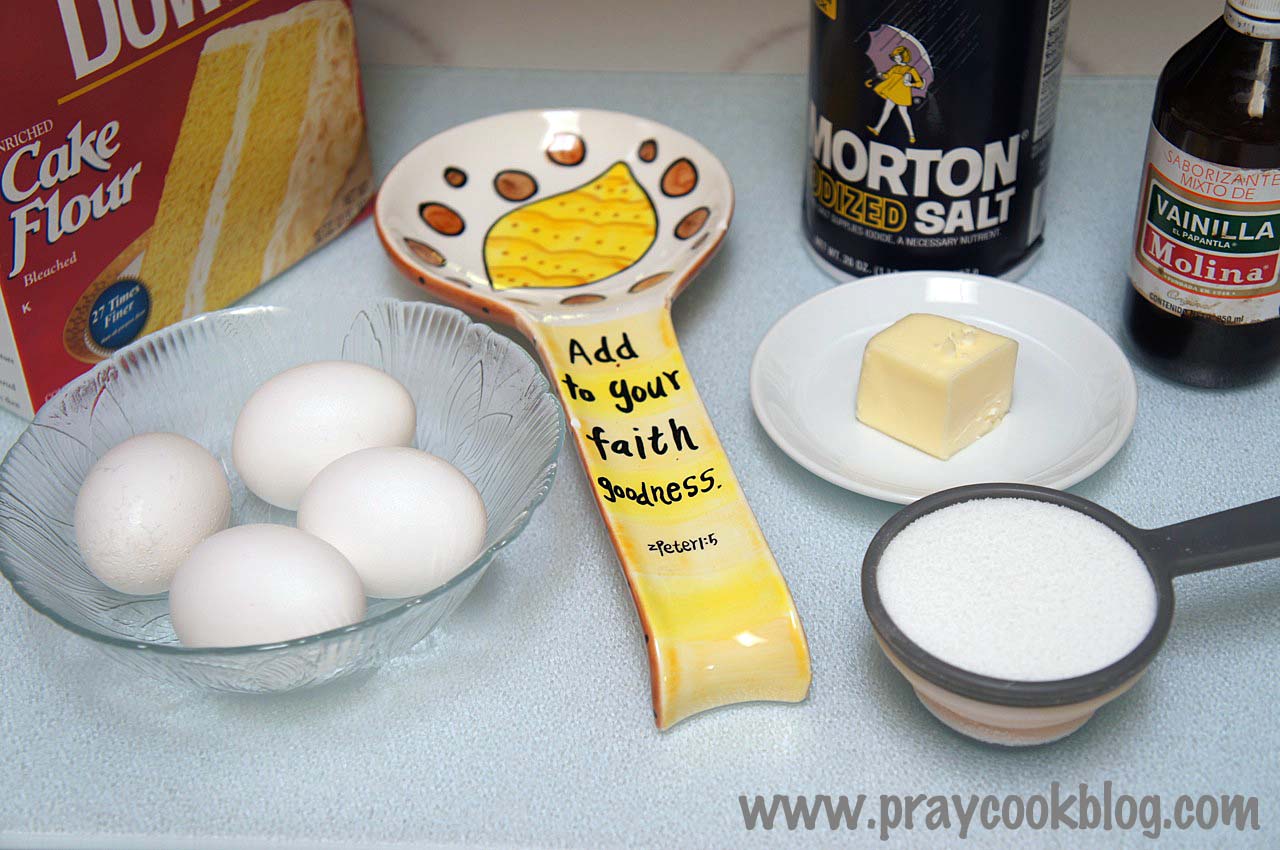 What a simple list of ingredients.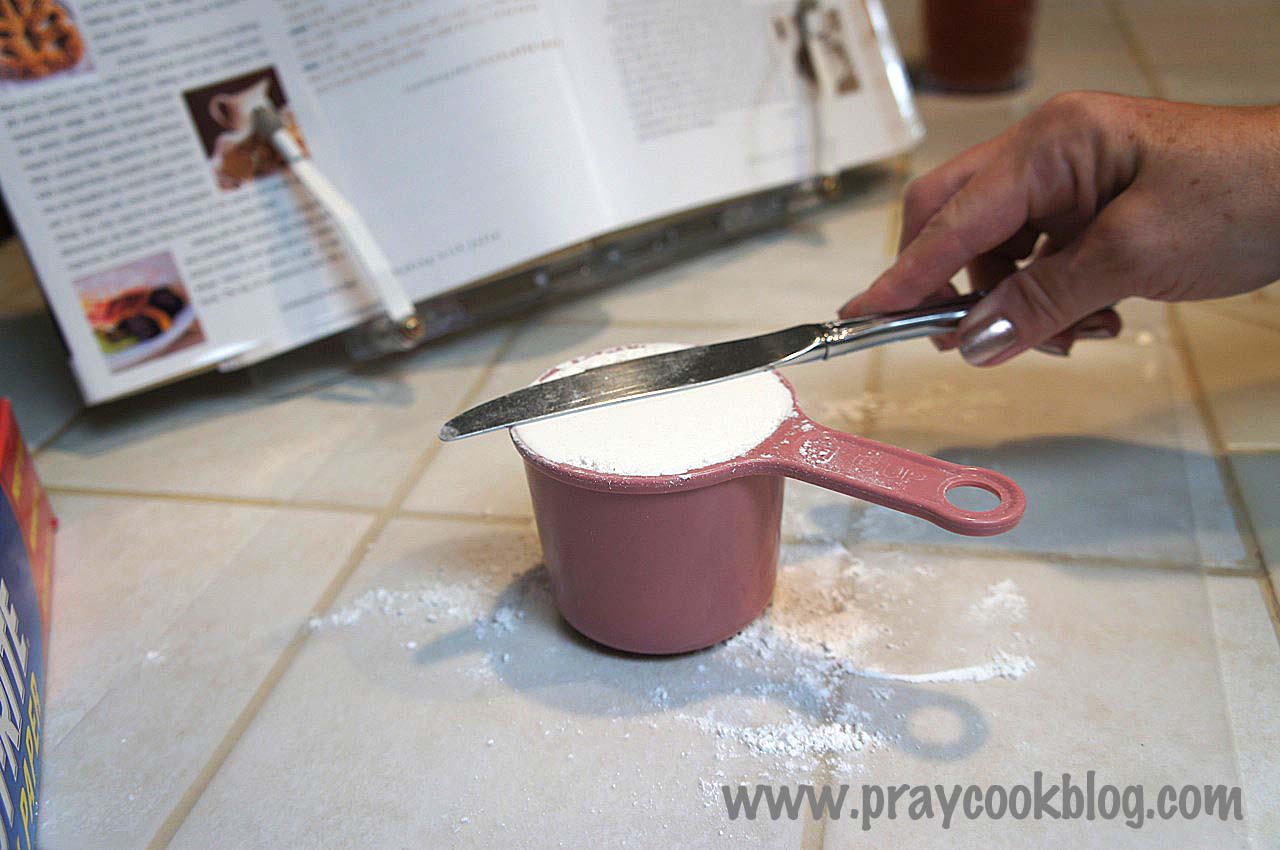 I leveled the flour out just like I was taught in 4-H.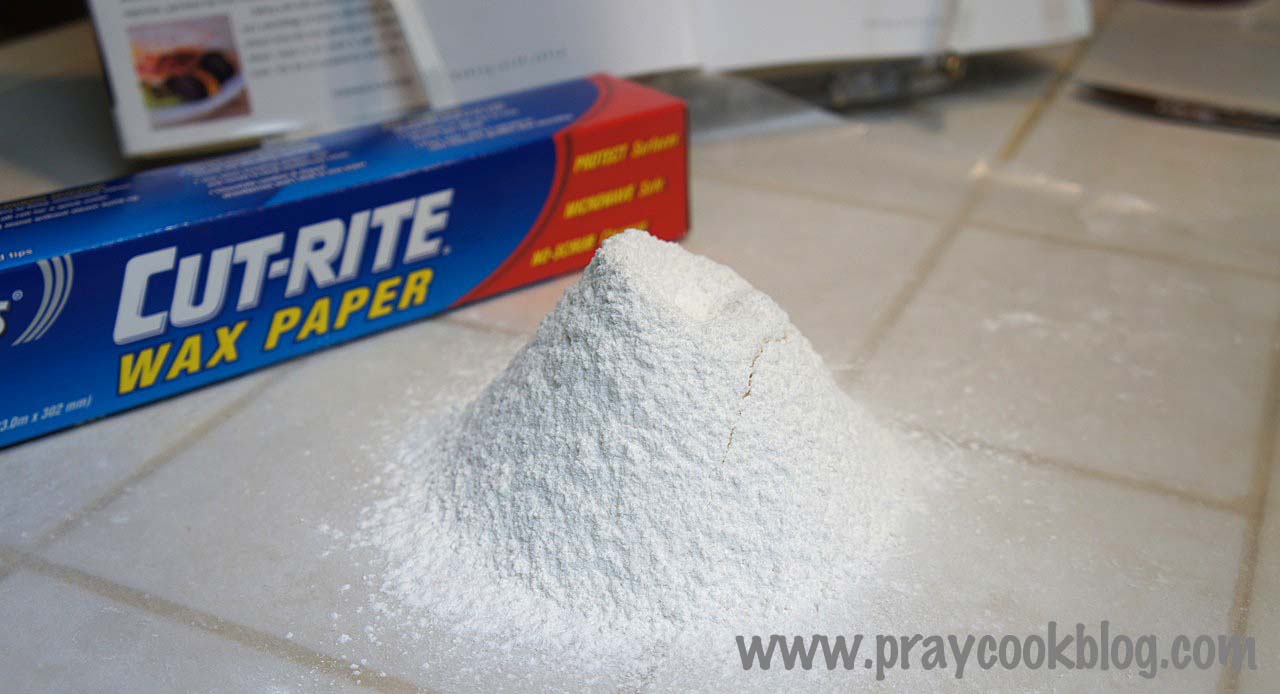 The directions said to sift the flour onto wax paper.  O-k-a-y, wax paper it is.  At this point I was tickled with myself as I did exactly as instructed, even though I have no idea how the wax paper fits into the perfect genoise. 🙂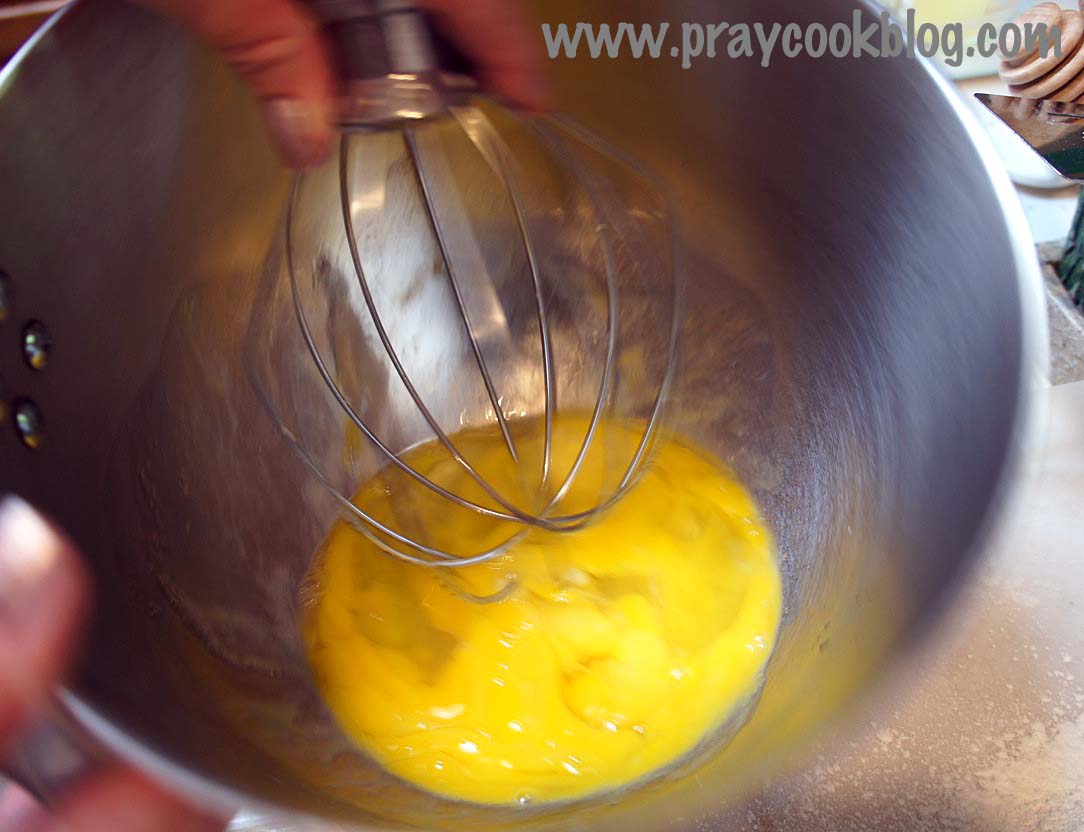 Start with mixing room temperature eggs with the wire whip, by hand.  The directions were very specific to start by hand. So … I did exactly as told. Then I started whipping the mixer with my KA.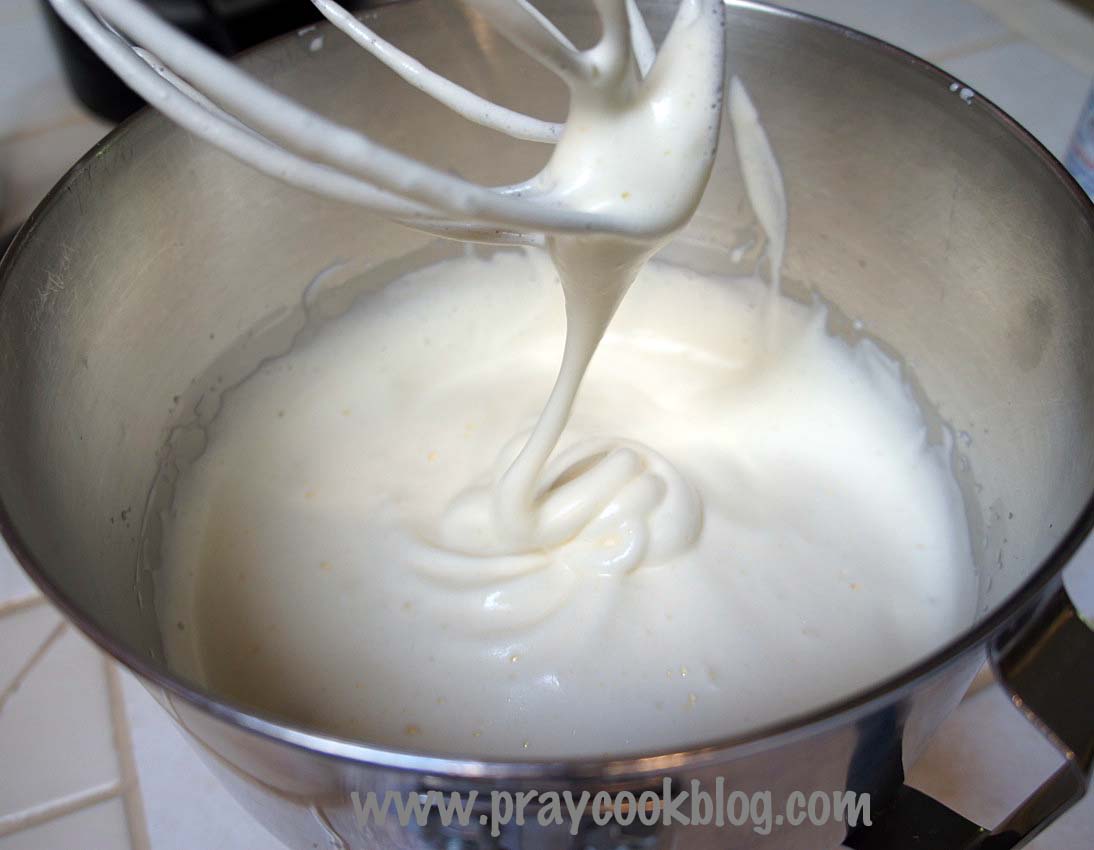 The idea is to whip the eggs and sugar until it triples in volume and makes this very cool ribbon effect when you lift the whisk and the mixture falls back into the bowl.  Beautiful. Now the hard part … folding in the flour without totally deflating the volume.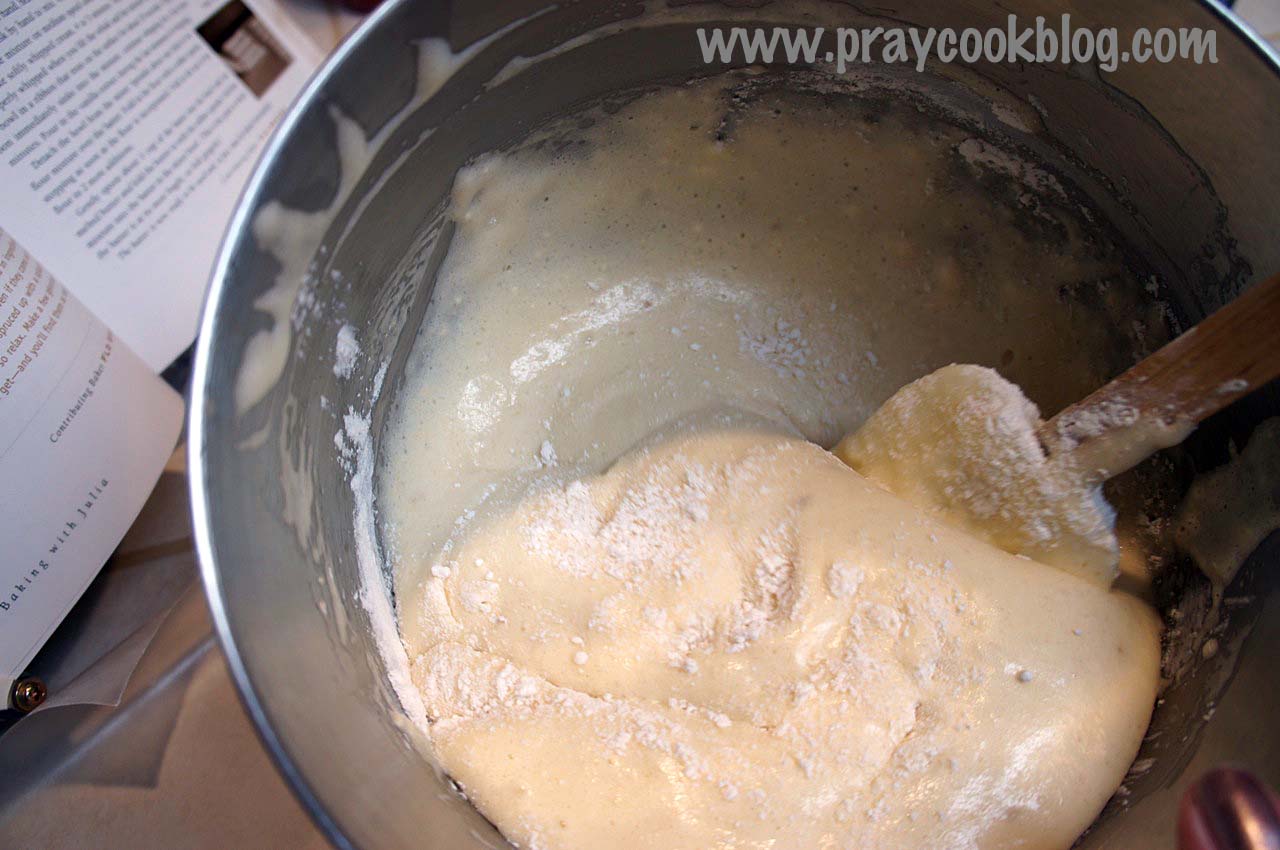 My batter definitely deflated some, but seemed okay. 
At this point I was stumped.  The recipe didn't mention bubbles.  What should I do?  Will this cause problems baking the cake?  I don't know.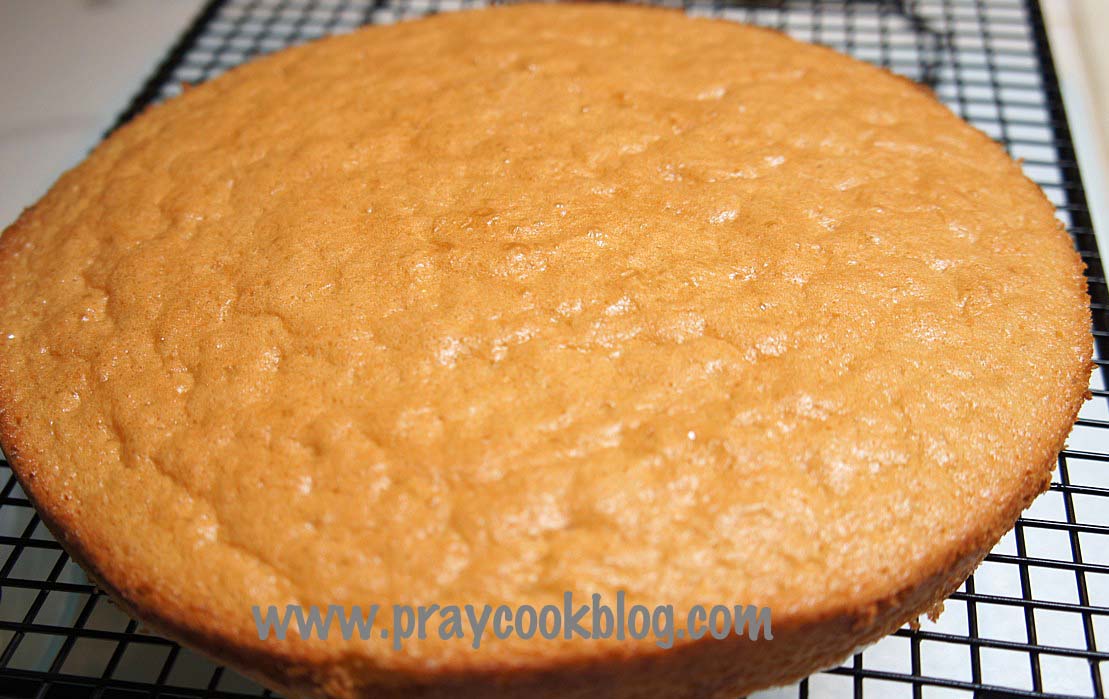 It didn't.  The cake came out perfect!  One note here — the recipe calls for an 8″ cake pan.  I measured everything in my cupboard and didn't have an 8″ round cake pan.  I had an 8″ square pan but wasn't sure if I wanted to use that.  So, I used the 9″ pan.  The cake is flatter because of that but still nicely formed.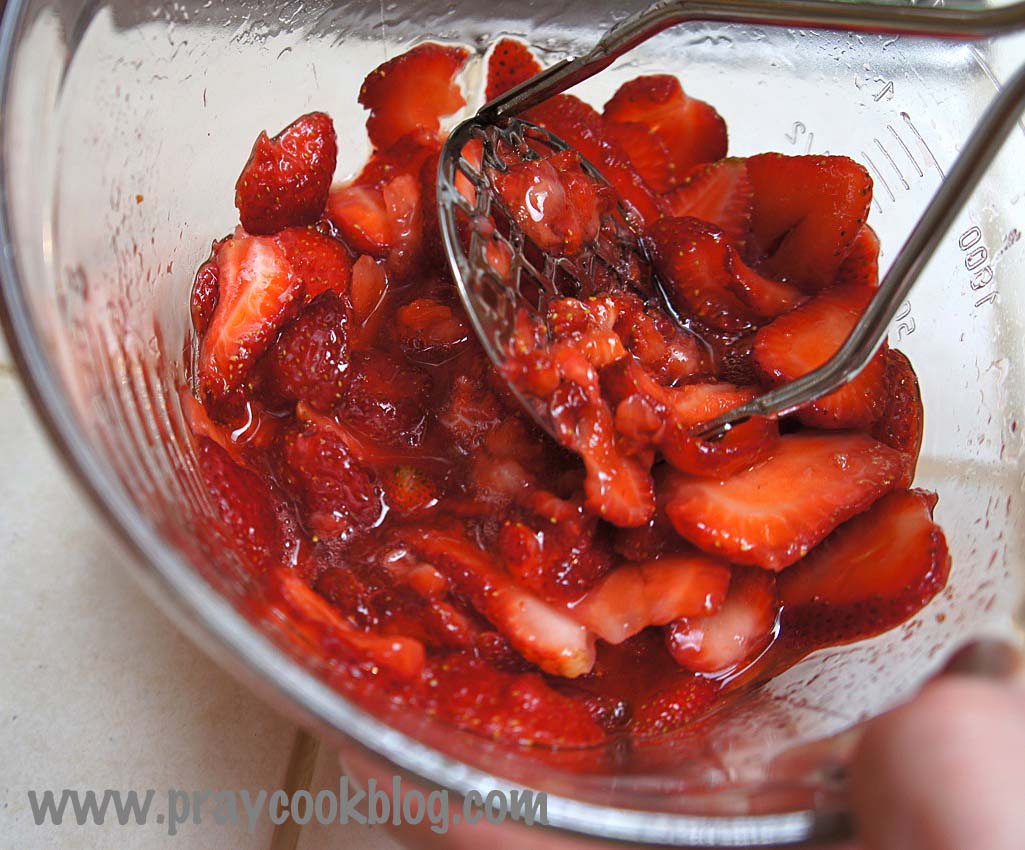 Earlier in the day I cleaned strawberries, add a bit of sugar and got them to juicing.  Here I was mashing them up a bit.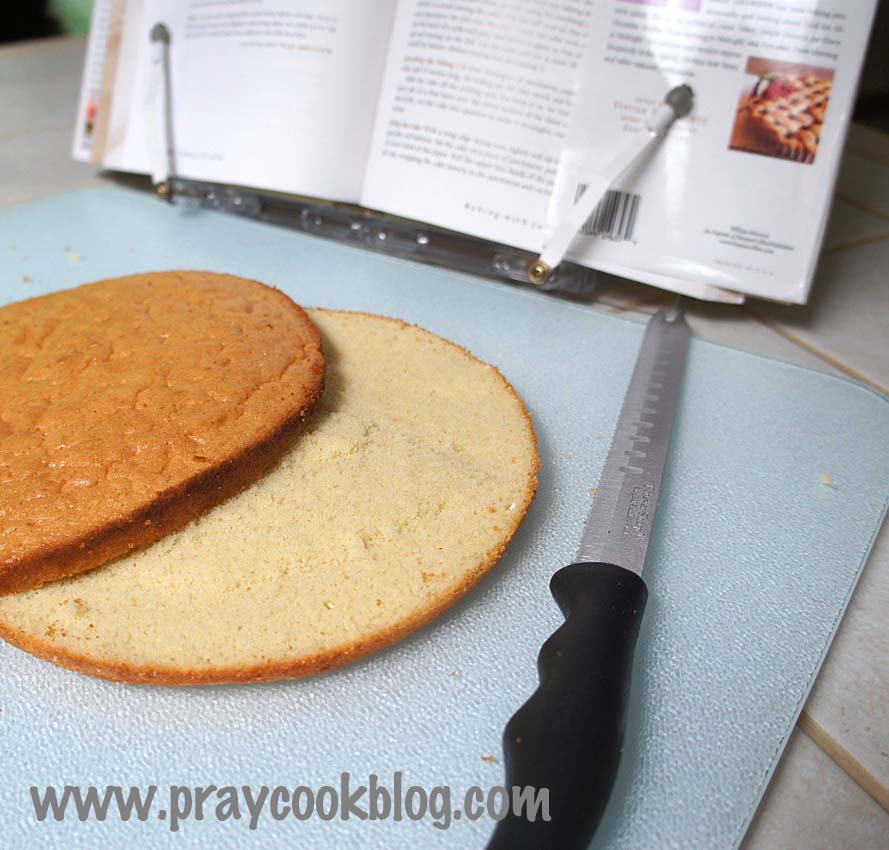 I cut the cake into two layers instead of three.  This cake is sturdy and quite firm.  I baked it 25 minutes before I checked it.  Next time I will start checking about 22 minutes.  I don't think it is over-done, but may have be ready a minute or two earlier.  At this point the recipe changes from Perfect Genoise to French Strawberry Cake!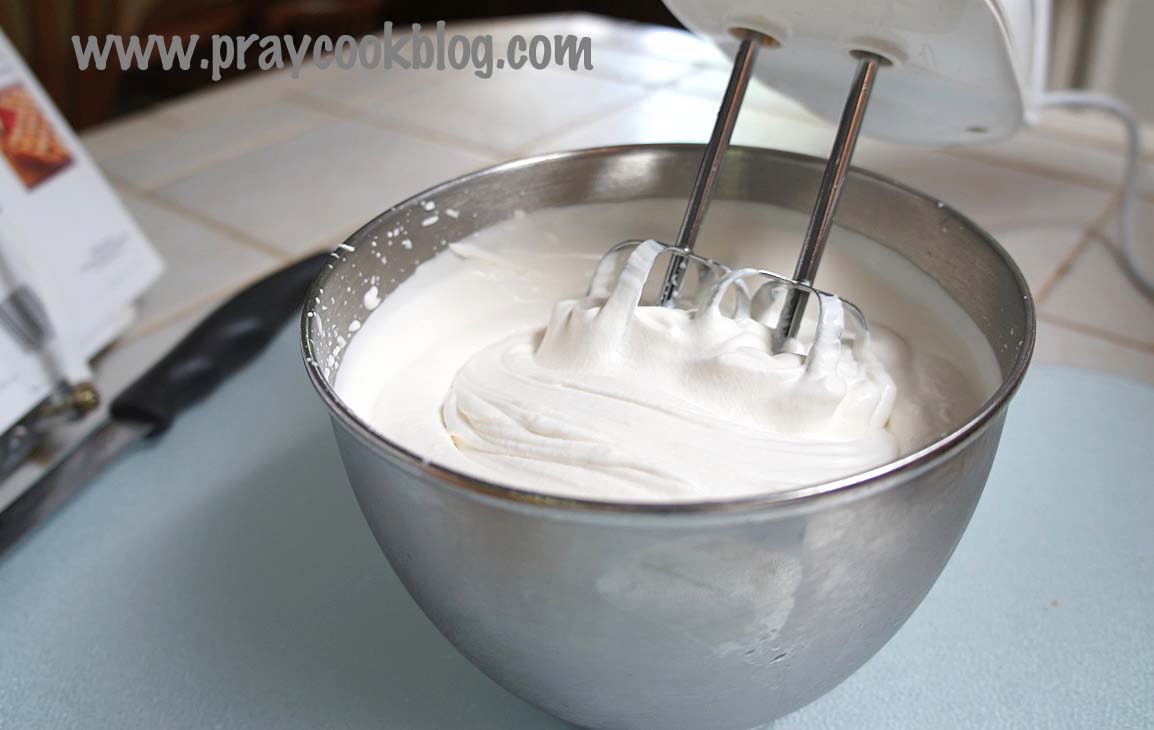 The whipped cream includes a little sugar, vanilla and sour cream.  Sour cream?  I haven't ever added that to my whipping cream.  Do I even have any sour cream?  Nope.  Okay, then Vanilla flavored Greek Yogurt will have to do.  And it did … the flavor is wonderful and the texture perfect.  When whipping cream I always do it with my hand mixer because there is a moment when it turns stiff and you know it is done!  Any longer and it is  … butter!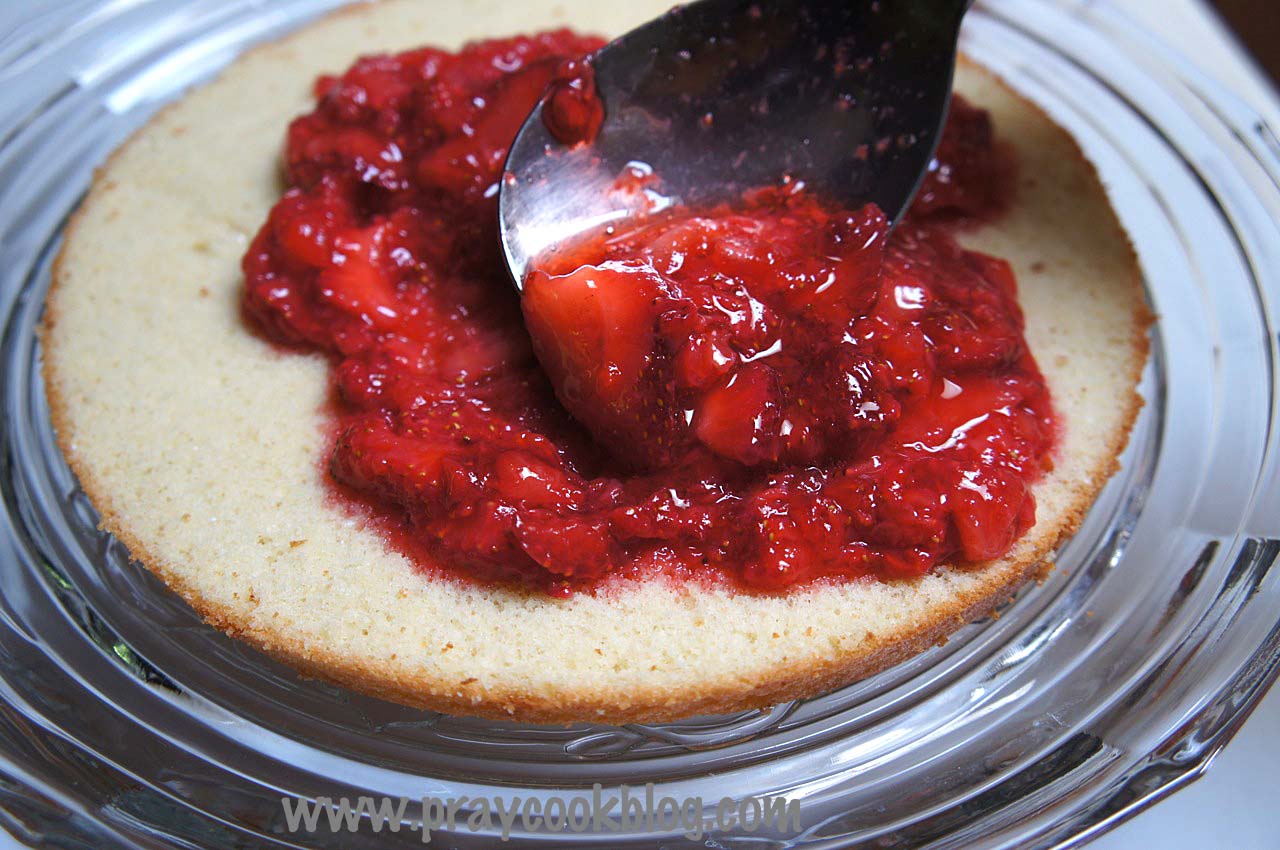 Here is the moment of truth.  Add the smashed, juicy strawberries.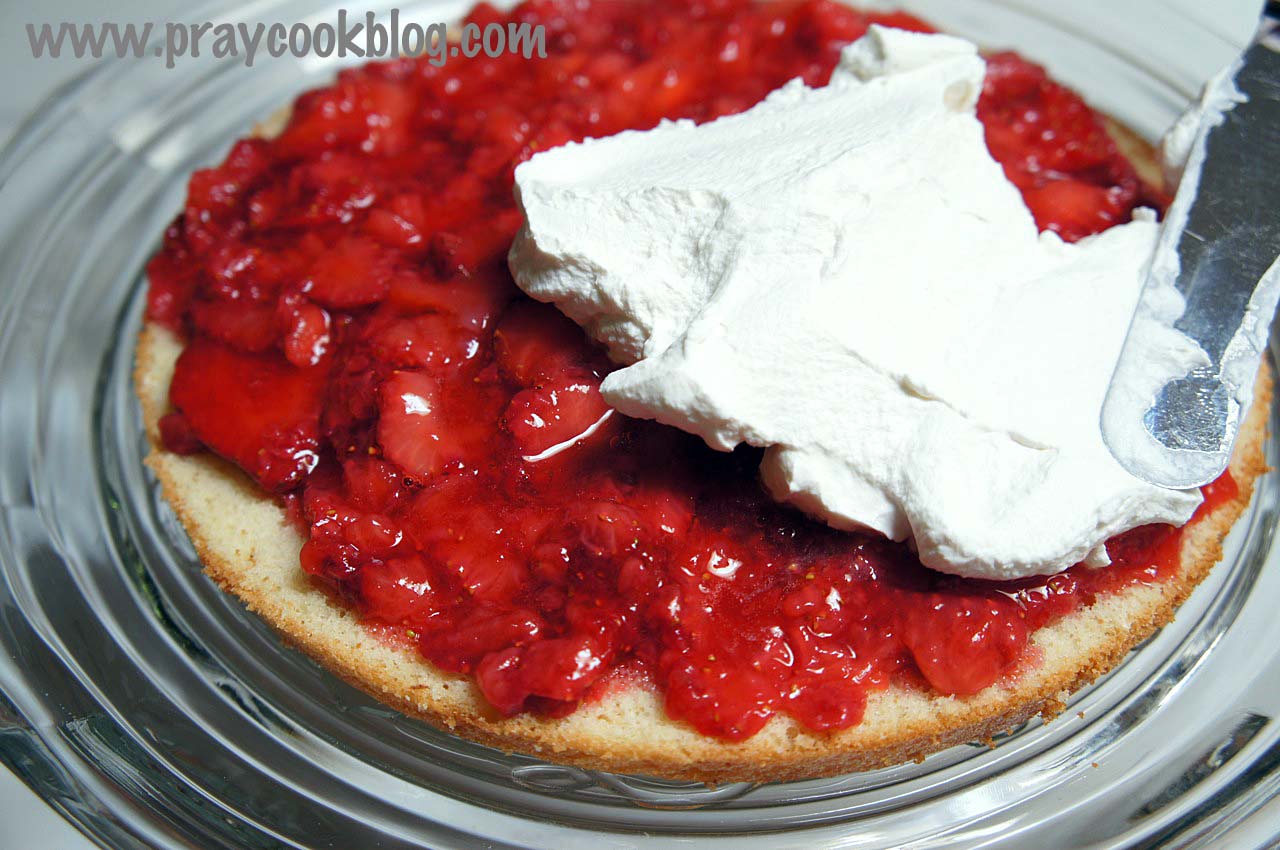 Spread on a layer of the oh-so-wonderful whipped cream.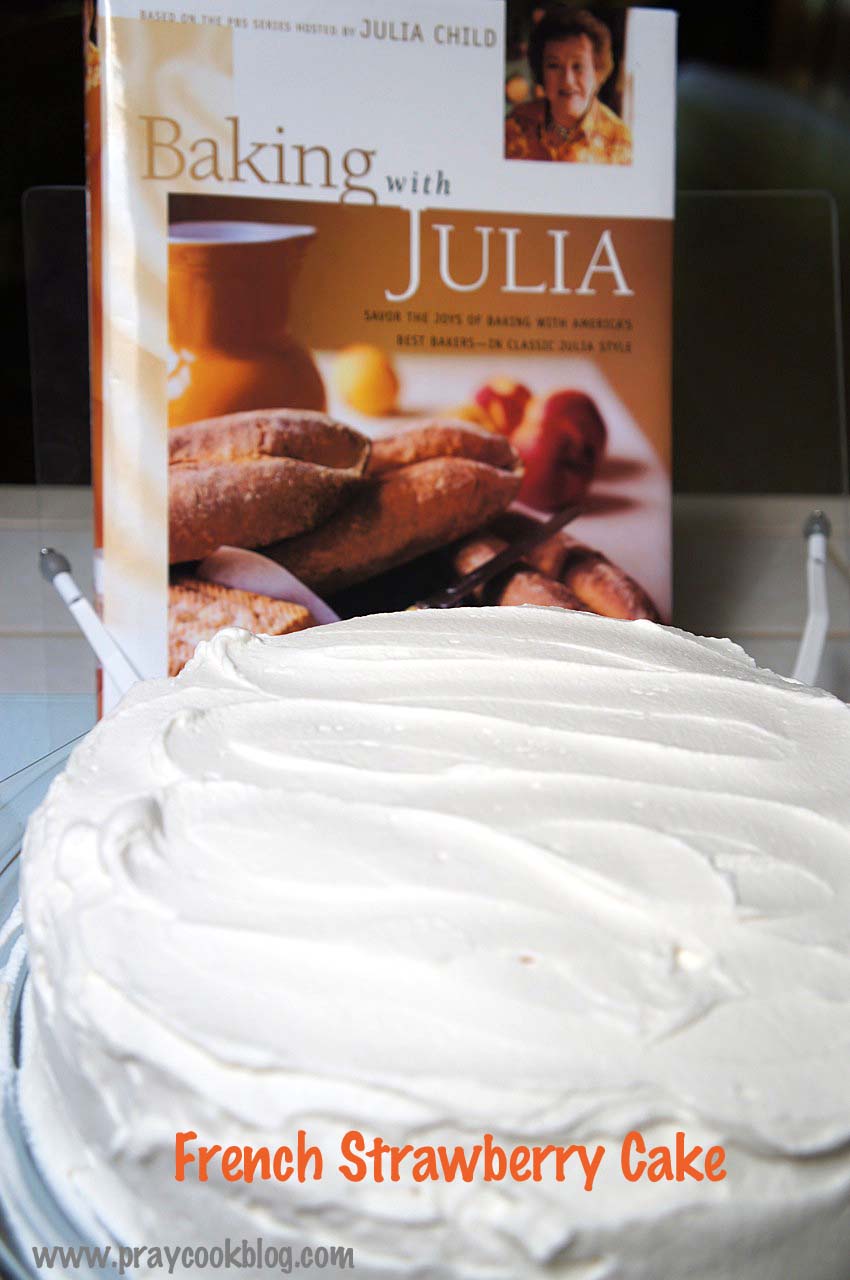 Put on the top, frost with the remaining whipped cream and then cut the first piece for your husband on Father's Day.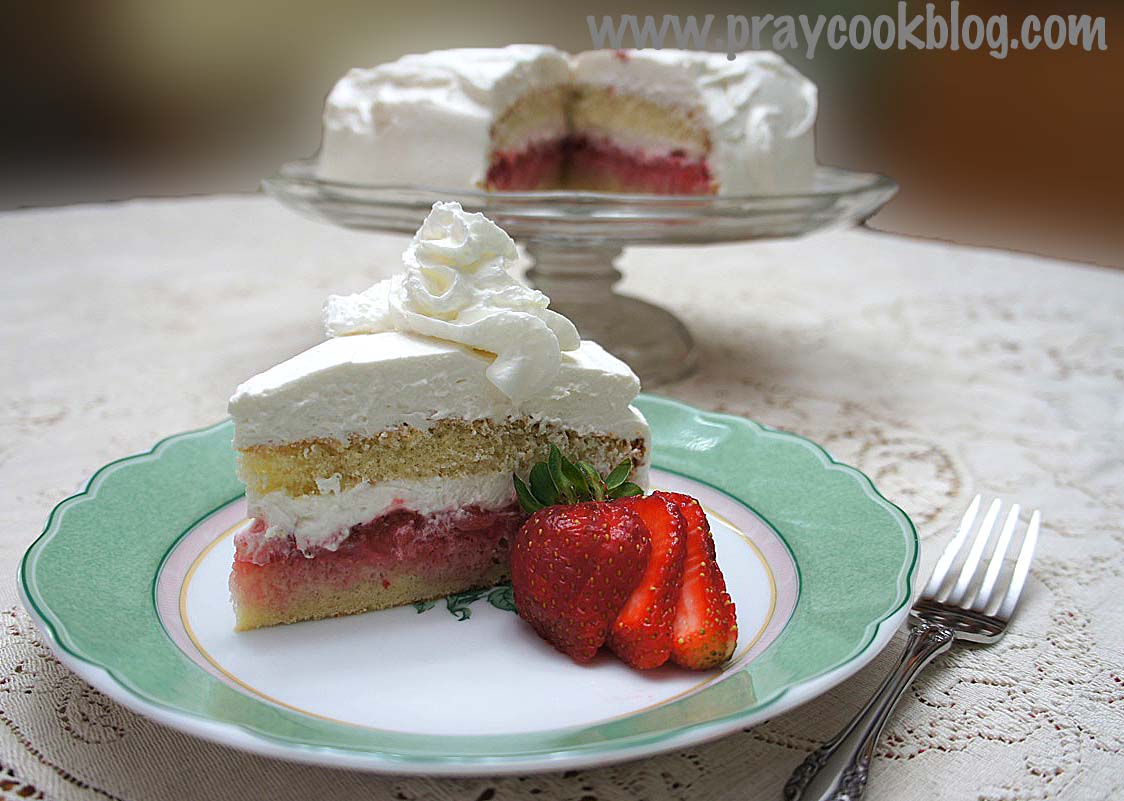 I absolutely could not stop taking pictures …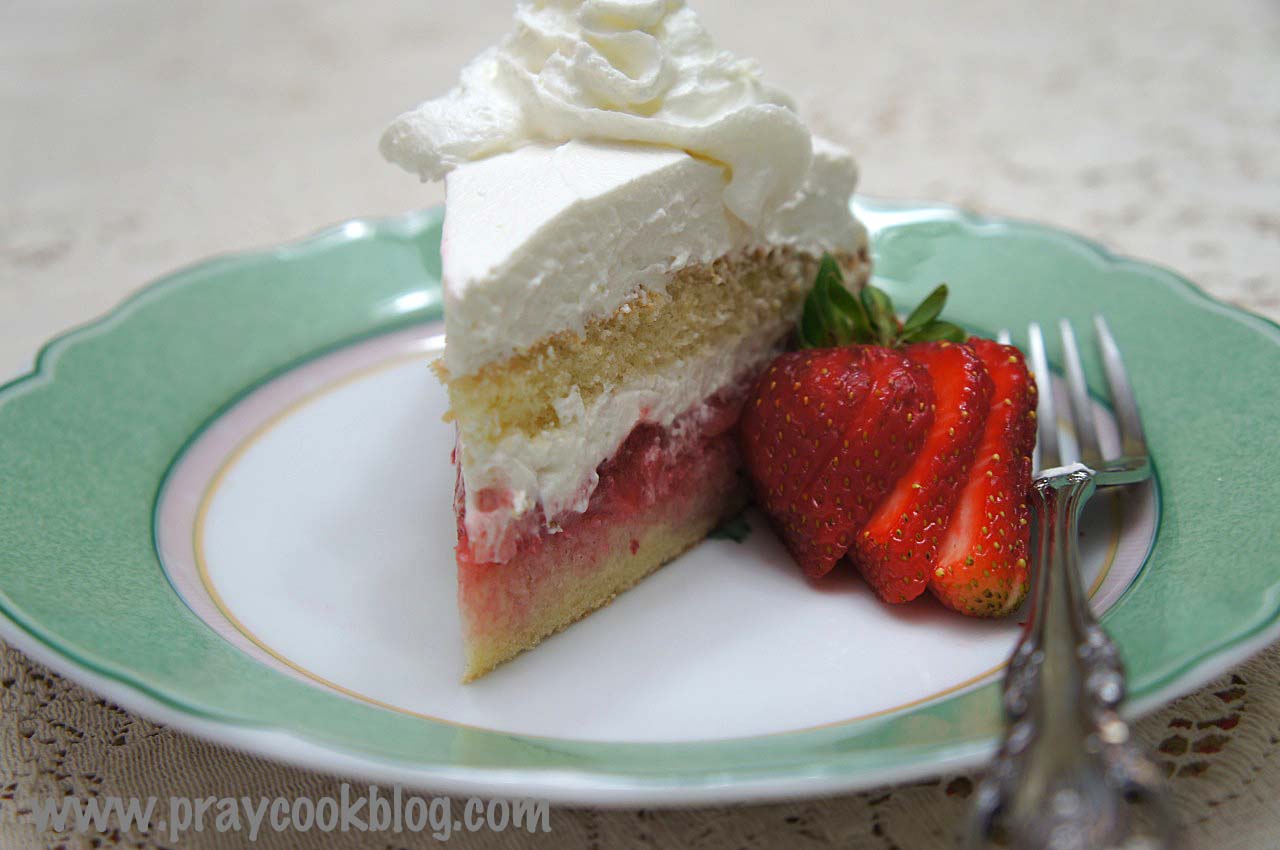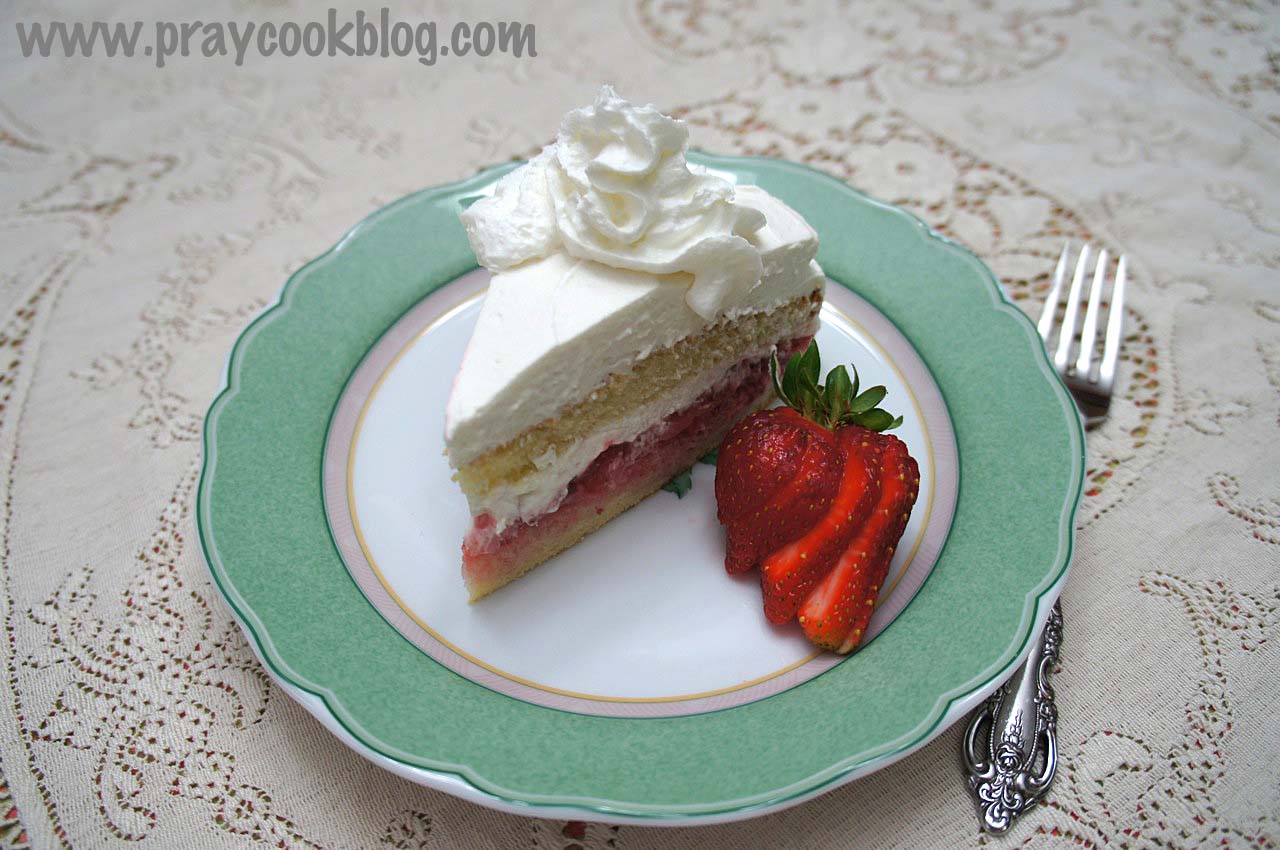 A sweet lover's note: While this cake is rich, tasty, and really delicious, it is not overly sweet.  There is not a lot of sugar in the cake or the topping and only a little bit in the strawberries to bring out the juice.  I didn't expect sweet because I knew there wasn't much sugar, but someone just seeing the picture may think SWEET!  The French like to make this type of cake so they can them soak it well with fruits, juices, sugar and liqueur syrups.  This cake hits the mark perfectly.
The recipe can be found in Dorie Greenspan's book, Baking With Julia, or from either of the Tuesdays With Dorie hosts.
Allison of Think, Love, Sleep, Dine
Blessings ~ Catherine