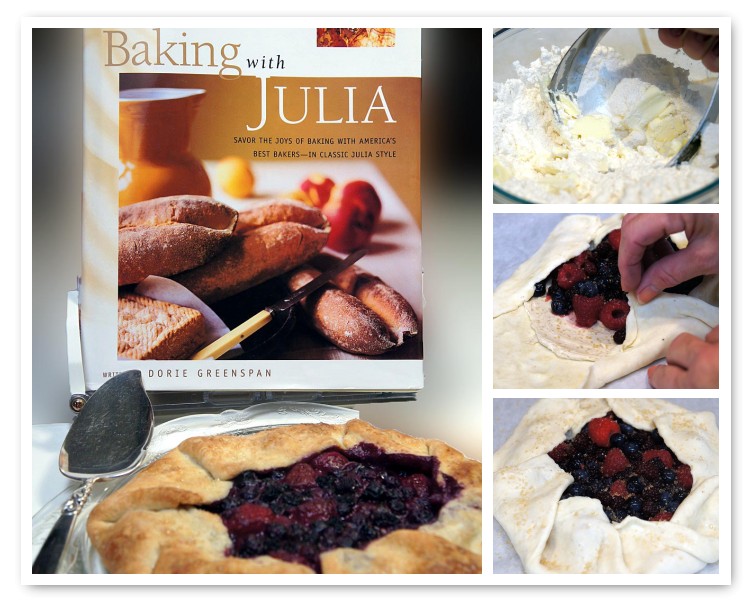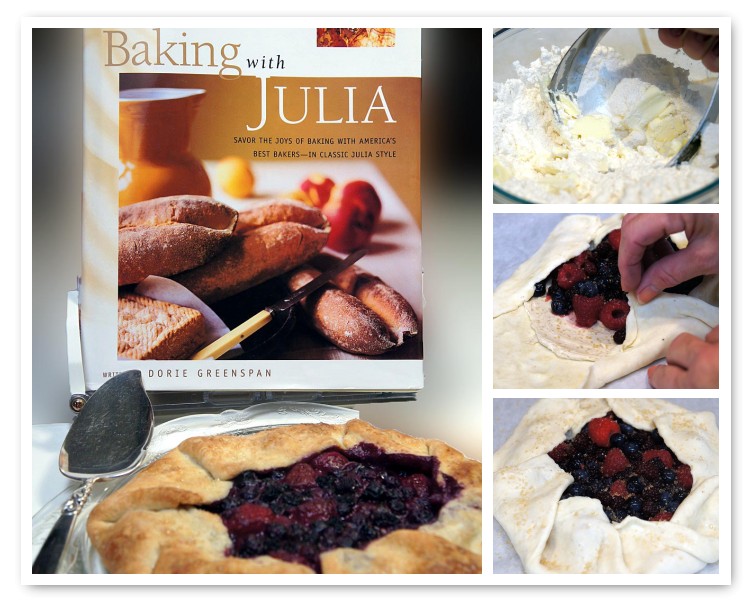 Oh my word it is already Tuesdays With Dorie: Baking With Julia again!  This week's recipe is a Berry Galette.  Here I go again … what is a galette?  I realize that many of my fellow TWD bakers have made galette and know exactly what it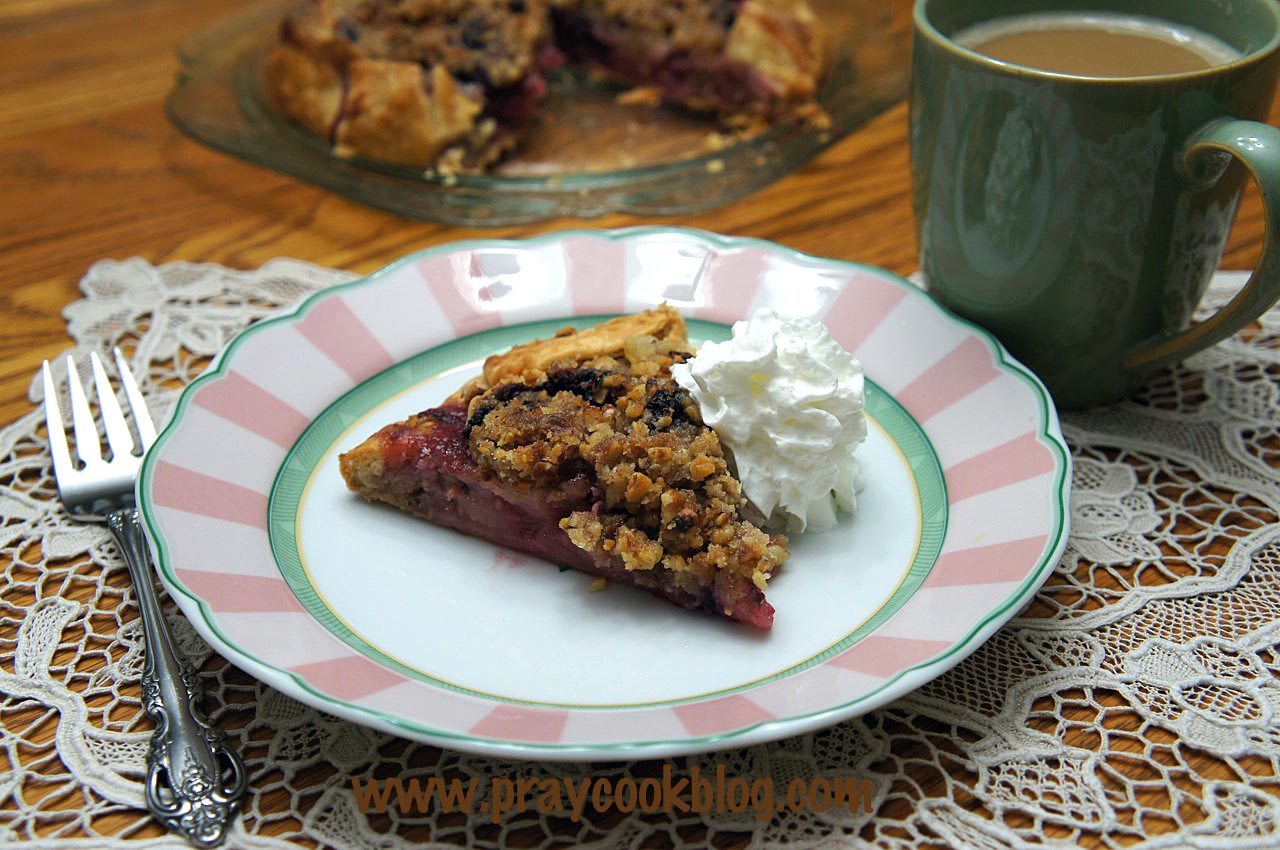 is.  Me – not so much.  You may recall several weeks ago I fell in love with an apple-blackberry crostata I made for the first time. I learned during that baking session that a crostata is an Italian free-form rustic tart and it was one of the best desserts I have ever made.  Today I did some traveling from Italy to France, and guess what I found?  A Triple Berry Galette!  This galette is a flat, open-faced and free-form tart.  The French love their rustic tarts which are much less fussy than the classic heavily glazed, precisely fluted French fruit tart.  Turns out I love their galette too!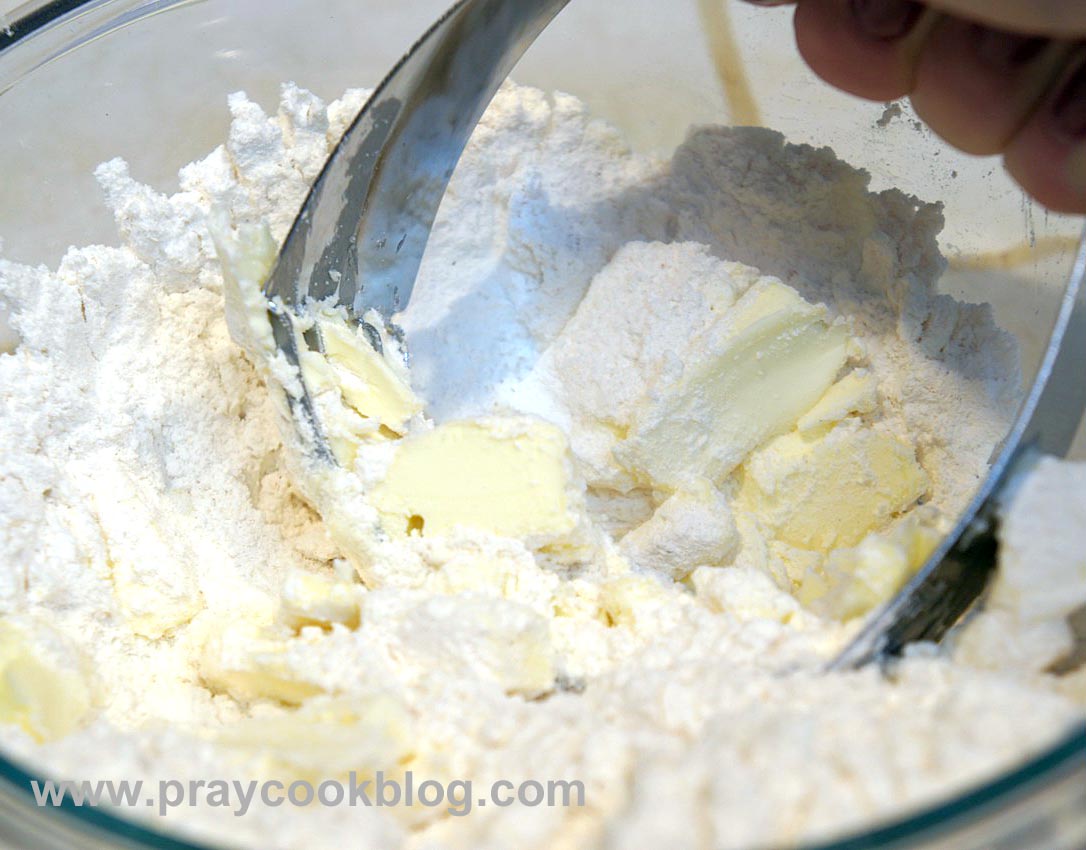 I believe I could bake one of these tarts every day for the rest of my life and not get tired of doing so.  This recipe starts with flour, a little sugar, cornmeal, salt and butter.  The pastry can be mixed in a mixer, food processor, or by hand.  I mixed mine by hand because I love using my pastry cutter and feeling the dough as it forms.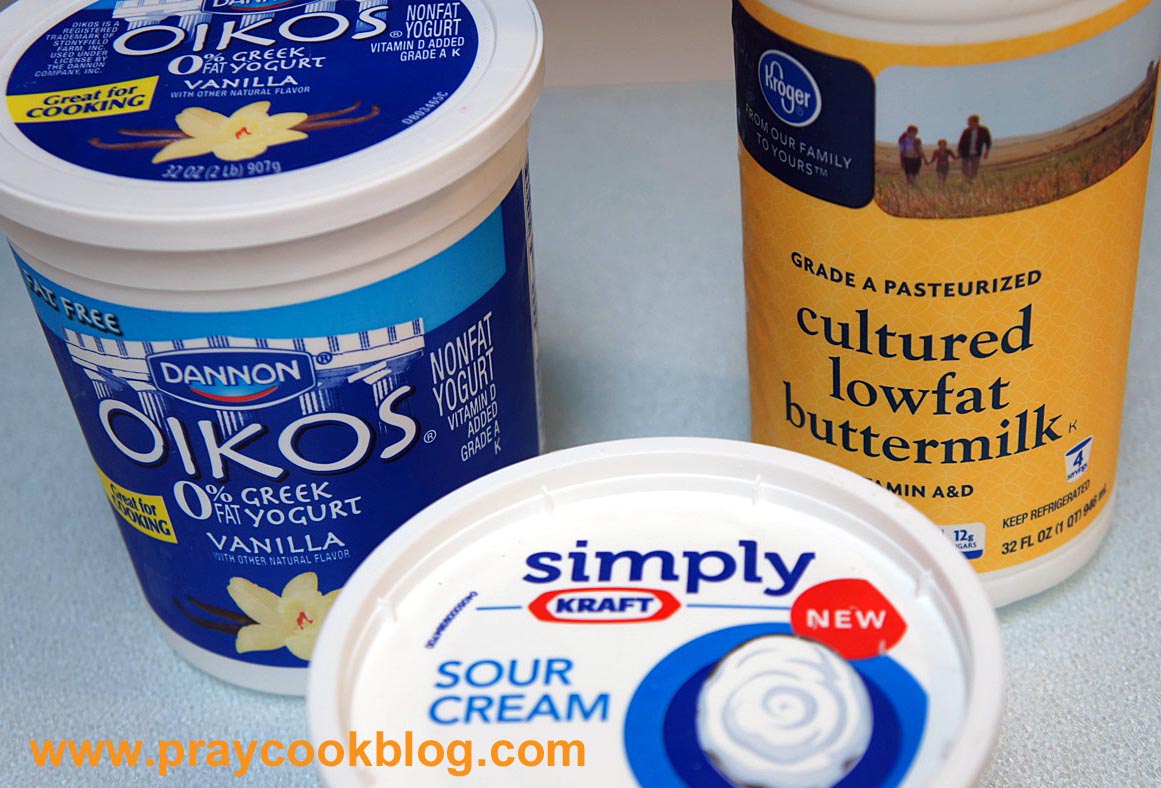 The recipe calls for sour cream.  OR yogurt.  OR buttermilk.  I looked in the refrigerator and I had all THREE! Decisions, decisions…  I used the sour cream.
The sour cream mixes with ice-cold water and turns the flour-butter mixture into the most delightful pastry dough.  I would show you a picture because it really is lovely — but the picture wasn't. 🙁  At this point the dough sits in the frig for about 2 hours.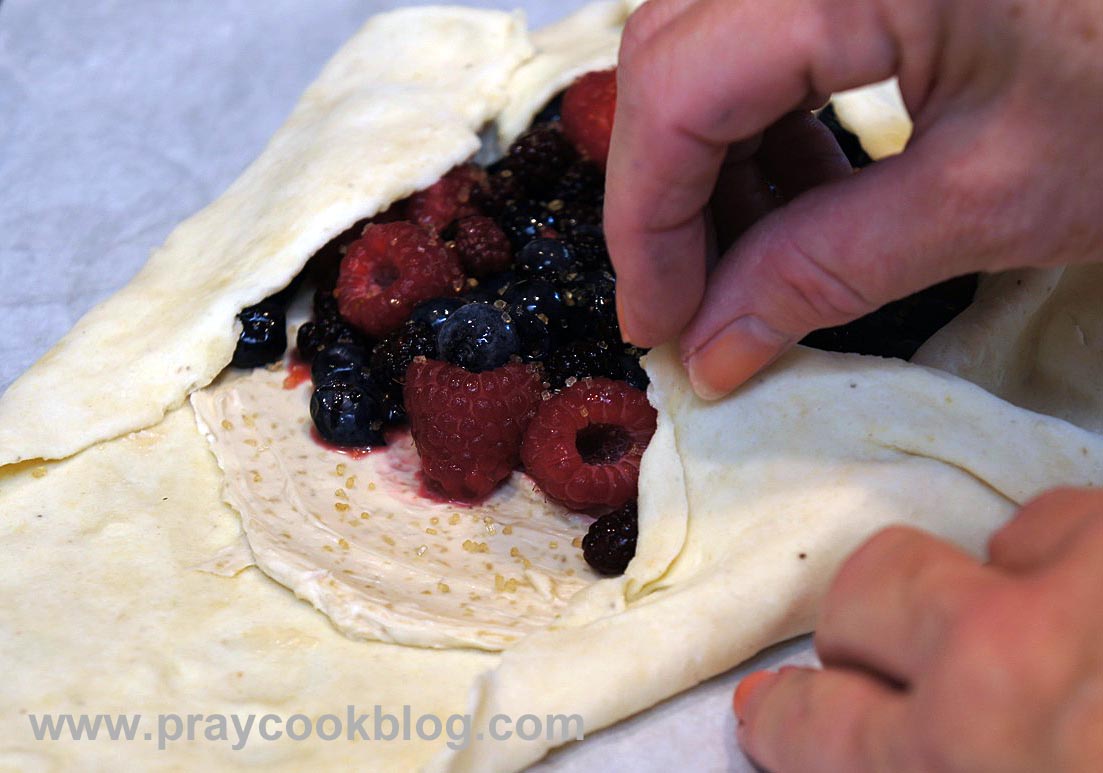 The recipe calls for 1 1/2 cups of "berries."  Any berry will do.  Overachiever that I am, I used a glorious mixture of blackberries, blueberries, and raspberries.  I let them sit together in a bowl while rolling out the dough.  I  started a thin layer of a cream cheese mixture that was not part of the recipe but turned this already good recipe to AWESOME!  A bit of juice formed in the bottom of the bowl and I did not use the juice when filling the galette.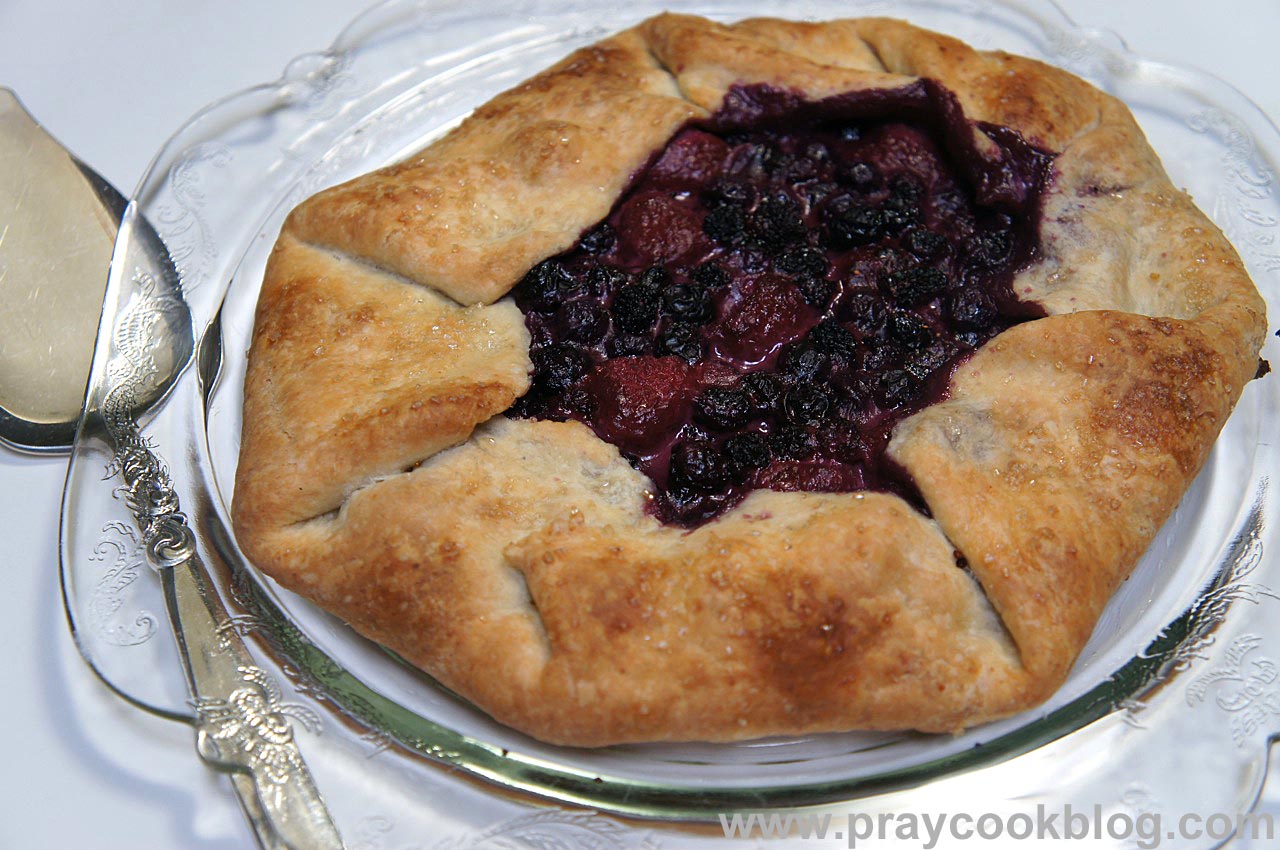 Do yourself a favor — make one of these super simple, fabulously tasty tarts!
There are a couple of ways you can get the recipe.  Both of our TWD hosts will include the recipe with their post.  Lisa blogs with us from somewhere in the gardening zone 6a in the United States and Andrea shares recipes and pictures from her home in Bonn, Germany!  How fun it is joining bakers from around the world!
Lisa of Tomato Thyme in the Kitchen
Andrea of The Kitchen Lioness
The other way to get the recipe is to use the link on my home page and go to Amazon to buy one! 🙂  My next TWD baking session will be August 21 featuring Popovers!
~Blessings, Catherine