Psalm 101:1-3
1 I will sing of your love and justice;
   to you, LORD, I will sing praise.
2 I will be careful to lead a blameless life—
   when will you come to me?
   I will conduct the affairs of my house
   with a blameless heart.
3 I will not look with approval
   on anything that is vile.
It was such a busy weekend at our house.  I fulfilled a Christmas gift to my mother and I am so thankful to have it done.  My mom didn't like the wallpaper in her bathroom.  She shared with me last fall that the wallpaper was just too over-powering.  I remained totally silent because my mind starting whirling that I would be stripping wallpaper and painting that bathroom.  Since those two activities are on my "least favorite to do list" I decided in order to maintain a good attitude while stripping (the wallpaper!) I would gift it to her!
So for Christmas I gave her an empty paint can covered with paint samples.  She picks the color, I do the work.  What was I thinking?  Whew, it seemed like a good idea about 4 months ago!  But now the project is finished and I can think about one of my favorite things to do — cooking!
While involved in my "project" mom made some awesome White Chicken Chili soup which she shared with her bible study group and then we got the left overs!  Yum!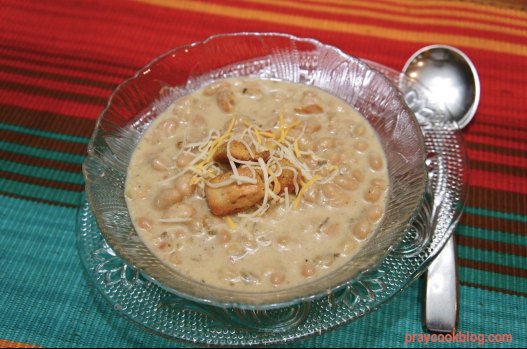 I love white chicken chili because it is packed with stuff that is really good for us!  Chicken breast, white beans, green chilies …. and a little cream and sour cream to m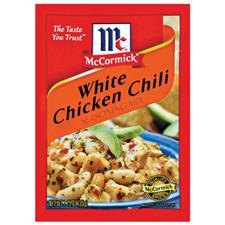 ake it the best.
We use McCormick's White Chicken Chili for the seasoning.  They have it mixed together perfectly and you won't have to second guess whether you have too much or too little seasoning.  You will find the recipe at the bottom of this post!
In the meantime, I still can't find the sugar bowl and continue to bake vicariously through some of my favorite foodies.  It seems The Brown Eyed Baker is full speed ahead with this fabulous looking Peanut Butter Blondies.  Oh how I would like to eat one right now!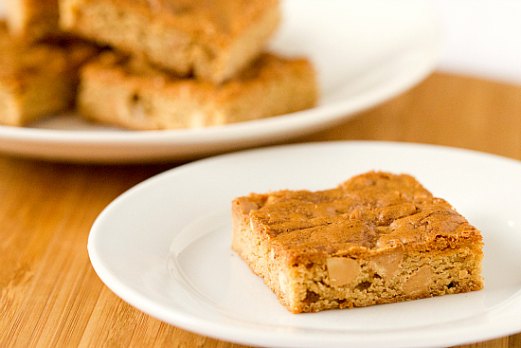 And in the kitchen of Tracey's Culinary Adventures she has been busy also making something sweet in the name of Pumpkin Streusel Coffeecake.  This coffeecake looks densely delicious and packed with goodies!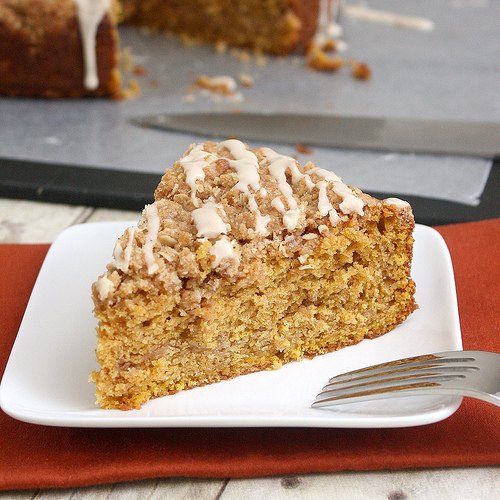 Until next time, sweet blessings and happy cooking!
~Catherine

White Chicken Chili
Let this souper recipe warm up your family this soup season. It is easy, very filling and a huge hit!
Author:
Catherine Daugherty
Ingredients
1 lb Boneless, skinless chicken breast*
1 medium white onion, chopped
1 tablespoon Canola Oil
2 can Great Northern White Beans, rinsed and drained
14.5 oz Chicken broth
¼ teaspoon Cayenne Pepper
2 - 4 ounce can Diced Green chilies
½ cup Whipping Cream
1 cup Sour cream
1 packet McCormick White Chicken Chili Seasoning
Instructions
In a large saucepan, heat oil to medium high. Saute chicken, chopped onions and McCormick White Chicken Chili Seasoning Packet, until the chicken is no longer pink.
Add beans, chilies, cayenne pepper, and chicken broth. Bring to a boil.
Reduce heat and simmer (uncovered) for at least 30 minutes. Remove from heat, stir in sour cream and whipping cream.*
Serve immediately.
Notes
*If you have more time, cook soup (without adding cream and sour cream) for longer. Can be cooked on low in the Crock Pot for 4 to 8 hours. Add cream and sour cream just before serving.