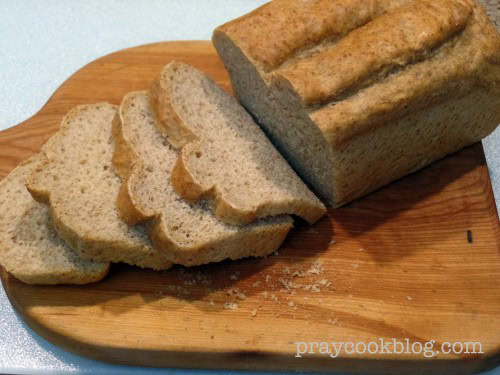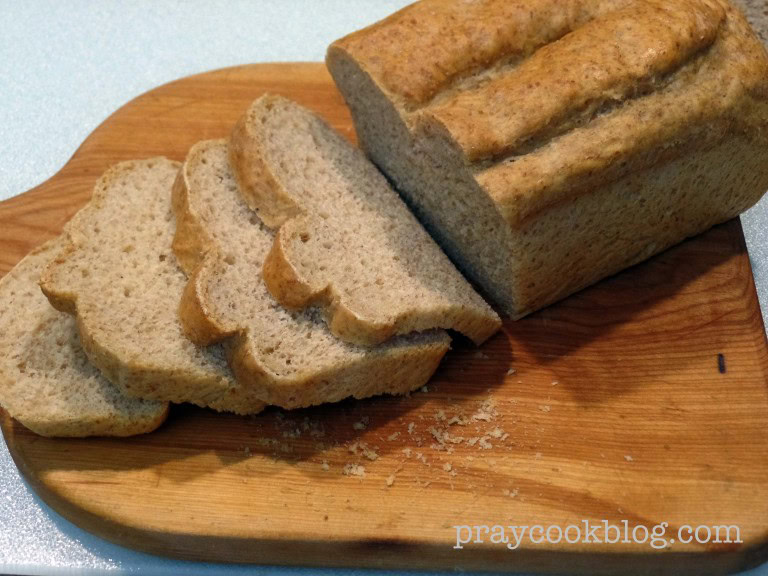 My Daily Bread means different things on different days.  Some days it just means I want to make fresh, homemade, fragrant bread for my family.  Other days it means I need to spend lots and lots of time in prayer. It means I need the Lord's strength as food for my soul.
Lately, He has been my strength, my daily bread, my all-in-all, even more than usual.
But he answered,

"It is written, 

"'Man shall not live by bread alone, but by every word that comes from the mouth of God.'"   – Matthew 4:4
On February 20,  my hiking-husband and my cousin Tim, left for an adventure of a lifetime.  They began a thru-hike on the Appalachian Trail.  I wasn't ready for the emotional roller coaster I would be riding  during those first trail days.

This hike is a dream of my husband's.  When he asked me how I felt about him being gone so he could fulfill this dream, all I could think about is how wonderful I would feel helping to make his dream come true.  (Yeah, good for me and all that rot.)   You can read about his adventure here.
However, the first night and day that we didn't have contact everything changed for me.  My logical mind said, "he is in the mountains of Georgia and there is no cell signal."  My fearful, illogical, and wild-idea mind said, "he fell off a cliff."  "He has been attacked by a bear."  "They are frozen stiff in the snow."  🙂
If seems comical to write and read for those words a week later, but honestly, my mind was like a maniac on speed.  I couldn't think of anything good but all the worst fears went wild.
It makes me so mad when I claim to be a follower of Jesus Christ, claim to have a daily, hourly, minute-by-minute faith walk with our Creator, and then act like I haven't got a clue and don't know either one.  It just makes me mad.
So, I did the only thing I could do.  I immersed myself in the Word of God.  I asked him to take all the wild thoughts from my head.  And He reminded me of something I could not come up with on my own when my fearful self had taken over.  He told me to put on His armor.  I know I should put on the armor daily.  Sometimes I am really faithful about it and it makes such a difference in my day. But when fear takes hold faith flies out the window.
This is a long scripture but it is so worth reading (and memorizing.)
The Whole Armor of God
"10 Finally, be strong in the Lord and in the strength of his might. 11 Put on the whole armor of God, that you may be able to stand against the schemes of the devil. 12 For we do not wrestle against flesh and blood, but against the rulers, against the authorities, against the cosmic powers over this present darkness, against the spiritual forces of evil in the heavenly places. 13 Therefore, take up the whole armor of God, that you may be able to withstand in the evil day, and having done all, to stand firm. 14 Stand therefore, having fastened on the belt of truth, and having put on the breastplate of righteousness, 15 and, as shoes for your feet, having put on the readiness given by the gospel of peace. 16 In all circumstances take up the shield of faith, with which you can extinguish all the flaming darts ofthe evil one; 17 and take the helmet of salvation, and the sword of the Spirit, which is the word of God, 18 praying at all times in the Spirit, with all prayer and supplication. To that end keep alert with all perseverance, making supplication for all the saints,"   — Ephesians 6:10-18
After I read these scriptures over a couple of times I felt the strength of God filling me as the armor and His love and protection began to course through me.
I finished up my fearful rough patch with these scriptures:
Philippians 4:6-7
"6 do not be anxious about anything, but in everything by prayer and supplication with thanksgiving let your requests be made known to God."
As I began to settle down I could feel faith filling me up.  The mercy of God flowed over me as I turned my fears over to Him.
And then, grace showed up in this verse:
7 And the peace of God, which surpasses all understanding, will guard your hearts and your minds in Christ Jesus.
By human standards, it makes no sense to be able to read scripture, pray to God and then feel better!  However, when the peace of God guards your heart and your mind nothing can rob you of that peace!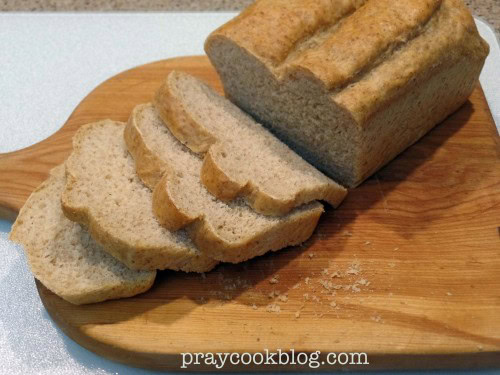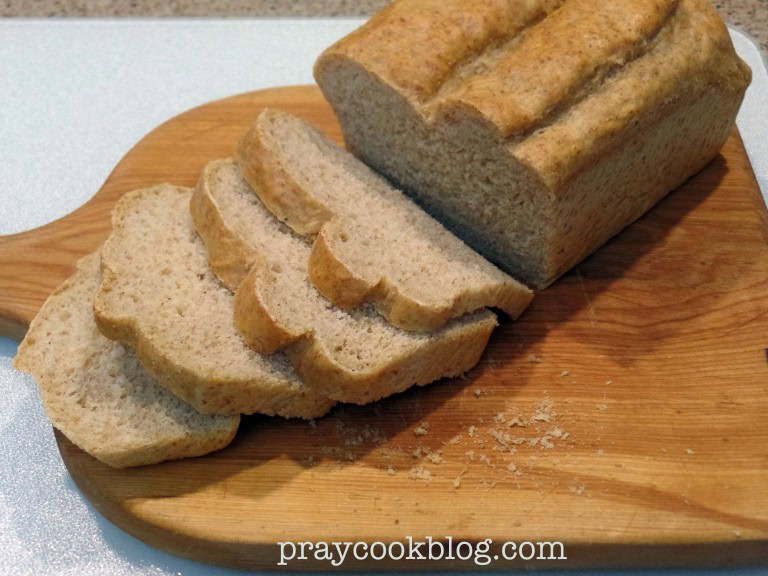 It was then that I could go to the kitchen, mix up homemade bread, and remember with each kneading of the dough how God is my daily bread.  My cup runneth over.
Praying, Baking, Praying,
~Catherine

Whole Wheat and Rye Bread
I love this recipe because it produces a texture that is firm and yet easy to slice. The whole wheat and rye blended beautifully for a really tasty bread! Great for sandwiches, toasting, or slathering with butter hot out of the oven!
Author:
Adapted from Natasha of Natasha's Kitchen
Ingredients
2¼ cups luke-warm water
½ Tbsp salt
1½ Tbsp sugar
2 tsp active dry yeast
¾ cup whole wheat flour
¾ cup rye flour
¾ cup bread flour
plus 2½ cups bread flour
2 Tbsp canola oil plus more to grease counter and pan
Instructions
In a large Kitchen Aid mixer bowl, combine 2¼ cups warm water (about 100˚F), 1½ Tbsp sugar and ½ Tbsp salt; stir to dissolve.
Sift the ¾ cup wheat flour, ¾ cup rye flour and ¾ cup bread flour with 2 tsp yeast into the salted water. Whisk together until well blended. Let it rise on the counter uncovered for about an hour, stirring the batter about once. It will be bubbly.
Using the dough hook attachment, add ½ cup all-purpose flour until well blended, scraping down the bowl if needed. Blend in the rest of your flour (2 cups) ½ cups at a time, letting the dough dissolve the flour in between each spoon (this can take 10 minutes or so.)
Once all the flour is incorporated, add 2 Tbsp canola oil. Let the mixer run for an additional 10 to 15 minutes or until dough is no longer sticking to your bowl. Note: after you add the oil it will look like it's coming off the walls and then it will appear to get stickier. Just keep mixing, it will actually stop sticking to the walls as it mixes. You will know when it is dough because it will form a ball in the middle of the bowl and not stick to the sides.
Remove dough hook and let it rise in the bowl, uncovered, until double in volume (45 min).
Grease your bread pans, the countertop and your fingers with a little canola oil and transfer the dough to the oiled counter
Pinch the dough in the center to form two sections with your hands. Grease your pan lightly with oil. Place dough into each prepared bread pan and mold the dough to the base of the pan (no gaps in the corners). Let it rise on the counter until 2½ to 3 times in volume (about 1½ hours) or
/2 inches above the edge of the pan. Bake at 360˚F for 55 minutes.
When done, brush the tops with butter as soon as bread comes out of the oven. Remove bread immediately from the pans and cool on a wire rack. If you leave bread in the pans, it will get too moist from the steam in the pan.
Notes
The original recipe allows the first dough mixture to rise on the counter for 3 hours. I didn't find that to be necessary.

Adapted from Natasha's Kitchen