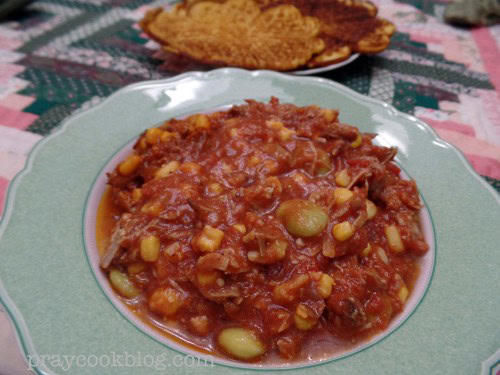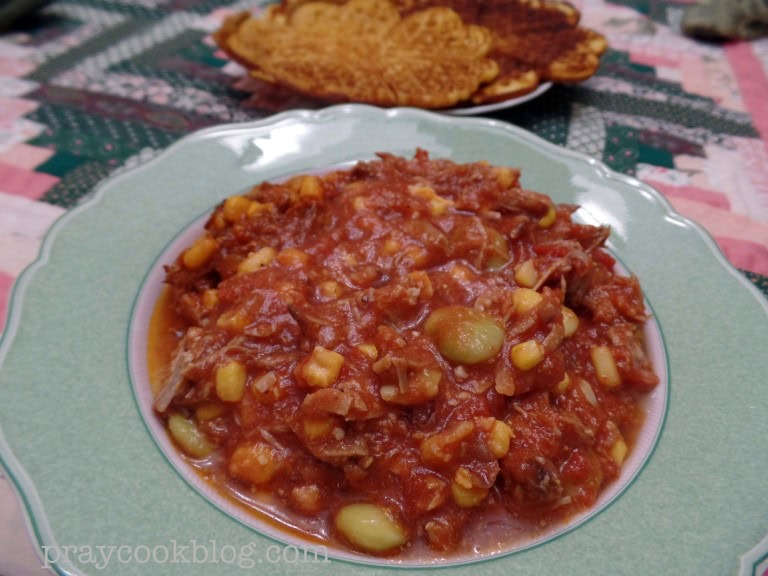 Brunswick County, Virginia, and the town of Brunswick, Georgia, both claim to be the origin of Brunswick Stew.  I had never heard of Brunswick Stew  until a few years ago (and every winter since then) I heard my friend Joan say, "I made up a big pot of Brunswick Stew!"
A plaque on an old iron pot in Brunswick, Georgia, says the first Brunswick stew was made in it on July 2, 1898, on nearby St. Simons Island.  A competing story claims a Virginia state legislator's chef invented the recipe in 1828 on a hunting expedition.  Some say it originated in Germany and since Joan's husband is of German decent, I'm going with that!  But then Joan is from Georgia … oh well, whoever, wherever Brunswick Stew came from I can tell you this – it is a hearty meal and fabulously delicious.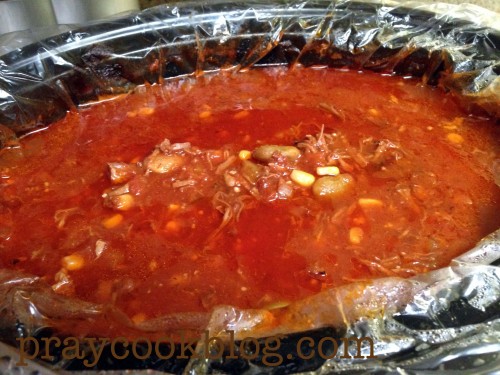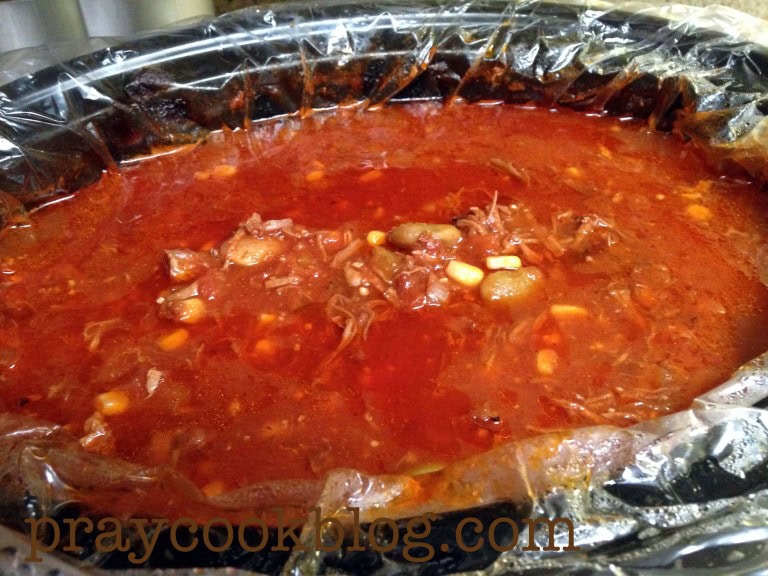 The first time I had made it I had some pulled pork leftover from a BBQ dinner party and decided to freeze it until suitably cool weather for stew.  I used the smokey pulled pork and a recipe  Jamie Deen shared on The Food Network.  Since the pork was already cooked I simply placed all the ingredients in the Crock Pot, left it on low for 8 hours and wow did the house smell good come dinner time!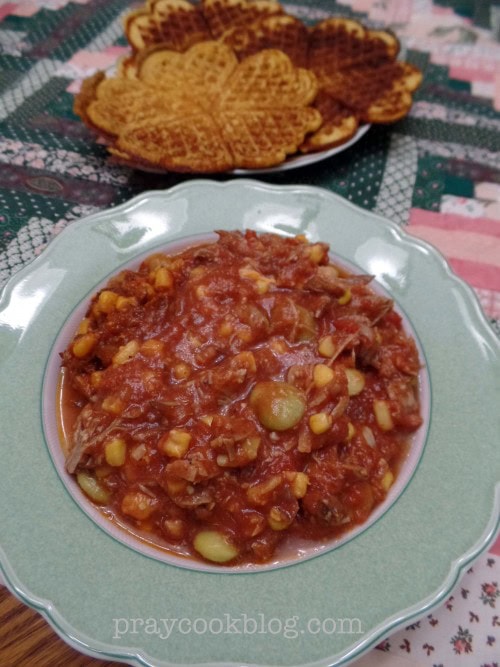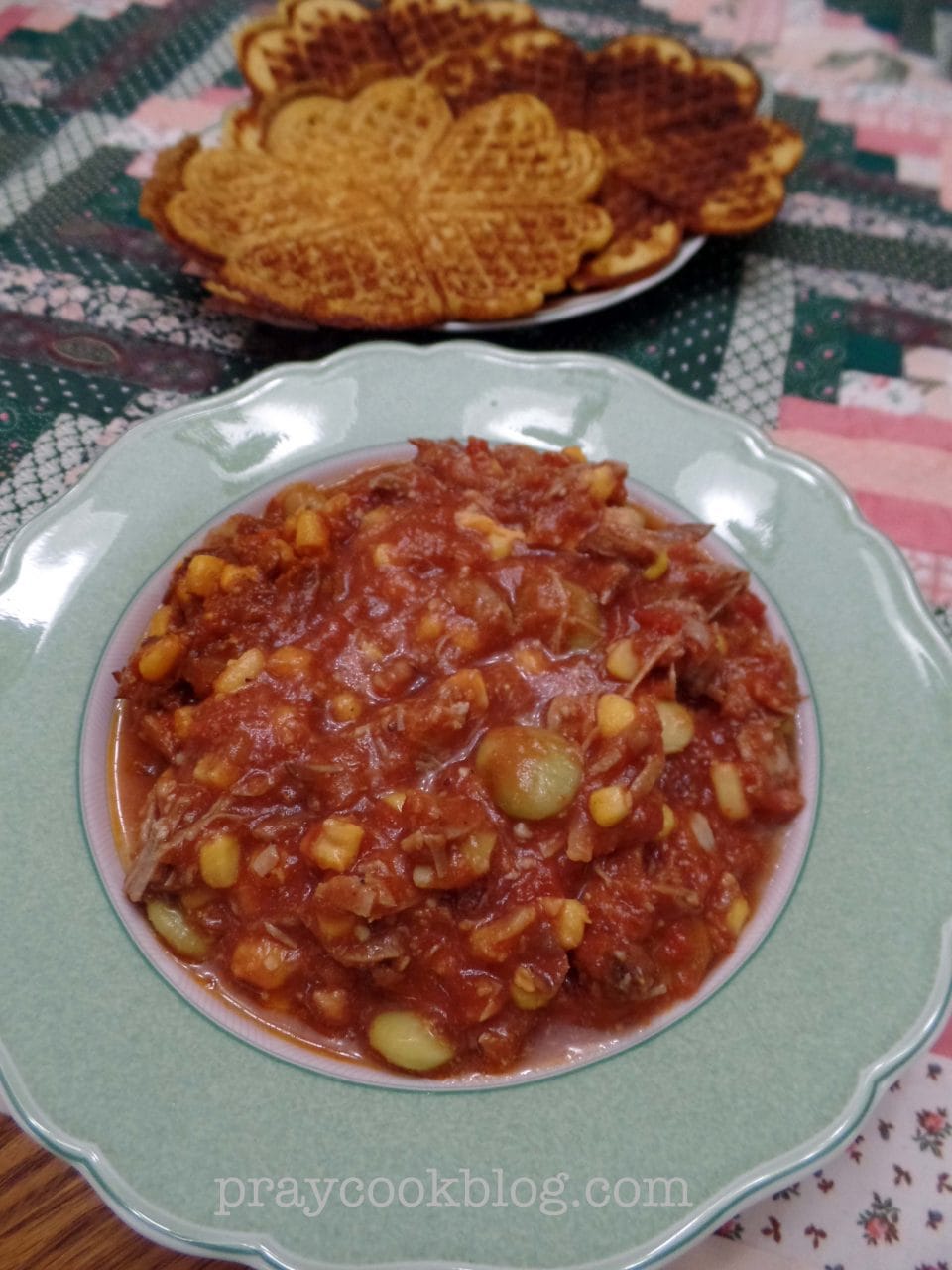 The second time I made it I used leftover pork from this recipe.  One recipe I looked at called for 1 pound smoked pulled pork,  1/2 pound smoked pulled chicken,  1/2 pound smoked pulled turkey and
1 pound smoked chopped beef brisket.  That is just too much "meat-gathering" for me!
The surprise in this stew is the BBQ saucy flavor that you don't usually find in a soup or stew.  Corn and lima beans really add to the depth of flavors.  BTW – if you can't stand lima beans (you know who you are) just leave them out and add more corn!
I served the stew with corn bread made in my waffle iron.  That produces a crispy, tasty cornbread that is handheld!  If you haven't ever tried cornbread in a waffle iron you must give it a go!
Here's to winter soup nights!  Happy Stewing!
~Catherine

A Hearty and Healthy Brunswick Stew
Let this hearty, healthy, tasty stew warm up your family on soup night this winter!
Recipe type:
Soups and Stews
Cuisine:
<g class="gr_ gr_87 gr-alert gr_spell undefined ContextualSpelling ins-del multiReplace" id="87" data-gr-id="87">American South
Ingredients
4 tablespoons (1/2 stick) butter
3 cloves garlic, minced
1 large Vidalia onion, finely chopped
One 15-ounce can fire roasted tomatoes (with their juices)
4 cups chicken stock
1½ cups barbecue sauce
2 tablespoons Worcestershire sauce
1 tablespoon light brown sugar
¼ teaspoon cayenne pepper
1½ pounds smoked pulled pork
10 ounces frozen corn
10 ounces frozen baby lima beans
Pinch salt and ground pepper
Hot sauce, for serving
Cornbread or soda crackers, for serving
Instructions
Melt the butter in a large Dutch oven over medium-high heat.
Once melted and foamy, add the garlic and onions and saute until soft, about 4 minutes.
Stir in the tomatoes, chicken stock, barbecue sauce, Worcestershire, brown sugar, cayenne, smoked pork, lima beans, corn and a big pinch of salt and pepper.
Bring the mixture to a boil, reduce to a simmer and cook over medium-low until thick and ContextualSpelling ins-del multiReplace" id="93" data-gr-id="93">stewey, about 1½ hours, stirring on occasion.*
Serve with hot sauce, cornbread or soda crackers.
Notes
* All ingredients can be added to Crock Pot and cooked on low for 6 to 8 hours.

Recipe courtesy of Jamie Deen, The Food Network.