John 3:16
For God So Loved the World
"For God so loved the world, that he gave his only Son, that whoever believes in him should not perish but have eternal life. ESV
As Christians all over the world are preparing to celebrate Christ's resurrection on Sunday, March 31,  I am humbled by this opportunity to share scriptures that are meaningful to me during this time.  Reading the inspired Word of God is one of the greatest gifts in my life and I am thankful to be able to share with you.  This cross sits atop the Cumberland Plateau and is located in the rural community of Sewanee, Tennessee and on the college campus of The University of the South. The cross is surrounded on two sides by wooded areas. In the front is a view of the Franklin County Valley and in back is the campus of the University.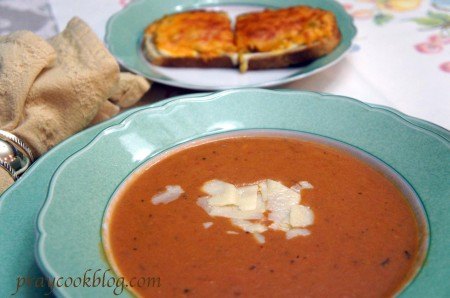 Do you have room for one more awesome soup recipe this winter?  Even though the promise of spring is showing signs around my yard, the temperatures are still playing yo-yo.  72 degrees one day and 26 degrees the next!  Last week was a perfect example.  My cousins, Jill and Jeff, were on their way from spending time
in the warmth of the Florida sun heading back to the Midwest.  We were so excited about their overnight stop with us.  They were due to arrive about 10:30 in the morning so I got to fix a light lunch and then dinner that night.  I was in cooking heaven!
I decided to pull a stunt my mother taught me when company is coming.  Fix  something new!  Something I had never made before.  Live on the edge.
That is when I found a recipe for Crock Pot Tomato Basil Soup.  Set it and forget it until lunch, that is exactly what I was looking for.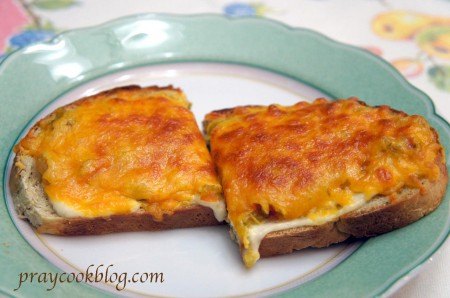 Jill and I grew up in Nebraska.  When we eat tomato soup there needs to be a grilled cheese sandwich somewhere in close proximity.  I hope you will forgive me for the lack of preparation pictures on this one.  I was busy — company coming! 🙂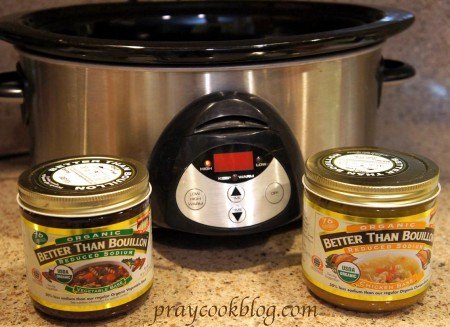 Five to seven hours before serving the tomatoes, celery, carrots, onions, and broth go into the crock pot.  I only use Better Than Bouillon for starting my soups.  Unless of course I have some homemade chicken stock, which I didn't.
The recipe calls for 3 -15 oz. cans of petit diced tomatoes, with juice, which I think would be fine.  Since I had homemade spicy tomatoes and sauce canned from last year's garden, I started with 2 quarts in place of the diced tomatoes.
For these toasted cheese sandwiches I used Sharp Cheddar cheese and a sprinkling of Swiss cheese. The flavor combination works. A few minutes under the broiler turns each bite into a warm, melted mouthful of perfection.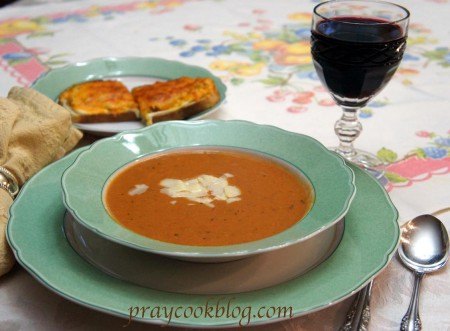 Thirty minutes before serving, a roux is made with butter and flour and some of the hot soup is added.  This is all blended back into the pot along with fresh basil and some half and half.  A little Parmesan cheese and soup's on!
Just in case you are wondering what kind of wine goes with Tomato Basil Soup and Toasted Cheese?  Any kind you want! 🙂
Check out the recipe listed below for complete details on making this outstanding soup.
~Blessings, Catherine


Crock Pot Tomato Basil Soup

Homemade soup is one of the pleasures of life in the winter. Fresh basil melds with the other flavors in this soup to make it a real people pleaser!

Ingredients
3 - 15 oz. cans of petit diced tomatoes, with juice
1 cup finely diced celery
1 cup finely chopped carrots
1 cup finely diced onions
1 cup finely chopped sweet peppers* optional
1 teaspoon dried oregano
¼ cup fresh basil, minced
4 cups broth, chicken or vegetable or a combination
½ cup flour
1 cup freshly grated Parmesan cheese
½ cup butter
2 cups half and half*, warmed
1 teaspoon salt
¼ teaspoon pepper
Instructions
Place tomatoes, celery, carrots, onions, peppers and broth into crock pot.
Cover and cook on low for 5 to 7 hours.
Thirty minutes before serving make a roux. Melt butter over low heat in a skillet and whisk in flour. Stir constantly for a couple minutes.
Slowly add in 1 cup of hot soup. Stir well, adding in 2 more cups of hot soup.
Pour roux/soup mixture back into the crock pot. Mix well, continue to heat on low.
Stir in Parmesan cheese, warmed half and half*, salt and pepper.
Add in oregano and basil.
Cover and let cook on low for another 30 minutes or until ready to serve.
Garnish with a sprinkling of additional Parmesan cheese.
Notes

*Whole milk or 2% milk can be used in place of the half and half.

Fresh basil is available in tubes in the produce section and will last for up to 3 months. This basil works beautifully in this soup.

Chicken broth, vegetable broth or a combination may be used. I use half chicken broth and half vegetable broth, Better Than Bouillon brand.

*Home canned tomatoes or tomato sauce can be used in place of the petit diced tomatoes.

Recipe adapted from www.yourhomebasedmom.com