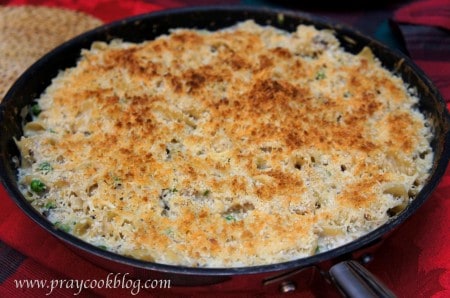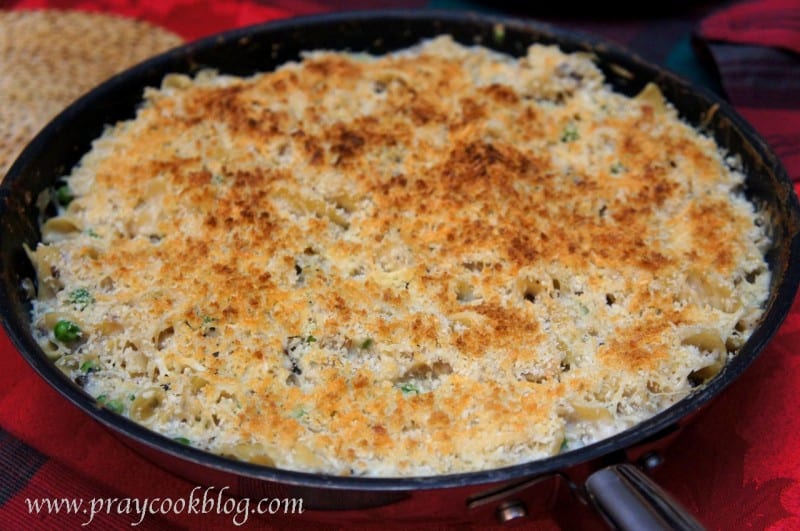 Visiting with my son Cory over the Christmas holidays, he offered me a great suggestion for my blog for the new year. Cory is a fantastic cook and is always looking for the healthiest of recipes for his family.  It is no surprise that he suggested I add a recipe each week that is "healthified."  Never heard of healthified? Thanks to Cory it is my new buzz word for 2013!  According to the Live Better America website healthified™ recipes are made by either subtracting or substituting ingredients, to create healthier versions of the recipes you love!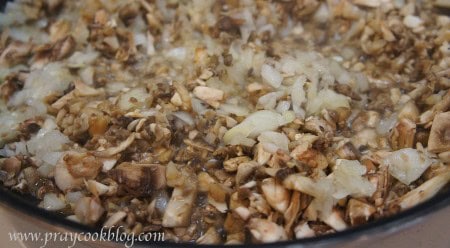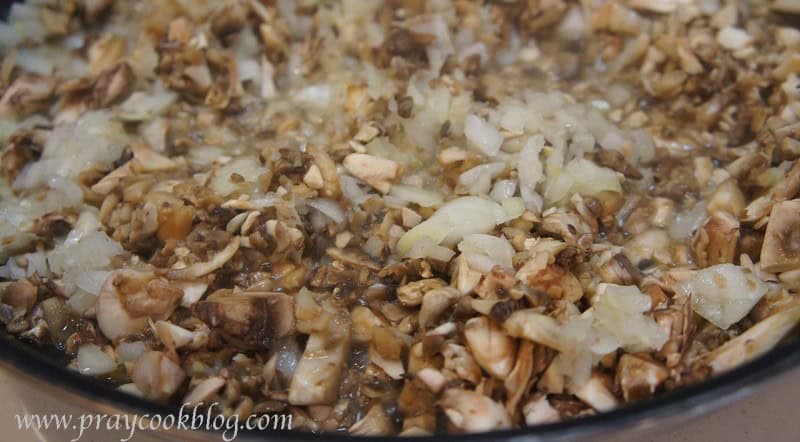 One of Cory's most wonderful traits is that when he offers a suggestion he is ready and willing to help make it happen!  So I wasn't surprised when he told me he had just made a very healthy version of Tuna Noodle Casserole that is delicious, healthy and low-fat!  Starting with a good bit of mushrooms and onions cooked in olive oil, salt, pepper, and white wine is added.  By this time the kitchen is smelling yummy as the smells begin to waft through the house.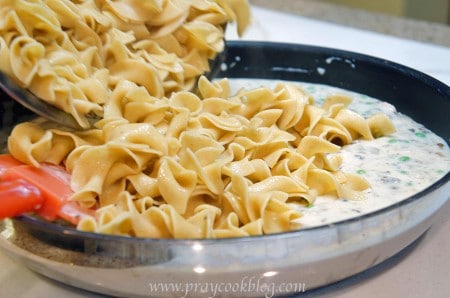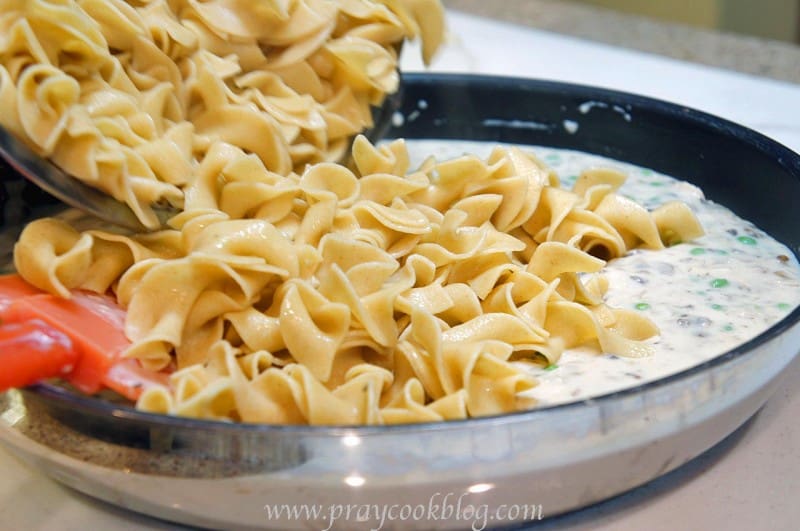 Flour, milk, peas and Parmesan cheese are added to the cooked veggies to make up the white sauce.  Cooked whole-wheat pasta not only adds a deeper flavor than white pasta, it is also lower in carbohydrates and higher in fiber. 🙂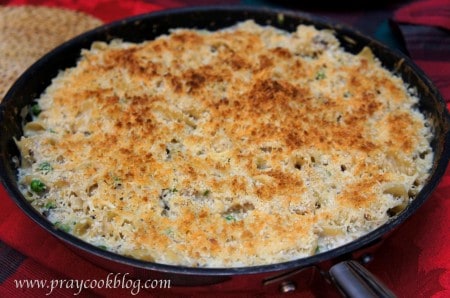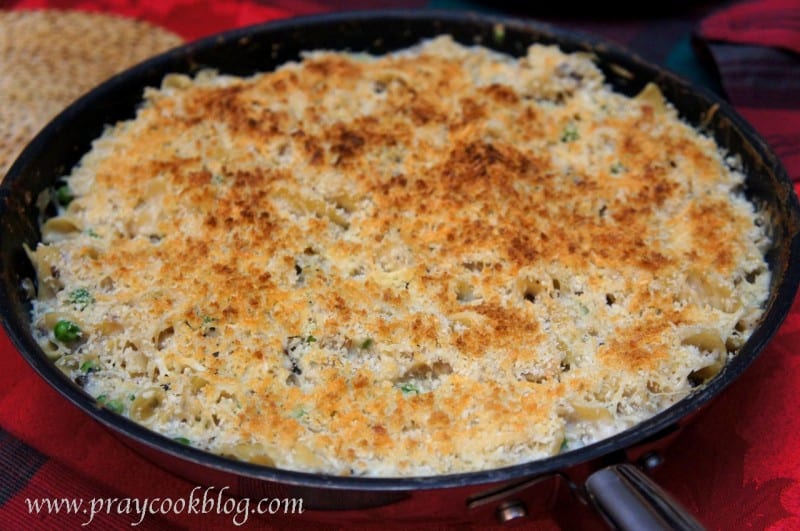 Panko bread crumbs, Parmesan cheese and a quick turn under the broiler and dinner is served!  Cory added broccoli instead of peas and said it was a tasty variation.  We shared some of our casserole with neighbors just returning from Christmas travels.  After serving to my family we still had enough left for another meal.  We ate the remaining casserole about 4 days later and the flavor had enhanced and the Chief thought it tasted even better!
Please let me know if you have a healthified recipe you want to share.  I will be on the look-out for the best healthy recipes to bring back to you!
Happy New Year and Happy Cooking!
Stay healthy, Catherine

Healthified Skillet Tuna Noodle Casserole
A beloved recipe, healthier than ever and tastier than you thought possible!
Ingredients
8 ounces whole-wheat egg noodles
1 tablespoon extra-virgin olive oil
1 medium onion, finely chopped
8 ounces mushrooms, sliced or chopped
½ teaspoon salt
½ cup dry white wine
6 tablespoons all-purpose flour
3 cups nonfat milk or 2% milk
½ teaspoon freshly ground pepper
12 ounces canned chunk light tuna drained *See Note
1 cup frozen peas, thawed
1 cup finely grated Parmesan cheese, divided
½ cup coarse dry Panko breadcrumbs
Instructions
Bring a large pot of water to a boil. Cook noodles until just tender, 6 to 8 minutes or according to package directions. Drain and rinse.
Heat oil in a large oven-proof skillet over medium heat. Add onion, mushrooms and salt. Cook stirring often until the onion is softened but not browned, about 5 to 8 minutes. Add wine and cook until evaporated, about 4 to 5 minutes. Sprinkle flour over vegetables, stir to coat. Add milk and pepper and bring to a simmer stirring constantly.
Stir in tuna, peas, and ½ cup Parmesan until evenly incorporated. Stir in cooked noodles -- the pan will be very full! Remove from heat.
Position rack in upper third of oven and preheat broiler.
Sprinkle the casserole with breadcrumbs and the remaining ½ cup Parmesan cheese. Place under broiler and broil until bubbly and lightly browned on top, 4 to 5 minutes.
Notes
Make Ahead Tip: Prepare through step 3, spoon into an 8 inch square glass baking dish, cover with foil and refrigerate for up to 1 day. Sprinkle with breadcrumbs and cheese (from step 5) and bake, covered, at 350 degrees for 50 minutes. Uncover and cook until browned and bubbly, about 10 more minutes.

Note: Chunk light tuna, which comes from the smaller skipjack or yellowfin, has less mercury than canned white albacore tuna.

Recipe adapted from www.eatingwell.com
Nutrition Information
Serving size:
1⅓ cups each
Calories:
406 Calories
Fat:
8 g Fat