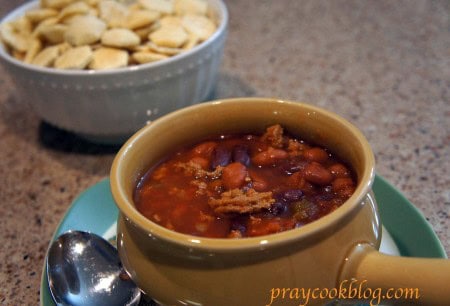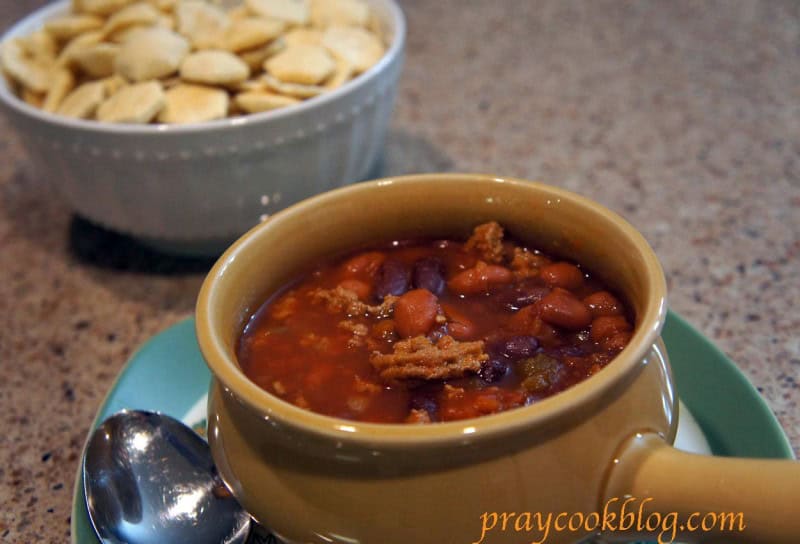 Last February I made Chili Soup with the intention of sharing my recipe with you. It's not that I don't think you have a Chili recipe, I'm mean, who doesn't? But, when I made this one it was so good I thought we should all have it in our winter soup arsenal.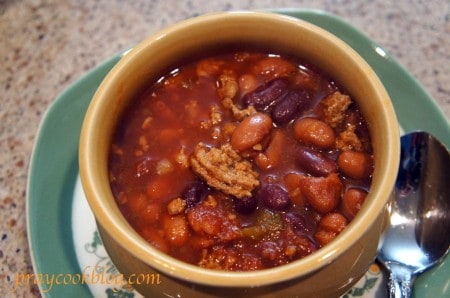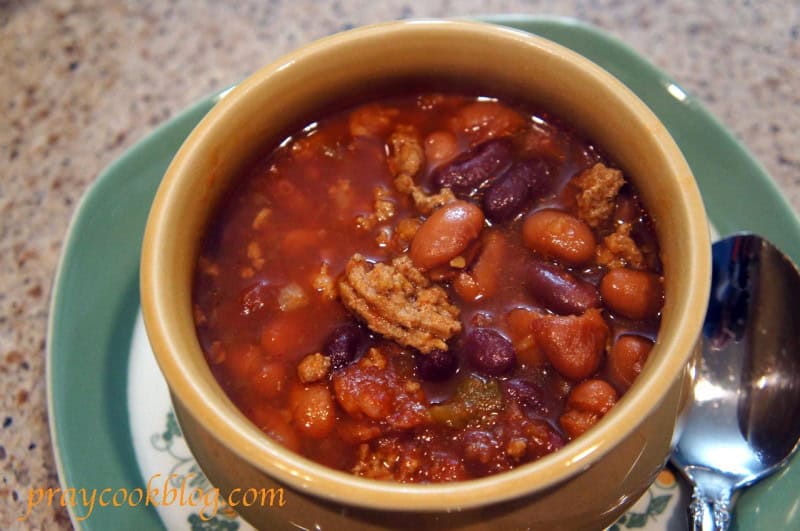 And then a funny thing happened on the way to the computer. I forgot to take any pictures.  I thought I had taken a few pictures.  I remember taking a few pictures.  But when the time came to post the recipe I couldn't find any chili soup pictures!  Please pray for me. 🙂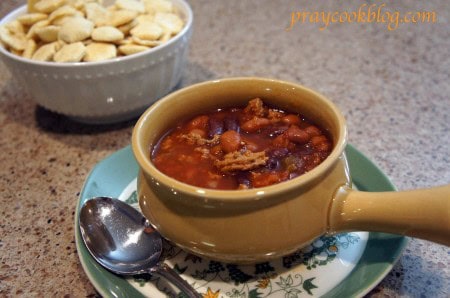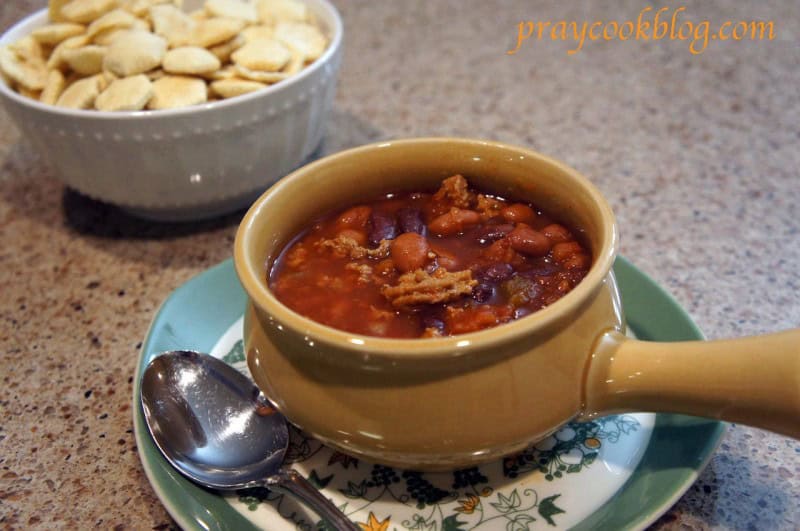 Fast forward 8 months.  Cool nights are replacing long, hot summer days.  The leaves are finally turning gold and red. Soup is back on our weekly menu. I use to make chili by memory.  That is, I remember mom gathered a few cans of beans, cooked up some hamburger and we had chili soup.  What else went in to the pot was a bit of a guess.  I don't use my memory for this one anymore, I use this recipe.  Enjoy!
Have a blessed week,
Catherine
For the word of God is quick, and powerful, and sharper than any two-edged sword, piercing even to the dividing asunder of soul and spirit, and of the joints and marrow, and is a discerner of the thoughts and intents of the heart. Hebrews 4:12 KJV
Homemade Chili Soup
Full of flavor in a one-dish meal!
Ingredients
2 pounds ground beef (or ground turkey)
1 large onion, diced
2 teaspoons chili powder
1 clove garlic, finely chopped
1 small green bell pepper, finely chopped
1 Anahiem pepper, finely chopped
1 teaspoon salt
1 teaspoon dried oregano
1 teaspoon ground cumin
1 teaspoon paprika
1 teaspoon garlic powder
4 cups tomato sauce (or 1 - 29 ounce can)
2 cans chili beans (15 ounces each) (do not drain)
1 can drained red kidney beans (15 ounces)
2 tablespoons all-purpose flour
1 tablespoon vinegar
Instructions
In a large Dutch oven or soup kettle, brown beef with onions, garlic, bell pepper and Anahiem pepper until beef is brown and the vegetables are tender. Drain well.
Stir in spices, tomato sauce and beans. Simmer uncovered for 1 hour, stirring occasionally.
Combine flour and vinegar, stir into chili. Simmer another 15 minutes or until slightly thickened.
Garnish with crackers and shredded cheddar cheese (optional).
Notes
This soup can be cooked on low in the crock pot for 6 to 8 hours.

Adjust chili powder and pepper seasoning to taste.

* If you really like it HOT, add a few red pepper flakes, to taste.