When the Brown Eyed Baker posted this dessert recipe I was totally captivated by her pictures.   It was the first of August and I had children and grandchildren arriving in just a few days.  I was in meal planning mode.
What I didn't know was …

choosing to make this dessert is one of the best recipe decisions I've made this summer. Okay, maybe one of the best decisions I've made this YEAR!
Ya, it is just that good.  And did I say "fast and easy?"
One layer of store-bought ice cream sandwiches, a layer of caramel. A quick freeze. Another layer of ice cream sandwiches, a layer of fudge. Another quick freeze. Add Cool Whip. Freeze.
Chopped pecans or peanuts and a red cherry.  You choose.
A 9″ x 13″ pan made 18 servings.  There were six of us here that week.  We ate it 3 times.  And each time we were lamenting how it would soon be gone!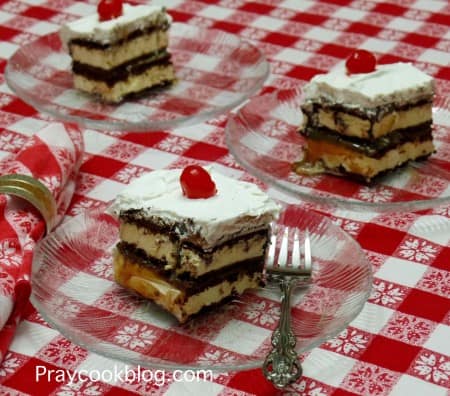 For my Community Bible Study leaders … I plan to make this for our fellowship meal.  You can start thinking about it now. 🙂
Thank you Michelle, the Brown Eyed Baker for this over-the-top flavor sensation!
Happy Eating!
~Catherine
"How sweet are Your words to my taste! Yes, sweeter than honey to my mouth!"
Psalms 119:103
Ice Cream Sandwich Super Sundae Dessert
The sure delight of this dessert will not give away the secret that it is so fast and easy to make!
Author:
Adapted by Catherine Daugherty
Ingredients
24 ice cream sandwiches (homemade or store-bought)
1 (12-ounce) jar caramel topping (or substitute homemade)
1 (12-ounce) jar fudge topping (or substitute homemade
1 (8-ounce) Cool Whip
Chopped peanuts
Maraschino cherries
Instructions
Line the bottom of a 9x13-inch pan with half of the ice cream sandwiches, cutting them to fit as needed.
Spread the jar of caramel topping over top of the ice cream sandwiches. Place in the freezer for 10 minutes.
Arrange the remaining ice cream sandwiches on top of the caramel layer, again cutting as needed to fit the pan. Spread the fudge topping over the ice cream sandwiches. Spread the Cool Whip on top. Place in the freezer until ready to serve.
Serve with chopped peanuts and maraschino cherries.
Notes
Recipe from The Brown Eyed Baker
http://www.browneyedbaker.com/ice-cream-sandwich-cake-recipe/
*The dessert can be stored in the freezer for up to 1 month.
** I used dark chocolate fudge topping and the dark chocolate isn't as sweet as the milk chocolate and we loved it!