Stainless Steel is one of the common materials used throughout the food service industry. Whether you are running a restaurant, food processing business, or food storage, one thing that they all have in common is that they each involve the handling and the preparing of raw foods on a regular basis.
Here are the 4 best stainless steel tables for your kitchen: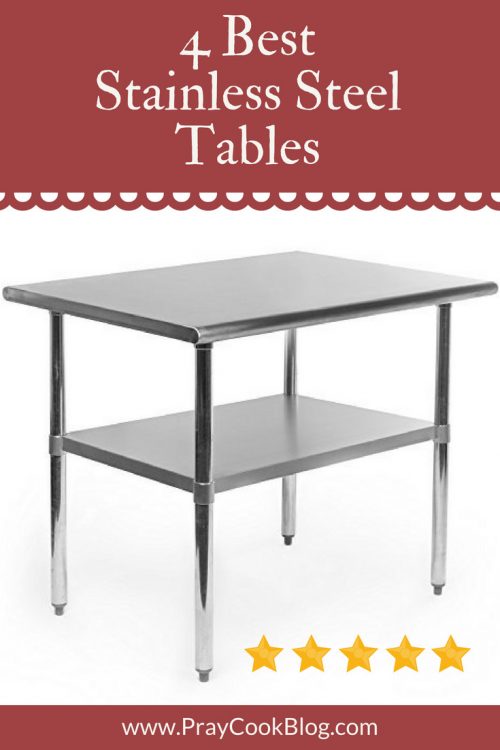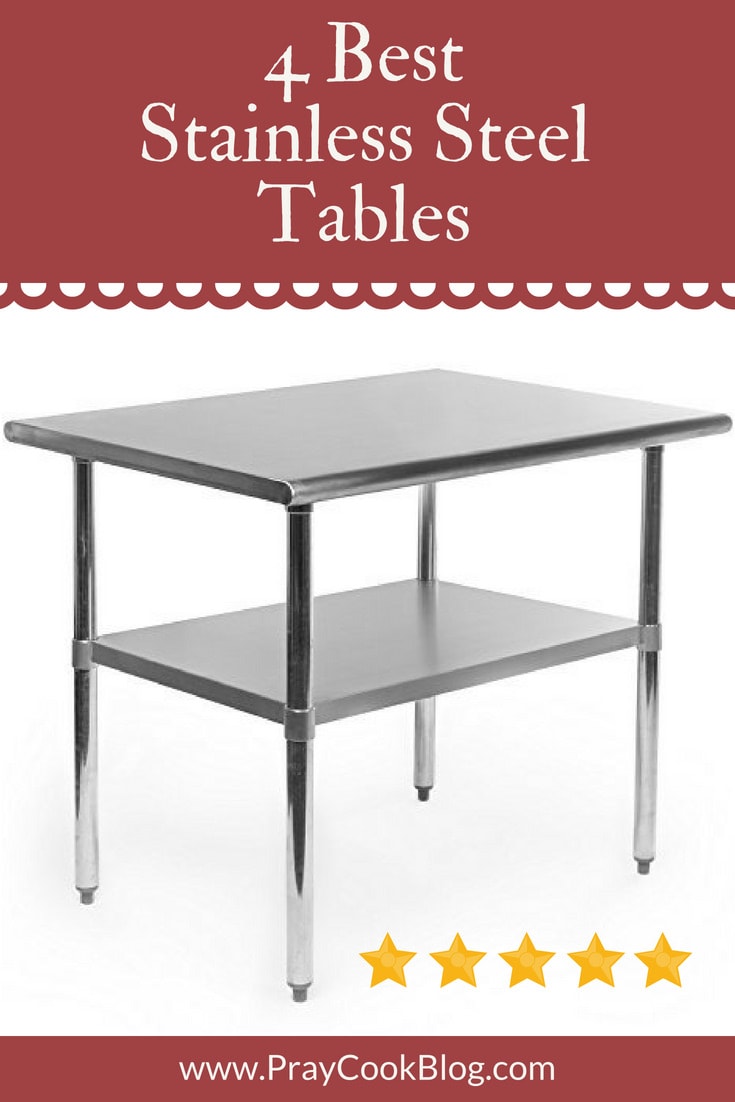 Gridmann Stainless Steel Commercial Kitchen Prep & Work Table with Backsplash
An NSF certified stainless steel work table for any commercial application. The 18-gauge steel construction is heavy-duty and can handle daily use. It is easy to assemble containing only six parts. This table is perfect for a kitchen, bar, laundry room, school or hospital. 
Seville Classics Commercial Stainless Steel Top Worktable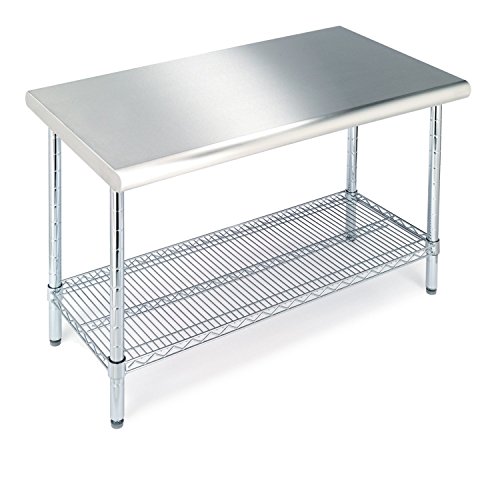 An NSF certified prep and work table that is sure to fit your needs. Not only do you have the tabletop space, but it also comes with a wire shelf at the bottom for additional storage. Add casters to this setup and you have the perfect table. With its affordable price, you can't beat this stainless steel table.  
Gridmann Gourmet Stainless Steel Folding Work Table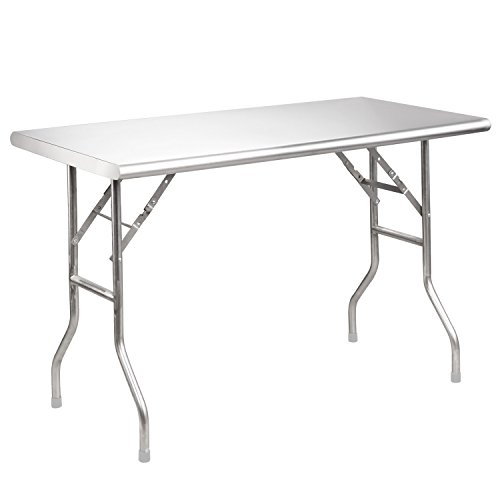 The best stainless steel table for portability. It is a generous 48" x 24" which gives you plenty of room for prepping or catering. With it's easy to clean stainless steel surface and foldable stainless legs you can carry this table anywhere. It is perfect for caterers or outdoor events.
GSW Commercial Flat Top Work Table with Stainless Steel Top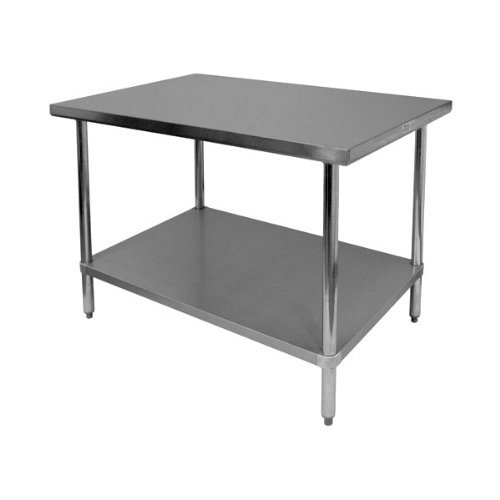 A NSF approved mini stainless steel work table with an adjustable galvanized shelf underneath. This little guy can be adapted to fit into the tightest spaces for additional storage and working space. It's a must for any kitchen to allow for maximum tabletop prepping space.  
Stainless Steel hasn't always been the best material for a kitchen prep and work table, for years butcher block was the surface of choice for food preparation and handling. The use of hardwood materials in the making of butcher block countertops and chef tables made it the surface of choice for many years. It was also the durability of a well made, solid wood surface that was the main reason why it
Today, there are a number of different types of surface materials that are used for food service and food preparation tables in restaurants and food processing companies all across the country. We will be talking about four popular ones in this blog post; DuPont™ Corian®, Meganite® Solid Surfaces, Butcher Block Table Tops, and Stainless Steel Table Tops.
4 Most Common Materials Used in Food Service Table Tops
1. Corian® by DuPont™ – This solid, non-porous, man-made material is one of the most versatile of all of the types of surfaces used in the making of tables for the foodservice and food preparation industry. It is available in a wide range of colors, including many custom colors to choose from. It is an ultra durable material that is able to withstand excessive temperatures, can easily be refinished in the case of stains and scratches.
Corian® has received a high rating for food safety, which includes an NSF/ANSI Standard 51 Certified for food contact. As long as it is cleaned properly there is no concern for the possibility of mold and or mildew from growing on any table with a top made of Corian®.
2. Meganite® Solid Surfaces – This surface is made using acrylic resins to create one of the most durable and versatile solid surfaces in the industry. The non-porous surface gives it the characteristics that earned it an NSF-51 certification and Green Guard Gold certification for its limited VOC levels.
Meganite® is highly scratch resistant, which helps to cut down on typical maintenance costs. There is a wide range in colors to choose from, including more than 1000 different colors.
3. Butcher Block Table Tops – Butcher block features sturdy construction, made from a variety of hardwoods including Natural Maple, Hickory, and American Black Walnut. Unlike the previous, man-made products which are non-porous, butcher block tops have substances within the fibers that create an all-natural antimicrobial barrier. This help to provide a good sanitary surface for preparing food. Butcher Block Tops can be purchased in lengths and widths that can easily be put on existing tables to replace worn-out tops.
4. Stainless Steel Table Tops – Stainless steel is one of the most durable of all materials used in making tables and workbenches for the foodservice and food preparation industries. This extremely hard, non-porous surface is easy to clean and has earned a high NSF rating. It also adds extra strength to the table which means it can handle more weight.
Stainless Steel versus other materials
While there are plenty of non-porous materials that are commonly used in making table tops used in food service and food preparation, like the ones mentioned above, stainless steel is by far the most desirable. Not only does it meet or exceed all health and safety standards, but it is also extremely easy to clean and it also looks really good, as well.
If you take a look at most kitchen areas of your local restaurants or food service companies you are likely to find a whole lot stainless steel work tables, appliances, and shelving. This likely because they are really concerned about the safety of the food they are serving or processing for their customers.