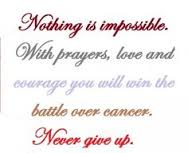 Dear Heavenly Father,
Your word repeatedly reminds us to "fear not" and yet just the word cancer causes us to fear.  I pray for your mercy to calm our fears and your grace that is sufficient.  I pray Lord that even as your servant David was fearful for his life in Psalm 56 he sets his vision on you, his Lord and Savior, putting his trust in you.  I pray Lord may we do the same and look to you continually as we seek your strength in our weakness.  And when we feel too weak to do otherwise, we simply say Jesus,  Jesus, Jesus. 
Amen.
But he said to me, "My grace is sufficient for you, for my power is made perfect in weakness." Therefore I will boast all the more gladly about my weaknesses, so that Christ's power may rest on me.
2 Corinthians 12:9
Love My Enemies
My Heavenly Father, you are such an awesome God. Thank you dear Lord, for the lessons you are teaching me through the study of scripture. Lord, I do believe that all scripture is breathed out by you. As I read your Word my heart hears your voice. I can always pray for those I love and care about. But your Word tells me to love my enemies, care about those who do not care about me back. Father, I pray the Holy Spirit will show me how to forgive others, even those who have harmed me. How to love one another as you would have me to do. Thank you for the extreme example I have in forgiving, even as Jesus Christ has forgiven me. As I move through this day may I look to you for guidance, direction, and even correction. In Jesus Precious and Holy Name.  Amen.