These colors look amazingly delicious … and I'll let you in on a little-known secret – this pickled vegetable sandwich slaw IS delicious! In the past Deb from Smitten Kitchen posted pictures and her take on a pickled vegetable sandwich slaw recipe for vegetable slaw. Let me tell you this, it's a poetic food explosion when one discovers sandwiches, salads, and tacos dressed with sweet and sour crunchy toppings also known as pickled veggies!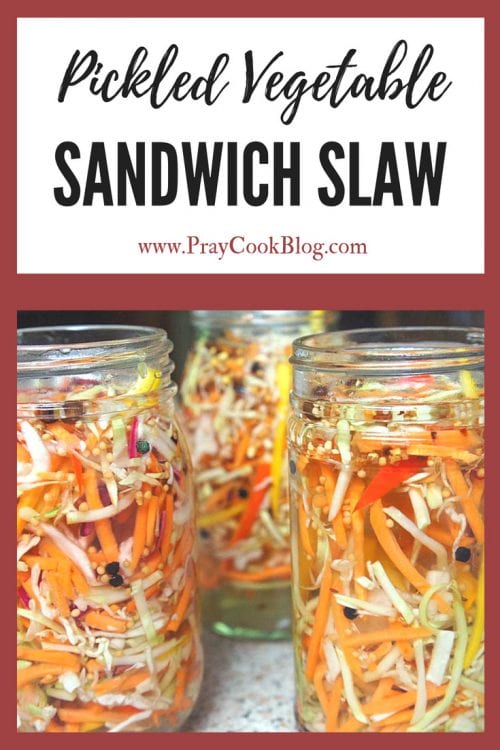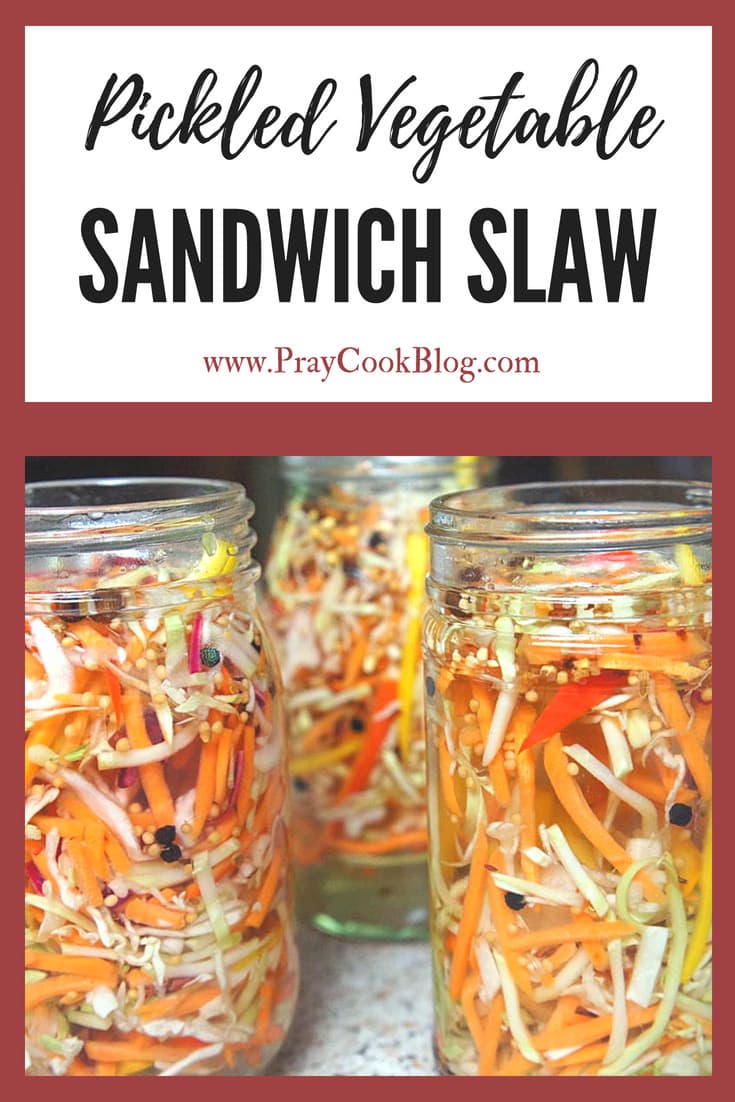 My frig was over-flowing with carrots, red, yellow and orange sweet peppers, and cabbage. But what started dancing in my head was the rationalization that this healthy veggie slaw would easily give an air of credibility to a finely grilled all-beef hotdog! One of my worst traits – that I am very good at, is rationalization!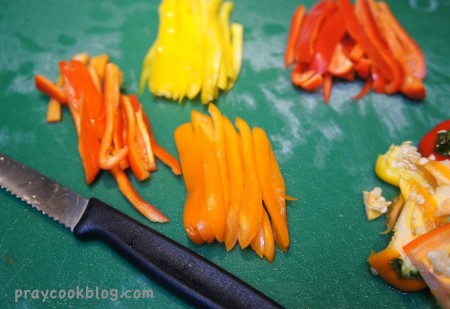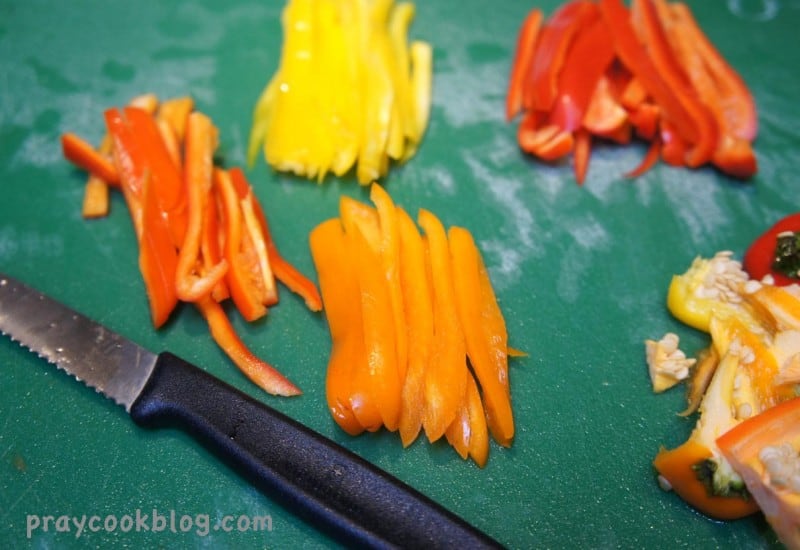 Veggie slaw can consist of anything you want it to. Radishes, red, orange and yellow bell peppers, carrots, onions, fresh sugar snaps and Kirby cucumbers, are a few suggestions, but you can use any firm, crunchy vegetable you think will pickle well.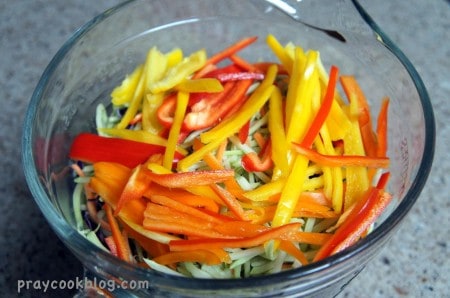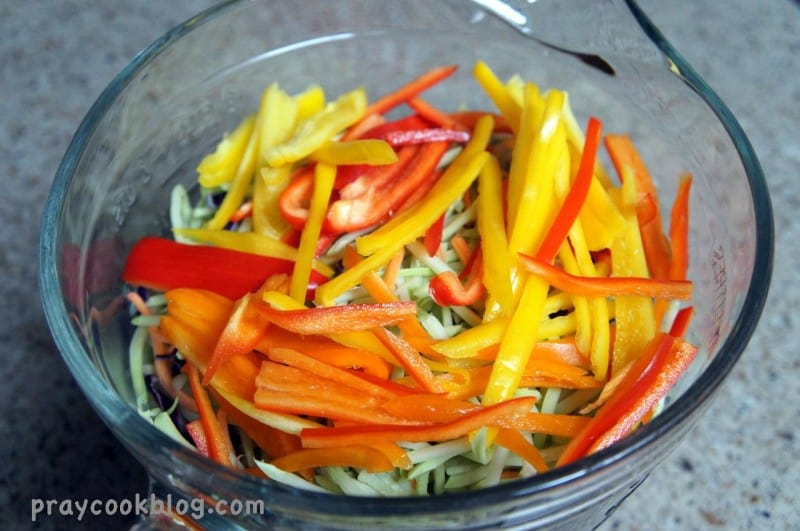 After slicing up 4 to 5 cups of veggies, I heated up white vinegar, sugar, salt, and mustard seeds. I divided up the veggie mix into jars and poured the cooled-down mixture over my new crunchy slaw mix.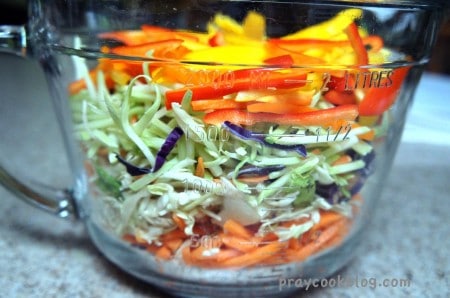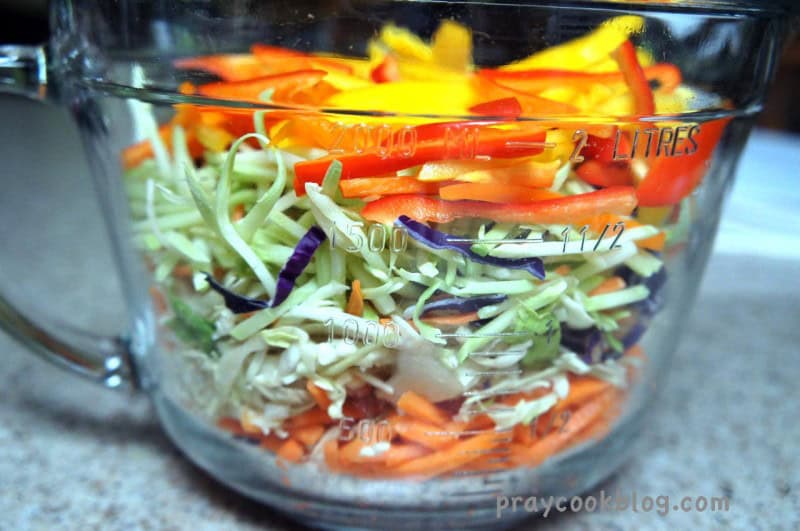 How else can I explain what happened when I kicked the veggies into high gear, pickled the heck out of them and then served them on wonderfully grilled hotdogs for dinner?!! Just say, YUM!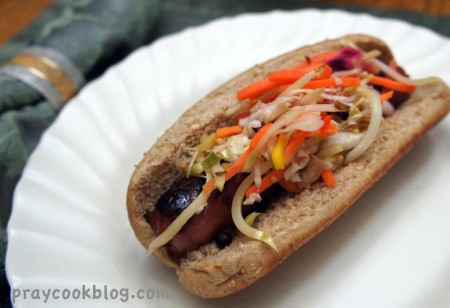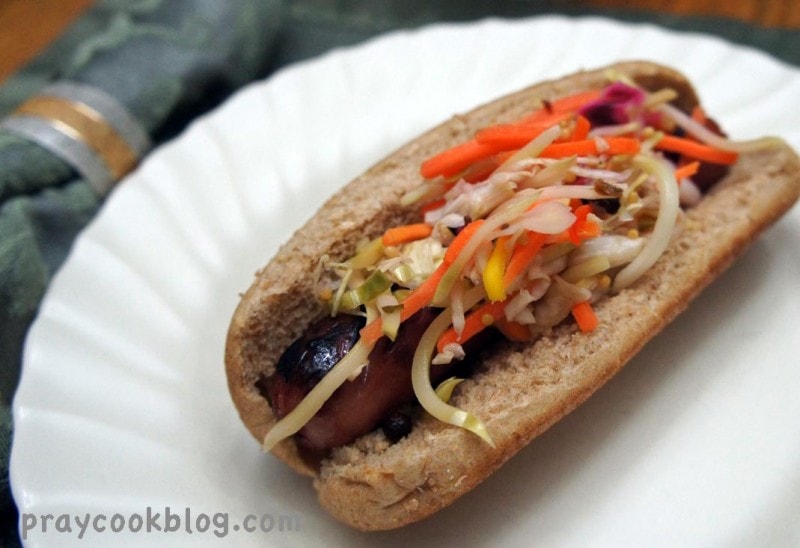 The vegetables will be lightly pickled after an hour or so and wonderfully pickled within a day. The good news is it will keep in the refrigerator for up to a month or longer. The bad news is once you start eating this slaw on whatever you fix for lunch –it won't last that long! 🙂
No canning, vacuum seals, or sterilized jars necessary. When storing in the refrigerator make sure the vegetables are completely covered in the brine solution.
I used a sharp vegetable knife and cut up my veggies by hand. But a simple mandoline that has julienne blades, a julienne peeler or a food processor with slicing blades will do the trick as well.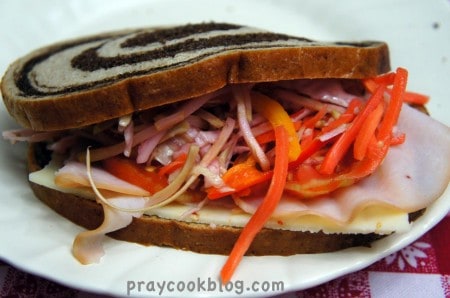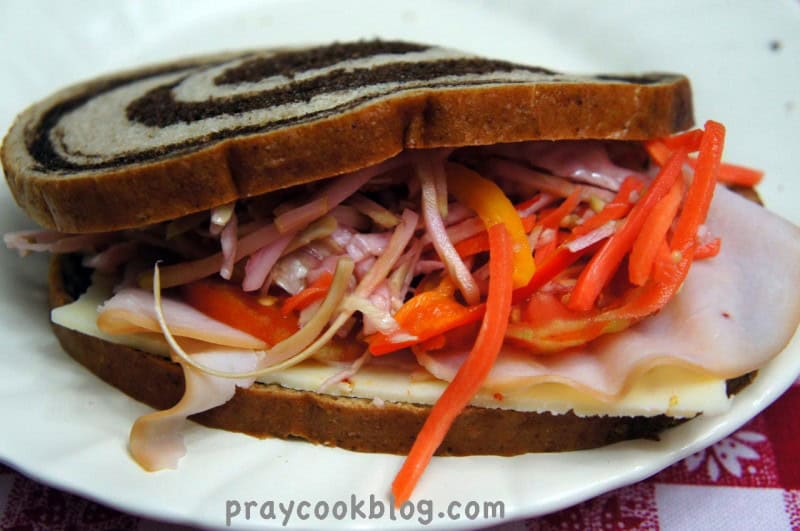 Before I had this post written we gobbled up the slaw on a turkey and cheese sandwich on rye bread. My Chief Culinary Consultant said of his first bite, "this is an explosion of flavors!" Well put. Oh ya, I also put some hot pepper flakes in one jar for him!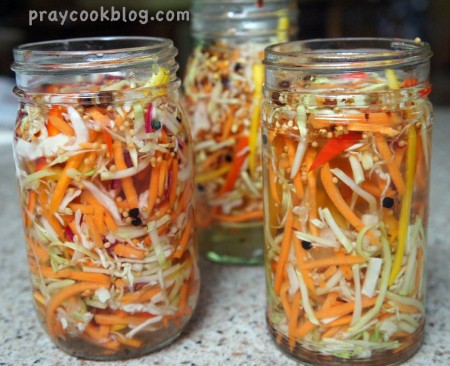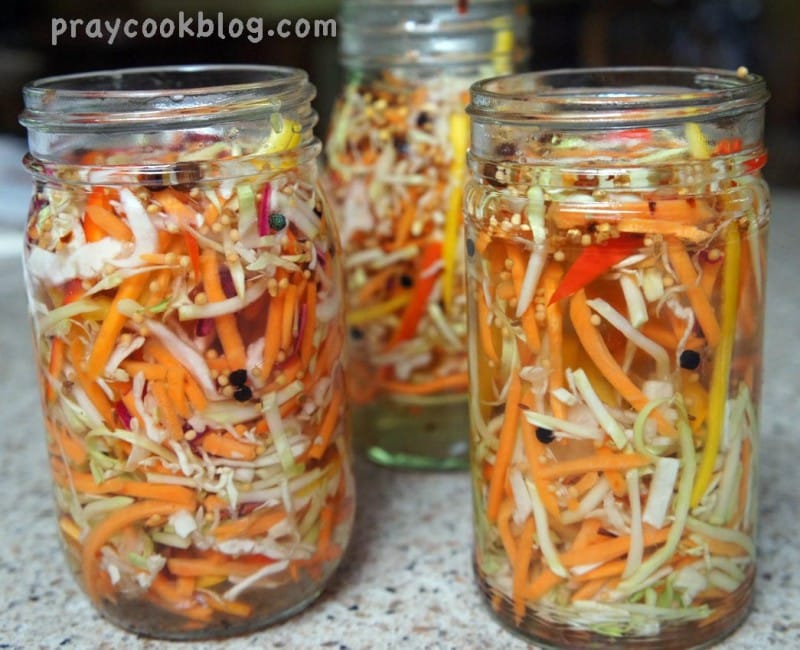 Let this pickled slaw be the crowning taste for your picnic lunch!
What is your favorite thing to put pickled vegetable sandwich slaw on?
Let us know in the comments below. Happy Pickling!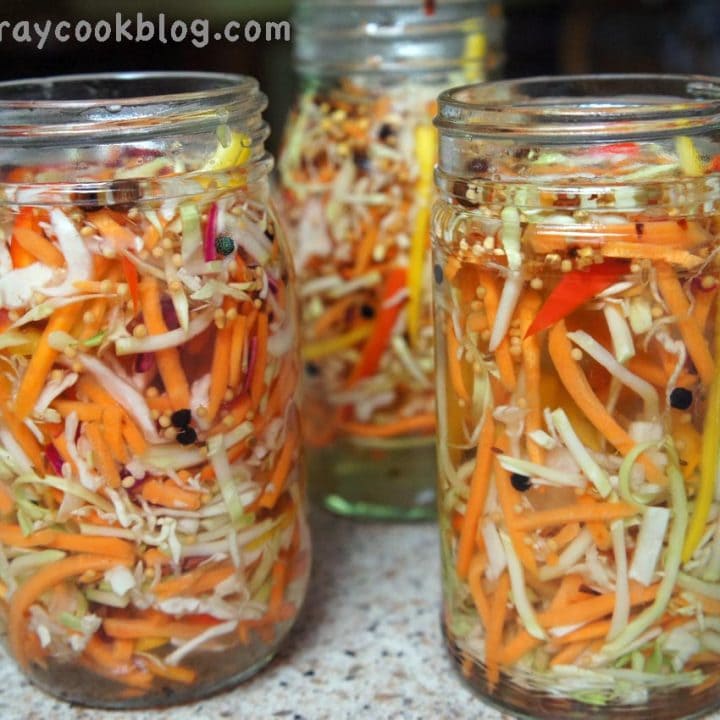 Pickled Vegetable Sandwich Slaw
This tasty slaw is the crowning taste for sandwiches, hot dogs, tacos, salads, the list is endless. Pack it along on picnics -- it goes with almost anything!
Ingredients
Slaw Mixture
4 to 5 cups mixed slivered or julienned firm, raw vegetables
Optional: a few slivers of jalapeno or hot pepper flakes
Pickling Mixture
1 cup Distilled white vinegar
6 tablespoons sugar
3 teaspoons kosher salt
2 tablespoons mustard seeds
1 cup of cold water
Instructions
Heat vinegar, sugar, salt, and mustard seeds to a simmer in a small, non-reactive* pot over moderate heat, stirring only until sugar and salt dissolve. Remove from heat and stir in cold water, which brings down the mixture's temperature. Let cool to lukewarm.
Divide vegetables between 3 or 4-pint jars (or two-quart jars). Pour cooled vinegar mixture over the vegetables and refrigerate until needed. Slaw will be lightly pickled within 1 hour and fully pickled within 1 day.
Notes
Choose your favorite firm vegetables for the slaw: radishes, red, orange, yellow, green bell peppers, carrots, fresh sugar snap peas, cucumbers, cabbage or onions!

* Non-reactive pot - do not use an aluminum pot. Stainless steel or a pot sealed with Teflon works well.

The vegetables can be sliced by hand or with a mandoline or julienne peeler works well too!

No canning/vacuum seals/sterilized jars needed. Your pickled slaw can be stored in the refrigerator up to a month. Make sure the brine completely covers the vegetables to keep them fresh.

Recipe adapted from Smitten Kitchen.
Nutrition Information:
Yield: 10 Serving Size: 1
Amount Per Serving: Calories: 70Total Fat: 1gSaturated Fat: 0gTrans Fat: 0gUnsaturated Fat: 1gCholesterol: 0mgSodium: 312mgCarbohydrates: 23gFiber: 5gSugar: 15gProtein: 4g

Nutrition may vary depending on your exact ingredients.