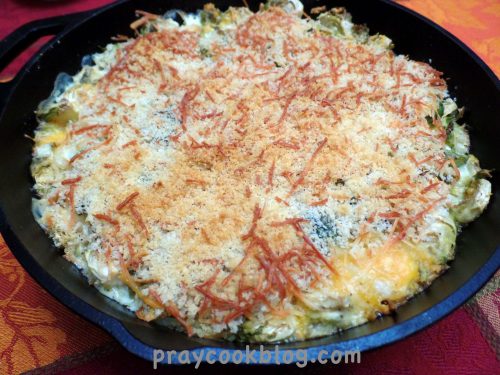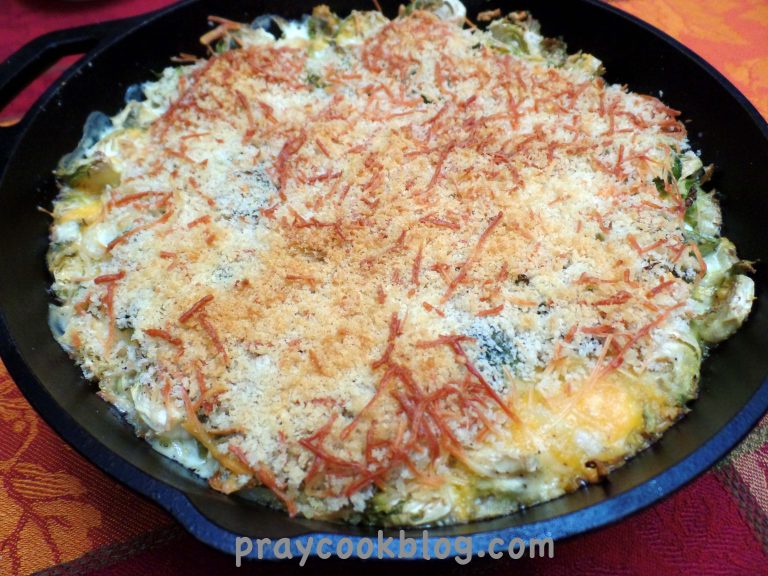 Happy New Year!  Who doesn't like to start the new year with some healthy new recipes?  I cooked up this skillet of Brussels Sprout Gratin earlier this fall.  The recipe came from Guy Fieri.  Well, not to me personally, but via the Food Network!  The bacon – well that is my addition.  Yum.
I've made this a couple of times to make sure it is blog-worthy.  From the first time we ate it we loved it!  I hope you do too.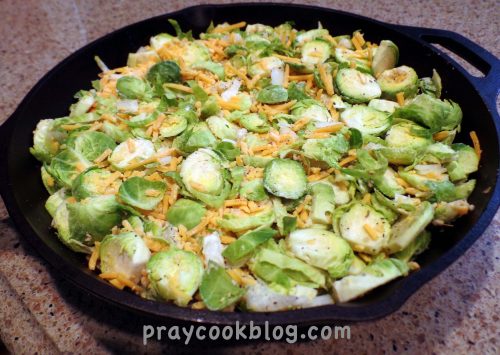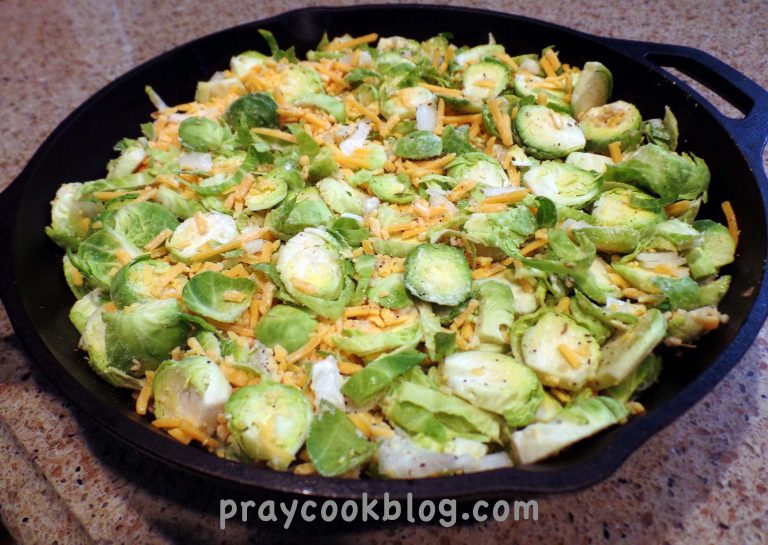 I always remove the outer leaf and slice off the bottom of the Brussels sprout. Once done these can be placed in a food processor with the slicer blade, sliced by hand or with a mandoline.  In seconds a whole bag of Sprouts is sliced and ready for the skillet.
You do not have to use a cast iron skillet, an 8″ x 8″ baking dish will do fine.  I just love using my cast iron skillet because it makes the cheese a little crispy wherever it touches the cast iron.  The skillet also creates a bit of crunchy crust to the bottom of this dish.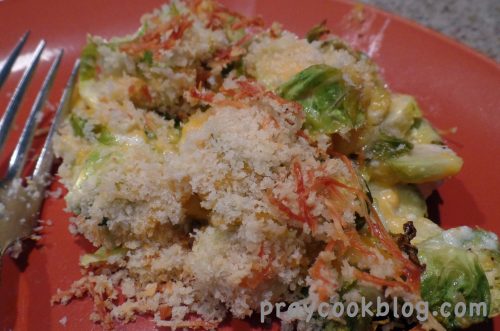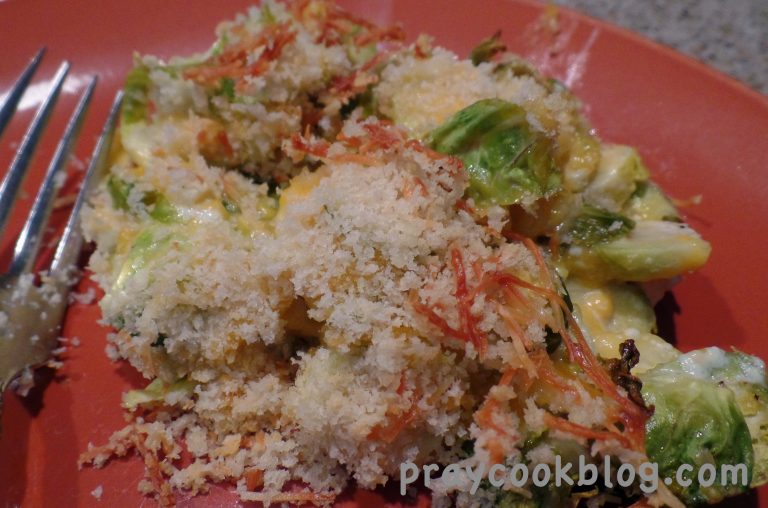 When I mentioned I was blogging this recipe tonight to my brussels-sprout lovin' husband he quickly said, "are you making that again soon?  I hope so!"  Well, I wouldn't want to disappoint my honey.  I'll be making this again this week!
Happy Cooking!
~Catherine
P.S. Don't let the heavy cream scare you away from this recipe. It's only a cup and it takes this recipe right over the top!

Bacon and Brussel Sprouts Gratin
Loaded with a delicious blend of flavors this awesome side dish will have 'em coming back for more!
Author:
Guy Fieri Adapted by Catherine Daugherty
Ingredients
1 pounds brussels sprouts, cleaned and trimmed
¾ cups grated sharp Cheddar
¼ to ½ lb. cooked bacon, crumbled
1 tablespoon all-purpose flour
1 teaspoon picked fresh thyme leaves
1 clove garlic, peeled and minced
Kosher salt and freshly cracked black pepper
1 cup heavy cream
½ cup panko breadcrumbs
¼ cup grated Parmesan
1 to 2 tablespoons extra-virgin olive oil
Instructions
Preheat the oven to 350 degrees F.
Shave the brussels sprouts horizontally into ⅛-inch slices with a sharp knife, mandoline or slicer blade in a food processor. Add to a bowl. Add the Cheddar, cooked, crumbled bacon, flour, thyme, garlic and some salt and pepper to the bowl. Toss to combine.
Add the mixture to an 8- by 8-inch baking dish or cast iron skillet, packing it in. Pour over the heavy cream.
In a small bowl, combine the panko, Parmesan and oil and pour over the brussels sprouts mixture.
Bake uncovered until the brussels sprouts are tender, the sauce is bubbling and the top is golden, 25 to 30 minutes.
Serve and enjoy!
Notes
The bacon is optional and you can use more or less depending on your taste. The recipe is still excellent without the bacon.