Romans 15:4
For everything that was written in the past was written to teach us, so that through endurance and the encouragement of the Scriptures we might have hope.
Wednesday  I posted some information about the Five  Mother Sauces.  Tomato Sauce is not considered to be among them, but tomato sauces are a  great part of basic sauces to keep around.  I planned on posting this information yesterday — however, I had too much day at the end of my energy!  Does that ever happen to you?  If so, you will understand the "why" I didn't even get to the computer yesterday.  I hope you will be able to glean a little bit of new information, maybe something you didn't know or had forgotten.  Blessings for a good Friday!
I love making homemade tomato sauce and spaghetti sauce.  I like starting out with the tomatoes and by the end of the day having the jars of sauce canned and sitting pretty on the shelf.  I have previously shared My Own Marinara recipe, which I usually can.  The tomato sauce recipes listed below can be used right away or frozen to use later.  Freezing is fast and easy and most tomato sauces can be frozen for up to 6 months without losing their taste. I actually have three basic recipes I like.  I will post two and put a link to a third.
Basic Tomato Sauce
This recipe is so useful, I keep it on hand at all times. It couldn't be easier to
make, and you don't even need fresh tomatoes (although end of season garden tomatoes are a good use for this recipe).  Use good canned Italian tomatoes, like Progresso. This sauce freezes well, so feel free to double the recipe, so you can put some away.
This works well as a basis for Creole dishes, as it's seasoned with thyme rather than basil. If you're making Italian dishes, substitute basil for its distinctive sweetness and perfume.
INGREDIENTS
1 Spanish onion, cut into 1/4-inch dice
4 cloves garlic, thinly sliced
3-ounces extra-virgin olive oil
4 tablespoons fresh thyme, or 2 teaspoons dried, crushed
1/2 medium carrot, finely shredded
2 (28-ounce) cans of tomatoes, crushed and mixed well with their juices
Salt, to taste

Sauté the onion and garlic in the olive oil over medium heat until translucent, but not brown – about 10 minutes.
Add the thyme and carrot and cook 5 minutes more.
Add the tomatoes.
Bring to a boil, lower the heat to just bubbling, stirring occasionally for 30 minutes.
Season with salt, to taste.
Serve immediately, or set aside for further use. The sauce may be refrigerated for up to 1 week or frozen for up to 6 months.
Makes 6 cups
******************
Basic Tomato Sauce #2
Canned Italian plum tomatoes from San Marzano make an excellent sauce, but they can be difficult to find. When you see them, buy a few cans and make a large batch of sauce for the freezer.
Simmer the tomatoes whole and adjust the texture of the sauce during the final blending. Both this and the following fresh tomato sauce can be served with virtually any pasta shape.
Allow about half a cup sauce for two ounces uncooked dried pasta.
INGREDIENTS
1/4 cup extra virgin olive oil
1 medium onion, diced fine
1 medium carrot, diced fine
1 teaspoon dried basil
1/2 bay leaf
1 can (35-ounces) Italian plum tomatoes, preferably from San Marzano, with liquid
Kosher salt
Freshly ground black pepper
Heat the oil in a heavy 3 quart saucepan over medium heat.
Stir in the onion, carrot, basil and bay leaf. Reduce the heat to medium-low.
Sauté the vegetables, stirring frequently, until softened, about 10 minutes.
Stir in the tomatoes and liquid. Reduce the heat to simmering.
Cover the pan and simmer, stirring occasionally, until the vegetables are tender, about 20 minutes.
Stir in the salt and pepper to taste.
Simmer 5 minutes.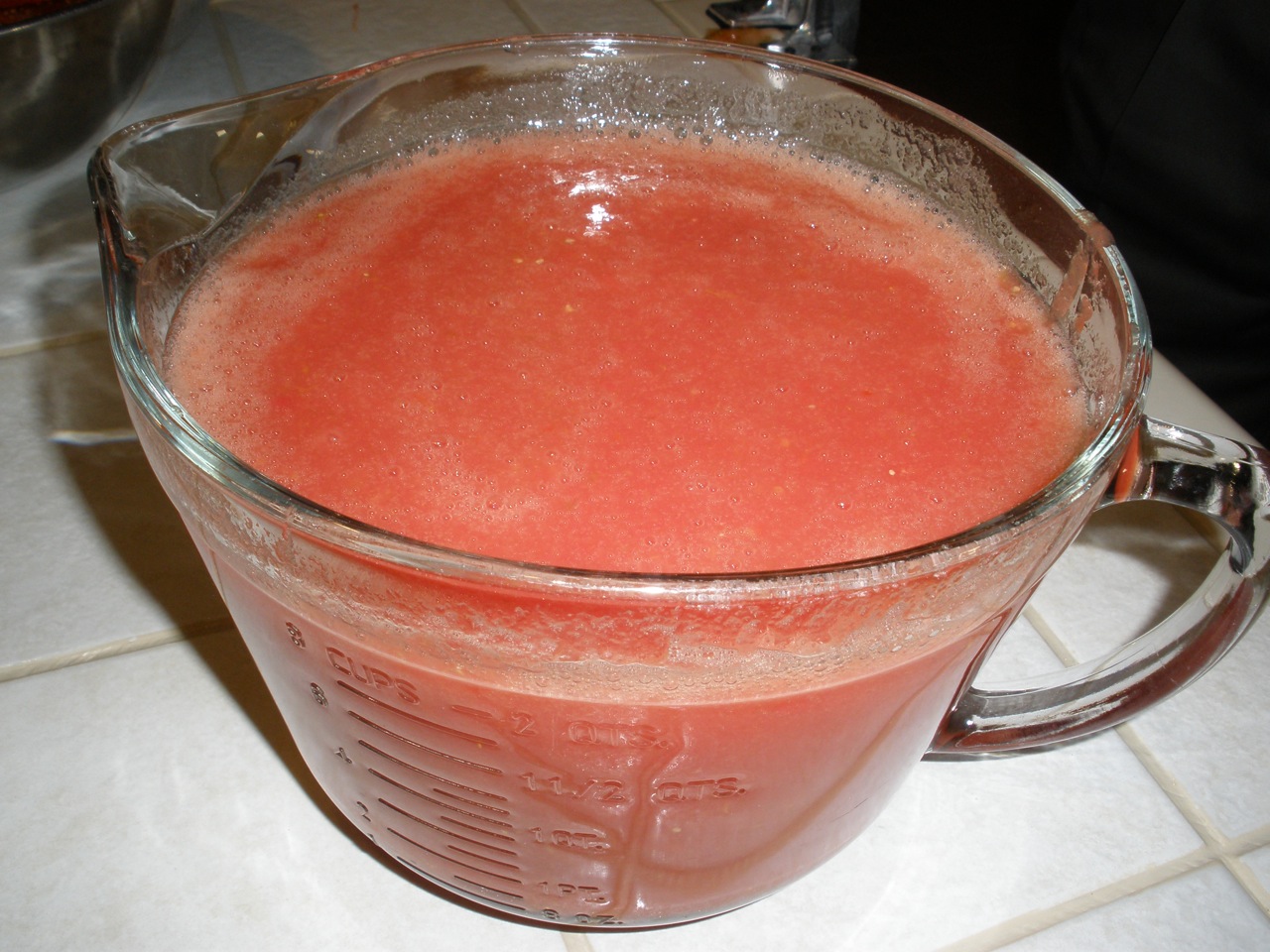 Working in batches, process the sauce in a food processor or blender to the desired consistency-about 10 seconds at low speed for a smooth sauce, about 5 seconds at low speed for a medium-coarse sauce, or 3 or 4 quick on/off pulses for a chunky sauce.
To serve, warm the appropriate amount of sauce in a large skillet over low heat while the pasta is cooking.
Adjust the seasoning.
Just before draining the pasta, ladle 2 tablespoons pasta cooking liquid per serving into the skillet.
Drain the pasta thoroughly, add to the skillet and toss to coat.
Divide among warmed serving plates, passing the grated Parmesan or Romano cheese separately.
Makes about 4 cups
NOTE – The sauce will keep refrigerated up to a week and in the freezer up to 3 months. Cool the sauce to room temperature before refrigerating or freezing.
*****************************
BASIC TOMATO SAUCE #3 Click HERE