Thank you to everyone who has taken time to "like" my new Facebook Fan page. If you haven't checked it out yet, click

HERE

to see what's new at http://www.facebook.com/praycookblog!

Walk Through The Bible In One Year
Week 17 reading plan per day
Click on the colored link to read each day's scripture.
Monday 1 Chronicles 1-2 , Tues 1 Chronicles 3-5,
Wed 1 Chronicles 6-7, Thursday 1 Chronicles 8-10,
Friday 1 Chronicles 11-17 ,
Saturday 1 Chronicles 18-23,
Sunday 1 Chronicles 24-26
Blessings as you read!

On Monday I posted my favorite recipe for Barbecue Pulled Chicken Sandwiches.  Have you made them yet?  They are oh-so-good.  However, I am a one-time eater.  I just don't like left-overs, even when they are as good as the BBQ chicken.  BUT, on the other-hand, I don't like to throw away food or waste it.  That leaves me regularly looking for new and exciting ways to use up a little bit of this or a little bit of that.  What do you do with leftover pulled chicken?  For me … BBQ Chicken Pizza!  Oh my word …. yum!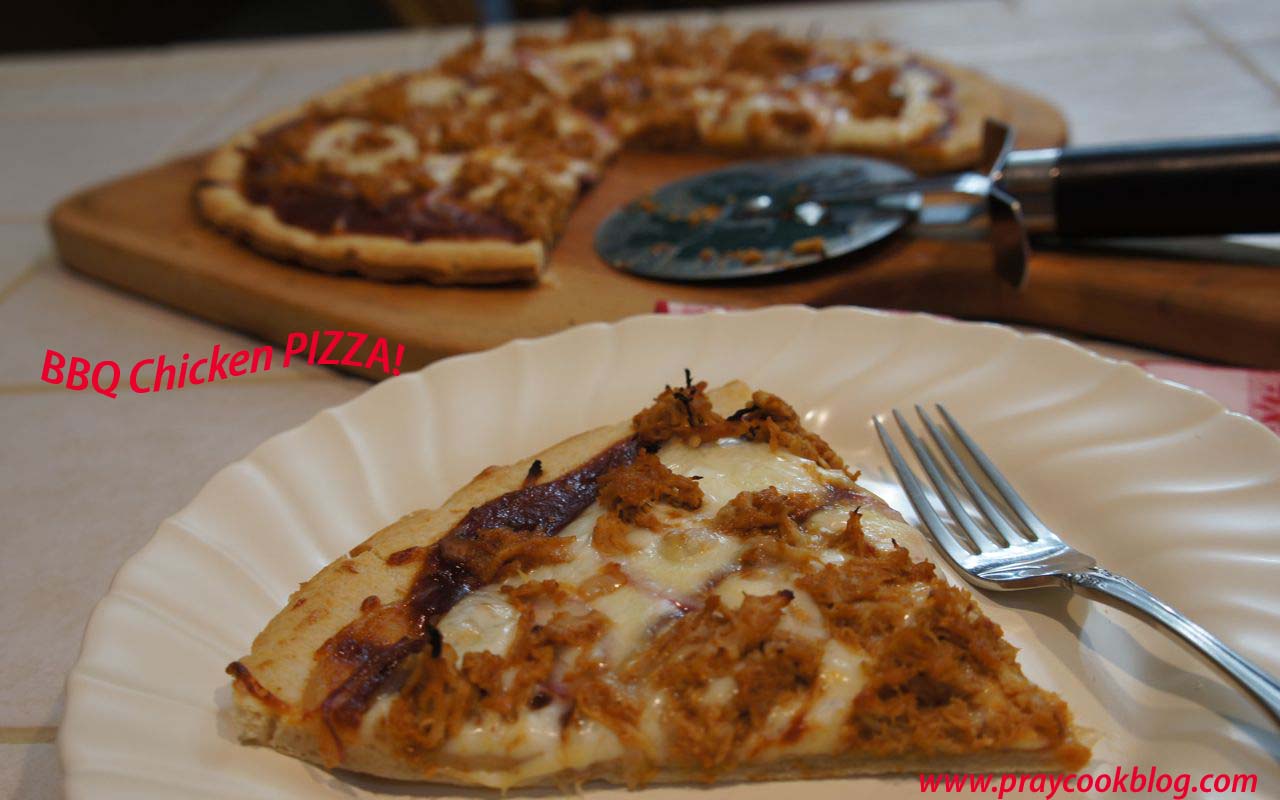 This shredded BBQ came from my recipe BBQ Pulled Chicken.  It is the easiest and best BBQ I have ever made.  The shredded BBQ chicken is an excellent topping for pizza.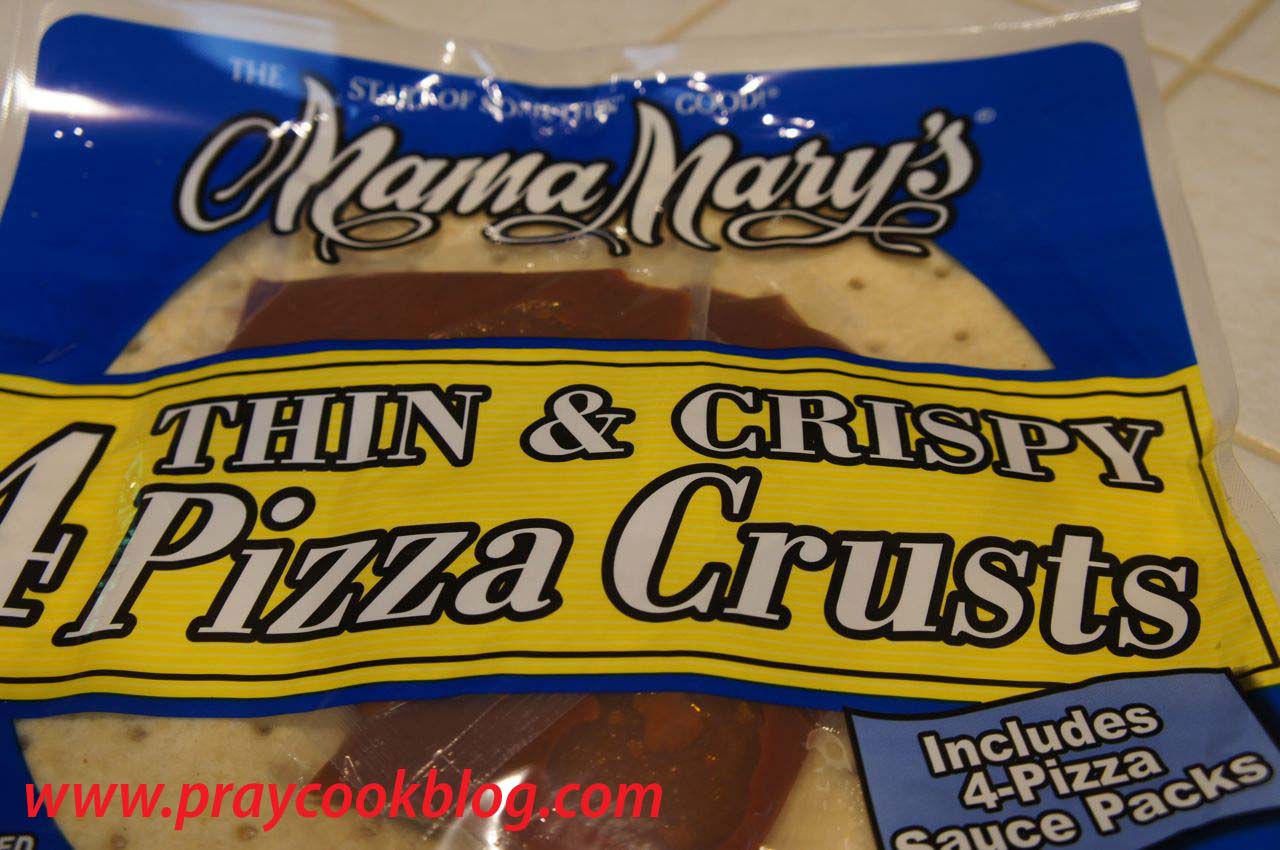 We prefer think pizza crust.  I like making homemade crusts, but recently my Chief Culinary Consultant found these at Costco and said, "honey, lets give these a try!"  Who am I to argue? — after all these sure look easy to use.  So we bought a package and took them for a spin!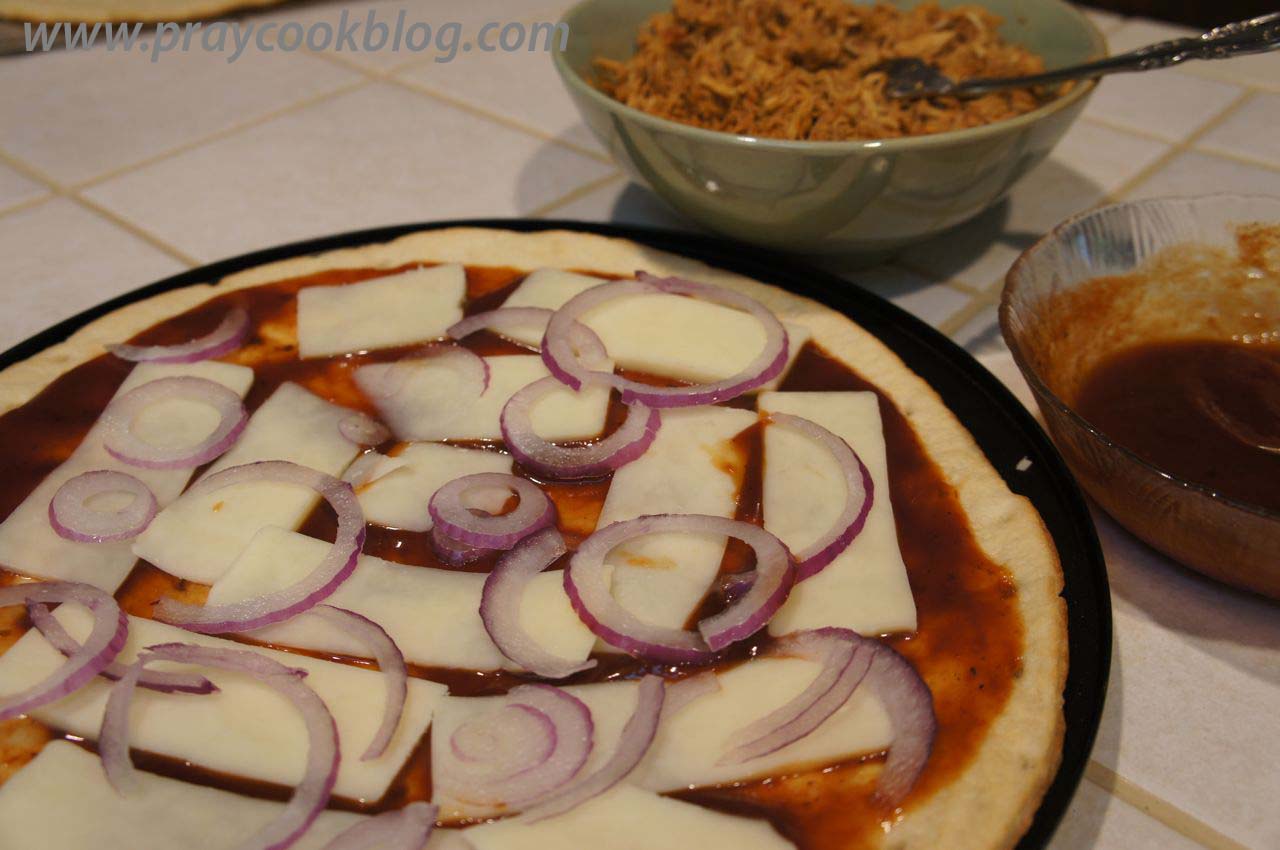 My very sweet CCC was right in suggesting this crust.  It comes in a sealed package, already half-baked.  It stays on the shelf until opened the first time.  There are four crusts in each package.  I made two pizzas and froze the other two crusts for another day.  Instead of marinara sauce, I used a little bit of BBQ sauce followed by a layer of thinly sliced mozzarella cheese, sliced red onions, and of course the shredded chicken.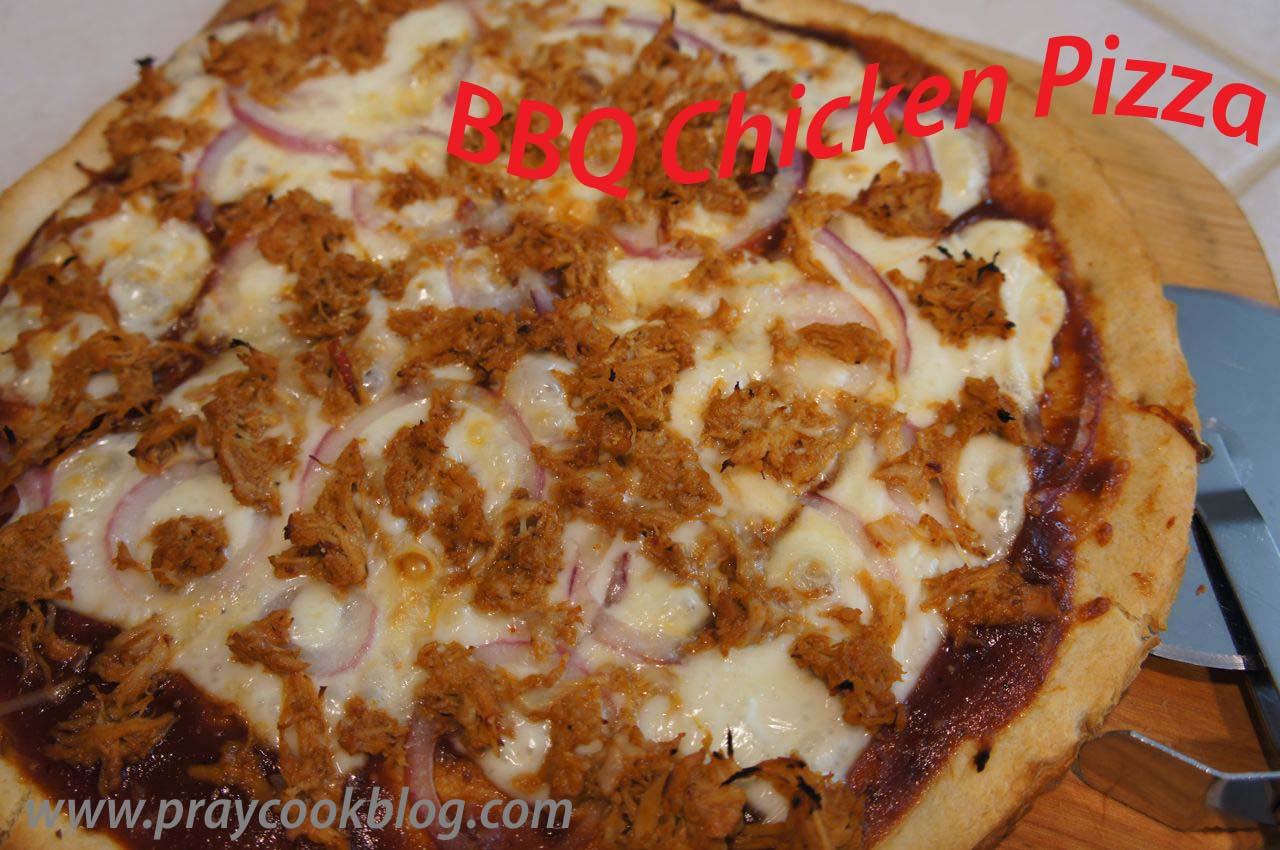 After a quick bake of only about 10 minutes this dinner was ready to serve.  My sous-chef dish-washing mom was very surprised and really pleased at first bite!  She exclaimed, "Catherine! this is delicious!" (I just love that 🙂  The Chief was another thumbs up.  He took the first bite quickly followed by "WOW this is really good!"  I know, did he think I was going to serve him something yucky?  The pizza disappeared quickly and we continue to sing praises for a change of pace by eating the BBQ chicken pizza.  I served a few leftover pieces for lunch two days later and they were still bursting with flavor.  It's a great change of pace for pizza and for me — it certainly doesn't taste like "leftovers!"
Many Blessings and Happy Cooking!
BBQ Chicken Pizza!
A wonderfully delicious alternative to marinara based pizza. A perfect use for leftover shredded chicken.
Ingredients
1 11
¾ cup BBQ Sauce
6 oz Mozzarella, thinly sliced
½ small Red Onion, thinly sliced
¾ cup Shredded BBQ Chicken
Instructions
Place prepared pizza crust on a round baking sheet.

Evenly spread BBQ sauce over the pizza crust within ½" from the edge. Place thinly sliced Mozzarella cheese over all the crust. Top with sliced red onion.

Cover top of pizza with shredded chicken, spreading evenly in small amounts. Bake at 425 degrees F. for 8 to 10 minutes until cheese is bubbly and browning.

Remove from oven and serve immediately.

Notes
(1) Plain shredded chicken can be used if you don't have BBQ shredded chicken.

(2) I use Mama Mary's prepared pizza crust but you can use any brand or make your own!