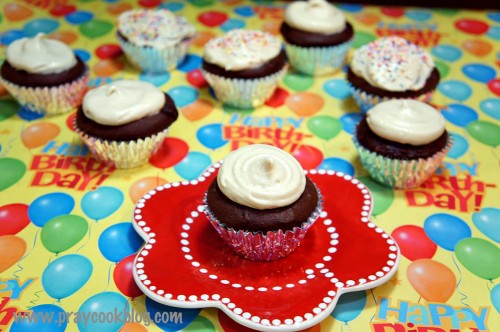 August.  My husband, my Chief Culinary Consultant, my talented gardener, my friend and the love of my life. It's his birthday. In our house that has always meant one thing — CHOCOLATE and lots of it! Black and white – dark chocolate cake and white chocolate tossed with some Bailey's Irish Cream.  The chocolate is for him — the Bailey's for me 🙂
Last year a good friend sent my husband a beautiful birthday card with the following sentiment.  This came a Day Spring card and I saved it thinking one day I would share it.  Today is the day.
God is writing a book about you.
The pages tell of your life
and the lives you were created to touch.
No one else will take exactly
the same path as you, meet the same people,
or have a chance to show
the love of God in the same way.
YOU are unique and so is your story …
and it's one of the Author's favorite reads.
I love this sentiment and in my mind's eye I see the book with the story that is being written about each one of us.  It is one of my favorite reads. I hope it touches you as well.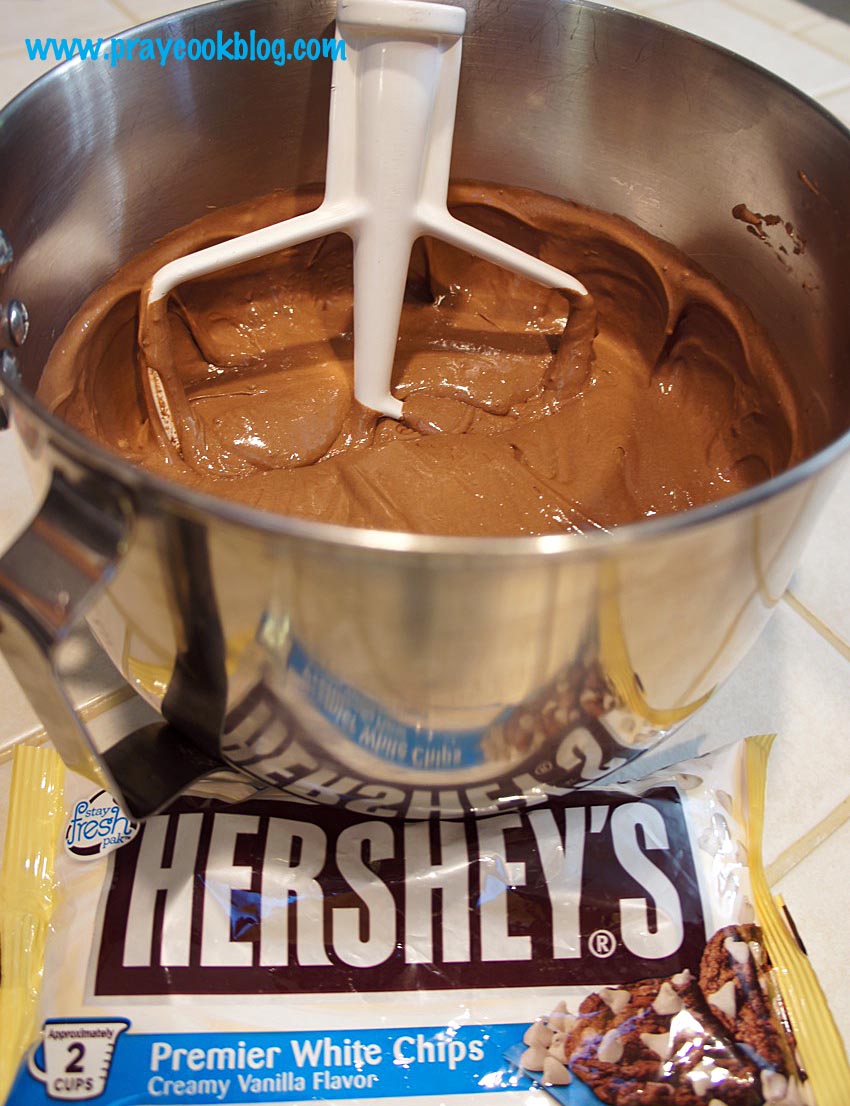 I adore making cupcakes. Cupcakes satisfy the need for cake but also gives me delicious frosting in every bite!   I also like making 24 cupcakes, using what I need and putting the rest in the freezer for a little surprise ending to dinner, at a later date!  This recipe is just such a recipe.  To make my "black and white" cupcakes I started with these luscious white chocolate chips.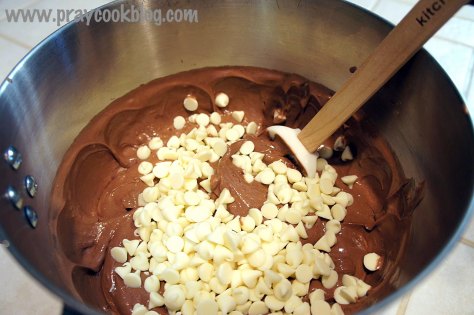 For ease and speed I use a Duncan Hines Classic Dark Chocolate Cake mix.  I followed the ingredient instructions on the box but then added 1/2 cup Bailey's Irish Cream liqueur.  The extra 1/2 cup liquid did not change the over-all texture of the cake except to enhance the flavor.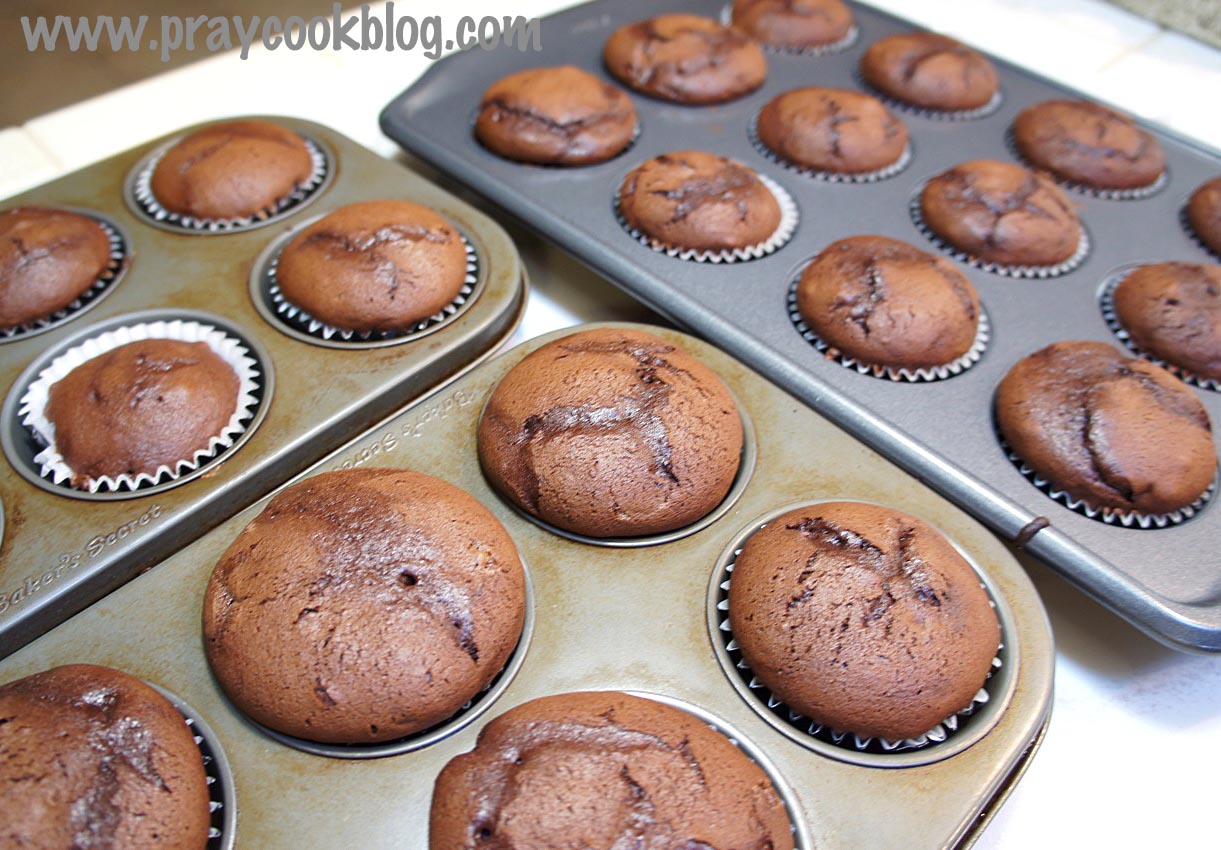 As you can see the cupcakes baked up really nicely shaped.  I filled the cups about 3/4 full making 24 cupcakes.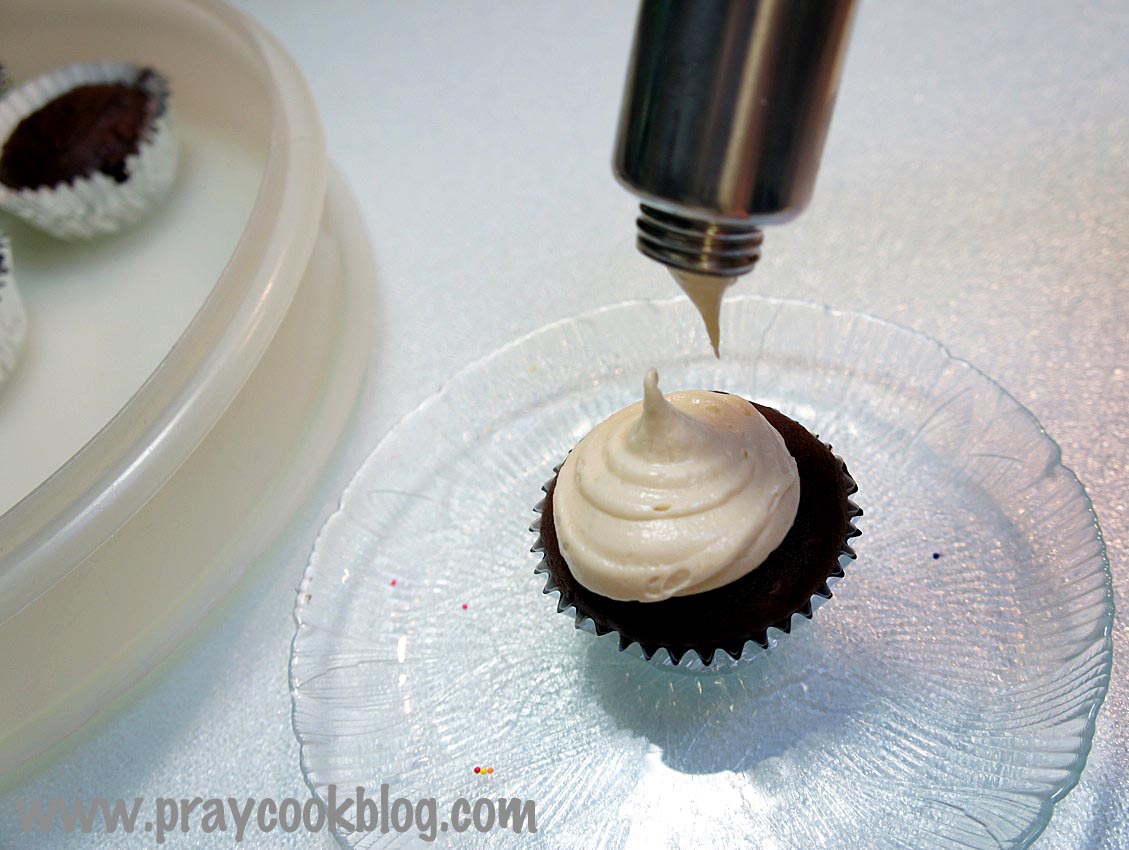 The frosting is a combination of butter, Bailey's Irish Cream, vanilla and powdered sugar.  It whips up smooth and creamy yet full-bodied.  The frosting can be piped on with a decorators tip, or topped like I did using my Decorator but without a tip or just slathered on as you will.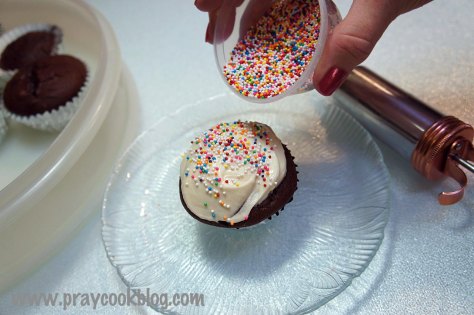 Sprinkles or colored sugar kick the decorating up a notch!  All-in-all this is such an easy recipe to make and yet the cake will take made-from-scratch.
Click here to PRINT the recipe from my Tasty Kitchen Recipe Box!
How to Store Cupcakes
After the cupcakes have cooled, I keep then in large Tupperware-style containers.  Food safety experts recommend that cupcakes with whipped cream, buttercream, cream cheese, or ganache frostings should be refrigerated.  Refrigerated cupcakes should always be brought to room temperature before eating.

Freezing Cupcakes
When freezing baked cupcakes,you want to prevent the common problems of freezer burn, dryness, and gummy tops. Because the texture and consistency of frosting and icing can change drastically in the freezer, only plain (unfrosted) cupcakes should be frozen.  Once thawed, they can be topped or decorated as desired. Freezing a cupcake that is already frosted can be done, but the frosting can degrade and become runny when thawed.
I have found the best way to store cupcakes is to wrap them individually in plastic wrap and then place them in an air-tight storage container, like Tupperware.  This double wrap helps keep freezer burn at bay.
Once the cupcakes are removed from the freezer the wrapping needs to come off and they need to be thawed on the counter at room temperature for about 1 to 1 1/2 hours.  If the wrapping is allowed to stay on while thawing this allows condensation to form between the wrapper and the tops, which turns gooey.
Those that are unwrapped before thawing are as good as new. I have had success of storing cupcakes for up to a month in the freezer with little to no difference in the taste.
I adapted this recipe from www.RecipeGirl.com.
~Blessings,Catherine
If you are reading through the Bible in one year with me, you will find this week's reading plan listed to the right of this post.
"You are my refuge and my shield; I have put my hope in your word." Psalm 119:114 NIV