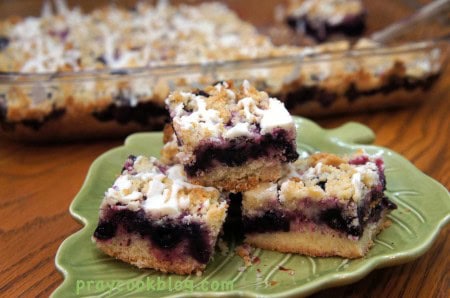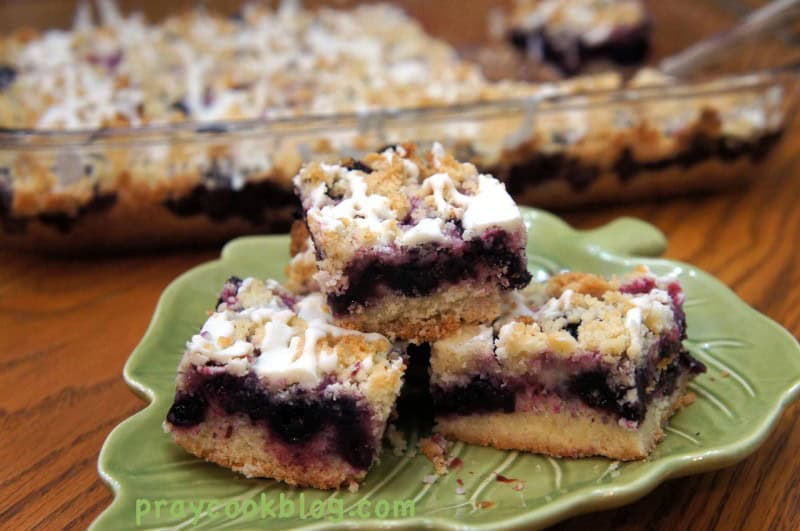 Even though I had just baked up Lemon Blueberry Cheesecake Bars, I saw a picture of these blueberry crumb bars on three different websites within just a few days of each other and I knew I just had to make them.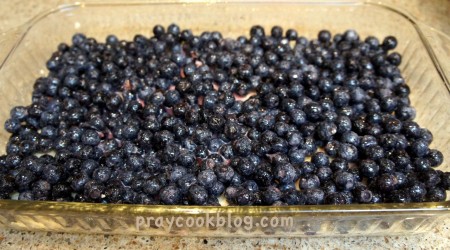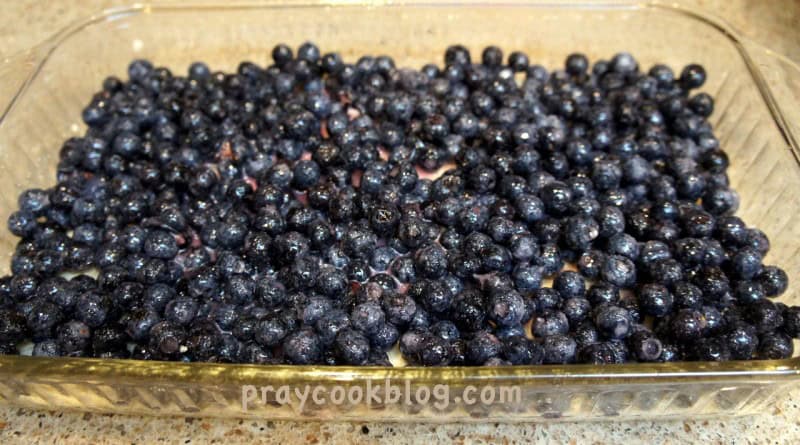 Thanks to a bumper crop this year, we have a fresh stock of blueberries in our freezer.  I didn't mind a bit letting go of 4 cups to make these bars.  The crust and the topping are the same and so it goes together very fast.  Half the mixture goes on the bottom, then the blueberries combined with lemon juice, sugar, and corn starch layers next.  The crumb topping is crumbled over the blueberries.  The bars are baked for 40 to 45 minutes.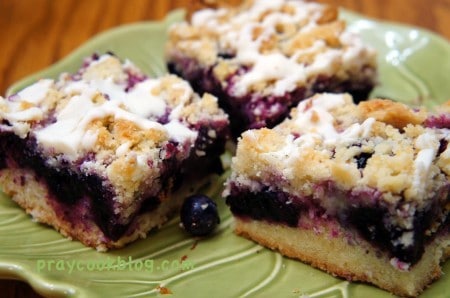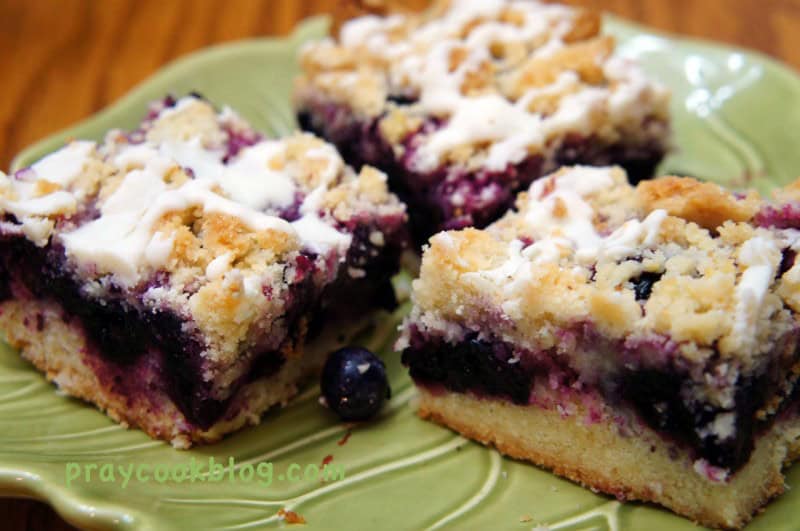 Once cooled I drizzled a bit of vanilla frosting on top.  It turned out to be a perfect crowning touch!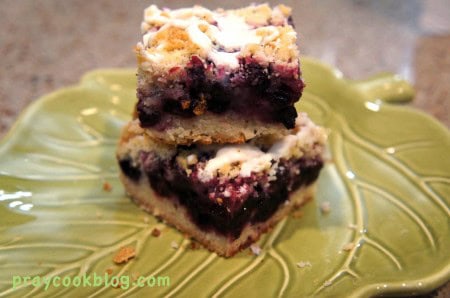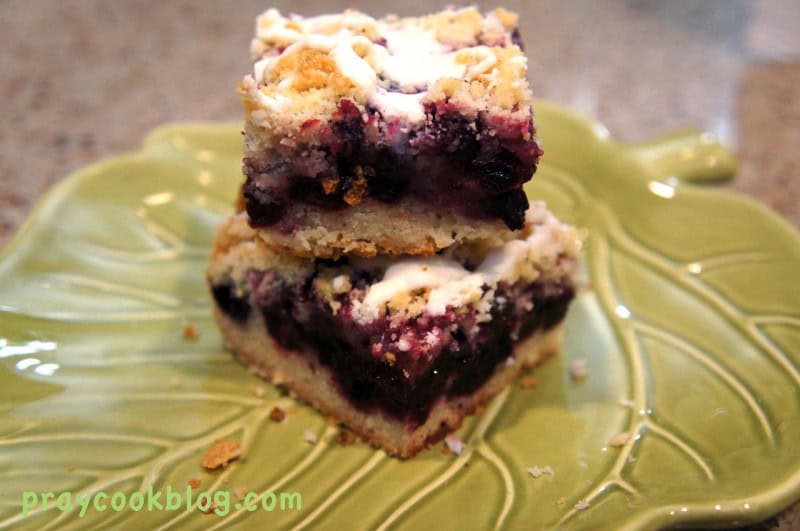 This is a short post –  I've gotta go — I've got just enough time to make up a batch of these before dinner! 🙂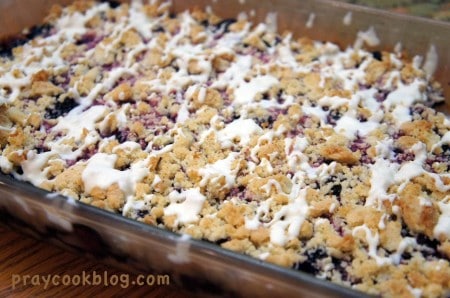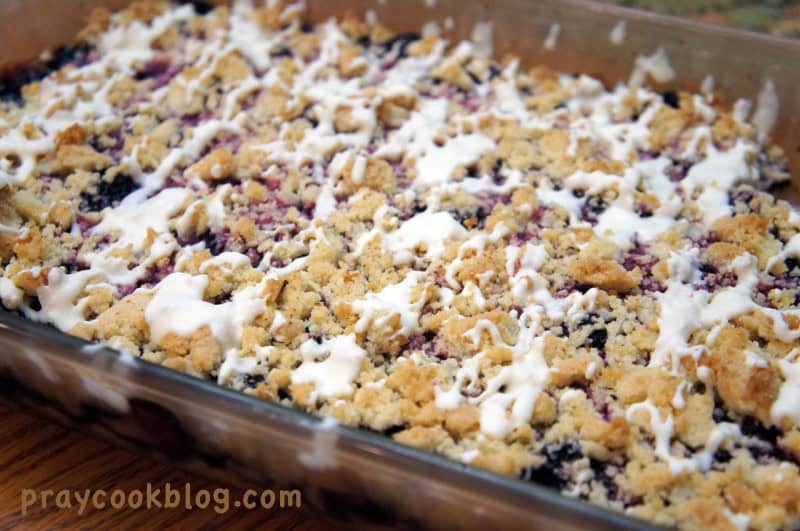 Happy Baking,
Blessings, Catherine
Now the word of the Lord came to me, saying,
"Before I formed you in the womb I knew you,
and before you were born I consecrated you;
I appointed you a prophet to the nations."
Jeremiah 1:4-5

Blueberry Crumb Bars
Feed a crowd with these fruity, tasty bars!
Ingredients
Crust/Topping
1 cup granulated sugar
zest of one lemon
3 cups all-purpose flour
1 teaspoon baking powder
¼ teaspoon salt
1 cup (2 sticks) cold unsalted butter, cut into ¼-inch pieces
1 large egg, lightly beaten
Filling
Juice of one lemon
½ cup granulated sugar
4 teaspoons cornstarch
4 cups fresh blueberries
Instructions
Preheat oven to 375 F. Spray a 13x9-inch baking pan with nonstick cooking spray.
In a large bowl, combine the sugar and lemon zest. Rub the zest into the sugar until the sugar is moist and fragrant. Add the flour, baking powder, and salt to the bowl and whisk to combine. Add the butter and egg to the bowl, and use a pastry cutter to cut them in until the pieces of butter are no larger than small peas - the mixture should look like coarse meal. Transfer half of the mixture to the prepared pan and pat into an even layer to form the crust.
In a medium bowl, stir together the lemon juice, sugar, and cornstarch. Add the blueberries, and toss gently to coat them evenly. Pour the blueberry mixture over the crust and spread evenly. Crumble the remaining crust/topping mixture over the blueberries to cover.
Bake for 40-45 minutes, or until topping is golden brown and the filling bubbles around the edges. Remove the pan to a wire rack and allow the bars to cool completely in the pan.
Store in an airtight container in the refrigerator.
Drizzle with vanilla frosting, optional - but a crowning touch!