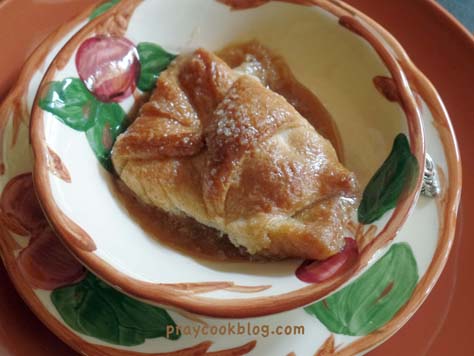 We've got apples! Do you?  I've got caramel apple dumplings, want some?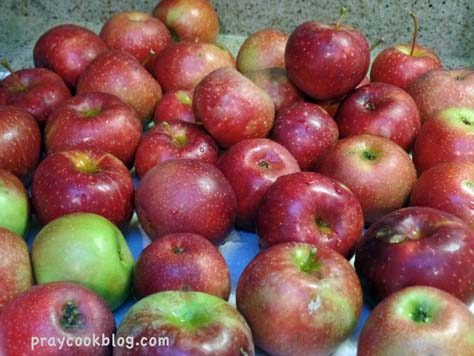 My super Chief apple-picking  husband recently helped friends pick apples from their ample apple orchard.  Twice he went to their orchard and helped them pick clean the hundreds of apples ready for the farmer's market.  When arriving home the second time I could see him laden down with two BIG bags.  Two big bags loaded with these lovely Rome apples and another bag of Granny Smiths.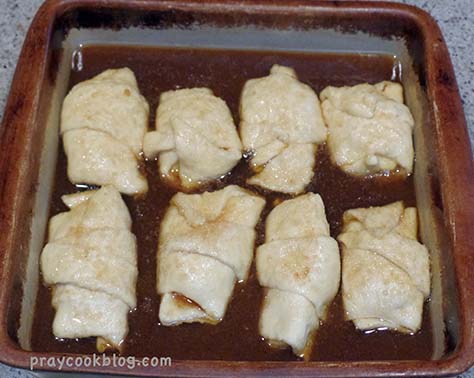 My friend Joan told me about "wonderful, easy apple dumplings" that she makes each year when the apples come in.  She gave me the rundown on how to make them ending with "be sure and use orange juice." When I Googled the recipe I found several that used 7-up, Mt. Dew, Ginger Ale or Sprite as the liquid.  Heading Joan's warning I used orange juice and I am so glad I did.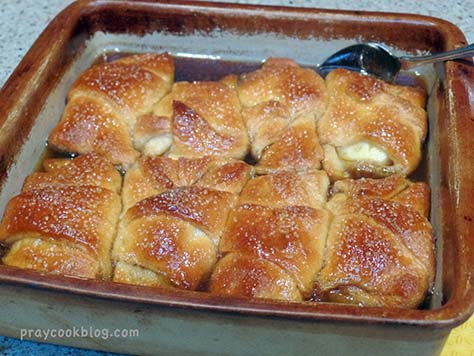 I've made this recipe twice already and I've promised my family there will be more apple dumplings in our future.  These are so very easy to make and the caramel citrusy sauce makes these dumplings out of this world and totally over the top!  I recommend them for any and all occasions!  They are just that great!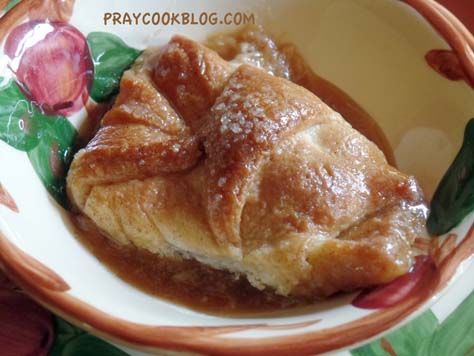 Don't leave this page without printing out the recipe.  You are going to want to keep this handy, buy the ingredients and make it soon!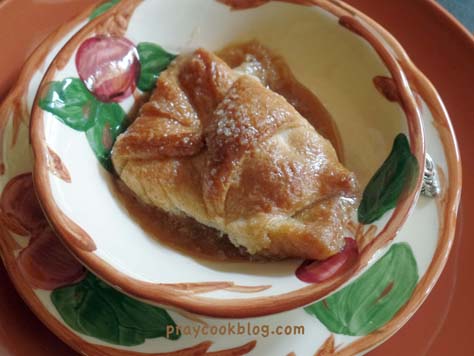 I know you will thank me.  I thank my friend Joan!
God Bless and Happy Baking!
~Catherine
Ecclesiastes 4:9-10
"Two are better than one, because they have a good reward for their toil. For if they fall, one will lift up his fellow. But woe to him who is alone when he falls and has not another to lift him up!"
Caramel Apple Dumplings
Apple dumplings don't get any easier or any tastier than these. They are lovely to look at and over-the-top delicious to eat!
Author:
Adapted by Catherine Daugherty
Ingredients
2 granny smith apples, peeled, cored and quartered
1½ cups orange juice
¾ cup brown sugar *white sugar optional
1⁄2 cup butter
1⁄2 teaspoon cinnamon
1 (8 count) can refrigerated crescent dinner rolls
Instructions
Preheat oven to 350 F.
Wrap each apple piece with a piece of crescent roll.
Place in a greased 8" x 8" baking dish.
Bring orange juice, sugar, butter and cinnamon to a boil and pour over apples dumplings.
Bake until brown, approximately 30 minutes.
Spoon juice over dumplings when you take them from the oven and again individually before serving.
Notes
*Can use brown or white sugar. The brown sugar creates a caramel syrup while the white sugar creates a simple syrup with citrus flavor.
Also - this recipe creates slightly more syrup than other recipes I found. I increased the syrup because we love being able to pour over the dumpling just before eating!