Walking Through the Bible in One Year —
Bringing the Story to Life
Week 5 reading plan per day
click on the link and it will open up that day's scripture reading
Monday (Exodus 33-35) Tuesday (Ex. 36-38)
Wednesday (Ex. 39-40) Thursday (Leviticus 1-4)
Friday (Leviticus 5-7) Saturday (Leviticus 8-10)
Sunday (Leviticus 11-13)
I am so excited!  Tomorrow my cousin Jill and her husband Jeff are stopping by for a visit!  I haven't seen her for about 10 years … oh where does the time go?  When she was 12 and I was 18 she was "a little kid."  But when we are both 50-something, well, those years just melt away 🙂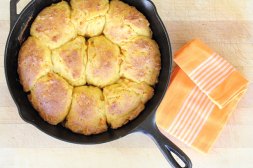 I am having so much fun menu planning, cooking and baking.  Hopefully we will get a picture or two I can share.  Do you remember a week or two ago when I shared this great picture for Chipotle Sweet Potato Skillet Biscuits?  Well, Meagan at Scarletta Bakes was kind enough to share the recipe and I have made them twice.  The first time I followed the recipe exactly.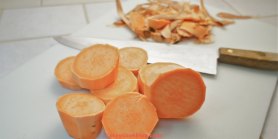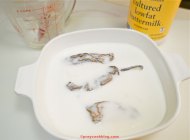 My culinary consultants were crazy about the results! But me, not so much.  The biscuits are drop biscuits and slightly heavier than I am use to (can you say sweet potato?)  I was expecting CHIPOTLE flavor and what I got was a very subtle, savory slightly smokey, chipotle.  All of that made my two consultants fill up with compliments.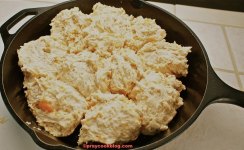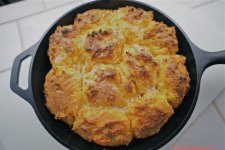 But for me, I wanted more flavor, fluffier, higher, softer …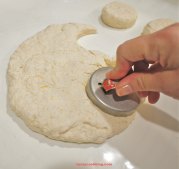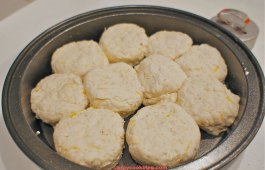 So, after we ate the first batch I set out to make a second batch.  I liked them better, my culinary consultants were just glad I made them again!  So, I am posting both recipes — you decide.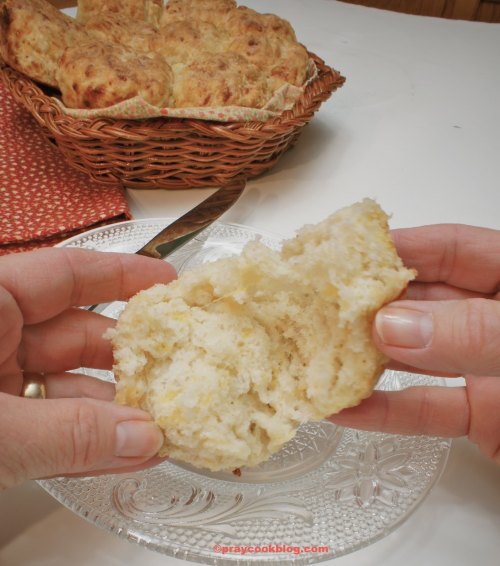 The second batch I used less sweet potato, added chipotle chili pepper seasoning, shredded sharp cheddar cheese and I rolled and cut them instead of dropping them.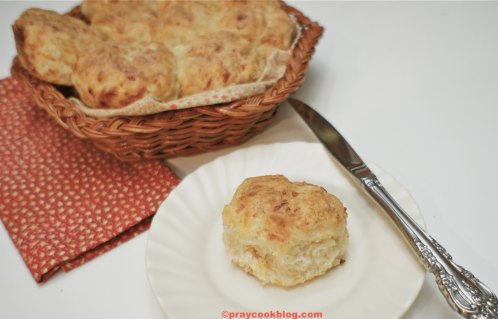 Either way, they make an awesome display on the table and hot out of the oven they won't last long.  Slathering with butter was the crowning touch.
Many Blessings and Happy Cooking!


Catherine's Chipotle Cheddar Biscuits

Smokey, slightly spiced chipotle chilies blend with sharp cheddar cheese for an awesome savory biscuit.

Ingredients

2 cup Self-Rising Flour
½ teaspoon Salt
1 teaspoon Baking Powder
⅓ cup Shortening (Crisco or Coconut Oil)
1 cup Buttermilk
1 cup Sharp Cheddar Cheese, shredded
4 Chipotle Chilies
1 teaspoon Chipotle Chili Pepper

Instructions

In a small bowl combine chilies and buttermilk. Set aside for one hour.

When buttermilk is infused with chipotle chilie flavor, preheat oven to 450 degrees F. Lightly grease a 9" round baking pan, or baking sheet.
Sift together the flour, salt, baking powder, and chipotle chili pepper.

Cut in shortening, add cheddar cheese, mix lightly and turn out onto floured board. Using a biscuit cutter, cut biscuits and place in prepared baking pan.

Bake for 12 to 15 minutes until biscuits are lightly browned and dry to touch.

Slather with butter and enjoy!





Chipotle Sweet Potato Skillet Biscuits

A savory biscuits, dense and chewy infused with chipotle chilies smokey flavor.

Author:

Adapted From Scarletta Bakes

Ingredients

¼ cup Unsalted butter, chilled, cubed
3 cup All-purpose Flour
3¼ teaspoon Baking Soda
1 teaspoon Salt
1 cup Sweet Potato puree
2 cup Buttermilk
4 Chipotle Chilies
Melted Butter For Brushing Tops

Instructions

Preheat oven to 475 degree F. Grease a 10" cast iron skillet and set aside.
Place buttermilk in a medium bowl and submerge chilies. Set aside to soak for 1 hour.

Peel the sweet potato(s) and cut into several small pieces. Place into a pot of boiling water and boil until fork-tender, approximately 20 minutes. Drain cooked potato pieces and mash with a fork. Set aside to cool.

Place the flour, baking soda, and salt in a bowl of a food processor fitted with a steel blade. Pulse-process just to blend. Don't proceed to the next step of adding butter until you have your chipotle-infused buttermilk and the sweet potato puree ready.
To finish the buttermilk, simply remove and discard the chilies. Once the sweet potato puree and infused buttermilk are ready, add the butter to the flour mixture and process until a coarse meal forms. Remove the meal to a large bowl. Fold in the sweet potato puree and then pour in the buttermilk. Work the dough gently until all the ingredients are incorporated.

Once a uniform dough has formed, pinch off small balls and place them in a ring around the edge of the prepared pan. Place two final biscuits in the center. The edges of the biscuits can be touching the pan. Place the entire pan in the oven and bake for 17 minutes. Remove, brush generously with melted butter and bake for an additional 2 minutes.

Cool slightly or serve immediately.


Notes

(1) One large sweet potato yields approximately one cup puree.
(2) Buttermilk can be infused with chipotle chilies longer than one hour, if you prefer.