Affiliate Disclosure: I receive a small commission for purchases made via affiliate links.
Thank you to Jill Paulsen Harrison (my cousin from Missouri) who is the first to send a "SHARE" recipe to my blog.  When I received this recipe I immediately thought about the blueberries that Lee had just brought in from the garden.   The peaches I had on hand were canned from last summer.  I used one quart canned peaches and all the juice that went with them.  I added 2 tablespoons of tapioca in order to thicken the extra juice from the peaches.   I chopped up the peaches just as Jill suggested.  The great thing about this recipe is that there is no sugar added to the fruit, only to the crisp topping.  The fruit flavors meld together leaving a really fresh fruit taste.   I agree with Jill, this is a really fast and easy summer dessert!  Thank you so much for sharing and I look forward to more of your recipes 🙂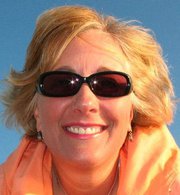 Fresh Peach-Blueberry Crisp
Submitted by Jill Paulsen Harrison
This recipe combines contrasting colors and flavors for a delectable dessert.  Top with vanilla ice cream or frozen yogurt.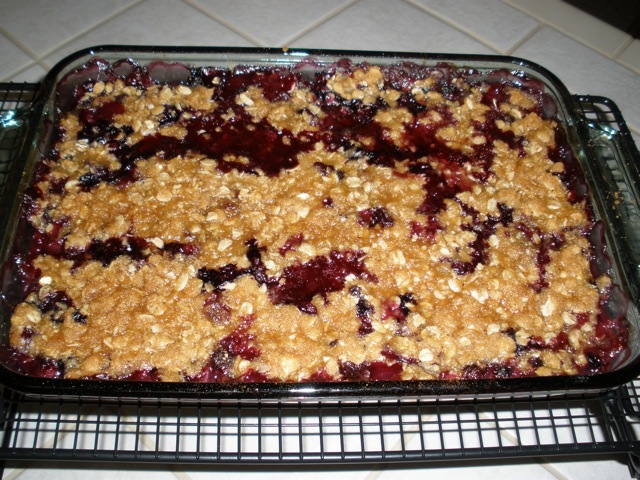 5 large peaches, peeled and chopped into bite-size pieces or cut in half, whichever you prefer (I prefer the peaches chopped)
1 ½ pints (3 cups) blueberries
Topping: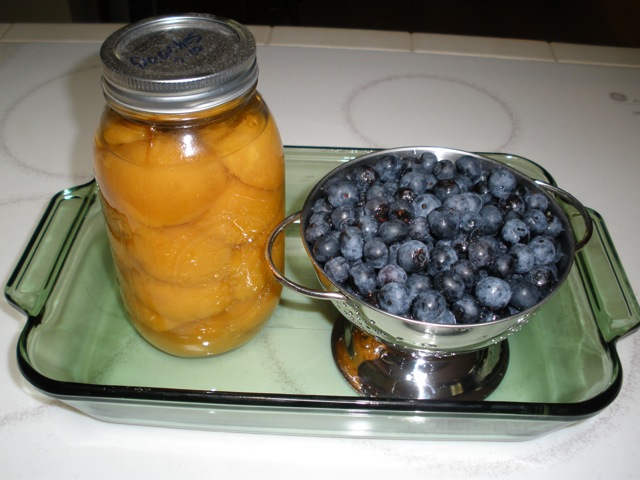 ½ cup all-purpose flour
½ cup old-fashioned rolled oats
¾ cup firmly packed brown sugar
½ cup butter or margarine, at room temperature
Preheat oven to 350 degrees.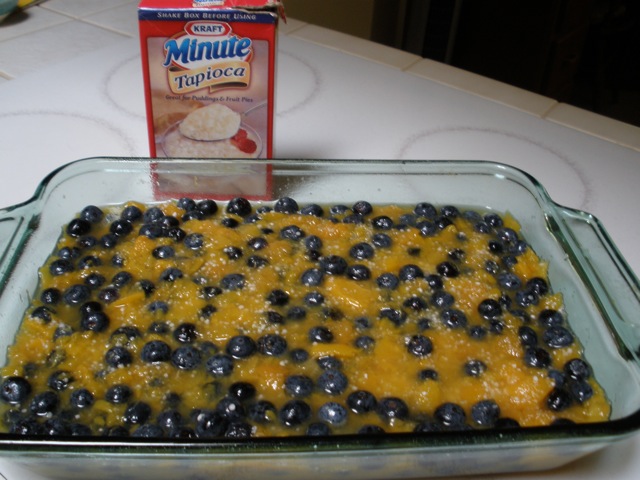 Place peaches and blueberries in a greased 7 ½ x 11 ¾ inch glass baking dish.
To make topping, combine all ingredients (can be done in a food processor using off-on pulses until crumbly or combine ingredients in a bowl and using a pastry blender cut in butter until crumbly).  Sprinkle topping evenly over fruit.
Bake until fruit is bubbly and topping is lightly browned, about 40 minutes.  Serve warm or at room temperature with ice cream.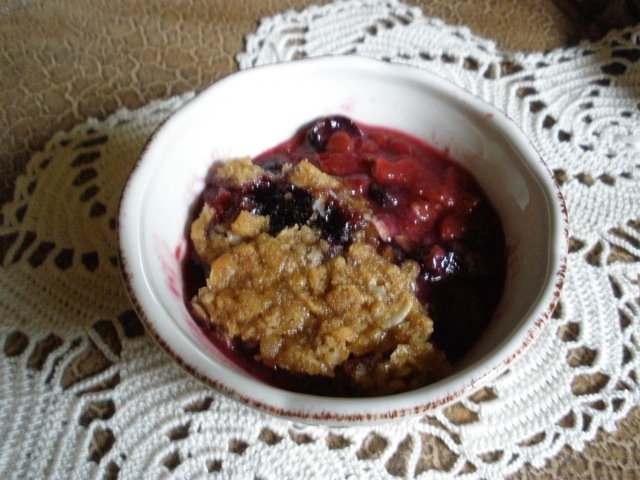 Serves 6 to 8.
Notes:
To peel peaches, drop in boiling water for 15 to 20 seconds, drain, and then slip off skin.
I have also used raspberries in this recipe, and they are also delicious
When a country is rebellious, it has many rulers,  but a ruler with discernment and knowledge maintains order.
"You can't live wisely if you don't examine how you live, the choices you make and how you spend your time."    Pastor Jim Wideman