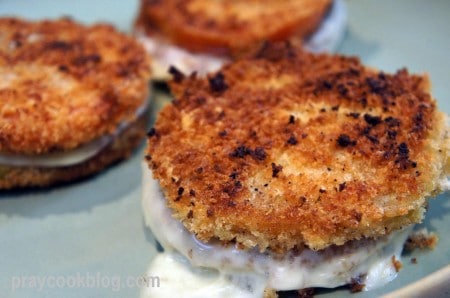 As summer and tomato season winds down, green tomatoes have a way of popping up.  Whether there are still a few green ones in your garden, or you find them at the farmers market, snatch them up!  Green tomatoes are loaded with flavor and can be fried or baked and turned into an exquisite snack or a full meal casserole.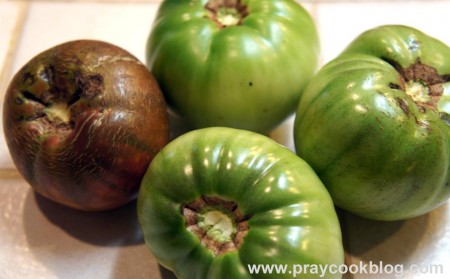 This recipe for mozzarella cheese sandwiched between two beautifully fried slices of green tomatoes comes from Des at Life's Ambrosia.  Once I saw her picture and recipe I just knew I had to give it a go!

Once the green tomatoes are sliced, salt and peppered, I like to place them on a paper towel to remove extra moisture.  Then each piece is dredged in flour, dipped in egg, and finally covered with a mixture of Panko and plain bread crumbs.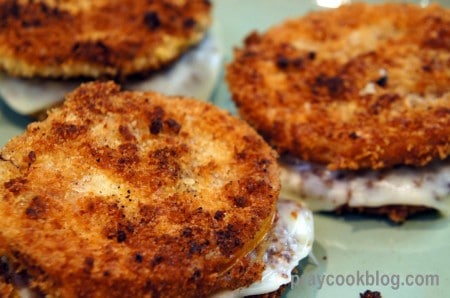 I only wish you could taste these mozzarella stuffed fried green tomatoes.  I really do hate to brag about them, but they are the best I have ever made.  I don't take credit though.  Great recipe, beautiful green tomatoes and PANKO crumbs — makes all the difference.
While the green tomatoes are still around I will be making Fried Green Tomato Parmesan. This casserole really gives it's cousin Eggplant Parmesan and even it's momma Chicken Parmesan a run for their money!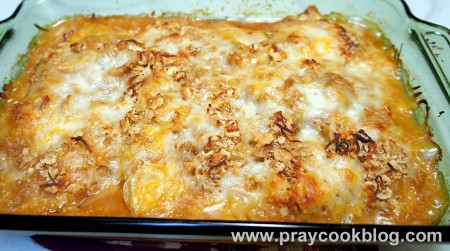 Last year we couldn't get enough of this Green Tomato Casserole.  It starts with with the fresh green tomatoes and no frying required!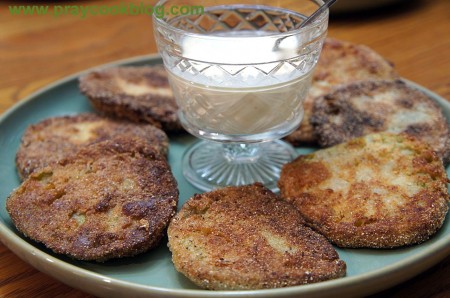 And finally, before the autumn leaves fall the Chief will definitely request the simplicity of plain 'o southern fried green tomatoes!
No matter your preference, when it comes to cleaning out the garden and loading up on green tomatoes you will have choices how to cook them up!
Many blessings and happy cooking!
Catherine


Fried Green Tomatoes and Lotsa Mozzarella!

Ooey, gooey mozzarella melting between two crispy, crunchy fried green tomatoes. Unbelievably finger-lickin good!

Ingredients
2 medium or large green tomatoes, cut in ¼" slices (8 slices)
Fresh cracked pepper and kosher salt
½ cup all purpose flour
2 eggs
½ cup Panko bread crumbs
½ cup plain bread crumbs
4 slices of Mozzarella cheese
oil for frying
Instructions
Season both sides of the sliced tomatoes with salt and pepper. Place on paper towels to drain.
Place flour in one bowl. In another bowl beat eggs. In a third bowl combine the Panko and plain bread crumbs.
Dip sliced tomatoes into flour, then the beaten eggs, then dredge in the bread crumb mixture until coated. Shake off excess.
Pour enough oil in a frying pan to coat the bottom. Heat over medium heat. Sprinkle a couple bread crumbs into the oil, if it sizzles it's ready. Fry the tomatoes until light golden brown on each side. About 2 minutes per side.
Place 1 slice of mozzarella on top of 4 of the tomatoes. Place remaining 4 tomatoes on top. Heat in microwave for 30 to 45 seconds until the cheese is melted.
Serve hot.