Have you been given a bag of fresh green beans from a neighbor or friend?  How about that basket of freshly picked green beans from the farmer's market?  Green beans are that one vegetable that just about everyone loves to eat.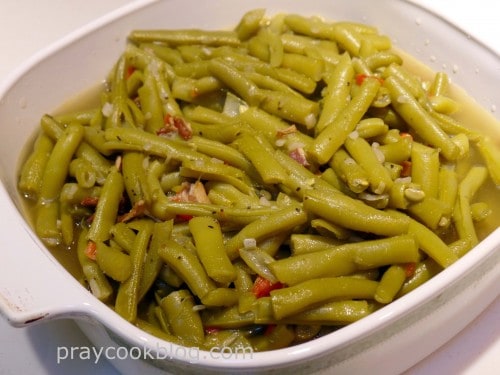 A few years ago I was standing in line at the grocery store and a woman began a conversation with me about green beans!
 She said she was going home to cook up a "mess" of beans for that day's dinner. She said "everyone just loves my bean." At that point I just had ask, "how do you fix them?"
She said "two things I always do — I add a little vegetable oil, just a splash, and I always add beef bouillon to the water that I cook them in."  "Really?" I said.  "Yep, that is the secret" she proudly said as she trotted off.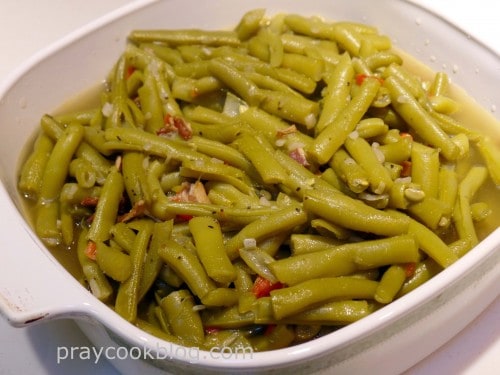 I can't tell you that "everybody"  loves my green beans, but I can tell you I think they are wonderful.  My sous chef dish-washing mom tells me she really, really likes them and my Chief Bean Eater gobbles them up.  That is good enough for me!
Cooking up a mess of fresh green beans allows me to use my imagination adding  or subtracting ingredients that the family loves or doesn't care for.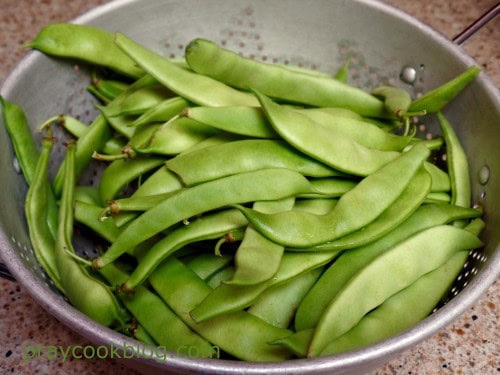 Whether you use a Blue Lake type bean or Roma Beans like in this picture, this recipe works equally well.
There is no time like summertime for eating fresh vegetables!  BTW- if you don't have fresh green beans this is still a good recipe to liven up canned beans!
Blessings and Happy Vegging,
~Catherine
P.S.  Today is my Chief Culinary Consultant's  birthday.  Here is what I am making for him!

Garden Fresh Green Beans
Nothing like green beans fresh out of the garden! Add in a few ingredients as they cook and this side dish will quickly become a family favorite.
Author:
By Catherine Daugherty
Ingredients
Note: Adjust ingredients up or down based on the amount of beans you have.
1 lb green beans
1 cup chopped onion
2 cloves garlic
½ cup chopped red bell pepper
6 strips bacon, cooked crispy and crumbled with 2 tablespoons bacon grease (can substitute 1 T butter and 1 T olive oil)
1 cup beef or chicken broth
½ to 1 teaspoon kosher salt (can substitute regular table salt; use ¼ to ½ teaspoon)
Ground black pepper
Instructions
Snap the stem ends of green beans, or cut them off. Rinse beans and set aside.

Cook bacon crispy and crumble, keeping 1 to 2 tablespoons of grease. If there is more grease than this, just drain it off.

Add garlic and onions and cook for a minute. Then add green beans and cook for a minute until beans turn bright green. Add the broth, chopped red pepper, salt, and black pepper.

Turn heat to low and cover with a lid, leaving lid cracked to allow steam to escape. Cook for 20 to 30 minutes or until liquid evaporates and beans are fairly soft, yet still a bit crisp. You can add more broth during the cooking process, but don't be afraid to let it all cook away so the onions and peppers can caramelize.
Notes
* Bacon is optional. For a totally vegetarian dish use butter or olive oil in place of bacon.

** BTW- if you don't have fresh green beans this is still a good recipe to liven up canned beans!