Walking Through the Bible in One Year —
Bringing the Story to Life
This weeks reading plan per day:
Monday (Genesis 1-3) Tuesday (Genesis 4-7) Wednesday (Genesis 8-11) Thursday (Genesis 12-15) Friday (Genesis 16-18)
Saturday (Genesis 19-21) Sunday (Genesis 22-24)
In case you missed the blog post earlier this week about my walk through the Bible this year, the links listed above take you to a scripture reading that will take about 15 minutes a day.  Reading each of these scriptures according to this plan should yield the reading of the entire Bible in one year. I didn't start January 1, so it will take me until middle of January 2013.  I invite you to join me in bringing the story of the Bible to life this year!

Yesterday I told you about the new social media craze taking the internet by storm called Pinterest.  I had one request for an invite to join this fun pinning!  (From my son, Cory.)  Cory had previously requested an invite to Pinterest, but had not yet received the link to join.  Once I sent him in invite via my Pinboard site, he received his invitation and necessary links almost immediately.  If you want to join, leave me a comment and let me know and I will send you the invite!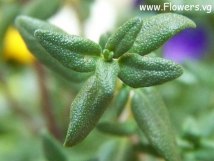 Moving on in thyme…  A couple weeks ago I posted about a program on herbs given by the county extension agent in our area.  Today I want to tell you about one of my favorite cooking herbs, Thyme (Thymus Vulgaris).  First of all, I love how it sounds, how it is spelled, and how it smells!  Thyme is a low growing (8″ to 12″) perennial shrub with small oval leaves. When in bloom the plant is covered with delicate blossoms, which in turn are covered with bees. Seed germinates easily in 7 to 14 days.  There are more than 50 species of thymus including lemon thyme, lime thyme, caraway thyme, etc. Many make good ground covers. The leaves go well with a variety of dishes including chicken, fish, cheese, eggs, and vegetables.  The leaves are usually added at the beginning of the cooking time.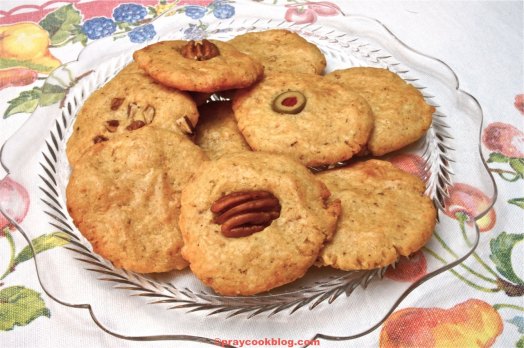 If you are looking for a SUPER snack for the game this weekend, look no further.  These Crispy Thyme Cheese  Rounds are unique, loaded with flavor and easy to make.  If Thyme isn't your herb of choice, not to worry because these are very good using other herbs.  I made a batch with Thyme and then tried a second batch with a mixture of Italian herbs and they were great!  I started by cutting the flour and butter in my food processor.  Next thyme, I will use my Kitchen Aid mixer.  I think the processor did a little too good when mixing up the final stage.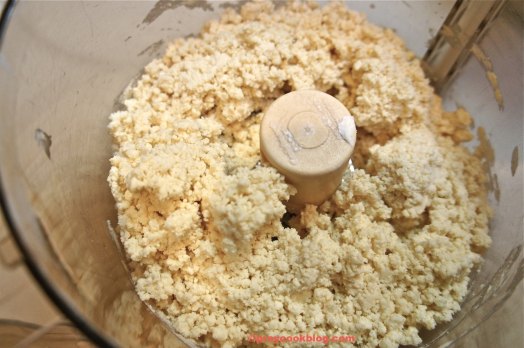 Your flour and butter should look like this, mixed and crumbly.  All the other ingredients are mixed in, with the exception of the rice cereal.  The rice cereal should be mixed in last and only lightly so it will stay a bit crisp and give these cheese rounds that crispy texture.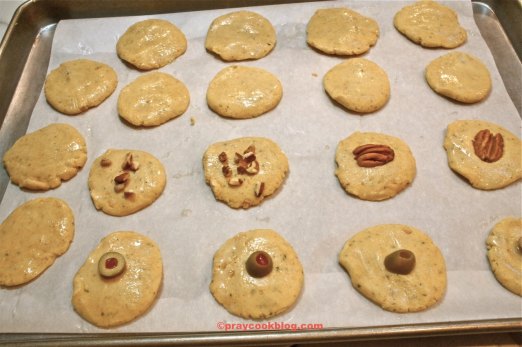 Mom and I did these making into a round ball (just a little larger than a marble) and then flattening them in the palm of our hands. Brush with egg white and they are ready to go.  Garnish can be added for the festive look and taste.  We used sliced green olives, pecans, and some chopped pecans.  Some we left plain, which are delicious just the way they are.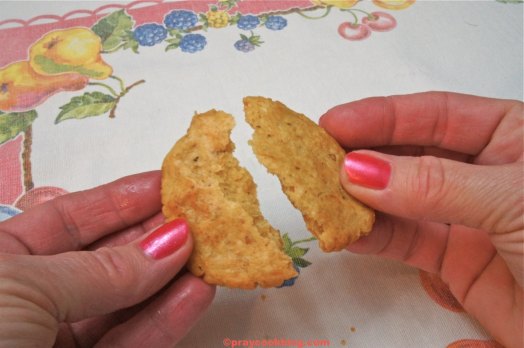 The recipe calls for sharp cheddar cheese but I suspect you can use a pepper jack (to crank it up a notch) a mild cheese if you want.  The recipe also calls for 1/2 tsp of cayenne pepper and I found that 1/4 teaspoon is enough to give these a little heat!  The recipe makes 45 to 55 depending on the size.  They keep well for several days in a covered container.  After a few days I put them back in the oven for a few minutes to re-crisp and warm up and they were just perfect!

Next week I am going to share a recipe for the best tomato soup I have ever made!  These crispy rounds made a wonderful accompaniment to our soup this week.  I shared a little bit with my sister-in-law and she said they crumbled up the crispy rounds into the soup and really liked it!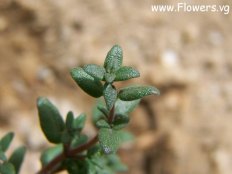 So just in thyme for the super game this weekend you can whip up a batch of these crispy rounds and feed a crowd.
Looking back at a couple other goodies that should make the snack table this weekend you may want to consider the Mini Cheese Bites, which are baked and not fried and taste just like a fried cheese stick!  Yummy.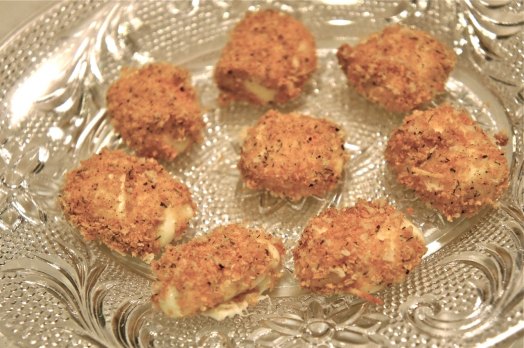 Or you want to consider some fluffy Garlic Basil Cheese Puffs, also seasoned with favorite herbs.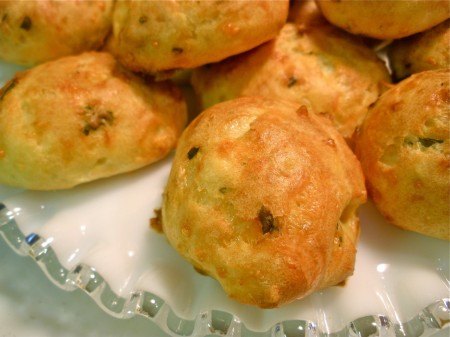 No matter what you have on your schedule for this weekend I wish you
Many Blessings and Happy Cooking!


Crispy Thyme Cheese Rounds

A deliciously savory crispy round loaded with flavor from the cheese and herbs.

Ingredients

1 cup Butter
2 cup All-purpose Flour
2 cup Sharp Cheddar Cheese, shredded
¼ teaspoon Cayenne Pepper
½ teaspoon salt
2 tablespoon fresh thyme leaves
1 Dash Tabasco Sauce
1 cup Crispy Rice Cereal
1 egg white, slightly beaten
pecan halves or sliced green olives

Instructions

Cut butter into flour.

Blend in cheese, cayenne, salt, thyme leaves and Tabasco. Mix in cereal.

Roll into marble size balls and flatten. Brush with egg white and top with pecan or olive. Place on ungreased cookie sheet. Bake at 350 degrees for 15 minutes, or until nicely browned.

Light, crispy, and full of flavor!


Notes

(1) Can use sharp or medium cheddar cheese, or half cheddar and half pepper jack.
(2) Cayenne pepper should be used sparingly.  It adds heat quickly!