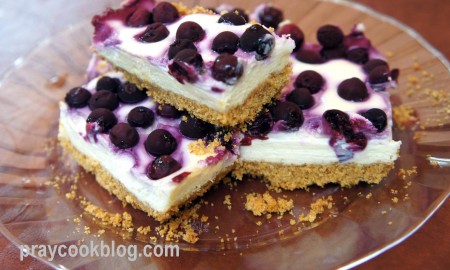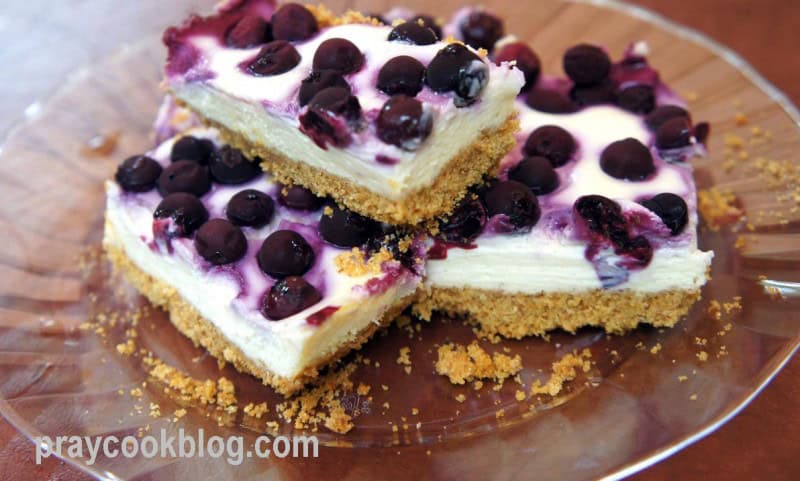 Last year I saw a post from Brown Eyed Baker for these Lemon Blueberry Cheesecake bars.  I printed out the recipe and added to my "to-bake" and "to-make" pile of recipes.  It has surfaced several times in the past 18 months but something else always caught my eye.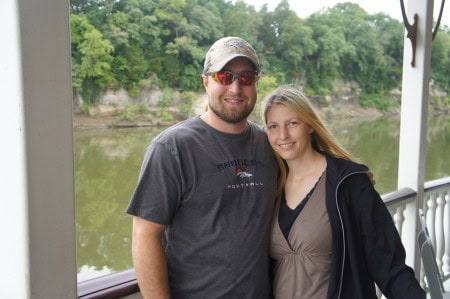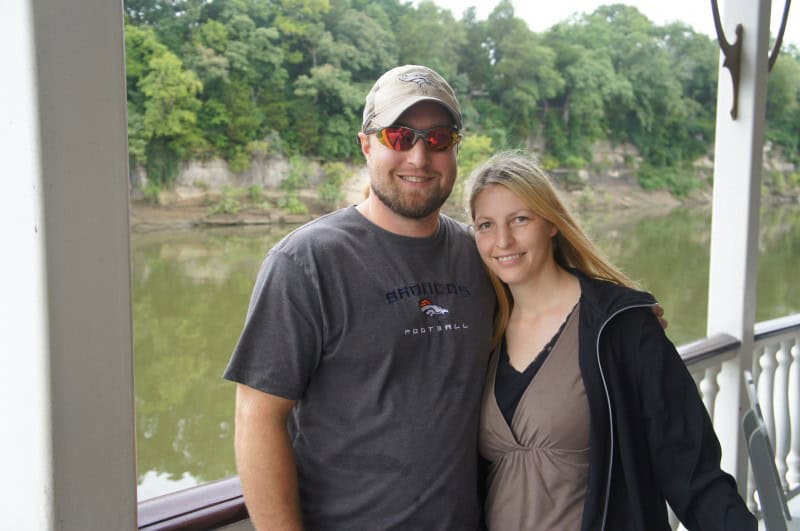 But this August my youngest son Chris, and his wife Joddie came from Utah for a visit.  For several reasons this recipe immediately came to the top of the pile.  First, our blueberry bushes produced oodles of fruit this year.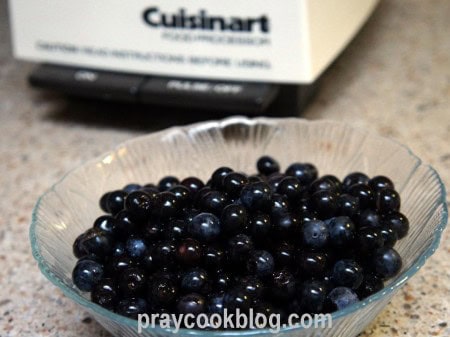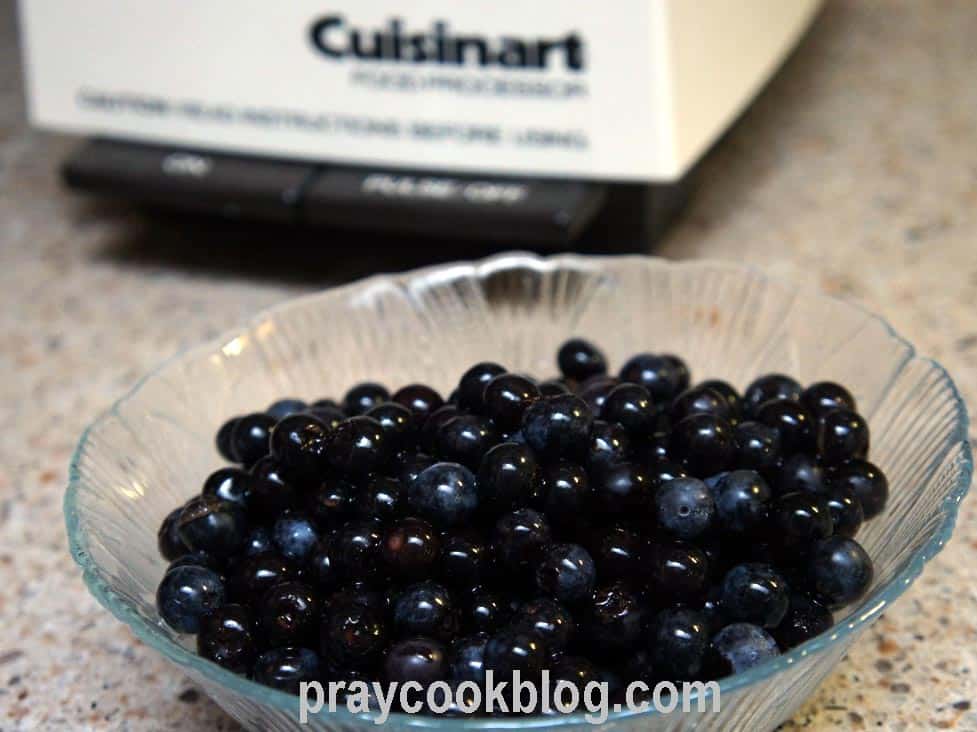 Secondly, my Cuisinart is now working again and that always says "cheesecake" to me.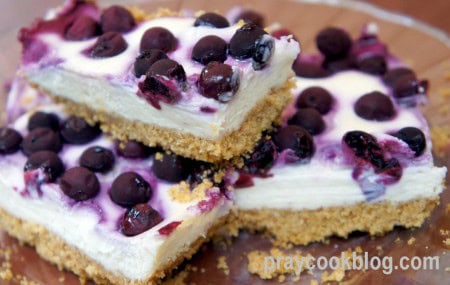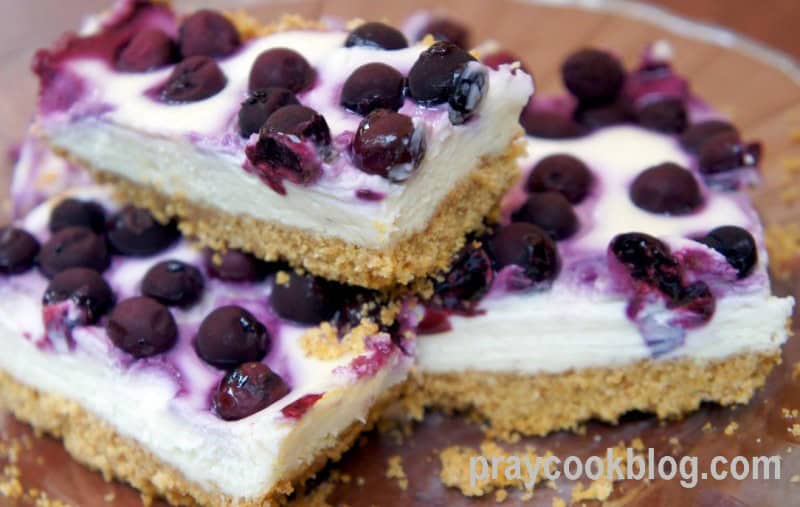 And lastly, I know Chris.  Chris knows me.  When we get together there is always cheesecake!  These bars didn't disappoint.  They are easy to make and fantastic to eat.  I had several special recipes I wanted to make during the week the kids were here so I didn't want a huge cheesecake to eat — we had lots of good food and little time!  The blueberries are sprinkled on top of the cheese mixture before baking and they settled into the cheesecake very nicely.
We ate these poolside while visiting with friends.  Pictures were taken quickly while the hungry onlookers offered all sorts of advice.  Things like "hurry up!", or "aren't you done yet?" or "how many pictures do you need?" 🙂
Happy Baking!
Catherine
Lemon Blueberry Cheesecake Bars
A quick and easy alternative to baking a whole cheesecake. Deliciously fresh and wonderfully "cheesy!"
Ingredients
For the crust:
9 graham crackers, broken into pieces
2 tablespoons granulated sugar
Pinch of ground cinnamon
4 tablespoons unsalted butter, melted
For the filling
16 ounces cream cheese, at room temperature
½ cup granulated sugar
2 eggs
Zest and juice of 2 lemons
1½ cups fresh blueberries
Instructions
Preheat oven to 325 degrees F. Grease a 9" x 9" baking pan with butter or baking spray.
Make the Crust: In a food processor, process the graham crackers, sugar, and cinnamon until you have the texture of bread crumbs. Add the melted butter and pulse a couple of times to fully incorporate. Press the mixture into the baking pan and gently pat down evenly. Bake for 10 minutes, until golden. Set aside to cool.
Make the Filling: Wipe out the food processor. Add the cream cheese, sugar, eggs, lemon zest, and lemon juice. Process until well combined. It should have a smooth consistency. Pour the filling onto the cooled crust and then sprinkle the blueberries over top. The blueberries will sink slightly but should still be half exposed. As they bake they will sink a little more.
Bake in the oven for 35 minutes or until the center only slightly jiggles. Remove from oven and cool completely to room temperature. Refrigerate for at least 3 hours before serving. Slice into 16 bars.
Notes
Adapted from Tyler Florence and The Brown Eyed Baker