[ Trials and Temptations ] Consider it pure joy, my brothers and sisters, whenever you face trials of many kinds, because you know that the testing of your faith produces perseverance.   James 1:2-3 NIV
I have put off posting this Lobster Bisque recipe because I can't find the fabulous pictures of the finished bisque.  I can say they were "fabulous" because I can't find them and in my mind they probably were the best pictures I have ever taken! 🙂  My sous-chef dish-washing mother remembers having to "wait" for supper on New Year's eve while I took pictures of the bisque.  My Chief Culinary Consultant agrees he had to persevere and wait on me to get just the right shot.  But soon after that New Year's eve my computer decided it was time to give it up.  It is very possible those photos were "lost" in the dying process.
When I read James 1:2-3 it reminded me to persevere in all that I do.  Including sharing this great recipe!  So, I will ask you to use your imagination.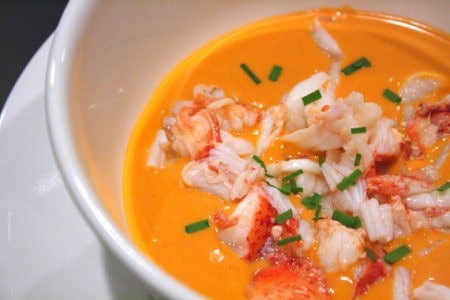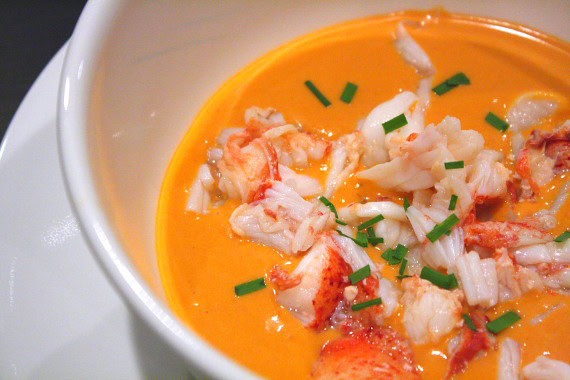 Start with succulent, flaky lobster, fresh shallots, minced garlic, spices, and dry sherry (a must!).  Tomato paste gives this soup its pinkish color and heavy whipping cream tops off the ingredient list and finishes the bisque with the smoothness and richness that makes this a gourmet dish.
NOTE – the recipe calls for 1 teaspoon of lobster base.  I didn't have this and I rarely buy an ingredient that I use for just one recipe.  I used Better Than Bouillon chicken base.  It worked well.
Second note – I found this recipe on Food.com and the author wrote that crawfish or shrimp can be substituted for the lobster.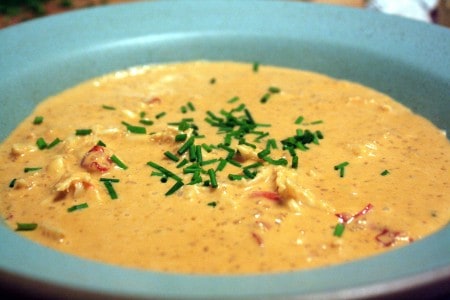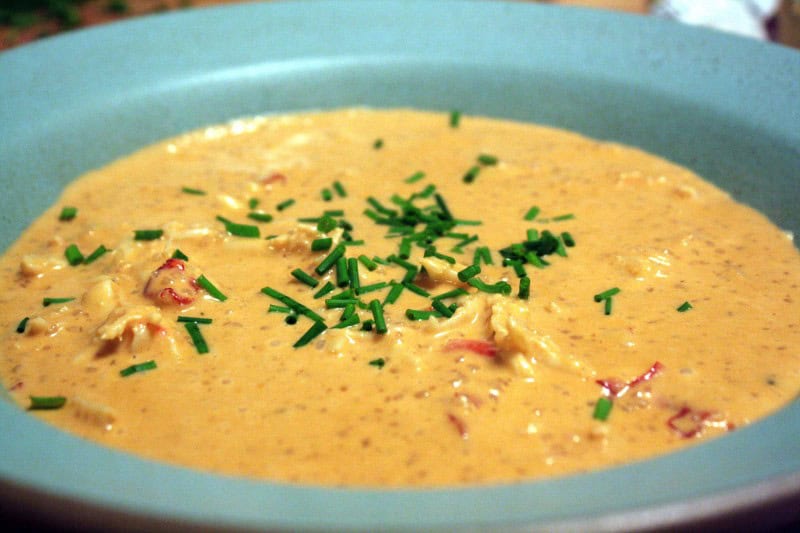 My bisque looked almost identical to this one.  Thanks www.brooklynplated.com for the pic!
We ate this bisque with a salad and crusty bread as our meal.  However, it is very rich and the leftovers we enjoyed as a cup of soup as a starter to our dinner.
Well worth the time and effort!
Happy Bisquing!
Catherine
Lobster Bisque
Treat yourself to a decadent bowl of steaming hot bisque today!
Serves:
1 to 4 servings depending on cup or bowl
Ingredients
½ lb. cooked lobster meat, cut into small chunks
2 Tablespoons minced shallots
2 Tablespoons chopped green onions
3 garlic cloves, minced
¼ cup white wine
2 teaspoons Worcestershire sauce
2 teaspoons Tabasco sauce
1 teaspoon dried thyme
6 Tablespoons dry sherry
1 teaspoon paprika
1 cup hot water
1 teaspoon lobster base of chicken bouillon
4 ounces tomato paste
2 bay leaves
2 cups heavy whipping cream
4 tablespoons butter
Instructions
In a saute' pan heat a little oil over med-high heat and saute' shallots, onions, and garlic for three minutes.
Deglaze the pan with the white wine.
Add the Worcestershire, Tabasco, and thyme and saute' for another minute.
Deglaze the pan with the sherry.
Add the paprika, hot water, and bouillon base and combine well.
Stir in tomato paste and add the bay leaves.
Whisk in heavy cream and the butter and bring to a light boil.
Add the lobster and simmer until cooked through.
Serve with crusty garlic bread.
Notes
The ingredients can be easily doubled using the ½ lb. of lobster.
Crayfish or shrimp can be substituted for lobster.


Recipe adapted from www.food.com