"Seek good, not evil, that you may live. Then the LORD God Almighty will be with you, just as you say he is. Hate evil, love good; maintain justice in the courts. Perhaps the LORD God Almighty will have mercy on the remnant of Joseph." Amos 5:14-15 NIV
Happy Monday!  I hope you had a blessed weekend. We did!  Winter in the south sometimes means rain and this weekend was no exception!  I love it raining and cool outside and warm and yummy inside my kitchen! Last week I stumbled upon a picture of Potato Gratin with Rosemary Crust from the foodie website of Moogieland!   It absolutely took my breath away and I couldn't wait to get the recipe and start cooking!  So, this weekend I treated my family to this awesome dish!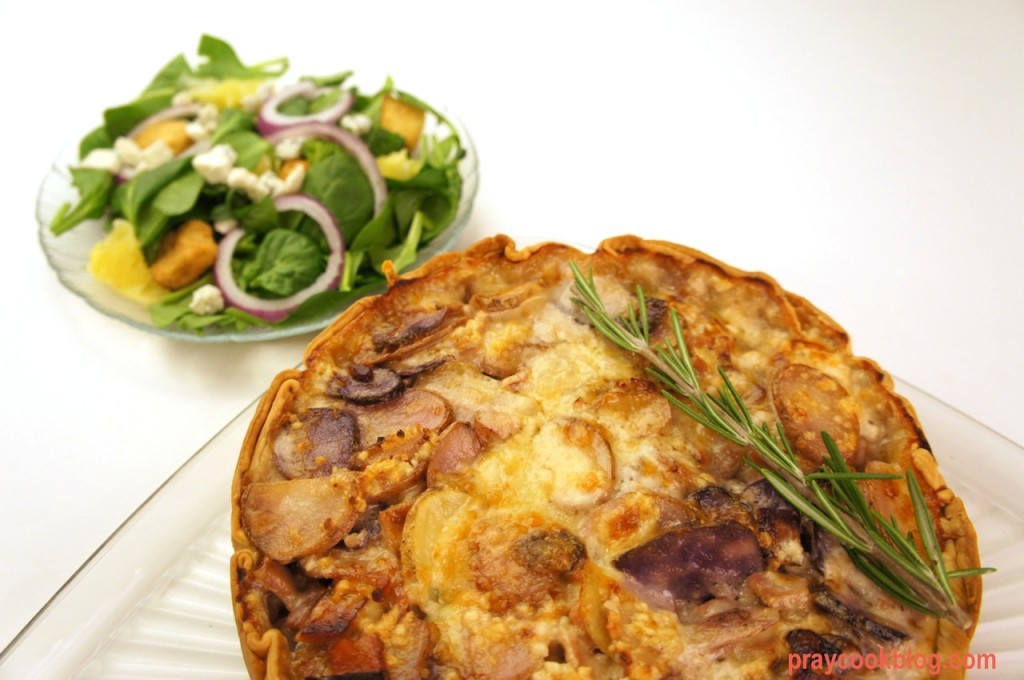 I love one-dish meals and so I adapted the recipe by adding chopped sauteed' ham and turned this side dish into a main dish with a simple salad to round out the meal. The original recipe calls for half Yukon gold potatoes and half sweet potatoes (which I will try next time!)  But for this dish I used fingerlings which have such gourmet appeal and fantastic flavor.  The bottom crust is layered with Gruyere cheese and fresh rosemary.  A second crust is laid on top of the first one and continued up the sides.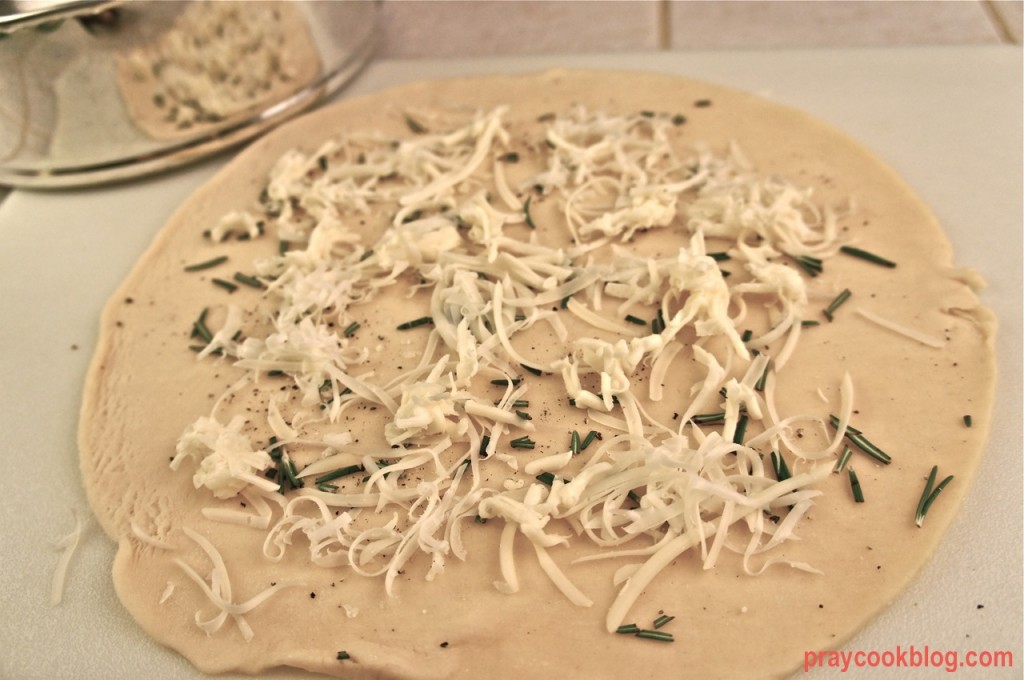 The original recipe called for Gruyere cheese only, but I used 1/2 Gruyere and 1/2 Fontina cheese because that is what I had on hand.  It worked out great!  The fresh rosemary infuses the whole dish with a subtle flavor of rosemary.  I added the ham but I think cooked chicken or chicken sausage would also make for a delicious main dish.  The recipe calls for half Yukon gold and half sweet potatoes but the fingerlings took this to a whole new level not only in the taste but definitely in the colorful fabulous presentation.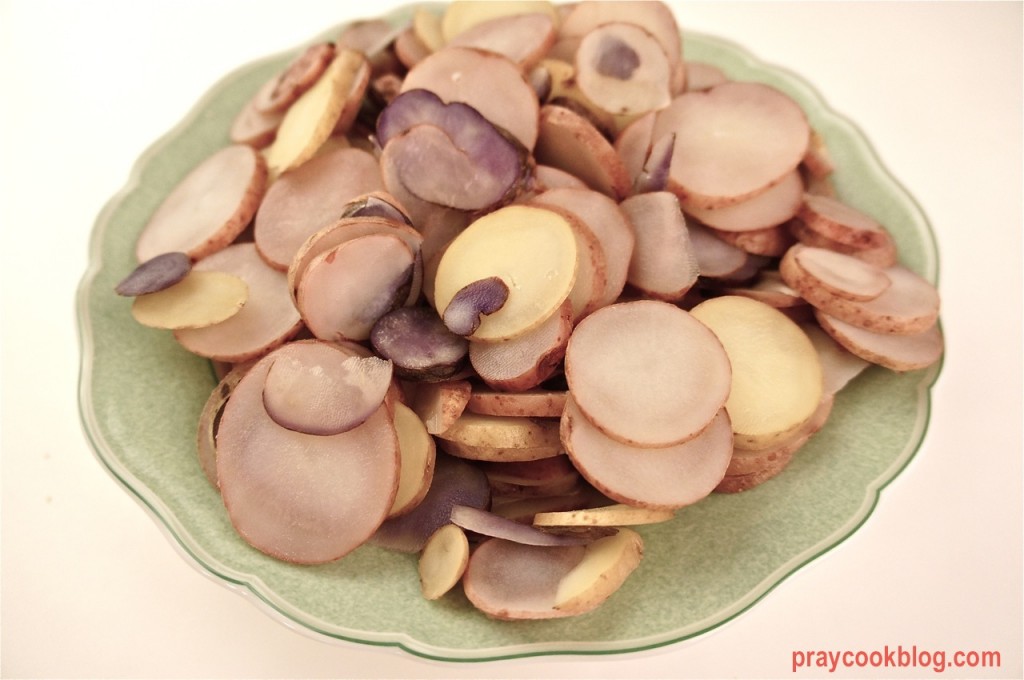 The baking time seems a little long, but it is needed to make the crust exceptionally crisp and the potatoes cooked perfectly.  This is a dish I will for sure make again!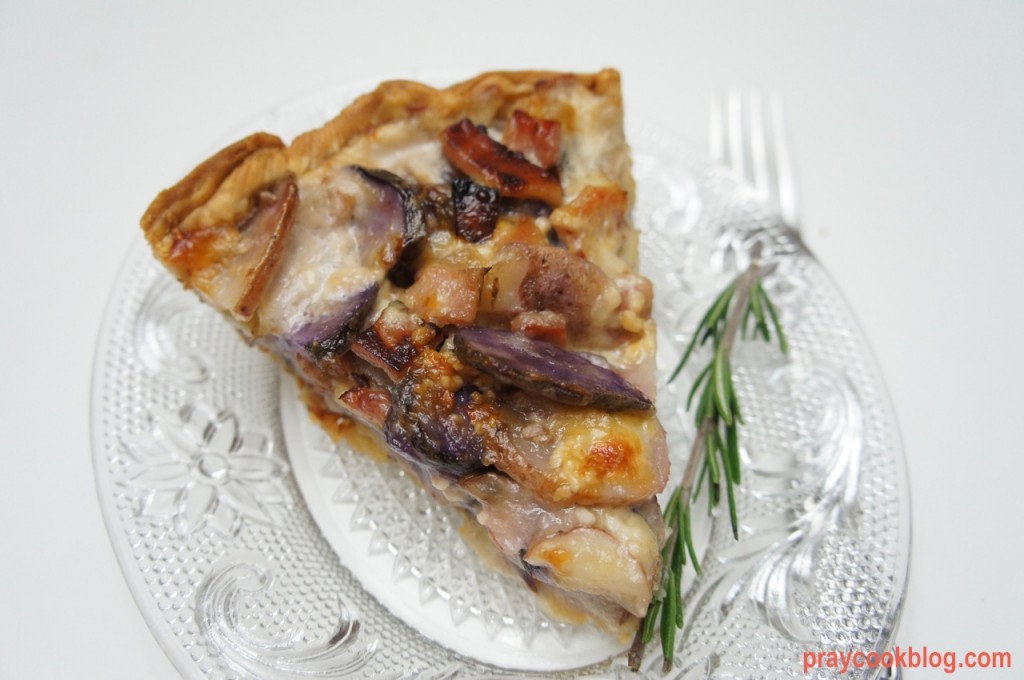 Awww  yes  … and the salad?  Have you been keeping your lettuce and spinach in mason jars?   I still am and it is working out great! This spinach is a little over a week old and still fresh as can be!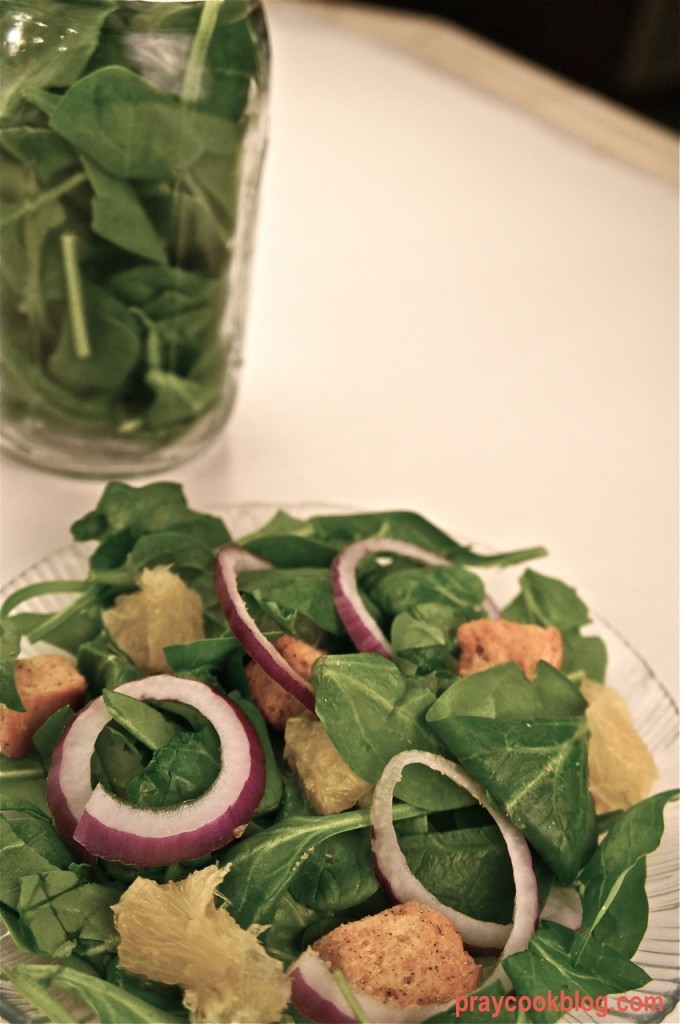 Many Blessings and Happy Cooking!


Ham and Potato Gratin with Rosemary Crust

Ingredients

1 Package Pillsbury Refrigerated Pie Crusts
1 tablespoon Fresh Rosemary, chopped
¼ teaspoon Ground black pepper
2 cup Gruyere Cheese, shredded
5 cup Fingerling Potatoes, sliced
1 teaspoon Kosher Salt
⅔ cup Heavy Cream
1 clove garlic, minced
Garnish: Fresh Rosemary Sprigs
2 cup Lean Ham, diced

Instructions

Preheat oven to 450 degrees. Unroll pie crusts on a lightly floured surface. Sprinkle rosemary, pepper, and ½ cup cheese over 1 pie crust; top with remaining crust. Press crusts together to seal around the edge.

Press on bottom and up the sides of a lightly greased 9" springform pan. Chill.

Meanwhile, wash and thinly slice the fingerling potatoes to about 5 cups. Dice ham and saute' about 5 minutes in a lightly oiled skillet (optional).

Layer one-third each of the potatoes and ham and salt in prepared crust. Sprinkle with ¼ cup cheese. Repeat layers twice, pressing layers down slightly to fit.

Microwave cream and garlic in a 1 cup microwave-safe measuring cup on high for 45 seconds. pour over potato layers in the pan. Sprinkle with remaining ¾ cup cheese. Cover pan with heavy-duty aluminum foil. Place on a baking sheet.

Bake at 450 degrees for 1 hour. Uncover and bake 25 minutes or until potatoes are done and the crust is richly browned. Let stand 10 minutes before serving. Carefully transfer to a serving plate, and remove sides of springform pan.

Garnish with fresh sprig of rosemary, if desired.


Notes

(1)  Original recipes calls for Gruyere cheese only, I have used ½ Gruyere and ½ Fontina and it was fabulous!

(2)  Meat can be added for a main dish or left out for a side dish.

(3)  Makes 8 to 10 side dish servings and 6 to 8 main dish servings.

(4)  Use rosemary sparingly.  A little bit goes a long way!

(5)  Original recipe calls for a mix of Yukon gold and sweet potatoes. Great combination!