Walking Through the Bible in One Year —
Bringing the Story to Life
Week 5 reading plan per day:
Monday (Exodus 33-35) Tuesday (Ex. 36-38)
Wednesday (Ex. 39-40) Thursday (Leviticus 1-4)
Friday (Leviticus 5-7) Saturday (Leviticus 8-10)
Sunday (Leviticus 11-13)
This year I am reading the Bible from beginning to end.  Even though I started the middle of January you can start any time you like.  Each day's reading is posted on this page and under the WORD POWER tab on this blog you will find a reading for each day.  Each reading takes 15 minutes or less.  I would love to have you come read with me!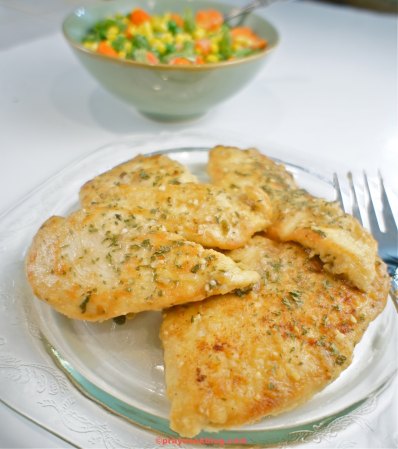 I don't know why for the life of me I don't make Chicken Piccata more often.  I guess I just don't think about it.  Whenever I see it on a menu when we are eating out, I think, "I should make that."  This time I thought it and did it and I am so happy with the results.  Chicken Piccata is a classic Italian dish that combines healthy chicken breast with the tartness of lemon (yum) and the saltiness of capers (double yum!)  Slicing and then flattening the breasts into fast cooking cutlets virtually eliminates the chances of serving undercooked chicken while ensuring you don't overcook it.  Through the years I have had a tendency to cook chicken to death.  Sure didn't want to make anyone sick, so I would cook, and cook, and cook some more.  Thank heavens those days are gone since I have learned you don't have to cook it to leather-stage to be safe.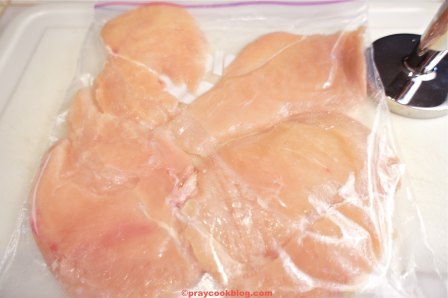 Start out by filleting the breast and then cut in half.  I put the chicken in a Ziploc bag to pound it out.  I know you can just place it between plastic wrap on the top and bottom but I tend to still sling chicken around the kitchen so the bag works best for me. 🙂 Throw away the bag – do not reuse!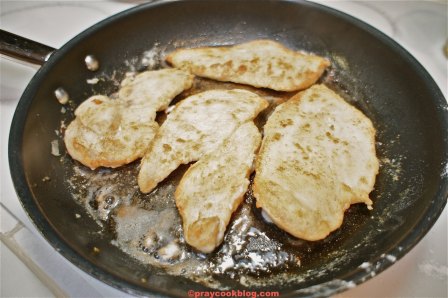 After cooking up some onion and garlic, the chicken goes in the pan for about 3 minutes on each side.  The chicken comes out and all the good flavors like sherry (or white wine), chicken broth, capers, and lemon juice goes in.  Then the chicken goes back in for a little more cook time.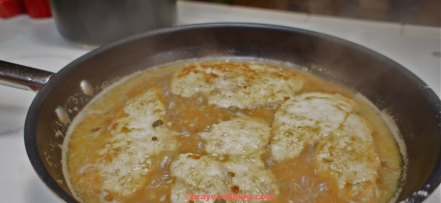 And truly, within 30 minutes of your start time you are here.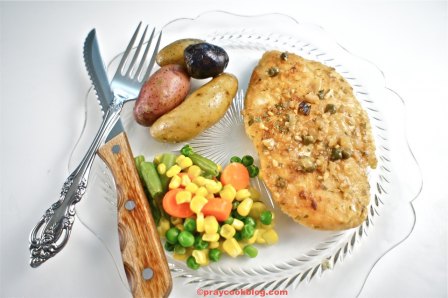 This simple, tangy sauce is just heavenly!  The chicken will be moist, tender, and full of flavor!  Bon Appetite'!
On an unrelated note — my mother did read the blog post for Creamy Tomato Basil Soup and as you can tell, I lived to cook (and blog) again!  Whew, that was close.
Many Blessings and Happy Cooking!


Chicken Piccata

Chicken Piccata is a classic Italian dish that combines deliciously thin sliced chicken breasts with the tartness of lemon and the saltiness of capers. Divine all the way around. And the best part - fast and easy!

Author:

Adapted from Taste of Home Cookbook

Ingredients

2 Boneless, skinless chicken breast filets
1 large Sweet onion, peeled and chopped
2 clove Garlic, minced
2 tablespoon Extra-virgin olive oil
½ cup All-purpose Flour
2 tablespoon Butter
½ cup Dry Sherry
2 Lemons
2 tablespoon Capers
1 cup Chicken Broth
2 tablespoon Italian parsley, finely chopped
Kosher Salt to taste

Instructions

Squeese the juice out of one of the lemons and set juice aside. From the other lemon, slice four very thin slices from the center (widest part), and set those aside too. If using lemon juice from concentrate, use approx. ¼ cup
Filet each chicken breast and then cut in half giving you 4 pieces of chicken. Using a ziploc bag (or a couple pieces of plastic wrap) place the chicken breast filets in the plastic. Using a meat mallet, rolling pin, or similar object, flatten the chicken breast between the layers of plastic until they are about ¼ inch thick. (If you have a particularly thick chicken breast you can slice in half first to give you two thin pieces.)

Heat a heavy-bottomed saute' pan over medium-high heat for a minute, then add the olive oil and heat for another 30 seconds. Add the onion and garlic to the pan and saute' until the onion is slightly translucent, about 3 minutes. Remove the onion and garlic from the pan and set them aside.

Add the butter to the pan and let it heat until it turns foamy. In a shallow baking dish or plate, combine the flour and salt. Dredge both sides of the chicken breast filets in the flour mixture, shake off any excess flour and add them, one at a time to the hot pan. Cook 3 minutes per side or until they are nicely browned. Remove them from the pan and set aside on a plate, covered with foil, while you make the sauce.

Add the chicken broth, sherry, lemon juice and capers to the pan and scrape off any flavorful bits from the bottom of the pan. Then return the onion-garlic mixture to the pan and heat it through. Return the chicken to the pan. Bring the liquid to a boil, then lower it to a simmer and cook for about 3 to 5 minutes or until the mixture has reduced by about ⅓. Add the chopped parsley just at the end of cooking.

With a pair of tongs, remove the chicken breasts and place them. Adjust the seasoning on the sauce with kosher salt and lemon juice. Sauce the chicken breasts generously, and top each portion with a lemon slice. Serve immediately.


Notes

(1)  Any dry white wine, such as vermouth, chablis, or chardonnay, may be substituted for the sherry.

(2) Lemon juice from concentrate may be used in place of fresh lemons.  One lemon equals about ¼ cup juice.  Just season to taste.