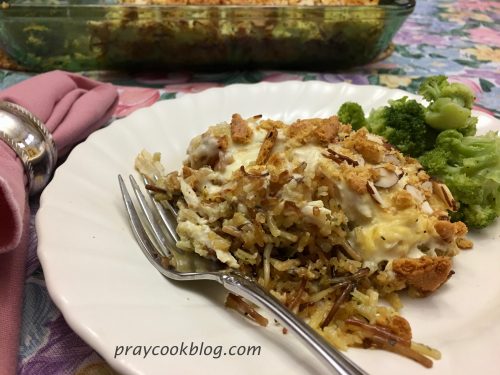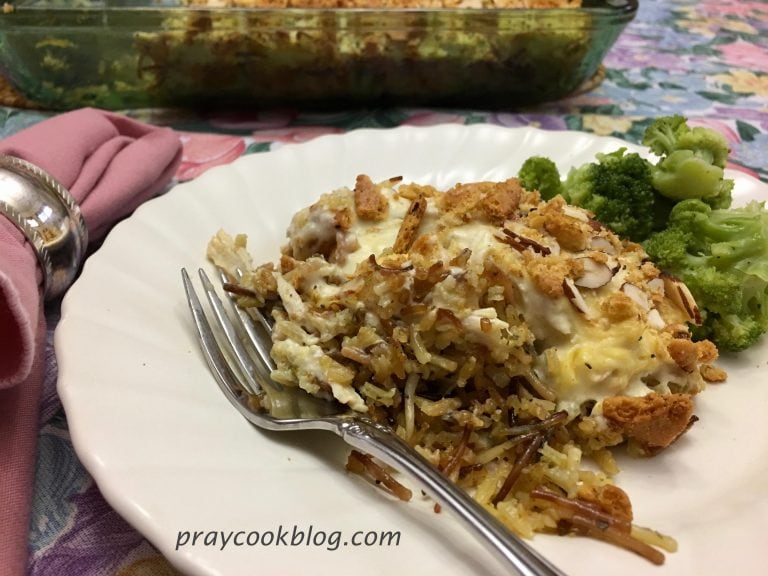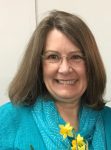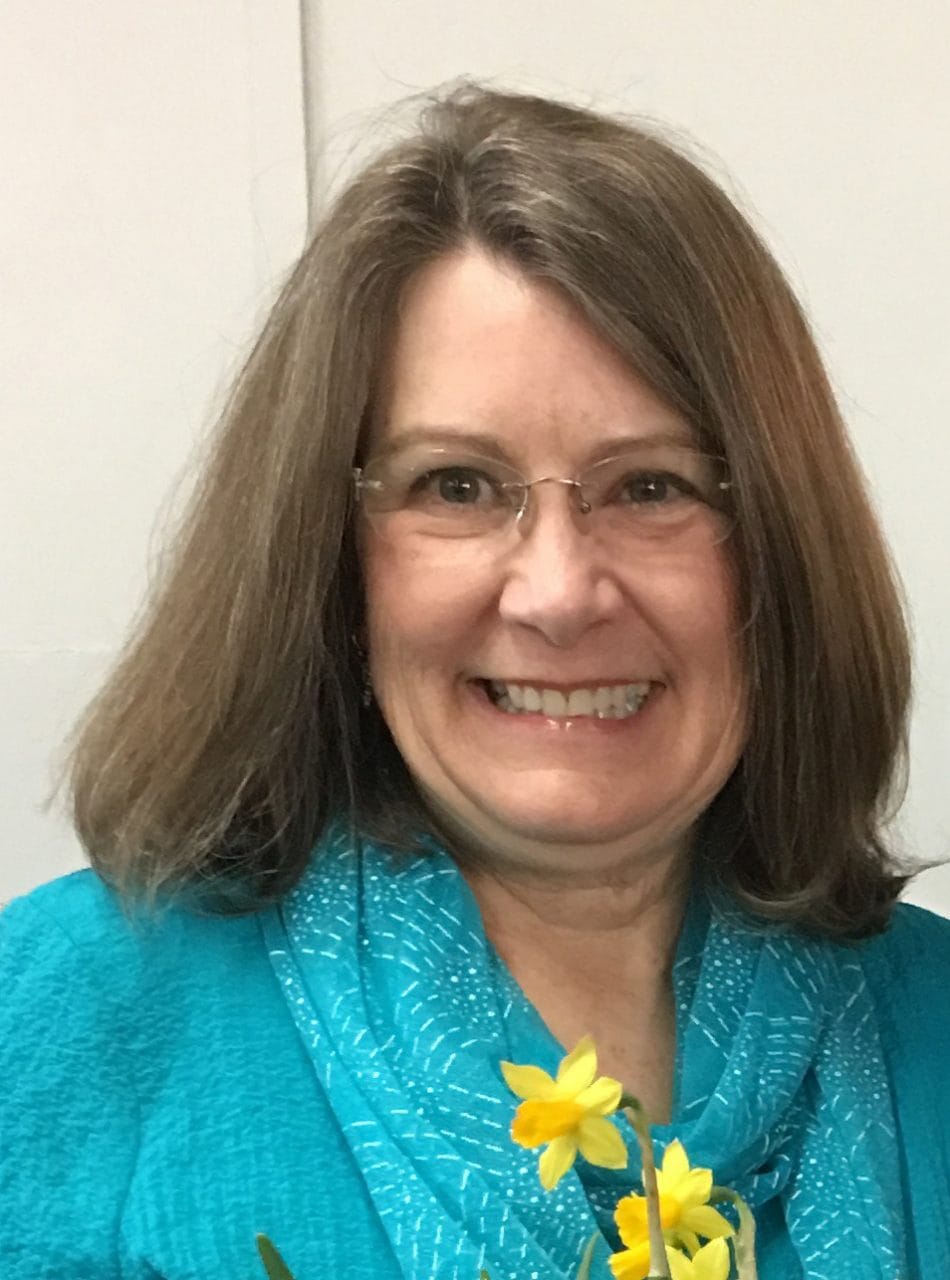 Am I the only cook on the planet who hasn't heard of Poppy Seed Chicken Casserole?  Apparently, when it comes to church food Poppy Seed Chicken Casserole has been a hit for a long, long time!  My friend, Lila, made this casserole for a Community Bible Study fellowship lunch this spring.  At first, I thought I must have just been really, really, hungry because I couldn't get enough of this creamy, crunchy, tasty casserole.  Other members of our class seemed equally hungry, because I noticed most of us had second helpings!
I couldn't figure out all the ingredients my first time around, but by the second helping, I discovered a layer of Rice A Roni that seemed a lot more flavorful than I ever remembered for Rice A Roni.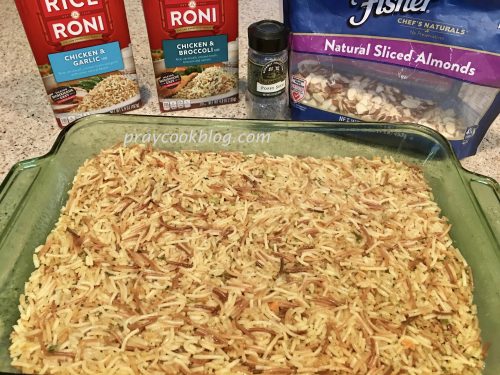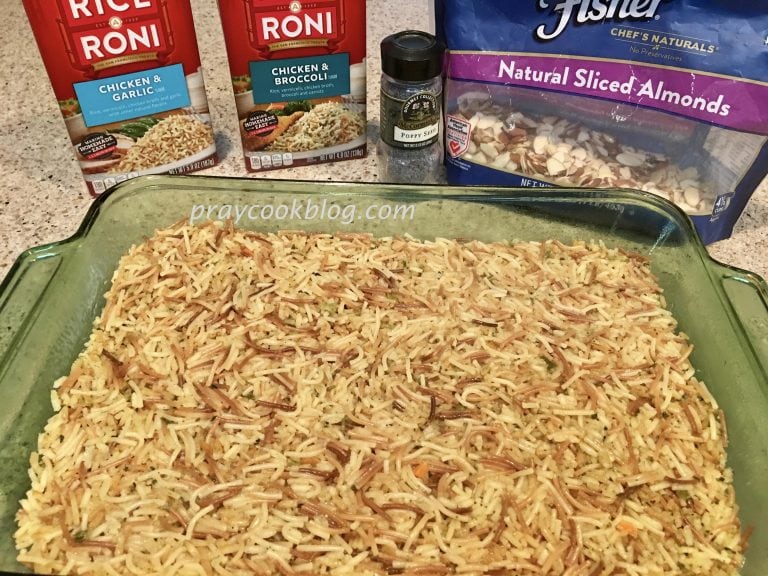 If you are not familiar with Rice A Roni it is a pilaf-like boxed food mix that consists of rice, vermicelli pasta, and seasonings. To prepare, the rice and pasta are browned in butter, then water and seasonings are added and simmered until the water is absorbed.
"I've had this recipe for years," Lila told our group as we ooh'd and aah'd quite appropriately!
Although lately, she has had trouble finding the exact rice called for in the recipe which is Rice-A-Roni Fried Rice with Almonds.  I couldn't find that exact flavor and so I used a mixture of one box chicken and garlic and one box chicken and broccoli. Whew!  I highly recommend the chicken and garlic. The garlic creates a flavor layer that really adds to the overall taste of the casserole. The broccoli gave me that false sense that I was eating healthy! 😜
The Rice A Roni is made according to box directions and then becomes the bottom layer in a 9″x13″ baking dish.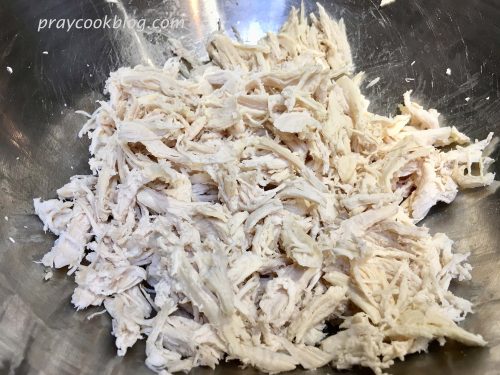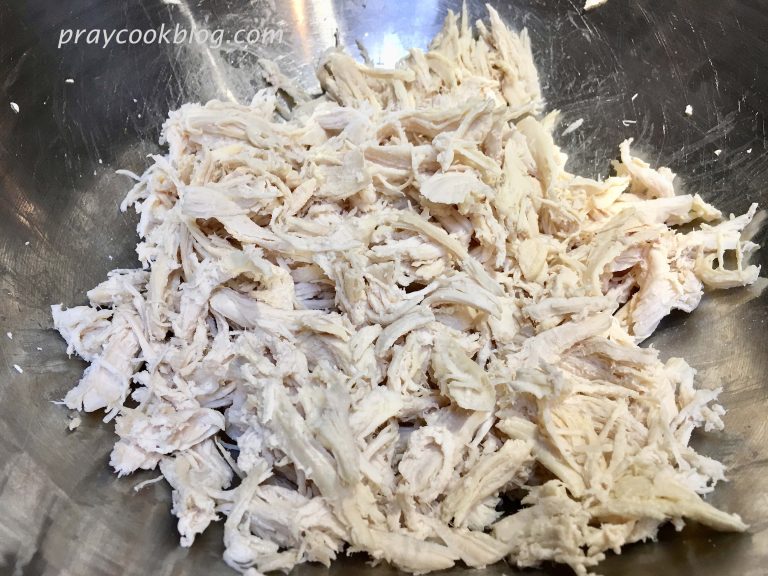 I always start any chicken casserole with gently boiled chicken breast, trimmed to remove any fat or stringy pieces.  Then I shred it and the resulting chicken is so white, fresh, and ready for my casserole. (For speed and ease, canned chicken breast will work well in this recipe also.)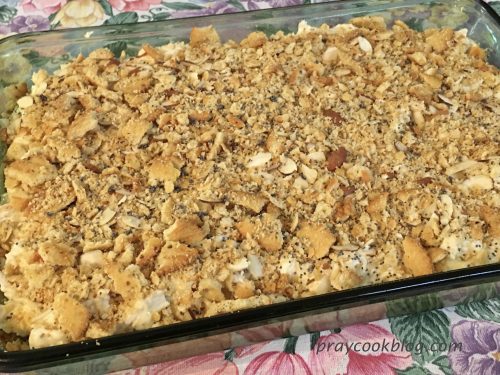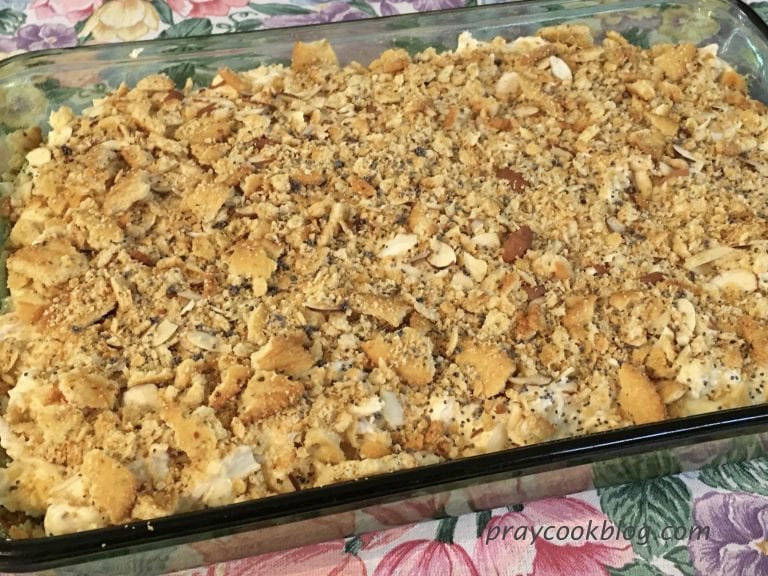 Mix the cooked chicken with soup and sour cream for the next layer.  Crushed Ritz crackers and poppy seeds top the chicken layer.  Lila's recipe calls for a cup of melted butter mixed with the crushed crackers.  I omitted the butter and sprinkled the top with slivered almonds.  Oh my goodness!  Can you just taste it now?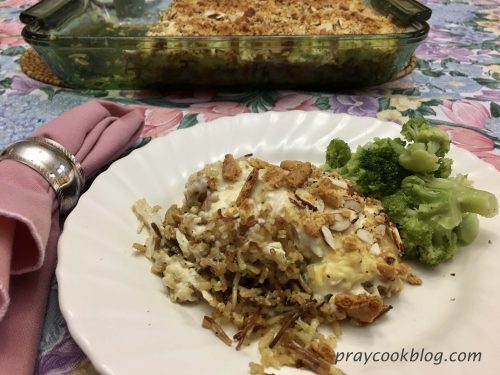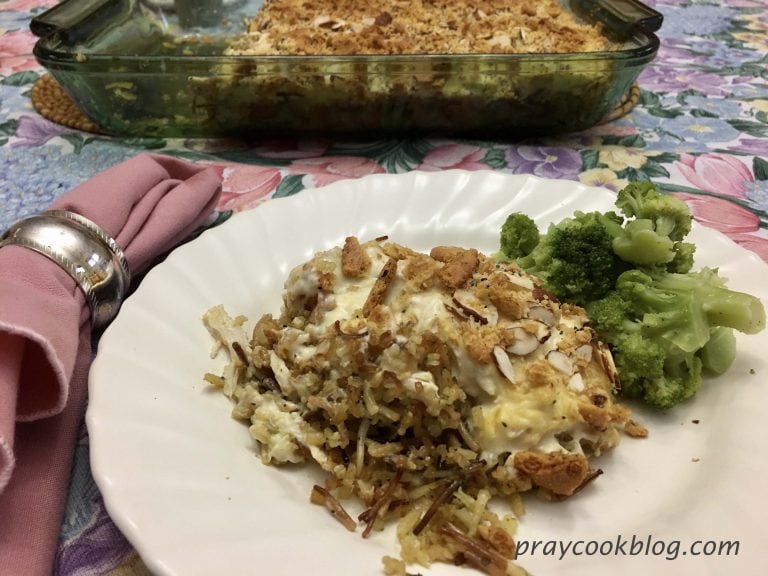 I know our vegetable should be about twice the amount of the main dish, but I promise, you can start with a smaller amount of casserole but you will be back for more before the broccoli cools off!
Thank you, Lila, for the outstanding recipe!  Keep 'em coming!
Blessings and Happy Cooking!
~Catherine
P.S.  Can you taste poppy seeds? My Chief Casserole Eater husband says he couldn't taste the poppy seeds.  I don't think they are meant to be tasted as much as they add texture and color.  What do you think?

Poppy Seed Chicken Casserole
Love it! Packed with flavor, very versatile and especially easy to make.
Author:
Adapted by Catherine Daugherty
Recipe type:
Main Dish, Casserole
Ingredients
1 to 2 lb. chicken breast, cooked, chopped or shredded
16 oz. light sour cream
2 cans cream of chicken soup
3 cups Ritz crackers, crumbled
1 cup butter, melted *Optional
2 Tablespoons poppy seeds
2 boxes Rice-A-Roni (Fried Rice with Almonds or any favorite flavor)
Slivered Almonds *Optional
Instructions
Cook rice according to the package directions.
Heat oven to 350⁰. Spray bottom of 9 x 13 pan.
Spread rice in bottom of 9"x13" baking dish.
Combine chicken, sour cream, and soup. Spread on top of rice mixture.
Mix melted butter and crushed Ritz crackers. Layer over chicken.
Top with poppy seeds and slivered almonds.
Bake for 45 - 60 minutes, uncovered.
Notes
1 lb. of chicken works fine, originally recipe calls for 2 lbs.
Any flavor of Rice A Roni will work well.
May use canned or fresh chicken breast.
Poppy seeds and almonds optional.
Melted butter mixed with the crushed crackers optional.