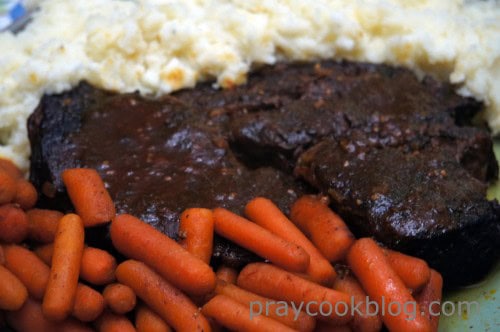 When our friends Kathy and Len came for dinner and a movie at our house they brought with them a six-pack of root beer.  After a fun evening of food, laughter, movie and dessert they left a couple of bottles of remaining root beer.  Those bottles sat in my refrigerator for a while and on a whim I started looking up recipes to make with root beer.
I found a Root Beer Pot Roasted from the October 2004 issue of Southern Living.  Since I had a roast in the freezer this was a perfect fit.  Little did I know when I started out to use up the root beer  this would be a blog-worthy recipe!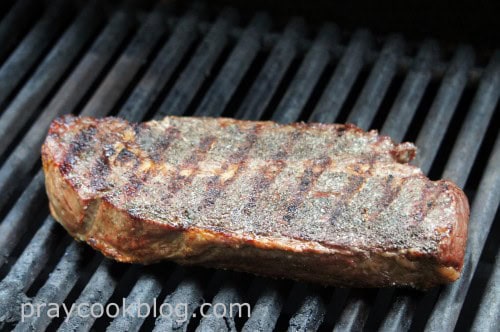 Most generally when meat calls for browning, I do that on the BBQ grill.  I don't like the poppin' mess of grease that occurs when I brown in a dutch oven on my stove.  This method is no clean-up (just turn off the grill and give it a scrape with the brush) and it also gives meat a mighty great start to by sealing in juices and adding flavor!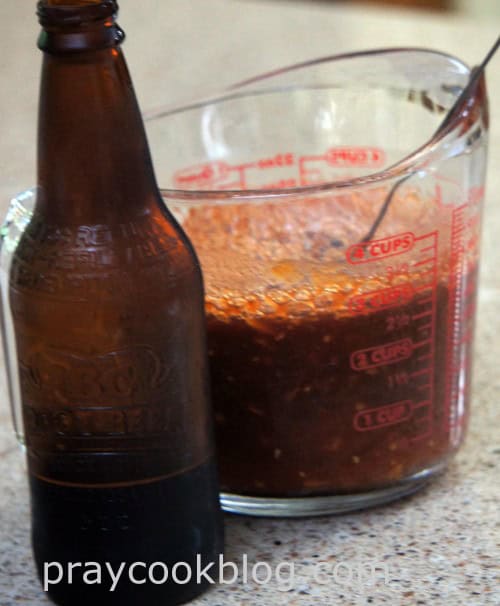 Back in the house I made a mixture of chopped onions, root beer, chili sauce, garlic, and a little sprinkling of wine. (SL didn't include wine but I can't put a roast in the crock pot without some red wine … it changes everything!)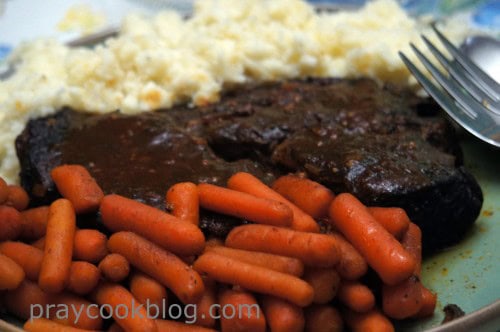 Everything goes into the crock on high for 1 hour and then one low for 6 to 8 to 10 hours.  That means it is done in 6 hours but it is fabulous in 8 to 10 hours!
Remove meat and carrots to a serving platter.  Pour all other juices and sauce into a fat separator.  Let this sit for a few minutes so the fat will rise to the top, then pour off the ready-to-sere luscious sauce!
I don't make pot roast very often. But when I do, I want my family to flip over it.  They did.  Thank you Kathy for leaving me your lovely delicious root beer.
Happy Cooking!
~Blessings, Catherine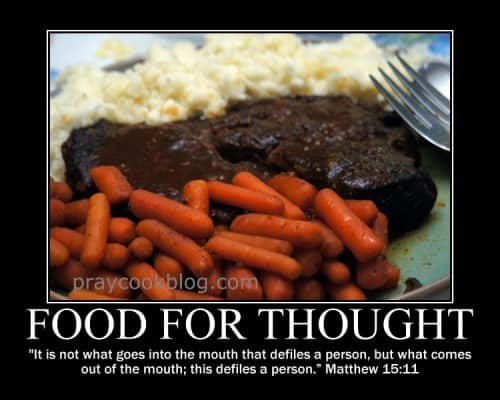 Slow Roasted Crock Pot Root Beer Pot Roast
This crock pot recipe is excellent for any time of the year but especially for summer when you don't want to heat up the kitchen by turning on the oven. It is a tangy twist to the usual pot roast.
Author:
Adapted by Catherine Daugherty
Ingredients
1 4 to 6 pound roast, i.e. chuck, eye of round, your choice
Salt and pepper to taste*
1 large onion, coarsely chopped
1 (12 ounce) bottle of root beer (not diet)
1 (12 ounce) bottle of chili sauce
½ cup red wine (any kind works)
2 teaspoons minced garlic
1 package small carrots - optional
Instructions
Sprinkle roast on both sides with salt and pepper.*
Heat BBQ grill to high, turn down to medium and brown both sides of the roast, about 10 minutes each. (Can be done in a dutch oven on stop top in 1 tablespoon of heated oil.)
While roast is browning mix remaining ingredients in a medium size bowl or large measuring cup.
Remove meat from the grill and place in a Crock pot turned on HIGH.
Keep on high for 1 hour and then turn down to low until you are ready to eat. (6 to 10 hours)
Two hours before eating, add a package of small carrots and stir to get a bit of sauce and juice on the carrots.
Minutes before ready to eat, remove meat and carrots to a serving tray.
Pour juices and sauce into a fat separator. Fat will rise to top, pour off sauce onto the meat/carrots.
Enjoy!
Notes
* Your favorite beef seasoning can be used in place or in addition to salt and pepper
** Carrots optional but they are wonderful cooked along with meat.



Recipe adapted from Southern Living