A Walk Through The Bible In One Year
Bringing the Story to Life
Week 9 reading plan per day:
Click on the colored link to read each day's scripture.
Monday (Deuteronomy 1) Tuesday (Deuteronomy 2)
Wednesday (Deuteronomy 3-4) Thursday (Deuteronomy 5-7)
Friday (Deuteronomy 8-10) Saturday (Deuteronomy 11-13)
Sunday (Deuteronomy 14-16)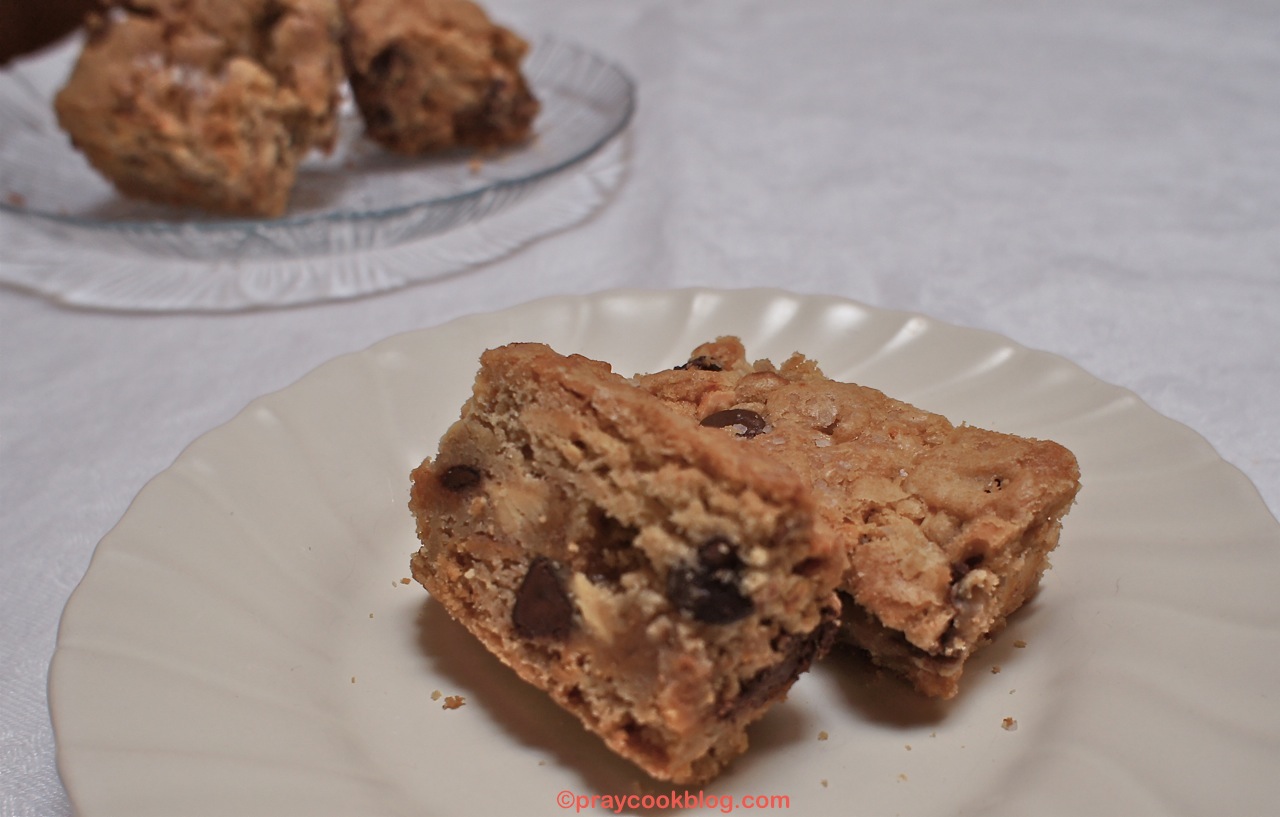 Sweet and salty.  Those two words in the same sentence conjure up all sorts of delectable images in my mind.  I think of salty popcorn and a bite of chocolate all mixed together, or cashews and caramel, or how about peanuts and brittle.  Sweet and salty just goes together!  Recently the Brown Eyed Baker posted a recipe for Salted Caramel Chocolate Chip Cookie Bars.  They are made a lot like chocolate chip cookies, but a layer of caramel and two layers of actual sea salt or kosher salt are sprinkled about.  I shared a link to her post when she made them because I didn't think I would get away with making them since both my culinary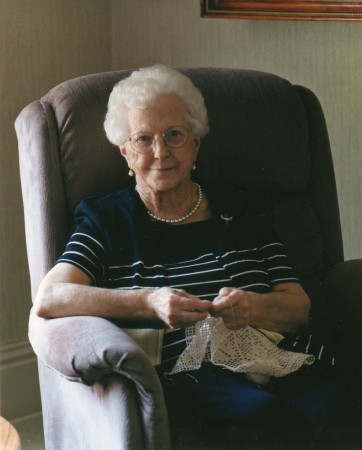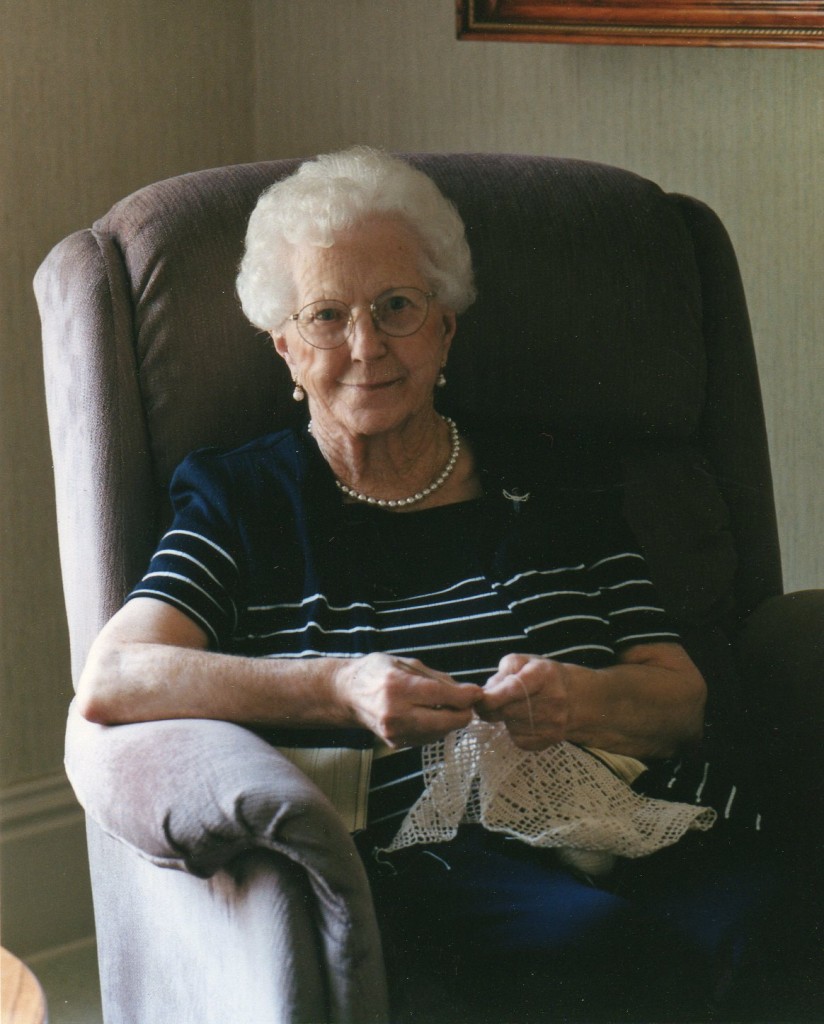 consultants were saying no more sugar, for a while.  But frankly, I just couldn't stand it.  I just had to taste these little bars.  I attribute that to my heritage.  My Grandma P. was a cookie maker and typical of Eastern Nebraskans every good gathering included cookies and bars!   So, I blame this weakness of mine on Grandma 🙂
She wouldn't mind.
Every since I started this blog, I have had a great kitchen set up.  I get to choose recipes, put them together, take some pictures and blog.  While my wonderful sous-chef, dishwasher (mom) will chop, mop, and do dishes.  How lucky am I?  On the sweet and salty day I was making and baking some other recipes and so I asked my sous-chef to make these bars for us.  She did a wonderful job and was very patient while I took pictures from one step to another!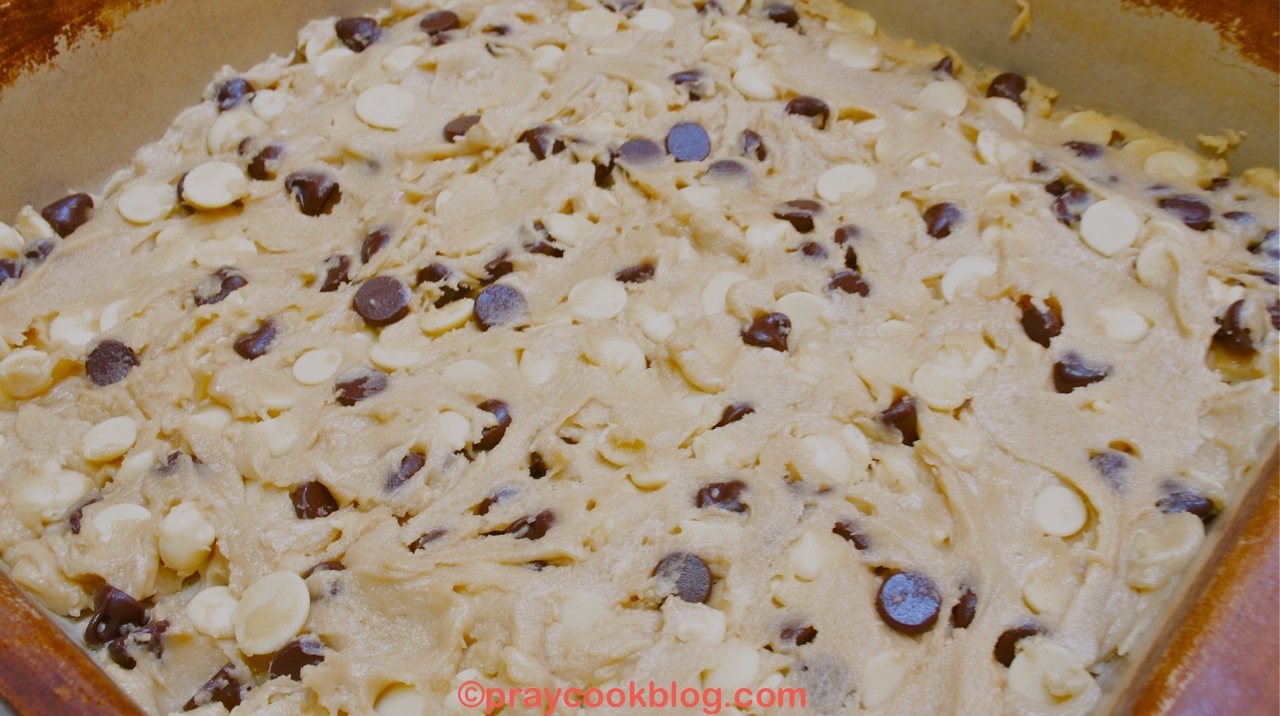 First step goes together almost as if we were making Chocolate chip cookies.  I had some white chocolate chips left from Tuesdays With Dorie Chocolate Truffle Tartlets and so I asked that these be used up in the bars.  Turns out it was great because it really added a nice layering of colors to the bars.  Half of the dough goes into the baking pan, then a nice layer of caramel is spread out evenly. I had so much fun turning sweetened condensed milk into caramel last fall that I had a can on the shelf waiting for just such an occasion as this! Click HERE for my directions for homemade caramel (from when I made Banoffee Pie!)
Start with sweetened milk, cook it, cool it, open it, CARAMEL!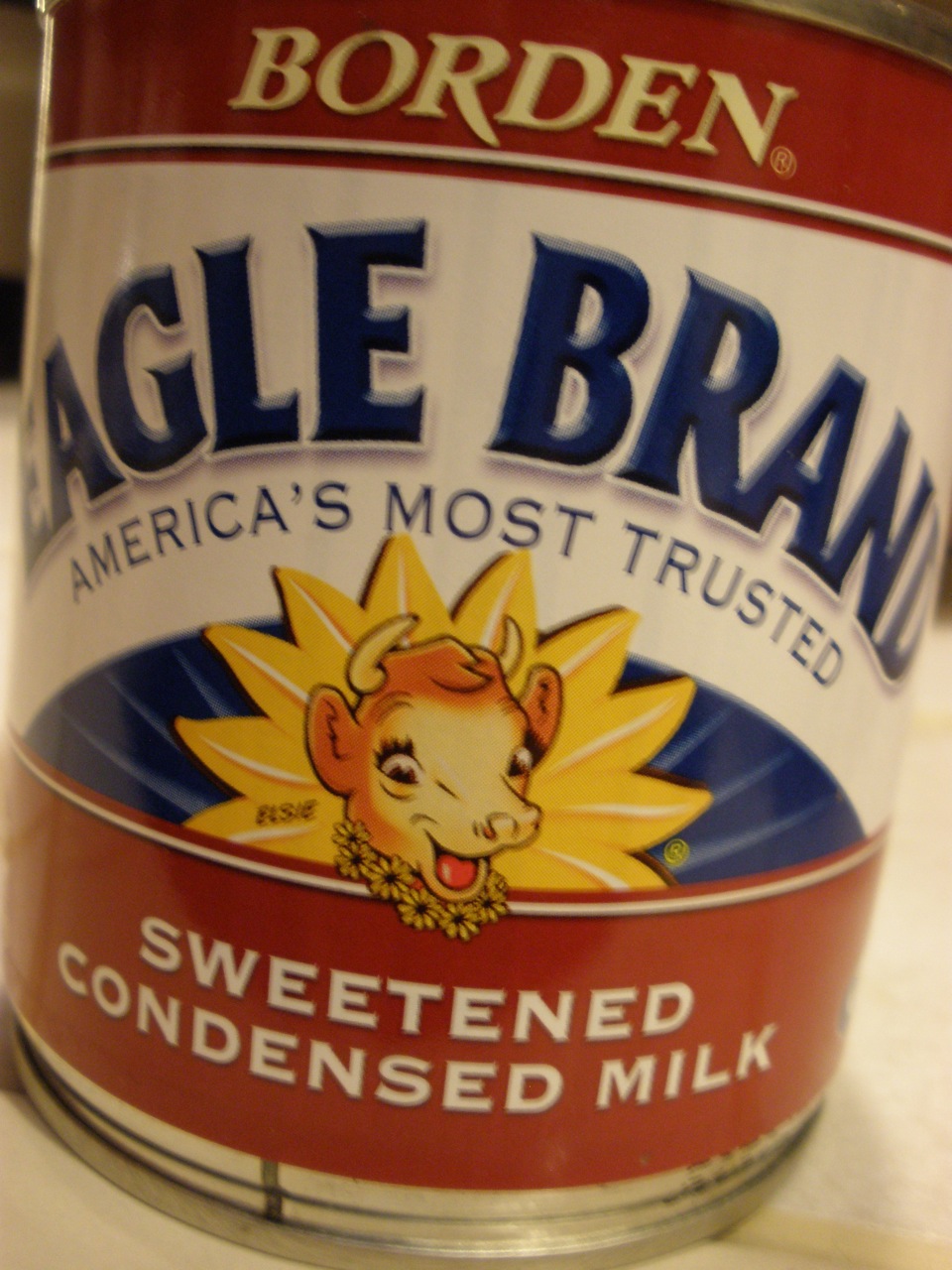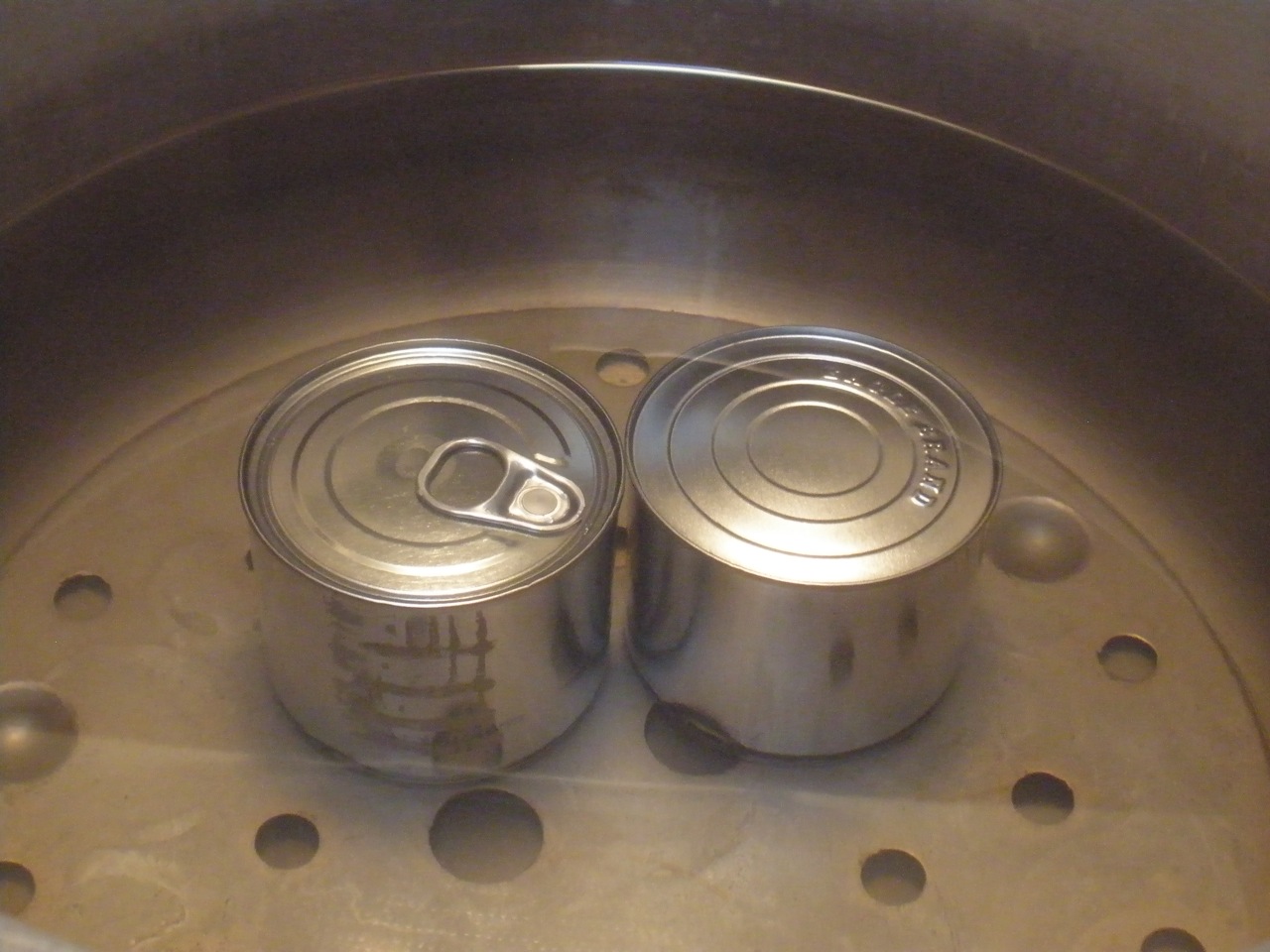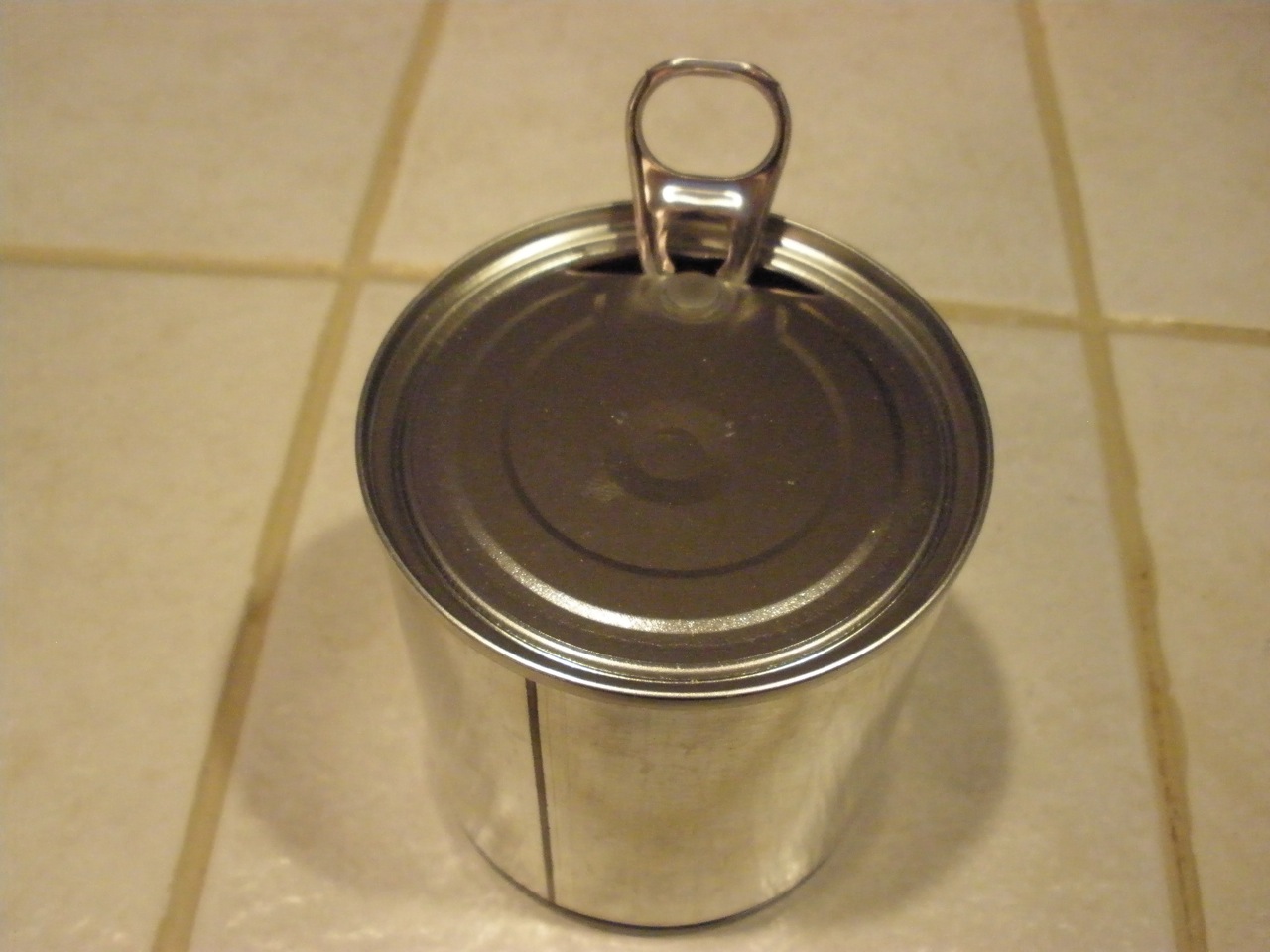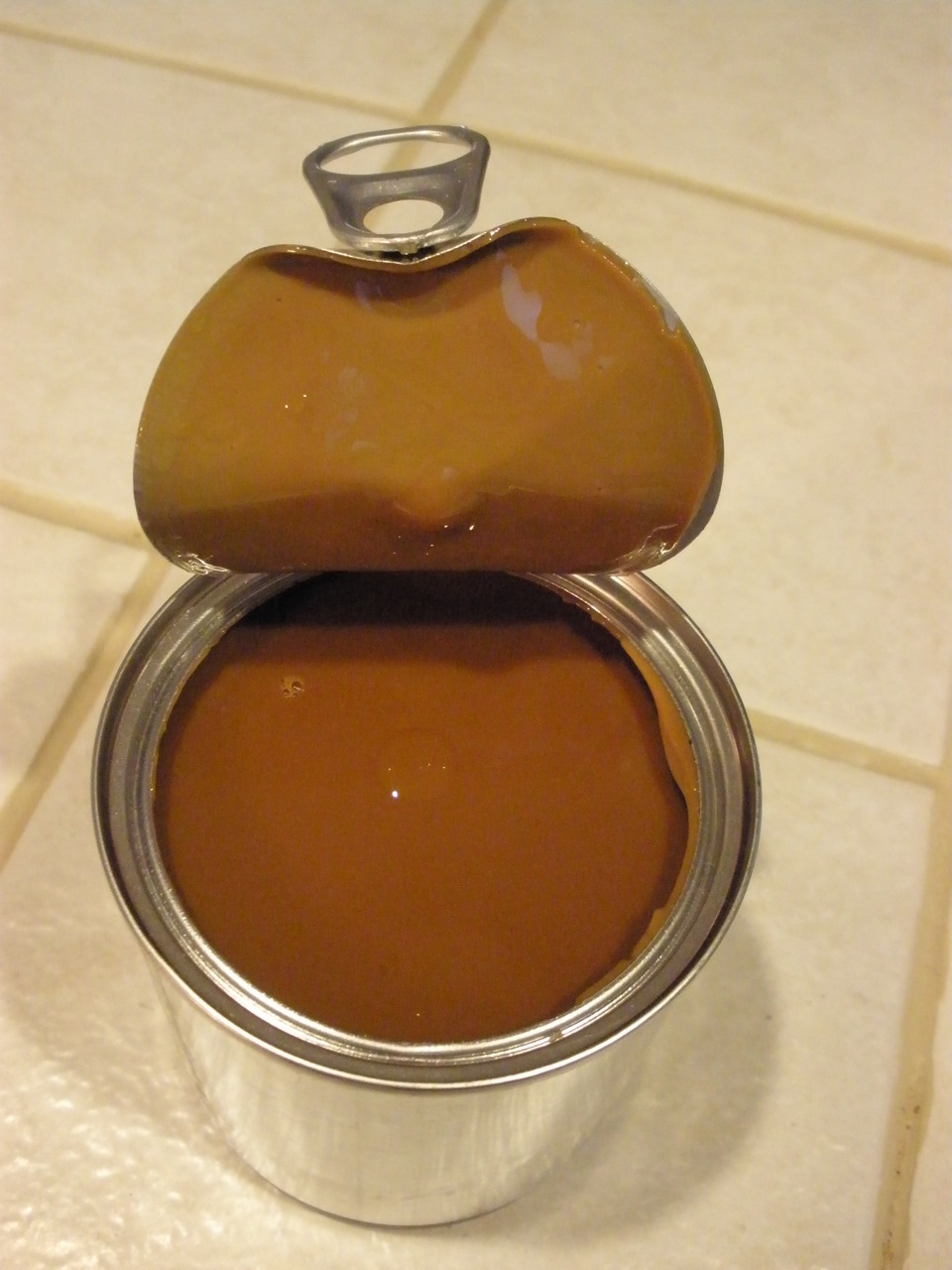 Then comes the salt.  The recipe doesn't give a specific amount, stating "sprinkle with sea salt."  Mom was a bit nervous about sprinkling coarse salt over the sweet dough she had just made.  I took one teaspoon of kosher salt (didn't have sea salt on hand) and as she looked on I sprinkled.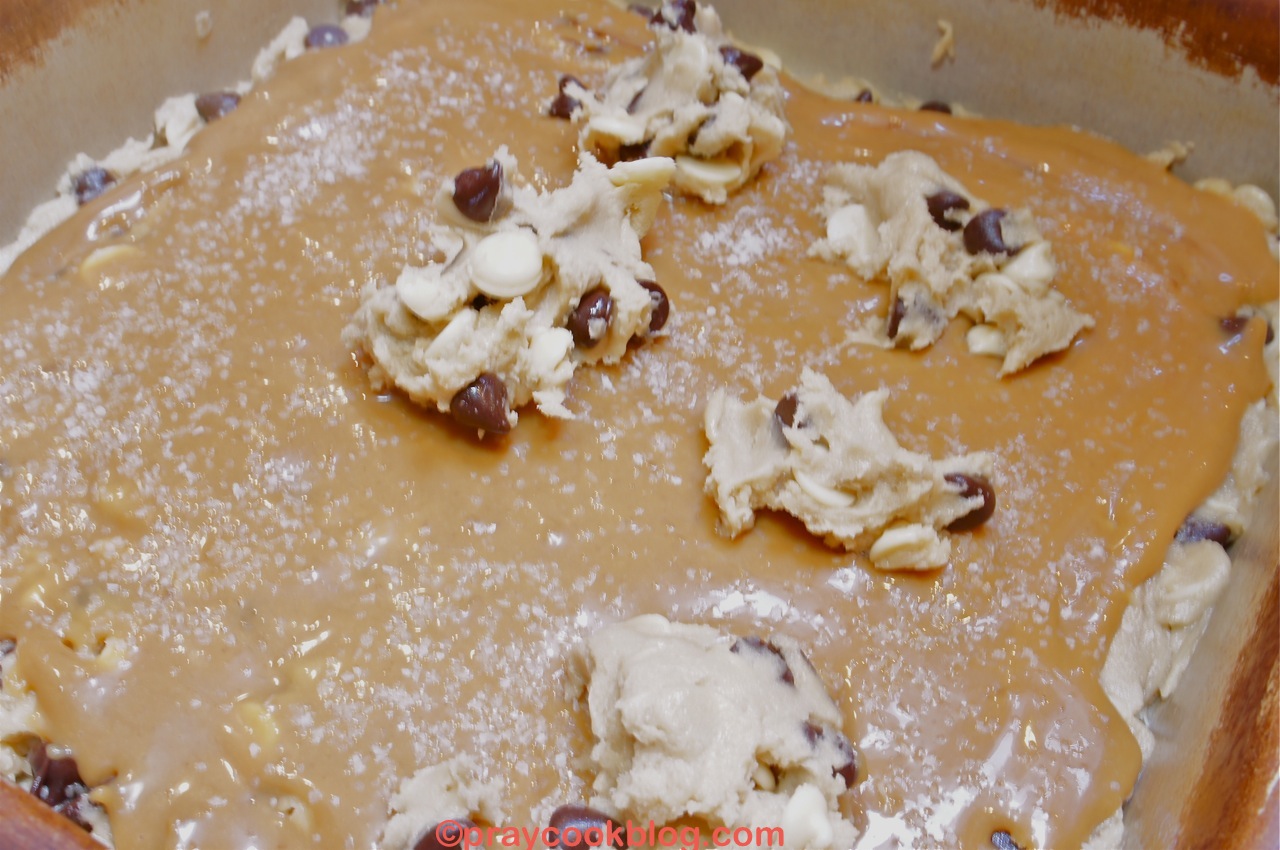 She then layered the other half of the dough on top of our dough, caramel, and salt.  At this point I really loved the confetti coloring of the milk chocolate and white chocolate chips.  FYI – we chose a well-used Pampered Chef  stoneware baking pan.  Doesn't look too good in the pictures, but it is clean, just well seasoned 🙂 —
Lastly, a final sprinkling of salt and into the oven.
When these jewels come out of the oven they smell wonderful and look tasty.  But wait … until the moment your taste buds catch the sweet milk chocolate followed by … aw!  SALT!  It is such an interesting flavor blend that the taste buds just keep asking for more … and more … and more.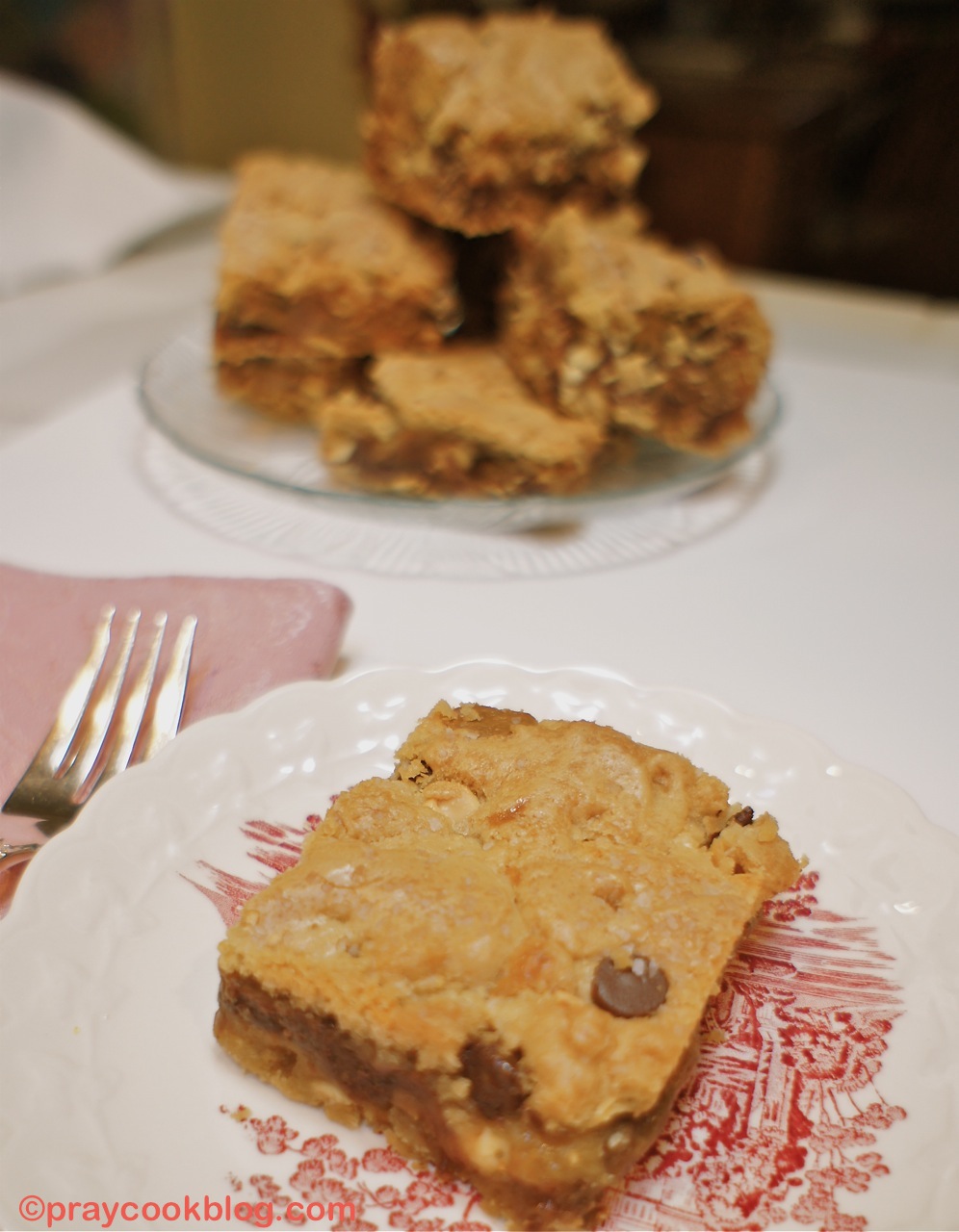 Thank you to Two Peas & Their Pod for creating this recipe and to the Brown Eyed Baker for bringing it to my attention.
Bon Appetit'

Sweet and Salty Chocolate Chip Bars
Sweet and salty, Bogie and Bacall, love and marriage. Enuf said.
Author:
Adapted From Two Peas & Their Pod via Brown Eyed Baker
Ingredients
2 cup All-purpose Flour
½ teaspoon Baking Soda
½ teaspoon Salt
12 tablespoon Unsalted Butter, melted and cooled to room temperature
1 cup Light Brown Sugar
½ cup Granulated Sugar
2 Eggs
2 teaspoon Pure Vanilla Extract
1 cup Milk Chocolate Chips
1 cup White Milk Chocolate Chips
1½ cup Caramel
3 tablespoon Heavy Cream
2 teaspoon Sea Salt or Kosher Salt For Sprinkling
Instructions
Preheat oven to 350 degrees F. Grease a 9-inch square pan; set aside.
In a medium bowl, whisk together the flour, baking soda, and salt. Set aside.
Using an electric mixer, mix together the melted butter and sugars on medium speed until combined. Add the eggs and vanilla and mix until smooth. Slowly add the dry ingredients and mix on low, just until combined. Stir in the white and chocolate chips.
In a medium micro-wave safe bowl, combine the caramel (s) and heavy cream. Microwave until the caramel is melted, stirring every 20 to 30 seconds. This will take about 2 minutes if using caramel squares, less time if using caramel from the can.

Press half of the cookie dough into the prepared pan, smoothing the top with a spatula. Pour the hot caramel over the dough and spread into an even layer, leaving a little space around the edges. Sprinkle the caramel with sea salt. Drop the remaining cookie dough in spoonfuls over the caramel and gently spread the dough with a spatula until the caramel is covered. Sprinkle the bars with additional sea salt.

Bake the cookie bars for 30 minutes, or until the top of the bars are light golden brown and the edges start to pull away from the pan. Cool the bars on a wire rack to room temperature, then refrigerate for about 30 minutes to allow the caramel layer to set. Cut into squares and serve. Store leftovers in an airtight container at room temperature.

Notes
(1) Can use all milk chocolate chips and no white chips for same taste result.

(2) Can use sea salt or coarse kosher salt.