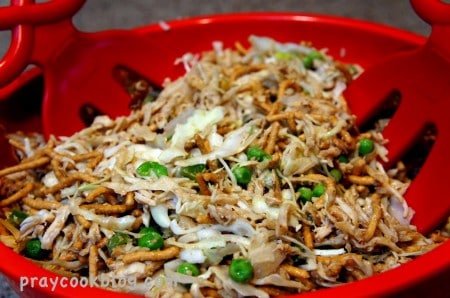 This past summer the Brown Eyed Baker posted a recipe similar to this one, sans the chicken.  I like Thai peanut flavoring and was on a salad kick trying to get in shape for eating myself silly on an Alaskan cruise with The Chief and my sous-chef dish-washing mom! This salad made for a wonderfully main dish meal.
Last year I posted a recipe for Chicken Thai Salad that is fast and tasty covered in a Kraft Asian Toasted Sesame dressing.  I like using this dressing when I cook chicken to be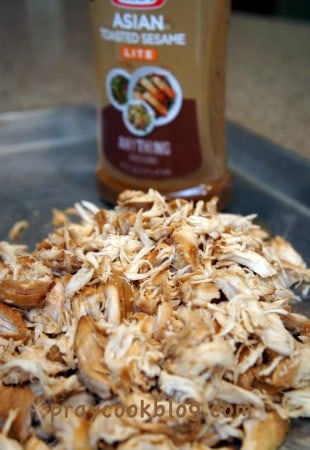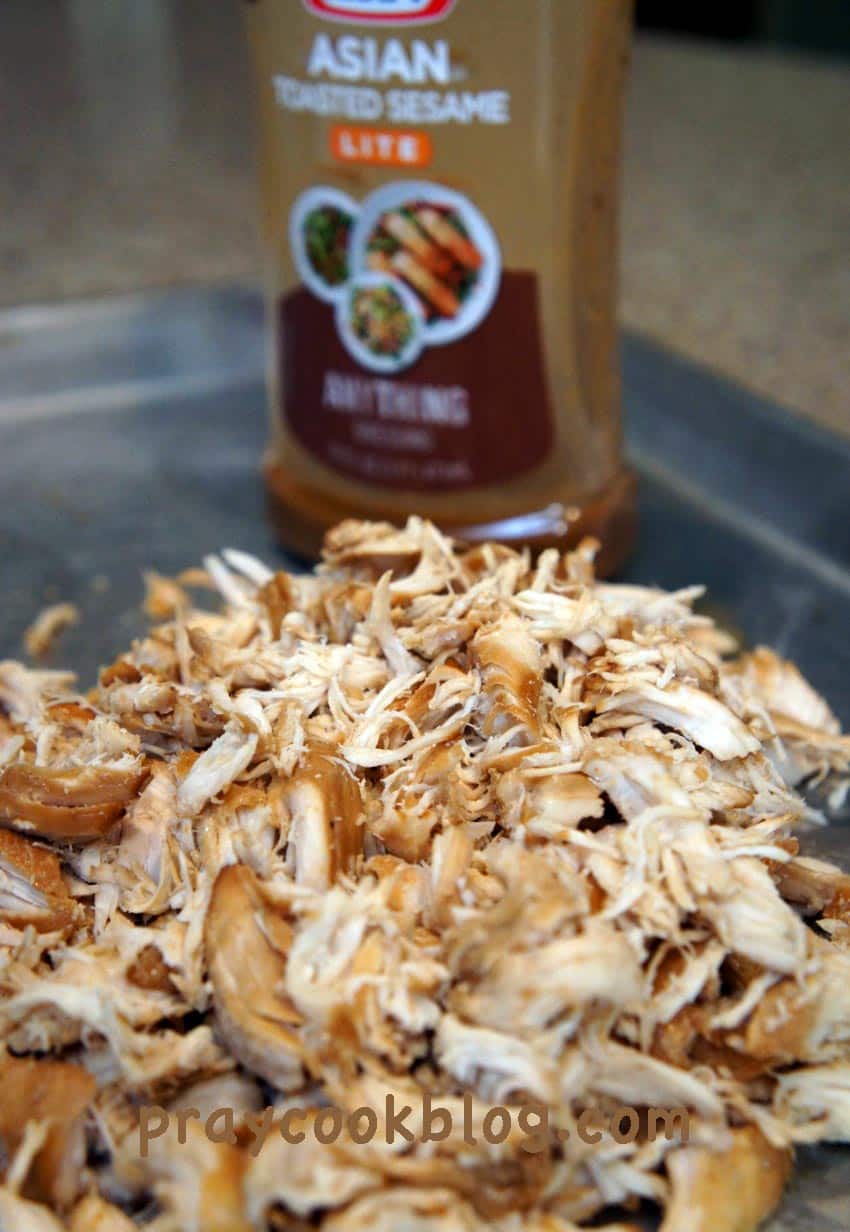 shredded.  I put chicken breast in the crock pot and pour some of the dressing over it.  For the first hour I like to cook this on high to get things heated up and then turn to medium or low until the chicken is easy to shred, leaving the meat moist, usually in 3 or 4 hours.
For this Thai Peanut Chicken salad I started by cooking the chicken in the morning.  Once shredded I put it in the refrigerator until I was ready to use it.
This homemade Thai peanut dressing is really easy to make and it is especially delicious tasting every bit homemade!  It only takes a couple of minutes to whip up in a small food processor.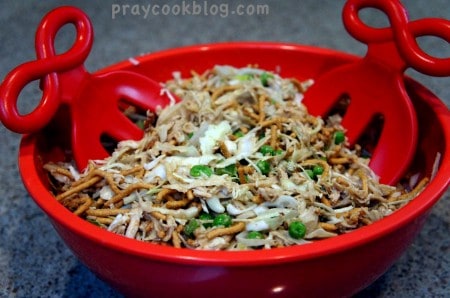 Tossing this all together and including some peanuts makes a full meal in one dish.  I served this with a veggie egg roll and it made for a filling, but light meal!
It's never too late for salad season!
Catherine
Follow the pattern of the sound words that you have heard from me, in the faith and love that are in Christ Jesus. By the Holy Spirit who dwells within us, guard the good deposit entrusted to you. 2 Timothy 1:13-14 ESV
Thai Peanut Chicken Salad
Packed with flavor this all-in-one meal is a keeper!
Ingredients
For the Dressing:
1 Granny Smith apple, peeled, cored & chopped
2 tablespoons creamy peanut butter
1½ tablespoons soy sauce
1 tablespoon sesame oil
1 tablespoon rice vinegar
1 tablespoon water
¼ teaspoon garlic powder
⅛ teaspoon cayenne pepper
For the Coleslaw:
16 ounce bag cole slaw mix (or 5 cups shredded cabbage)
½ red or green bell pepper, thinly sliced and cut into 1-inch pieces
2 green onions, thinly sliced (white and green parts)
1 cup green peas, fresh or frozen
½ cup roasted salted peanuts, coarsely chopped
1 cup Crispy Rice Noodles
2 cups cooked shredded chicken*Optional
Instructions
Puree all of the dressing ingredients in a blender or food processor (the consistency will be like applesauce); set aside.
In a large bowl, toss together all of the coleslaw ingredients. Pour the dressing over the coleslaw ingredients and mix until all of the coleslaw is evenly coated with dressing. Cover and refrigerate for at least 1 hour before serving. Leftovers can be kept in an airtight container in the refrigerator for up to 3 days. Rice noodles may get a little soft, just add some crispy ones before serving leftovers.
Notes
Recipe Adapted from The Brown Eyed Baker