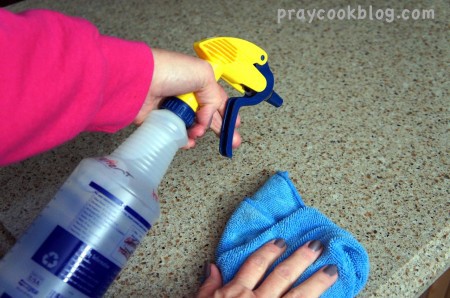 Since I am not cooking this week it is the perfect opportunity to share a recipe for something other than food!
I have three wonderful cleaning tips to tell you about today.  They are't  food for the body or the soul.  So let's just say this is an extra, free, no additional charge!
Last December we bought a new refrigerator.  We are in the process of changing out my kitchen appliances, one at a time as they malfunction or we find an exceptionally good buy!  In this case we came across a sale price on a Samsung stainless steel French Door style refrigerator.  Just what I wanted and at an outstanding (and mismarked) sale price!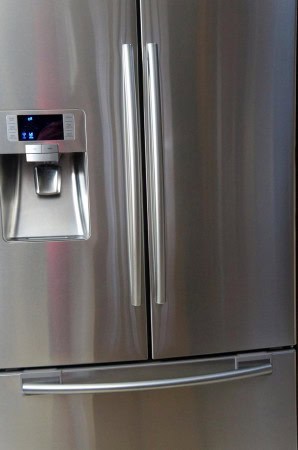 Even though I have had stainless appliances in the past my Chief Culinary Consultant is always on the lookout for the best cleaning products – as close to natural as possible.  Stainless steel cleaners are pretty expensive.  This cleaner can probably be found in your pantry and it is cheap to use!
Stainless steel just requires vinegar or vinegar water to wash away handprints and the like.
What You Do:
Fill a spray bottle with undiluted white vinegar. Then, spray on all of your stainless steel surfaces, and wipe dry with a soft cleaning cloth. Simple and effective!
Why This Works:
The acetic acid in the vinegar cuts through the oil left behind by fingertips, rather than smearing it around like a lot of other cleaners.
Benefits of Cleaning with Vinegar: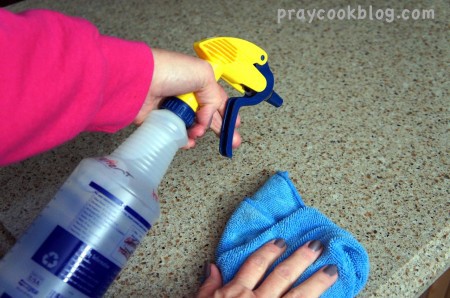 Now for the ALL-Purpose cleaner.   I am NOW using the following mixture for nearly everything else.  Mirrors, windows, tile floors, kitchen counters, bathroom counters and sinks.  I think you get the idea.
1 cup rubbing alcohol
1 cup water
2 Tablespoons vinegar
I double it, put it in a large spray bottle and clean away!  The alcohol makes the spray wipe up and evaporate quickly.  On windows this is streak-free.  On tile floor it leaves a wonderful squeaky clean feel throughout the room.  On the kitchen countertop it leaves a good shine.
Take a look here for additional uses for rubbing alcohol.
The following recipe I have been using  to clean cookie sheets and cookware.  You know how cookie sheets tend to get a discoloration even though they are cleaned after each use.  And what about the bottom of your skillets?  This will make them look good as new!
Place about ¼ cup of baking soda in a small glass bowl and add enough hydrogen peroxide until is makes a nice paste.  Using your fingers, a sponge, or a soft cloth you can rub the offending dirt – stain – or grease right off.  I wish I could tell you where I originally found this recipe but I didn't write it down!  After rubbing the stain off just rinse with water.
Happy Cleaning and have a blessed week!
Catherine
All Purpose Cleaning Solution
Ingredients
1 cup rubbing alcohol
1 cup water
2 tablespoons white vinegar
Instructions
Add all ingredients to spray bottle. Use to clean tile, windows, counter tops, bathroom fixtures.