Happy Bloggy Day to you ♪♫•*¨*•.¸¸♥ ¸¸.•*¨*•♫♪ Happy Bloggy day to you ♪♫•*¨*•.¸¸♥ ¸¸.•*¨*•♫♪Happy Bloggy Day ♪♫•*¨*•.¸¸♥ ¸¸.•*¨*•♫♪ Happy Bloggy Day♥ ♥ ♥ •*¨*•♫ Happy Bloggy Day  ♪♫•*¨*•.¸¸♥ ¸¸.•*¨*•♫♪ to ME!! ♪♫•*¨*•.¸¸♥ ¸¸.•*¨*•♫♪…And Many MORE!♪♫•*¨*•.¸¸♥ ¸¸.•*¨*•♫♪
COOKBOOK GIVEAWAY!  A HAPPY BLOGGY DAY PRESENT!
What better way to celebrate than to have a cookbook giveaway!  If you have traveled with me very long you will know that I am totally over-the-moon baking through Dorie Greenspan's cookbook, Baking With Julia.  The recipes are based on the PBS series hosted by Julia Child.  This book is loaded with recipes and pictures I would typically drool over, thumb through, talk about, and then put back on the shelf.  Instead, I joined 400+ other bakers as we are making and baking every recipe within the book.  We bake and blog two recipes a month.  I am learning new baking techniques, using a variety of ingredients, and stretching my photography skills all at the same time.  This culminates in blogging fun every other Tuesday!  Between now and June 17th you will have several opportunities to register to win this cookbook.  I can't wait to send it to one of my readers!  Thank you in advance to everyone who joins me in this blogging adventure and good luck!
Giveaway Details
One (1) winner will receive the following cookbook from me.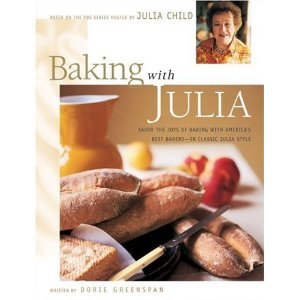 How to Enter
To enter to win simply leave a comment on today's blog post or any new post between today and June 17, 2012.  Drawing will be held June 18, 2012.
Additional (Optional) Entries
To up your chances of winning, you can receive up to THREE additional entries to win by doing the following (these are optional, not required):
1. Subscribe to My Daily Bread Body and Soul by either RSS or email. Come back and let me know you've subscribed in an additional comment.
2. Become a fan of  My Daily Bread  Body and Soul, Pray Cook Blog on Facebook.. Come back and let me know you became a fan in an additional comment.
3. Follow My Daily Bread Body and Soul on Pinterest. Come back and let me know you've followed in an additional comment.
The Fine Print
Deadline: Sunday, June 17,  2012 at 11:59pm EST.
Winner: A winner will be chosen at random using Random.org and announced at the top of this post. The winner will also be notified via email; if the winner does not respond within 48 hours, another winner will be selected.
GOOD LUCK!!
"Yours, LORD, is the greatness and the power and the glory and the majesty and the splendor, for everything in heaven and earth is yours. Yours, LORD, is the kingdom; you are exalted as head over all." 1 Chronicles 29:11 NIV