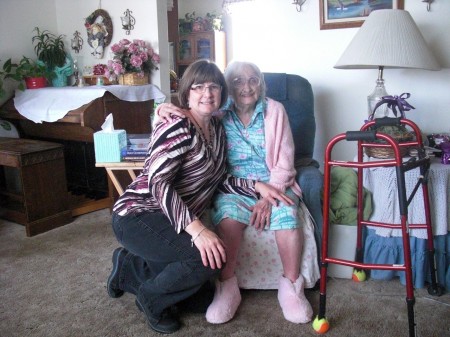 In July of 1974 I got married and Vera Anderson became my mother-in-law.  This Godly woman has had a great influence on my own faith walk.  In her own quiet way she lead by example putting the Lord first, staying faithful even in the face of troubles, and always loving her family no matter what.  Last evening, at the age of 99 years old she went to be with the Lord.  I am so happy for her.  I keep wondering what it is like for her today.  Is she walking with Jesus in a garden?  Has she fell on her knees to worship our Creator and Lord?  What were her first moments like when her spirit left this world to return to the one who created her?
2 Corinthians 5:6-8So we are always of good courage. We know that while we are at home in the body we are away from the Lord, for we walk by faith, not by sight. Yes, we are of good courage, and we would rather be away from the body and at home with the Lord.
I am comforted because she knows the Lord, intimately.  She walked with him daily for all the years of her life that I knew her, and no doubt for a good many  years before I knew her.
Last year I wrote a guest blog post, The Truth About Unconditional Love,  as a tribute to her.  You may want to read it HERE.
I pray blessings and comfort for her family who will feel a void in their life everyday.  May we all be comforted to know we will meet again!
– Catherine