Jesus Calms a Storm
35 On that day, when evening had come, he said to them, "Let us go across to the other side." 36 And leaving the crowd, they took him with them in the boat, just as he was. And other boats were with him. 37 And a great windstorm arose, and the waves were breaking into the boat, so that the boat was already filling. 38 But he was in the stern, asleep on the cushion. And they woke him and said to him, "Teacher, do you not care that we are perishing?" 39 And he awoke and rebuked the wind and said to the sea, "Peace! Be still!" And the wind ceased, and there was a great calm. 40 He said to them, "Why are you so afraid? Have you still no faith?" 41 And they were filled with great fear and said to one another, "Who then is this, that even the wind and the sea obey him?"

This past weekend storms blew through middle Tennessee, flooding many areas with 5″ to 8″ of rain.  I took these pictures after the rain moved on and the sun shone brightly reminding us that when we walk through a storm the Son is always there even when we can't see through the clouds in our life.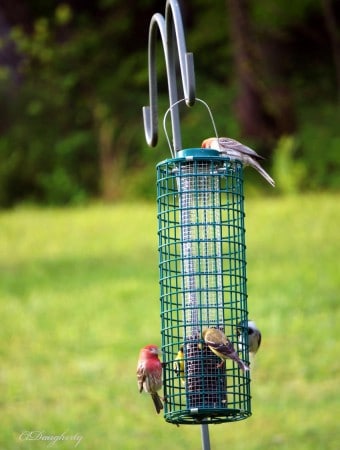 My sous-chef dish-washing mom is also a bird lady. She lovingly fills the bird feeders come rain or come shine.  After the storm clouds moved on, the birds attacked the feeder as if they hadn't eaten for days.  Granted, it had rained for 3 days … but that's nothing like rain for 40 days and nights!!
Just before the rain I had seen the most beautifully vibrant-colored bird.  This was a bird that hadn't shown up at our home before.  I immediately did what I always do in matters such as this — I called my brother John.  I told him this bird was bigger than a finch, black, white and gray on it's back, a black head, and a bright, bright red ring around the neck.  John thought for a bit, asked me a couple of questions and said "look up a Rose-Breasted Gros Beak" and see if that is it.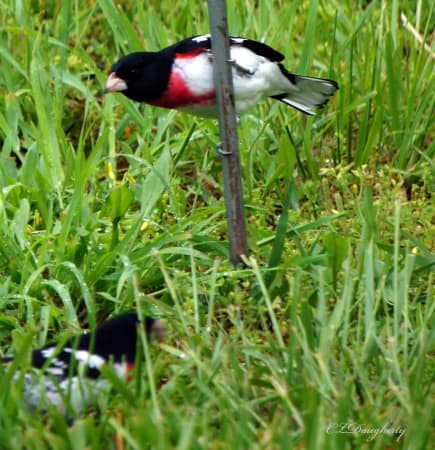 How does he do that?  I wondered.  I was wrong about the "ring" around the neck, but even that didn't throw John off.  After the rain three of these little beauties played in the grass below the bird feeder pecking and eating what had fallen to the ground.  I hope to get even better pictures as the summer goes on but I couldn't wait to show you these!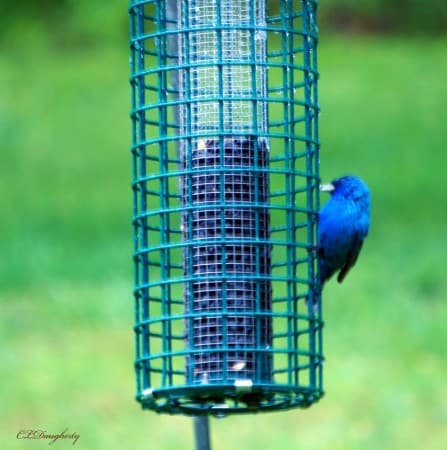 My bluebird picture isn't as clear as I would have liked but this little feller hardly stood still for a moment.  Isn't the blue color fantastic?
Now for the bottom line of this post — four lightening strikes took out towers providing internet service all around us.  My internet service is gone, for now, to be repaired according to priorities — and I'm not a priority!  Can you believe that?  Neither can I. 🙂
Country living … that's okay.  We all need a break from time to time.  I will be writing to you again after the middle of May.  In the meantime, happy cooking and have a blessed spring!
~Catherine