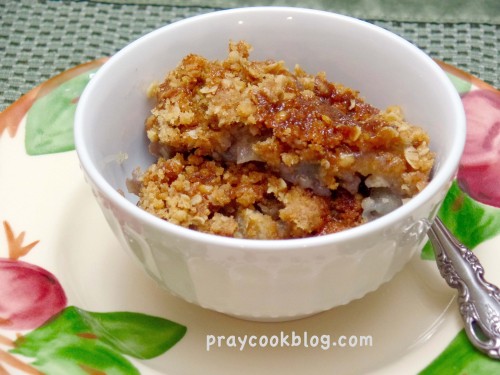 A couple of weeks ago my sous-chef dish-washing mom announced that she will be making  a new dessert for us each week!  Whaaat?  This is exciting stuff!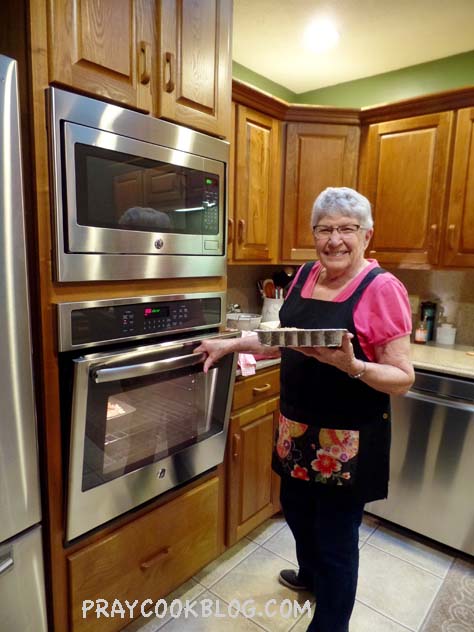 It turns out that mom has "discovered" Pinterest some time ago and is drooling over pictures and recipes.  I am so excited about this and told her that I will blog her recipes!  That made her happy. 🙂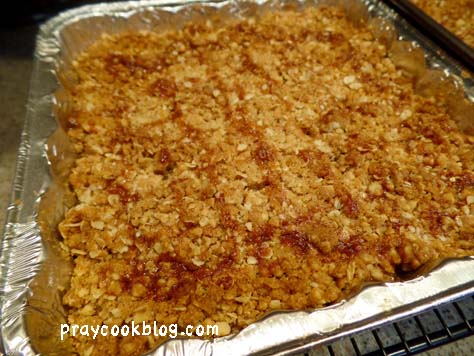 Just about that time we made soup and dessert to take to a friend. Mom made her Apple Goodie Dessert.  I blogged the recipe several years ago but the pictures aren't that great so we decided to update the recipe and share with you today.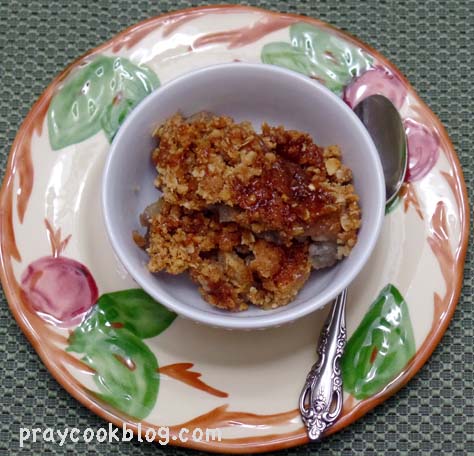 This is very much like a typical apple crispy with two exceptions.  A little maple syrup  on the inside and mom drizzles with a little caramel syrup  before baking and it is wonderful.  Also, she claims part of the success of this dessert is that she slices the apples very thin creating a very nice layering.
From our kitchen to yours, happy fall baking!
Blessings,
~Catherine
"For I know the plans I have for you, declares the Lord, plans for welfare and not for evil, to give you a future and a hope."
but here is my favorite part of this scripture:
"Then you will call upon me and come and pray to me, and I will hear you."
Alice's Apple Goodie Dessert
The ultimate apple crispy featuring yummy syrups, walnuts, raisins, and lots of tasty apples!
Author:
Adapted by Catherine Daugherty
Ingredients
Crisp
8 to 10 cup Apples*, peeled and sliced thin
1 cup Granulated Sugar
2 tablespoon All-purpose Flour
1 teaspoon Cinnamon
½ cup Walnuts, chopped
½ cup Raisins
½ cup Maple Syrup
topping
1 cup Quick cooking oats, uncooked
1 cup All-purpose Flour
1 cup Brown Sugar, firmly packed
½ cup Butter or Margarine, melted
¼ teaspoon Baking Soda
½ teaspoon Baking Powder
½ cup Walnuts, chopped
⅓ cup Caramel syrup for drizzlings (Optional)
Instructions
Mix the first six ingredients together and put into a greased 9" x 13" baking dish. Pour ½ cup maple syrup over all the mixture.
Mix together the topping ingredients and spread over the apple mixture.
Drizzle top of oats mixture with caramel syrup.(optional)
Preheat oven to 350 degrees F. Bake for 45 minutes or until nicely browned and bubbly all over.
Cool slightly and serve or serve at room temperature with whipped cream or ice cream.
Notes
Any variety of apples from Winesap, Granny Smith, Fuji, Gala, Pink Lady or any combination work well in this recipe.

Caramel syrup on top is optional, but wonderul!