When You Want To Be Loving
Hatred stirs up dissension, but love covers over all wrongs. Proverbs 10:12
Many waters cannot quench love; rivers cannot wash it away. If one were to give all the wealth of his house for love, it would be utterly scorned.   Song of Songs 8:7
Can you stand one more apple recipe this fall? I have shared our Caramel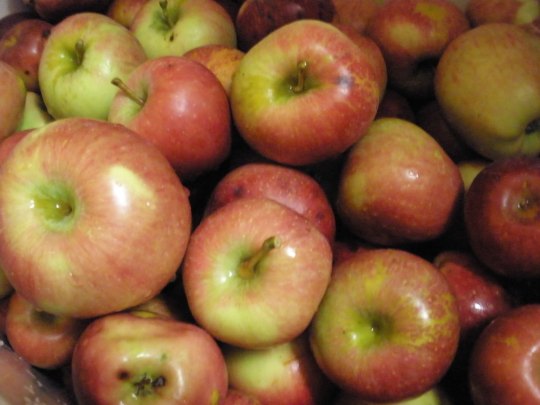 Apple Crisp, early this year however mom made an Apple Goodie Dessert that hit the ball clean out of the park.  I believe this is the very best apple crisp type dessert we have ever eaten.  She used a recipe from her Nebraska Methodist Hospital Family Cookbook, copyright 1979."  In her book she wrote "use this!"  She used the basic recipe and then she added raisins, nuts, and maple syrup.  The combination of the apples, cinnamon, and sugar caramelized as it cooked and as all the flavors meld it turned out absolutely wonderful.  You can use any variety of apples from Winesap, Granny Smith, Fuji, Gala, Pink Lady or a combination of them.  Mom used Gala and they were perfect.  They kept their shape so they weren't mushy but they still cooked nicely.  This makes a nice bit 9" x 13" pan so if you are looking to feed dessert to a bunch this holiday season, think "apple goodie!!"
Three months ago: Pimento Cheese Spread
Alice's Apple Goodie Dessert
The ultimate apple crispy featuring maple syrup, walnuts, raisins, and lots of tasty apples!
Author:
Nebraska Methodist Hospital Family Cookbook, copyright 1979
Ingredients
6 cup Apples, peeled and diced
1 cup Granulated Sugar
2 tablespoon All-purpose Flour
1 teaspoon Cinnamon
½ cup Walnuts, chopped
½ cup Raisins
½ cup Maple Syrup
Topping
1 cup Quick cooking oats, uncooked
1 cup All-purpose Flour
1 cup Brown Sugar, firmly packed
½ cup Butter or Margarine, melted
¼ teaspoon Baking Soda
½ teaspoon Baking Powder
½ cup Walnuts, chopped
Maple Syrup
Instructions
Mix the first six ingredients together and put into a greased 9" x 13" baking dish. Pour ½ cup maple syrup over all the mixture.

Mix together the topping ingredients and spread over the apple mixture.
Top the mixture with several tablespoons of maple syrup sprinkled over the oats topping.
Preheat oven to 350 degrees F. Bake for 45 minutes or until nicely browned and bubbly all over.

Notes
(1) You can use any variety of apples from Winesap, Granny Smith, Fuji, Gala, Pink Lady or any combination.