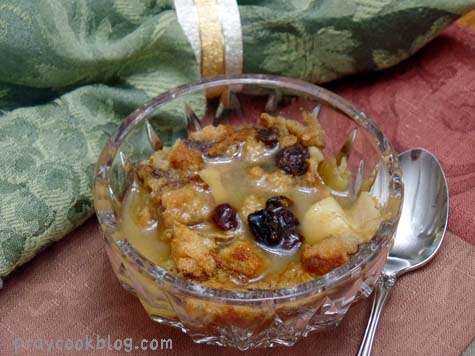 When my sous chef dish-washing mom made Overnight Egg and Cheese Casserole for her Bible study group, we had a half loaf of white bread left over.  We are not big white bread eaters but we are big lovers of bread pudding.  I also had a few whole wheat hot dog buns also leftover from a lunchtime splurge of "dogs on the grill."
I like making Paula Deen's Bread Pudding but I live by the thought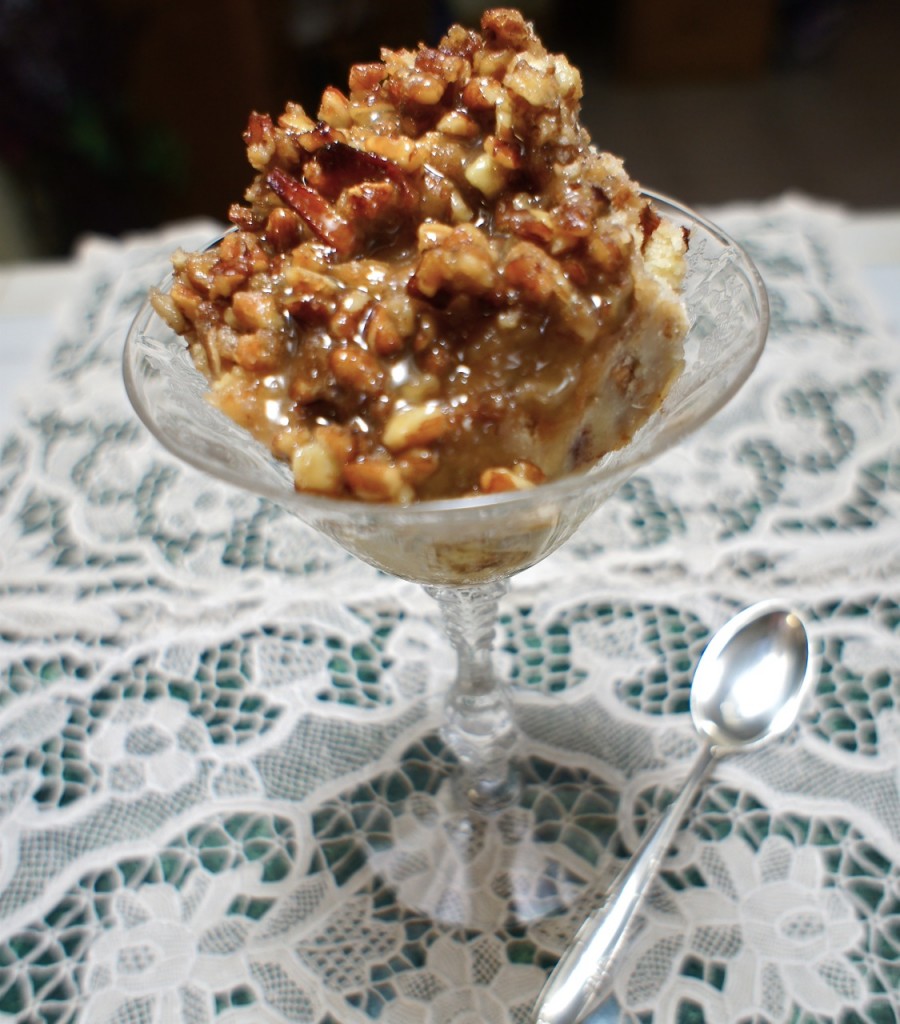 "so many recipes so little time" plus I still have a few apples left from the fall harvest.  That sent me searching for an apple bread pudding recipe.  I asked my sous-chef dish-washing mom if she would make the bread pudding from a recipe I found on Allrecipes.com.  This is an adaptation of Gramma's Apple Bread Pudding.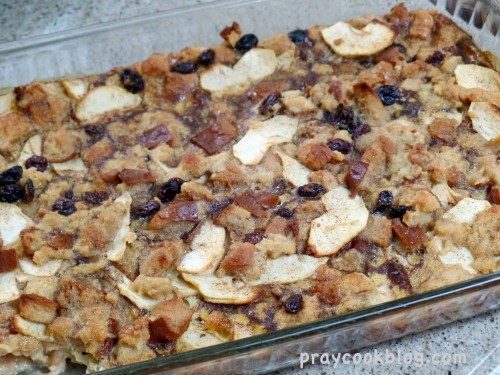 Mom went right to work and turned out a beautiful, fragrant, and lovely dessert.  We changed up the ingredient amounts to fit the amount of bread we had leftover.   When this came out of the oven and my Chief Bread Pudding Eater and I started oohing and aaahing little did we know the best was yet to come!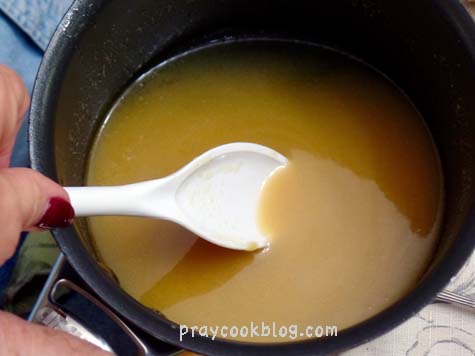 That is when mom started creating this vanilla sauce!  I adore all things vanilla and especially since I made a 1/2 gallon of my own homemade vanilla extract.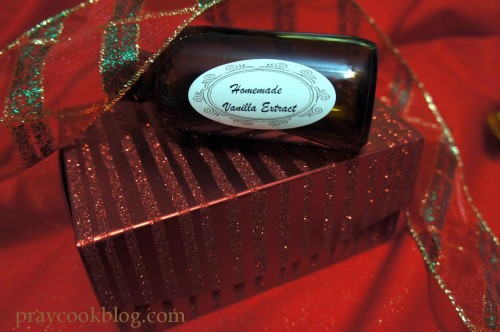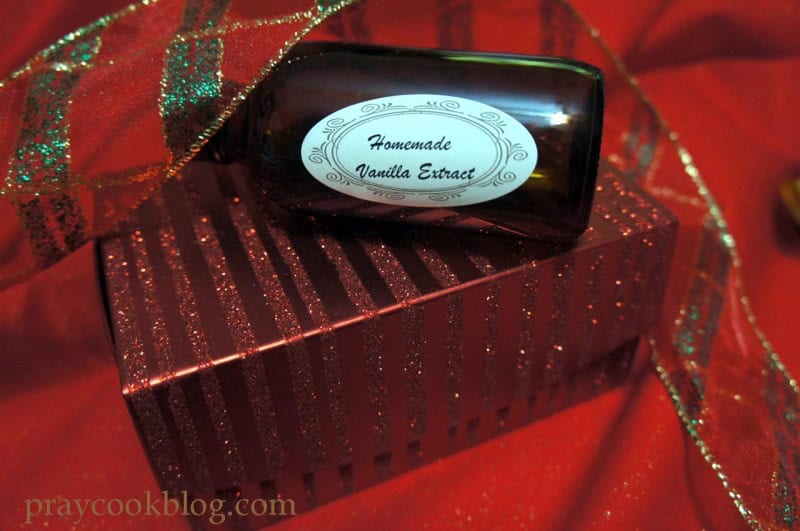 Btw – this is the perfect time to make vanilla for Christmas gifts. Just a thought.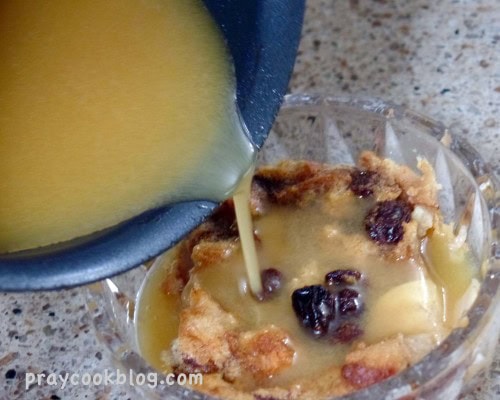 Okay, back to Vanilla Sauce.  You are going to want to make this sauce.  Pour it over bread pudding. Pour it over ice cream.  Just drink it out of the pan.  It is that good!  🙂
Apples – raisins – bread – it all goes together as if created just for this purpose.  Next time I will add walnuts.  (I have added walnuts to the recipe printed below).

I hope this recipe is coming to a kitchen near you – soon!
God Bless and Happy Baking!
~Catherine
Don't forget to add in some soul food.
"All Scripture is breathed out by God and profitable for teaching, for reproof, for correction, and for training in righteousness, that the man of God may be complete, equipped for every good work."
Apple Bread Pudding With Luscious Vanilla Sauce
<span></span>Apples, raisins, walnuts, and bread create a lovely dessert. But it is the Vanilla Sauce that skyrockets this into dessert heaven!
Author:
Adapted by Catherine Daugherty
Ingredients
Bread Pudding
6 to 8 cups soft bread, cut into cubes
½ cup raisins

2 cups peeled and sliced apples (can be diced if you prefer)

½ to ¾ chopped walnuts (to taste)
1 cup brown sugar
2½ cups milk
¼ cup unsalted butter or margarine
1 teaspoon ground cinnamon
1 teaspoon vanilla extract
3 eggs, slightly beaten
Vanilla Sauce
¼ cup white sugar
¼ cup brown sugar
½ cup milk
½ cup unsalted butter or margarine
2 teaspoons vanilla extract
Instructions
Preheat oven to 350 degrees F (175 degrees C). Grease a 9" x 13" inch baking dish.

In a large bowl, combine bread, raisins, walnuts and apples.

In a small saucepan over medium heat, combine 1 cup brown sugar, 2½ cups milk, and ¼ cup butter/margarine. Cook and stir until butter/margarine is melted. Pour over bread mixture in bowl.

In a small bowl, whisk together cinnamon, 1 teaspoon vanilla, and eggs. Stir into bread mixture and pour into prepared dish.

Bake in preheated oven 45 to 55 minutes, or until center is set and apples are tender.

While pudding is baking, mix together sugar, ¼ cup brown sugar, ½ cup milk, and ½ cup butter and/or margarine in a saucepan. Bring to a boil, then remove from heat, and stir in 2 teaspoons vanilla.

Serve over bread pudding.
Notes
<span class="mceItemHidden" data-mce-bogus="1"><span></span>Bread pudding can be served warmed or at room temperature. Warm the vanilla sauce slightly to serve.

Recipe adapted from Allrecipes.com</span>