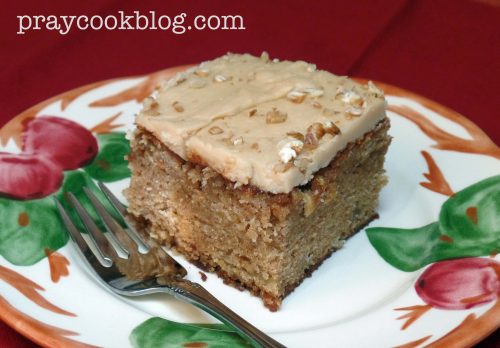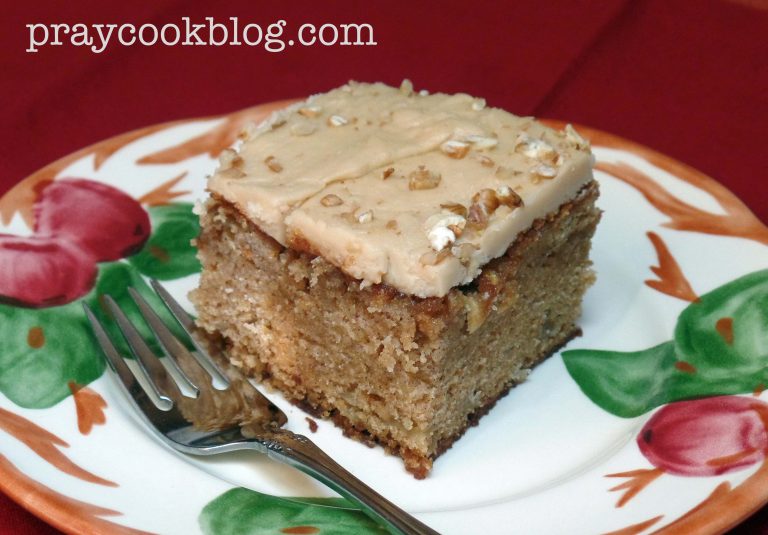 Has the season changed where you live?  Are the leaves falling, the days are cooler, and the nights are made for snuggling?  Today, September 30 is the FIRST day since early spring that I can remember the temperatures anything less than 80's and 90's!  Whew, I am so over summer.  A month ago I changed out my summer clothes to fall clothes.  BIG mistake.  Then 29 days ago I started bringing summer clothes back into my closet one pair of capris pants at a time!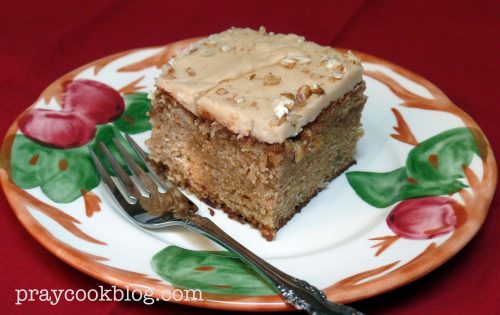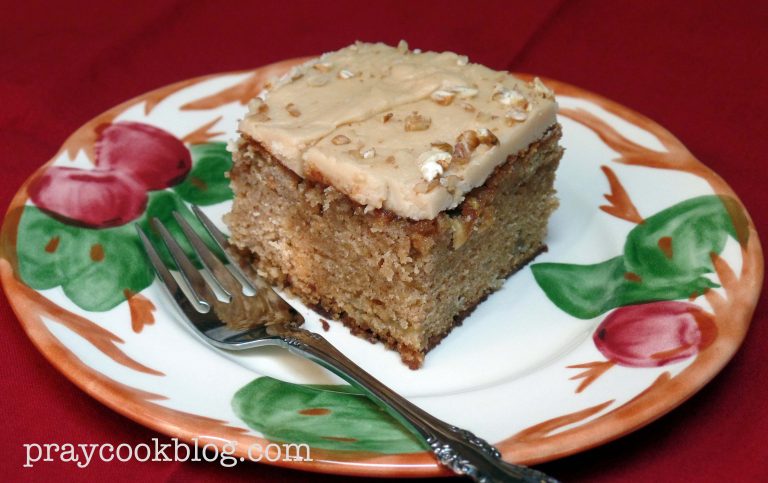 If clothes and the closet aren't enough hassle I totally wanted to start making and baking autumn food!  We had  White Chicken Chili that my sous-chef dish-washing mom made for us early in September and we sweat it out eating it while the sun blazed 80 degrees outside!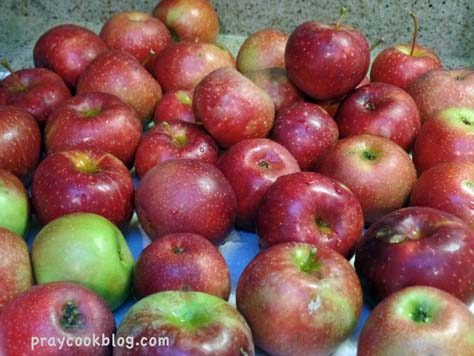 In my mind fall is here when the apples are ready, or it should be that way.  But in middle Tennessee mother nature has a mind of her own and the temperature drops when she says it drops!
Our friends, Ed and Joan have an apple orchard and they share their fall bounty with us each year.  What a blessing to receive 3 or 4 different kinds of apples freshly picked!  Even as the temperatures soared this month we started cooking apples and it has been lovely. This Apple Praline Cake has turned out to be a real keeper!  I have made it twice already and decided it was high time I share it with you, because I know you are going to want to make and bake it with fresh apples of your own!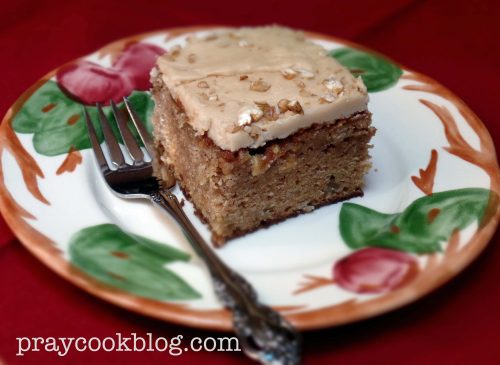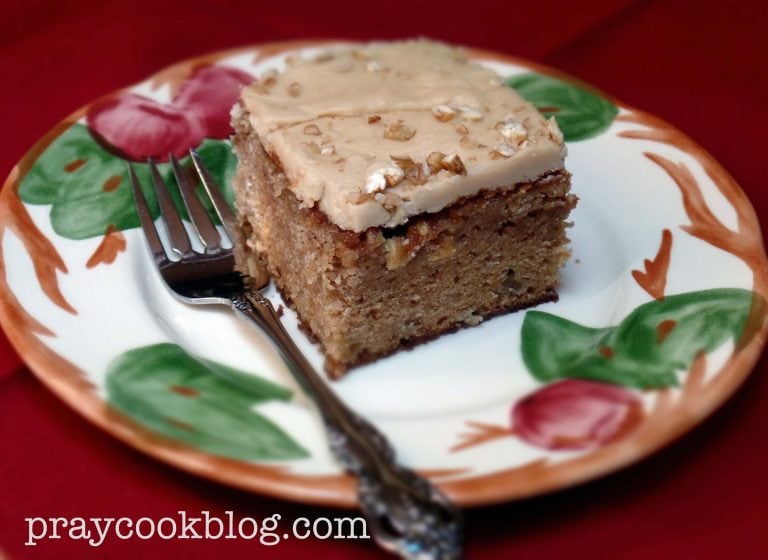 The original recipe came from Inside Brucrew Life and I changed it up just a bit.  The recipe listed southern pecan coffee creamer for the icing and I used Coffee Mate's new creation of Vanilla Caramel.  This stuff is so good you can drink it straight – but save some for this frosting!  I also used homemade vanilla.  Btw- it's not too late to make homemade vanilla extract for this year's holiday gift giving.  Check out this recipe!  Since my cousin Jill taught me how to make my own vanilla extract I cannot imagine using anything else!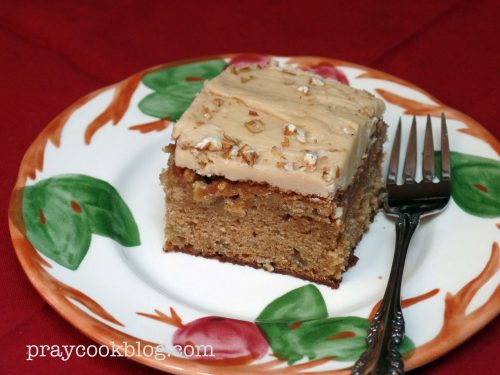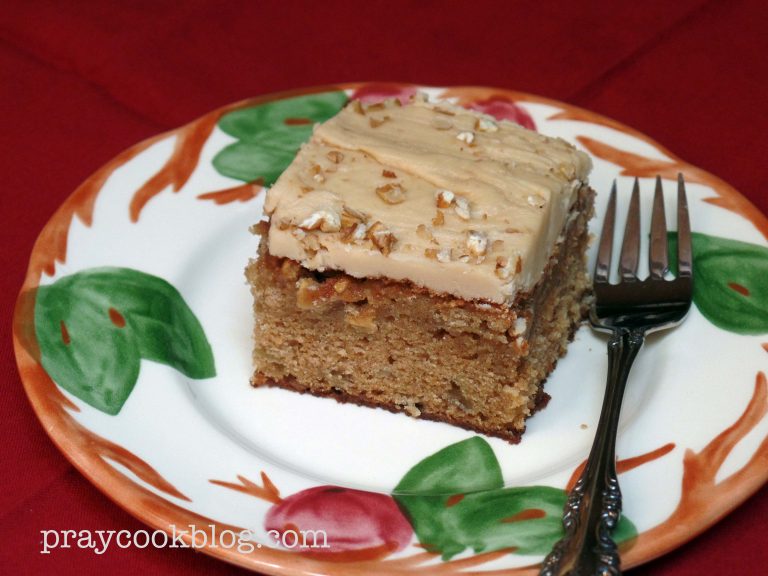 For this cake, you can use any variety of apples you want — or mix it up and use a couple different kinds.  That is what I usually do.  If you make the cake please let me know how it turns out and what a hero you are to your friends and family!
Happy Baking!
~Catherine
I love this quote from C.S. Lewis, and I hope it blesses you today:
"I pray because I can't help myself.  I pray because I'm helpless. I pray because the need flows out of me all the time — waking and sleeping. It doesn't change God – it changes me."     
Apple Praline Cake
Apples and praline pecans - oh my this is fantastic cake. Not your ordinary cake by a long shot. Happy Fall!
Author:
Adapted by Catherine Daugherty
Ingredients
Cake
1 cup canola oil
1 cup white granulated sugar
1 cup brown sugar
3 eggs
2 teaspoons vanilla extract.
3 cups flour
1 teaspoon salt
1 teaspoon baking soda
1 teaspoon cinnamon
3 cups finely diced apples (any variety, or a mix of varieties works well too!)
Praline frosting
½ cup butter
1 cup brown sugar
¼ cup flavored coffee creamer, I recommend Vanilla Caramel but Southern Pecan works well too
1 teaspoon vanilla extract
2 cups powdered sugar
1 cup pecan chips
Instructions
In your large mixer bowl, beat the oil and sugars until they look like wet sand.
Add eggs and vanilla, continuing to mix.
Stir together flour, salt, baking soda, and cinnamon. Slowly beat it into the sugar mixture.
Stir in the apples.
Spread the batter in a greased 9" x 13" baking dish*. Bake at 350 degrees F. for 45 minutes. Remove and let cool.
When the cake is nearly cooled, place the butter, brown sugar, and coffee creamer in a small saucepan. Bring to a boil and stir for one minute. Remove from the heat and let cool for 8 to 10 minutes.
With an electric mixer, beat together the cooled butter mixture and the powdered sugar. Stir in pecan chips.
Quickly spread the frosting over the top of the completely cooled cake. This frosting will set up quite fast.
Cut into 24 squares and serve or store at room temperature in a tightly sealed container.
*See Note
Notes
* This cake can be baked in the 9" x 13" baking dish, a BUNDT pan, or cupcake tins. I have even made it in mini-muffin tins. Time should be adjusted for the cupcakes and mini-cupcakes.