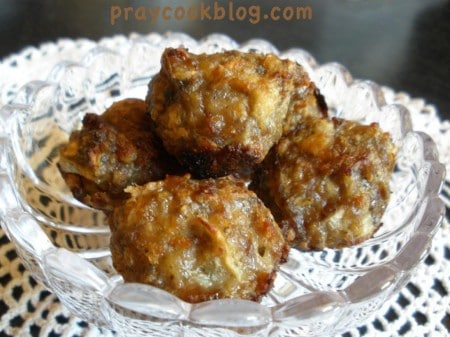 Have you ever heard laziness is the mother of invention?  No? Well, maybe I just made that up!  I was preparing to make Apple Sage Sausage Balls for a brunch I was attending at Community Bible Study and the recipe calls for dehydrated onion.  It was at that moment I remembered I had forgotten to buy some on my last visit to Costco.  Dang.
I was in the middle of cooking dinner and I didn't have time to go to the grocery store. I needed to make the sausage balls so that they would be ready to take with me early the next morning.  I was tired and didn't even want to chop fresh onions. (boo-hoo).  Wow, this sounds like a lot of whining.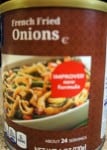 But I tell all this to say that I decided to use french fried onions from a can I had leftover from my last Quiche. Oh my gosh, if you haven't ever used them in Quiche … do it this weekend.  They are fantastic.  But I digress.
Feeling really lazy, I decided to put all the ingredients in my food processor, give a spin and  Voilà — done!
I first posted this recipe in September 2011.  But now I am upgrading the recipe.  Making it simpler and tastier!
Apple Sage Sausage balls are great on a buffet table, the breakfast table, Sunday brunch, or a covered dish, potluck, carry-in.  Does that about cover it?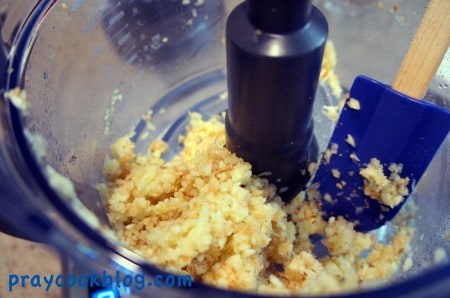 My sous-chef dishwashing mom says to be sure and tell you to use apples that have lots of sweet flavor. The sweetness of the chopped apple blend perfectly with the sage sausage for an outstanding meat ball.
Oh, and the french fried onion rings (chopped up) — that's a new addition to my recipe.  A keeper recipe!  I hope you have time to make it soon.
~Blessings, Catherine

Apple Sage Sausage Balls Revisited
Keep 'em coming back for more with these sausage balls. Be sure to make plenty - they disappear fast!
Author:
Catherine Daugherty
Recipe type:
Breakfast, Brunch, Buffet
Ingredients
2 lbs. sage sausage
½ cup milk
1 cup apple, chopped (about 2 medium)
1 cup Pepperidge Farms stuffing mix
½ cup chopped french fried onion rings*
2 eggs
Instructions
Heat oven to 350 degrees F. Spray mini muffin tins with canola spray.
Chop apples in food processor.
Mix in all remaining ingredients. Process for 30 seconds.
Use medium scoop and place sausage in small muffin tins.
Bake for 20 minute, or until sausage is cooked and nicely browned.
Notes
Recipe can easily be doubled or tripled and frozen.
Can use ring mold or loaf pan instead of mini muffin tins.
This recipe is also good with 1 pound country sausage and 1 pound hot sausage,
* Fresh chopped onion or dehydrated onion can be substituted for French fried onion rings.