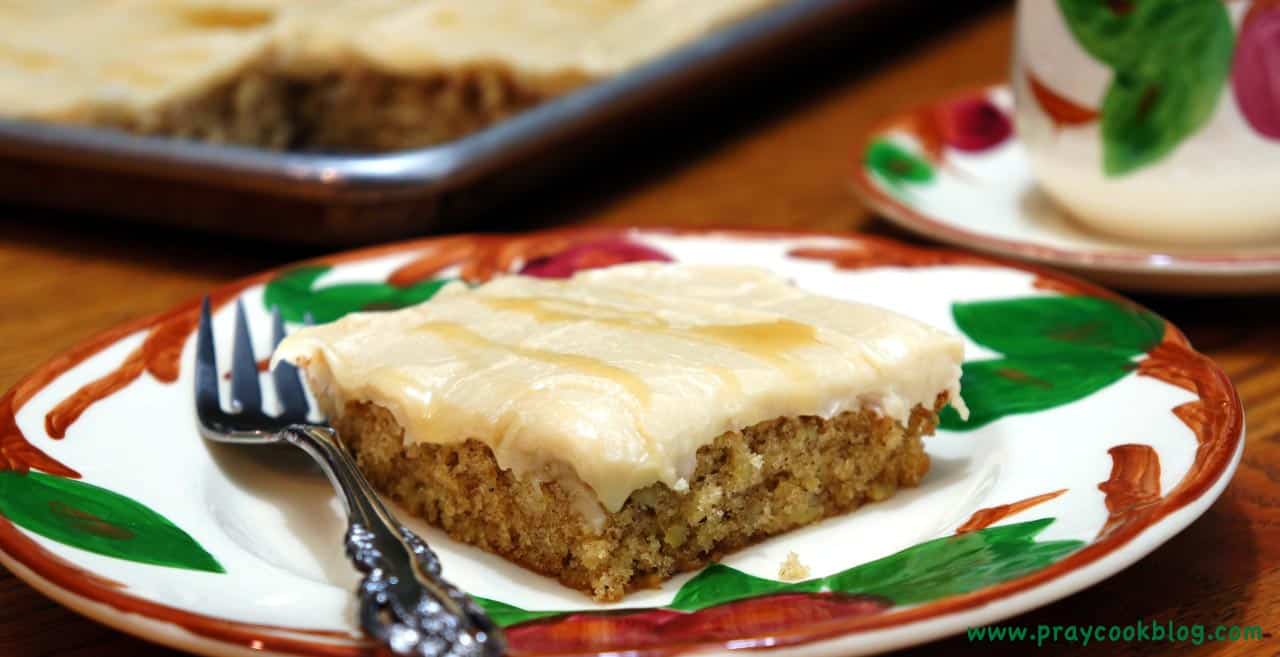 Our Community Bible Study director and her husband have shared apples from their apple orchard with many people this fall.  The Chief, my sous-chef dish-washing mom and I have been the lucky recipients time and again.  Between Caramel Apple Crisp and my homemade applesauce our apple-a-day has come in some wonderfully extraordinary forms!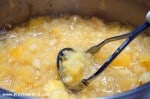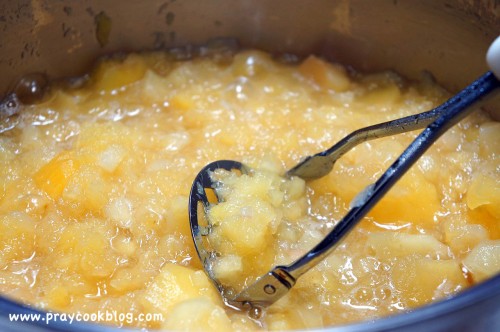 I wanted to say a special "thank you" for their generosity and treat the group's leadership as well.  Since the leadership group consists of 22 men and women a sheet cake seemed the answer.  A sheet cake filled with … apples, of course!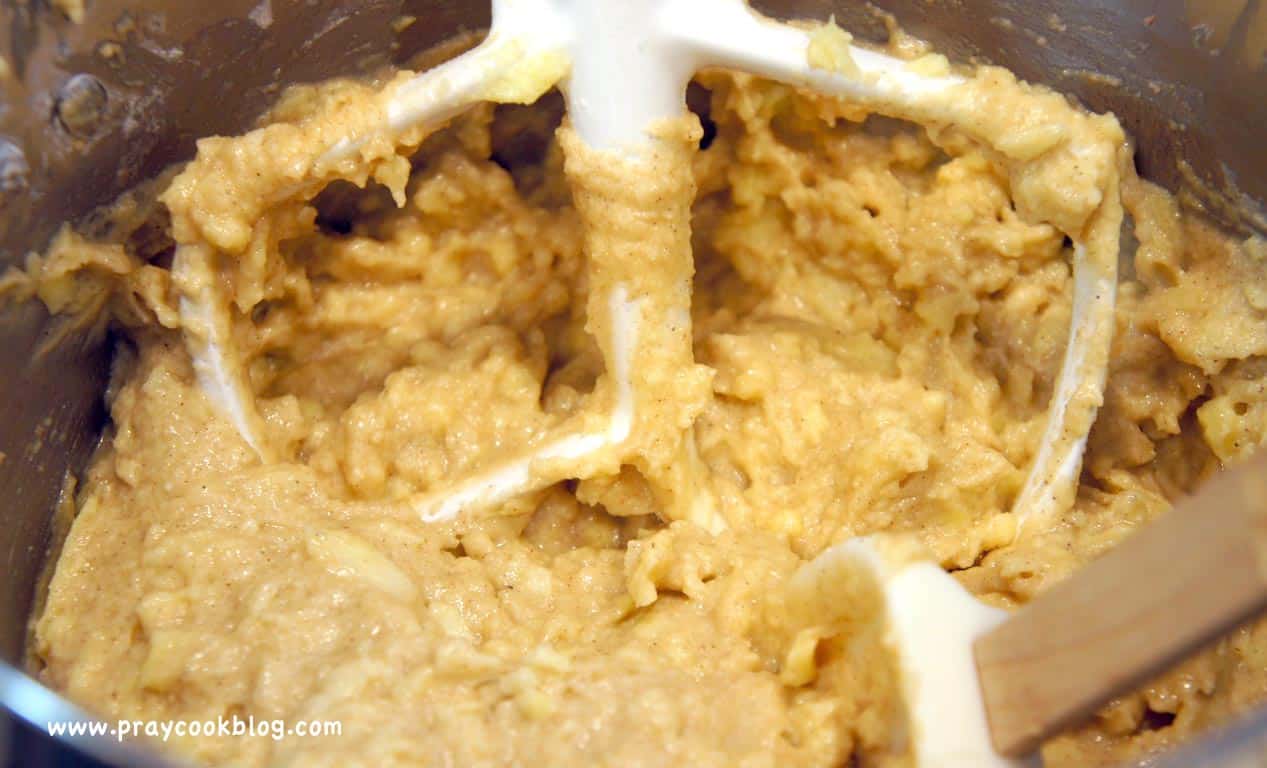 I mixed up the batter and added 2 cups of grated apples.  I used several varieties of apples blending into perfect flavoring.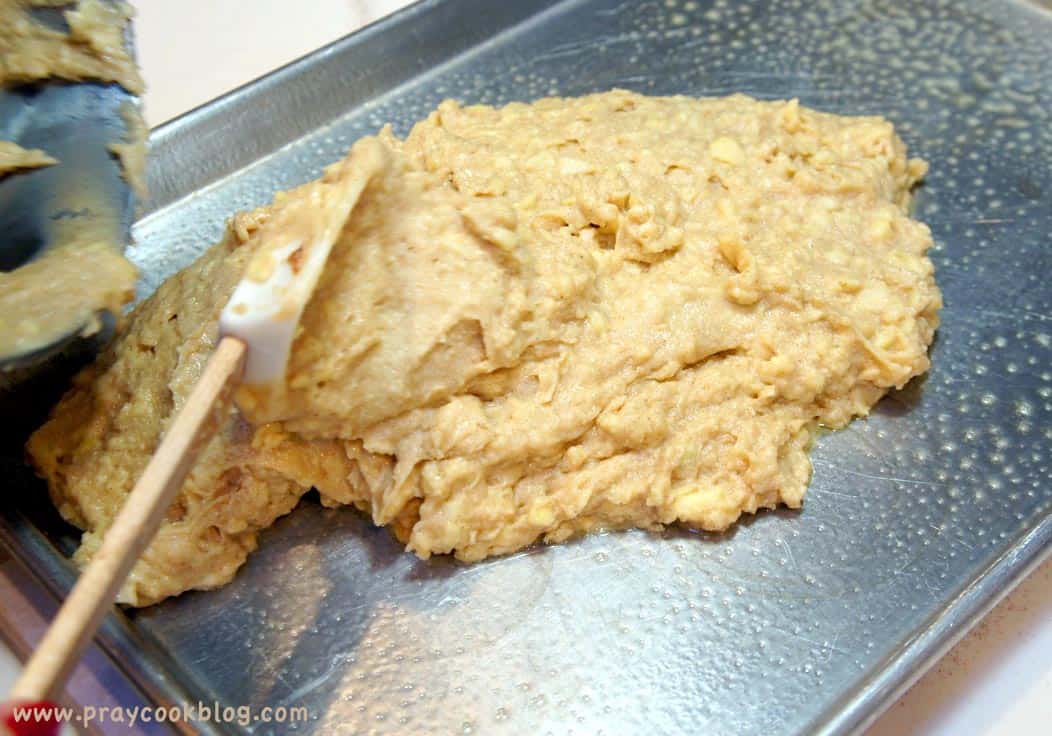 I used an 11″ x 17″ baking pan.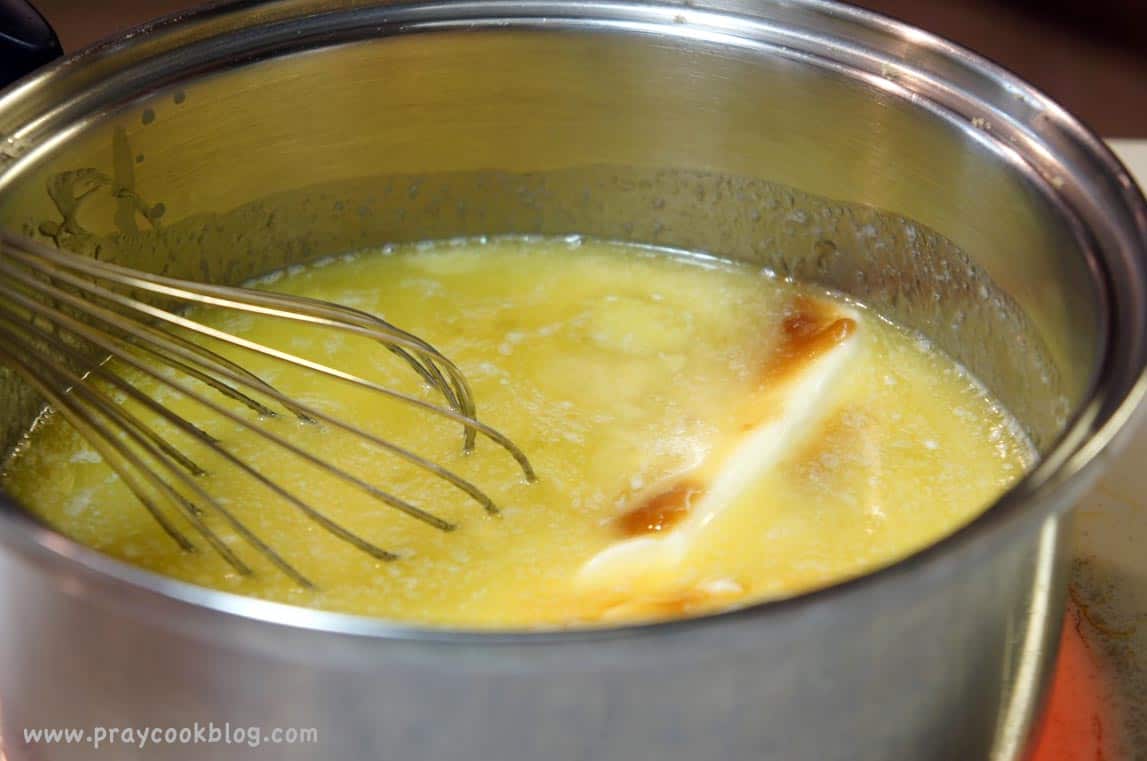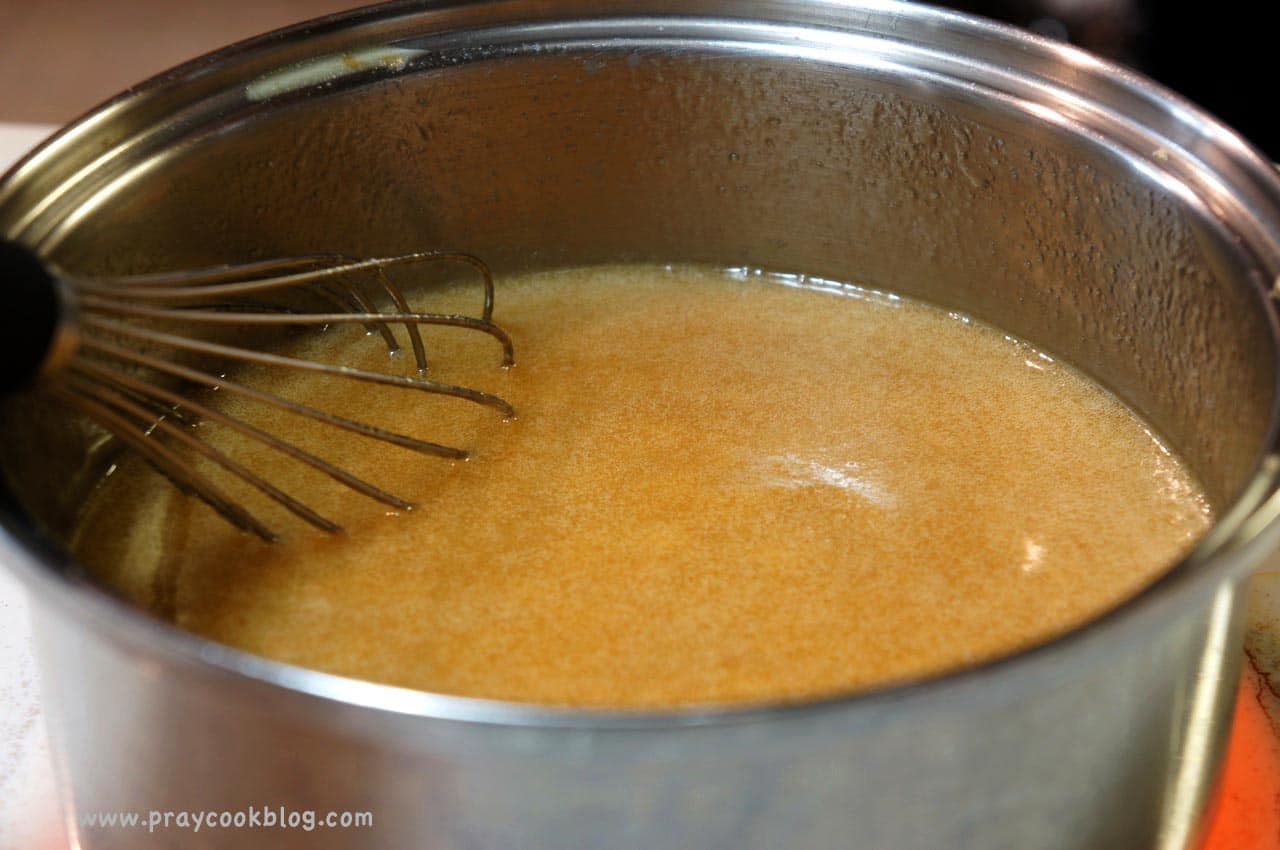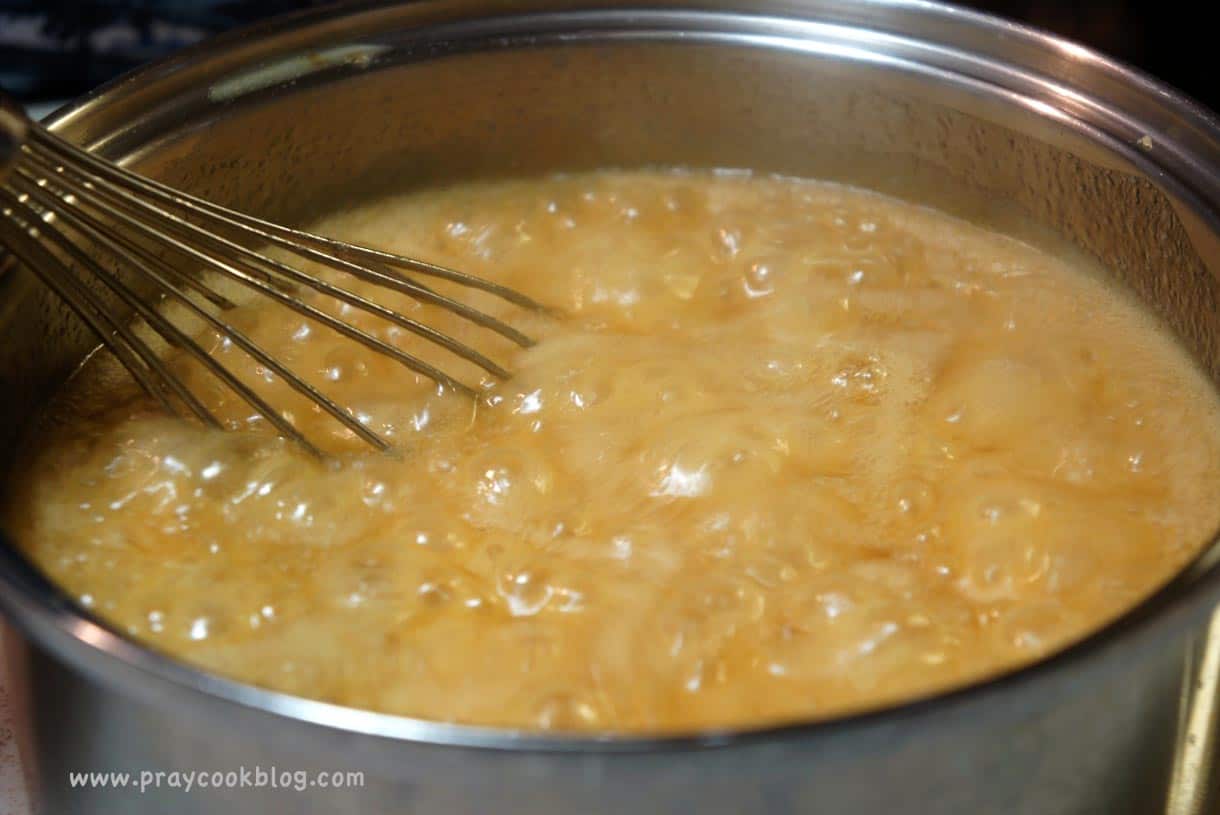 When the cake was almost completely cooled I began making the caramel frosting.  This frosting is a crowning touch to the apple cake, but honestly I can't imagine where this frosting wouldn't be just perfect.  It is so good.  Anything that starts out with butter, brown sugar, and half & half has my full attention!  Once the butter melts and the sugar is dissolved the caramel starts turning into this beautiful golden color.  I stirred as it gently boiled for several minutes.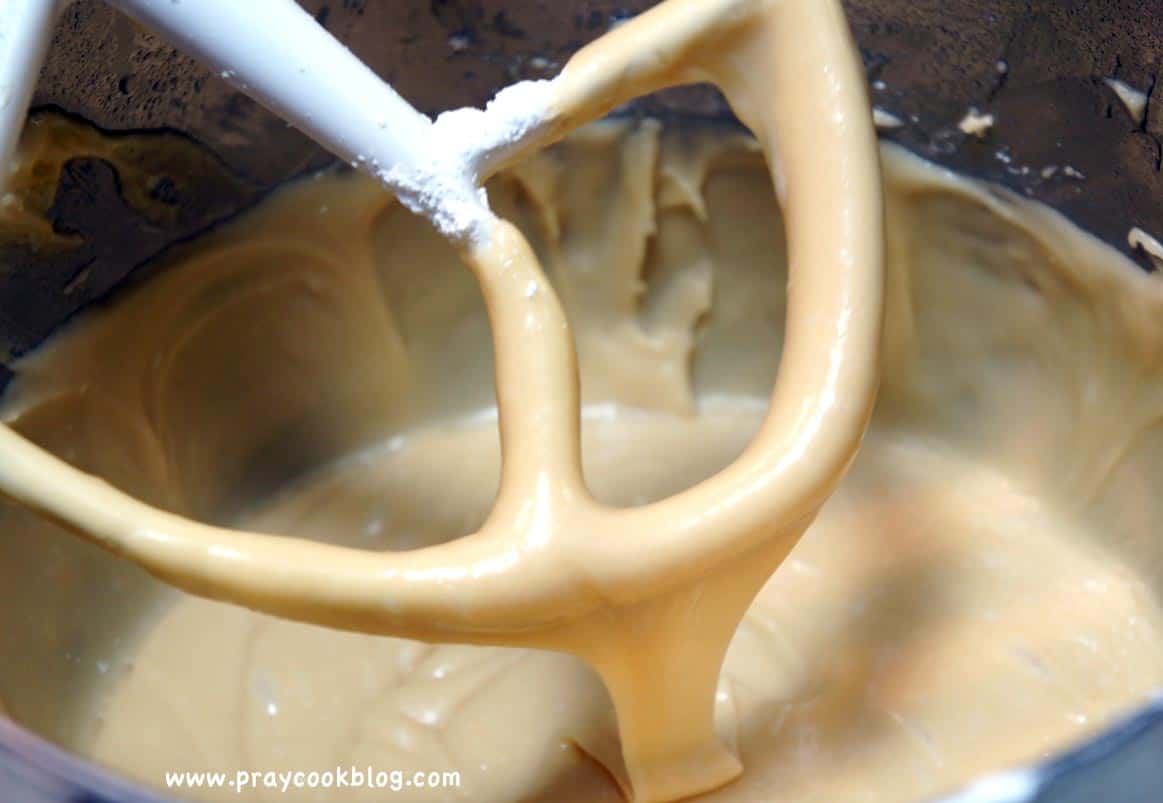 Confectioner's sugar is added a cupful at a time beating slowly until the caramel becomes a sweet ribbon of frosting.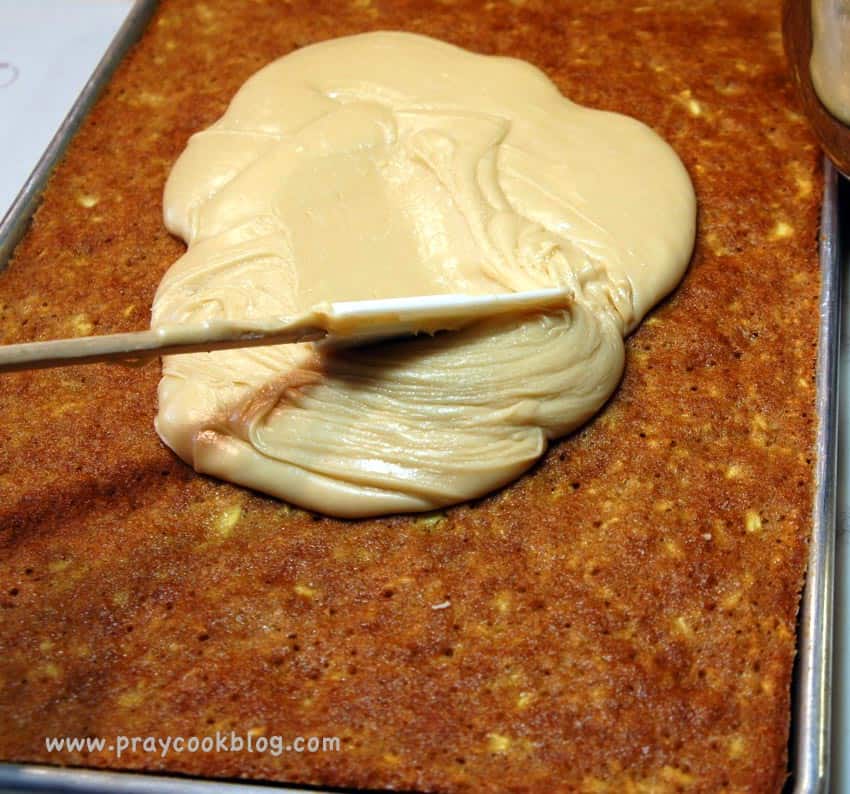 The frosting needs to be spread on the cooled cake fairly quick as it will set up within a few minutes.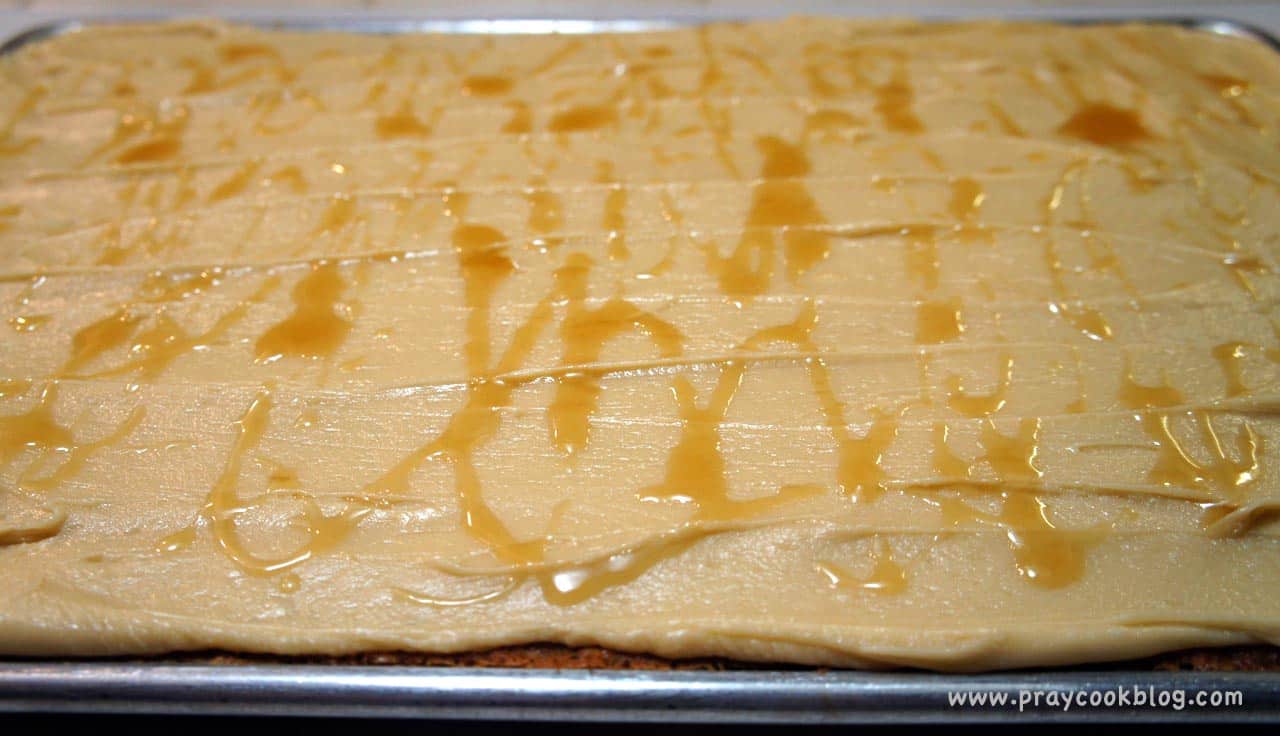 I set aside a couple of tablespoons of caramel before adding the confectioner's sugar and then drizzled across the finished cake.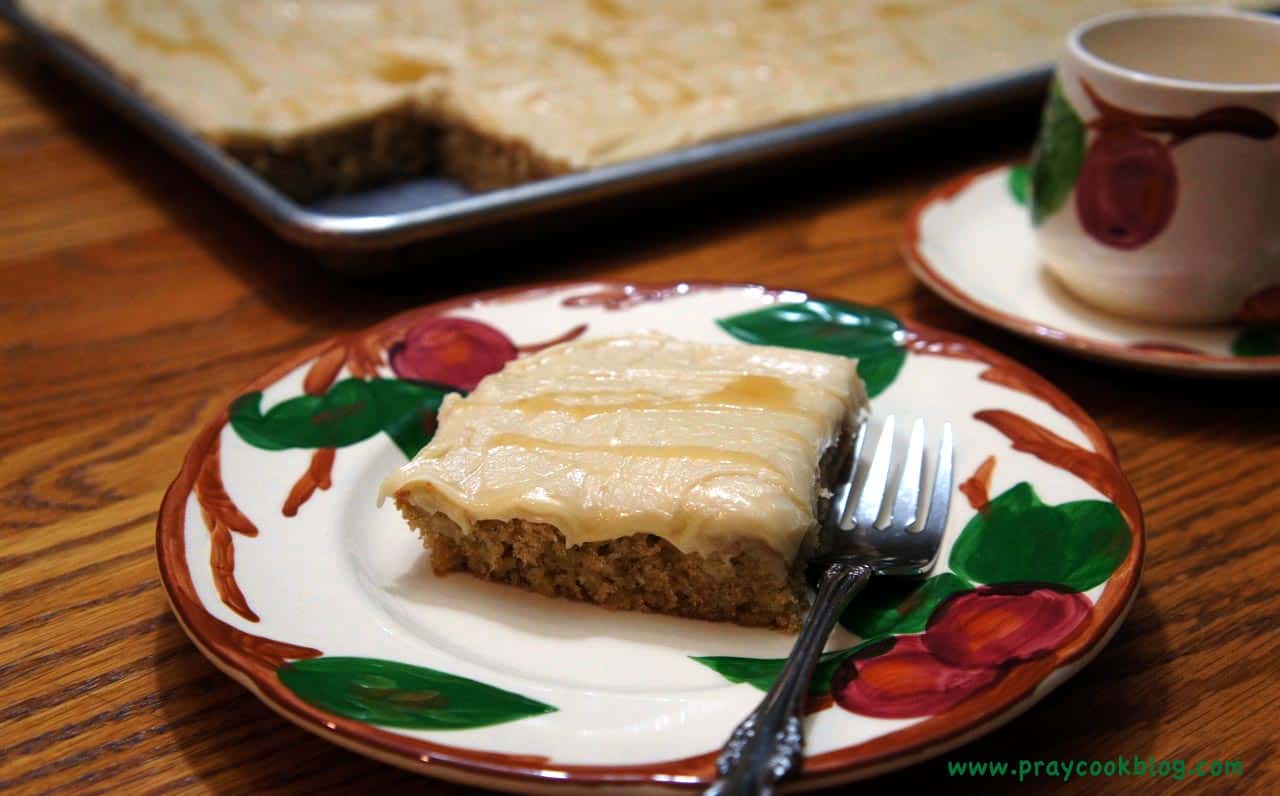 Bless someone today with a little lovin' from the oven!
~Blessings, Catherine
Apple Sheet Cake With Caramel Frosting
Ingredients
For Sheet Cake
2 cups all-purpose flour
1 teaspoon baking powder
½ teaspoon baking soda
½ teaspoon salt
1½ teaspoons cinnamon
½ teaspoon pumpkin pie spice
1 cup unsalted butter, softened (2 sticks)
2 cups sugar
4 large eggs
1 teaspoon pure vanilla extract
⅓ cup milk
2 cups peeled grated apples (about 3 to 4 medium), any variety or mixed variety
½ cup finely chopped walnuts or pecans (Optional)
Caramel Frosting
1½ cups unsalted butter (3 sticks)
1½ cups light brown sugar
⅓ cup half and half
⅛ teaspoon cream of tartar
¾ teaspoon fleur de sel or coarse salt
4½ cups confectioner's sugar
Instructions
For Apple Cake:
Preheat oven to 350 degrees F. Grease and lightly dust with flour an 11" x 17" jelly roll pan, set aside.
In a medium bowl combine flour, baking powder, baking soda, and spices.
In a large mixing bowl, using an electric mixer, cream together butter and sugar. Add eggs one at a time mixing after each addition followed by vanilla and milk. Stir in grated apples and finely chopped nuts (optional.) Gradually add in flour mixture until blended.
Spread batter evenly on prepared pan and bake in preheated oven for 18 to 22 minutes until cake tester comes out clean when inserted in the middle.
Cool cake completely.
For Caramel Frosting
In a medium saucepan combine butter, brown sugar, half and half, and cream of tartar over medium heat stirring occasionally until butter is melted and sugar is dissolved. Bring to a boil and stir frequently for 2-3 minutes. Remove from heat and stir in salt. Let cool slightly.
Reserve 3 tablespoons of caramel for drizzling over frosted cake.
In a large bowl mix caramel with about one cup of confectioner's sugar. Stir using an electric mixer on medium speed until confectioners sugar is combined. Continue to add in confectioner's sugar in about one cup at at time until desired consistency is reached.
Spread frosting on cooled cake. Drizzle with reserved caramel.
Notes
This can also be baked in a 9" x 13" cake pan for approximately 35 minutes.