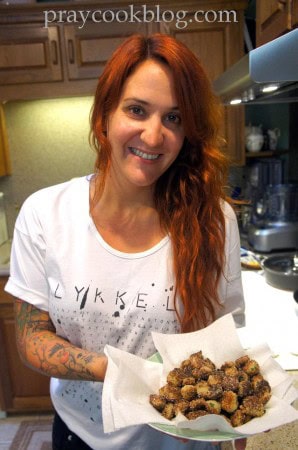 When granddaughter Abbey arrived she had driven from California via Colorado for the better part of a week. She was ready to get out of the car and to get busy in Grandma's kitchen!
Our first evening meal together included garden-fresh fried okra.  Growing up in Colorado and California Abbey never had eaten okra.  I guess it really is a southern thing since I'd never even heard of it until I met my southern-born sweetheart!
The story of Abbey and okra was love at first bite! She couldn't wait for a DIY lesson.  Well, I don't really want to brag, but for a Nebraska girl I can turn out some awesome fried okra.
The local farmer's market provided fresh okra and we added the fun as we cooked up this mess of tasty-finger lickin' delights.  She and her Grandpa ate every one!  (They wouldn't want me to share that with you, but hey — I'm a food blogger, when it comes to the kitchen, it's all fair game!)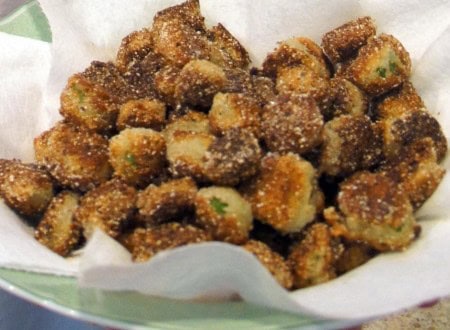 I realize frying okra isn't rocket science.  But there is a particular sequence necessary to get perfectly breaded, nicely seasoned, non-slimy okra!
If you have a hankerin' for a bowl of these tasty veggie bites, follow this recipe and you won't be disappointed!
Blessings and Happy Cooking!
Catherine
Awesome Fried Okra
You don't have to live in the South to have this southern-fried awesome okra -- delicious on any table, anywhere!
Ingredients
2 lbs. fresh okra, sliced ½-inch thick round pieces
½ cup cornmeal
½ teaspoon salt
½ teaspoon pepper
½ teaspoon garlic salt
¼ teaspoon cayenne pepper
½ cup buttermilk
Oil* for frying amount dependent on size of frying skillet
Instructions
Rinse okra pods in water and dry with paper towel. Slice into ½" round slices being careful to keep the pods away from water and as dry as possible.
In a medium bowl, combine cornmeal, flour, salt, pepper, garlic and cayenne pepper.
Dip okra in buttermilk and then dredge in cornmeal-flour mixture to coat well.
Spread okra on baking sheet and allow to set while dipping and coating the rest of the okra.
Heat oil in a large, heavy-bottomed skillet or Dutch oven to 350 degrees F. Fill with ¼" to ½" oil up the sides of the skillet.
Carefully add breaded okra to the hot oil and cook until golden brown, turning only once. (It may be necessary to fry the okra in batches.)
Remove from oil, drain on paper towels, and then serve immediately.
Notes
* Oil used can be canola, corn, grape or coconut (without flavor). Use your favorite oil for frying. Butter will be too greasy.


This recipe adapted from a recipe by Paula Deen, Food Network.